Newsletter
2011 March
MESSAGE FROM THE PRESIDENT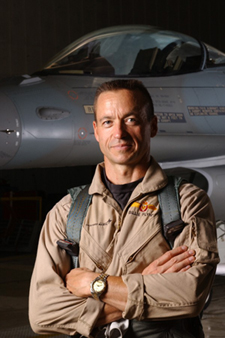 We have kicked off the year's events that include 8 local SETP symposia, 2 Flight Test Safety Workshops and our annual Symposium and Banquet. I hope we can encourage you and your colleagues to come out and share the lessons you have learned with others. The first of this series was held in Fort Walton Beach, Florida recently. Gary Plumb (AF) and his team put on a first class event, with a strong technical slate of papers and saw great attendance. Their effort was appreciated by all.
The local symposia were created to reach a broader audience than could be expected in our bigger, more elaborate Annual Symposium and Banquet forum. We hope that more test pilots and engineers can find their way to spend a day at the regional events to listen to what is happening in on-going projects from active test pilots.
An unfortunate truism in Flight Test is that there are no new lessons to be learned. They have all been seen and experienced in the past, many of them etched in blood. However, test pilots are no different from anyone else in how we process and retain information. We need constant reinforcement to drive lessons home. Our technical presentations bring out issues experienced in recent, on-going projects that help bolster our data base of what works and what does not. Perhaps someday we can avoid making the same mistakes as our predecessors and ensure that we do everything right the first time. Sadly, we are not at that point in our evolution and many of our programs are destined to repeat the errors of the past. At best, we can hope to diminish the risk of major mistakes by being armed with some of the lessons of what to do (or not to do) from programs that we have heard about in our SETP symposia.
I have said often that everyone has something to contribute by relating what they have seen and learned in their test programs. Draft a presentation and talk about what you have experienced recently in your flight test efforts and you will surely be educating someone in that audience. The local symposia are less formal but no less technical in format. Having attended many of the regional events, I note that it is often the smaller programs that are most effective in telling their tale of what worked or what should not be allowed to be repeated. I look forward to seeing you there.
Finally, a note to all who have ideas and energy to help this society evolve and grow. I encourage all of you to send me all your inputs and comments. I can be reached at This email address is being protected from spambots. You need JavaScript enabled to view it.. SETP does not run on autopilot and needs your inputs to ensure that we remain viable and relevant to the membership and those we serve.
Fly safe,
Billie Flynn (F)
Lockheed Martin
---
MESSAGE FROM HEADQUARTERS
Reminder – SETP Headquarters is now accepting nominations for the Kincheloe and Doolittle Award. Please visit www.setp.org for more information on submitting a nomination.
2011 dues invoices were sent out early in December. If you have yet to pay yours, please contact SETP Headquarters at 661-942-9574 or This email address is being protected from spambots. You need JavaScript enabled to view it..
---
CALENDAR OF EVENTS
41st San Diego Symposium – 25-26 March 2011, Catamaran Resort & Spa, San Diego, CA
East Coast Symposium – 15 April 2011, Naval Air Station, Patuxent River, MD
Flight Test Safety Workshop – 3-6 May 2011, Hilton Pensacola Beach Gulf Front Hotel, Pensacola, FL
Northwest Symposium – 12 May 2011, Future of Flight Aviation Flight Center, Paine Field, Everett, WA
Great Lakes Section Symposium – 19 May 2011, Wright Patterson AFB Banquet Center, Dayton, OH
43rd European Symposium – 25-29 May 2011, San Clemente Palace Hotel, Venice, Italy
Central Section Symposium –6 June 2011, Hotel at Old Town, Wichita, KS
Special Business Meeting – 10 June 2011, Flight Research, Inc., Mojave, CA
55th Symposium & Banquet – 21-24 September 2011, Grand California Hotel, Anaheim, CA
European Flight Test Safety Workshop – 8-10 November 2011, Crowne Plaza Hotel, Salzburg, Austria
---
MEMBERSHIP NEWS AND UPDATES
Alan "Al" Norman (AF) was recently named Chief Test Pilot for the F-35 Lightning II program. Norman replaces former F-35 Chief Test Pilot Jon Beesley (F), who retired Jan. 31.
**********************************
Council honors pioneer test pilot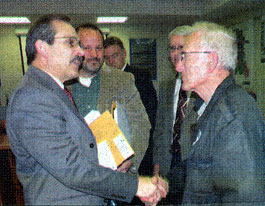 One of the roads leading to Majors Field Municipal Airport in Greenville, TX will soon be renamed to Andonian Drive in honor of Harry Andonian 9F) of Greenville.
**********************************
These pilots gathered for their monthly luncheon at the Suntree Country Club in Melbourne, Florida.
Seated left to Right: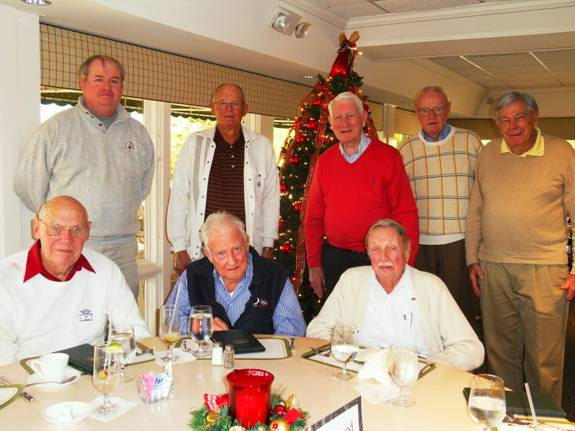 Bob Mosley, Ray Roberts, Paul Chell
Standing:
Paul Deehan, Al Crews,
Bud O'Connor, Wendy Shawler, Bud Evans
**********************************
The Aviation Week Laureate Awards recognize individuals and teams for their extraordinary accomplishments. Their achievements embody the spirit of exploration, innovation, vision or any combination of these attributes that inspire others to strive for significant, broad-reaching progress in aviation and aerospace.
The 53rd Annual Laureate Awards presentation was held on 8 March 2011 at a black-tie dinner. Several SETP Members were honored!
Business/General Aviation: Randall Greene (AF) supported, led and expanded the Corporate Angel Network, which has arranged free flights for 35,000 cancer patients.
Defense/Government: U.S. Air Force Major General (ret.) Michael C. Kostelnik (M) fielded the Guardian Maritime Unmanned Aircraft System, the first air vehicle system dedicated to maritime homeland security and counter-narcotics missions.
Klass Award: RADM Thomas J. Cassidy, Jr., USN (ret.) (AF) was recognized for contributions to unmanned aerial vehicles (UAVs).

The Sikorsky Aircraft Corp. X2 Technology(TM) demonstrator team has been named the winner of the 2010 Robert J. Collier Trophy.
**********************************
Member Request
If anyone is attending the European Symposium and is interested in sharing a room with Leo Janssens, SETP Fellow, please contact him at 772-979-1080 or This email address is being protected from spambots. You need JavaScript enabled to view it..
If you have any membership news such as upcoming events, the death of a Member, scheduled burials at Arlington Cemetery or special awards or recognitions, please notify SETP.
---
SETP FOUNDATION NEWS
SETP Foundation Update
John A. Fergione
Chairman
The SETP Foundation is hard at work continuing to accomplish the objectives it first set out to do. I'll discuss some of these initiatives here.
The SETP Academic Bridge to the Aerospace Industry, headed by Bill Connor, is a mentoring program which involves naming and sponsoring awards for competitions to either a group of universities between their Aerospace Departments, or student teams, for excellence in an aerospace related project which they have undertaken.
The mentoring objective of this SETP Foundation program is to reach out to academia to encourage and stimulate interest in Aerospace careers with sponsorship of aeronautical activities, flight test evaluation and aerospace engineering developmental projects to motivate the students' technical and creative skills.
And boy has Bill opened the proverbial "Pandora's Box". To date, the SETP Foundation has presented Certificates to the Two National Intercollegiate Flying Association (NIFA) National Champions, and sponsored the NIFA Southeastern Regional's in November, 2010. We presented the SETP Foundation Challenge Trophy and certificate to the winning Flight Team, Emery Riddle Aeronautical University (ERAU) for one year.
The SETP Foundation will be participating in the 2011 NIFA Nationals on May 16, 2011, with thirty Universities competing for the National Championship. We will also be a sponsor for the NIFA Regional's hosted by the Florida Institute of Technology (FIT) in November, 2011 in Melbourne, Florida.
As a result of our "Bridge" initiative, FIT has formed the First SETP Foundation Student Chapter. ERAU is also in the process of forming a SETP Foundation Student Chapter.
Talk about watching a planted seed begin to grow!
The SETP Academic Bridge to the Aerospace Industry is pretty much focalized in the Southeastern United States presently and there's a whole lot of Earth left to play in. Please consider joining our "Bridge" and get universities and industry talking together in your region.
In other areas, we will continue to be a sponsor at the Intel International Science and Engineering Fair being held in Los Angeles in May 2011. With 1,600 finalists, this is a rich opportunity to advance Science, Technology, Engineering and Mathematics (STEM).
Thanks to the hard work of "Fast" Eddie Cabrera and CAPT (USN) Rich "Calvin" Burr, 6 students from Burroughs High School in Ridgecrest, California will be attending some of the Friday and Saturday symposium events in San Diego later this month. The high school held an essay contest to help select which students would attend.
And in the Northwest, the Board recently approved funding for student attendees at the first Northwest symposium.
Roy Martin reports that we now have 102 oral histories of our members "in the can". Roy, with the wonderful help of Dana Kilanowski, will add four more oral histories in San Diego this year.
There's much more going on with your Foundation, but I am limited with space here so I'll stop for now and provide a more detailed report in the next issue of Cockpit. As you can see, your SETP Foundation is really on the move. Funds prevent us from doing more than we would like to be able to do, but I think we're doing pretty fine with what little we have. With a lot of help from Dick Schock, we're spending a considerable amount of effort on fundraising so we can do even more. We hope that these efforts will grow fruit in our future.
If you plan to give to a charitable organization this year, or more than one, please consider adding your Foundation to your list. Unlike many charities, 100% (less a small part-time SETP staff expense) of your donation will head straight into achieving the SETP Foundation objectives.
Until next time,
Ferg…Out
---
SECTION NEWS
West Coast
On Feb 24th, the West Coast Section along with the Antelope Valley section of SFTE held a dinner meeting at the Air Force Flight Test Museum at Edwards AFB. Following dinner, Tom Morgenfeld gave a very entertaining presentation on "Dancing with the Lockheed Stars". Tom's talk ranged from flying MiGs and the F-8 Crusader all the way to the F-117, YF-22 and X-35.
Just prior to this event, the West Coast Section election results were released. I would first like to thank Eddie Cabrera and Gregory Wood for volunteering their time over the past year ensuring the West Coast Section remained relevant to our members. Their hard work and dedication allowed us to hold many successful events and paved the way for significant educational outreach opportunities for our local communities. Our newly elected section officers are Vice Chair: Rich "Calvin" Burr, Secretary: Dave "Sardot" Marten and Treasurer: Jason "Mongoose" Dotter. We will endeavour to hold a social event once a month and expand our education outreach to local schools over the next year.

The following events are already in the planning stages, so please mark your calendar. March 25-26th is the San Diego Symposium at the Catamaran Resort which is always a great time. April's event is still to be determined, so more to follow. In May, we will be holding a Pizza and Beer call at USAF TPS to congratulate our newest grads from both USAF TPS and NTPS. On June 10th, we will be holding a dinner meeting in conjunction with the SETP Special Business meeting at NTPS. Doug Shane will be giving a short presentation so you don't want to miss this one. Then on August 13th we have reserved a suite for the Jethawks game during the Aerospace Appreciation Night. Seats are limited and will be available to purchase at the beginning of July.

Finally, we have also created a new email address for our section This email address is being protected from spambots. You need JavaScript enabled to view it.. Hopefully this will eliminate some firewall problems we have had in the past. Feel free to use it if you need to contact us. Hope to see you at the next event.
Central Section
Dan "Shaka" Hinson chaired the first Central Section Board meeting of 2011 on a red-letter day in early February. The day was marked as Don "Bun" Parker's last active service day with the USN. Bun's seamless transition to the civilian routine saw him not only jumping into his new job at Hawker-Beechcraft but also fulfilling his role as the Vice Chairman. Jeff "Pig Pen" Karnes (Treasurer) and Scott "Scooter" Whitley (Secretary) were also in attendance to welcome Bun aboard.
The Central Section encompasses a large geographic region but continues to be Wichita centric. Our goal is to actively increase SETP Central Section membership throughout the region and to ensure that all members actively participate in the sharing of information and the attending of events.
In order to help enhance communication within the region a sub-group has been established on LinkedIn that will serve to keep all members appraised of the latest information available for Central Section events and get-togethers. All members of SETP and interested parties are encouraged to use this medium as an alternate means of keeping in touch with the events we have planned.
Also, the planning continues for the Central Section symposium which will be held on Jun 6 at the Hotel at Old Town. Dale Bleakney graciously volunteered his services as the Chairman and has already organized over a half dozen of very interesting presentations. Marc Mannella set the standard extremely high for our symposium last year and Dale has put together a venue that will maintain that standard of excellence. If you are in the region during this time period, please keep the date open on your calendar.
Lastly, as a reminder, there will always be an informal meeting open to all members of SETP every third Thursday of the month. Location and timing will be determined by Pig Pen and communicated to all by our efficient HQ staff. We truly wish you can join us in the near future for some informal lessons learned, exchanging of flight test best practices, flight test safety discussions and some Mid-West hospitality.
East Coast Section
The East Coast Section held a "Welcome to Flight Test" reception to honor the December graduates of USNTPS back in December. The well attended reception for the 32 TPS Graduates of Class 138 (we're up to Class 138 already!?!) was held at the Pax River Naval Aviation Test Museum, and was jointly sponsored by SETP, SFTE and the USNTPS Alumni Association. The Grads were from all the U.S. military branches and several allied countries.
The mixing of older Members and the new (provisional) Associate Members
Mike "Sting" Wallace (AF) and Klas "Santa" Ohman (M) working their flight test sideburns.

The mixing of older Members and the new (provisional) Associate Members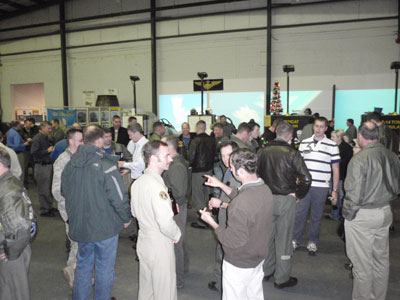 Mike "Sting" Wallace (AF) and Klas "Santa" Ohman (M) working their flight test sideburns.
Mark your calendars: The major upcoming event is the East Coast Symposium, to be held on 15 April 2011 at Naval Air Station Patuxent River, Maryland. The symposium is being held in conjunction with the USNTPS Reunion which is 14-17 April.
Great Lakes Section
On March 5th, members from the Great Lakes Section of SETP supported a safety and technical review of a new Wright B Flyer that is scheduled to begin flight testing in the next few months. The section is now gearing up for the 19 May 2011 Symposium at the Wright-Patterson Club. A few other events to be held in the meantime are the Air Force Museum Open Cockpit Night on March 17th (members only), and we will be supporting an event on April 2nd at the University of Dayton where we will be conducting evaluations on an engineering flight simulator developed by Merlin Flight Simulation Group from the UK. Both SETP and SFTE will support UD's request
to evaluate simulator software OFPs, written by engineering student teams, with experienced test pilots and engineers in order to provide feedback on the viability of the simulator for use in the aerospace engineering curriculum.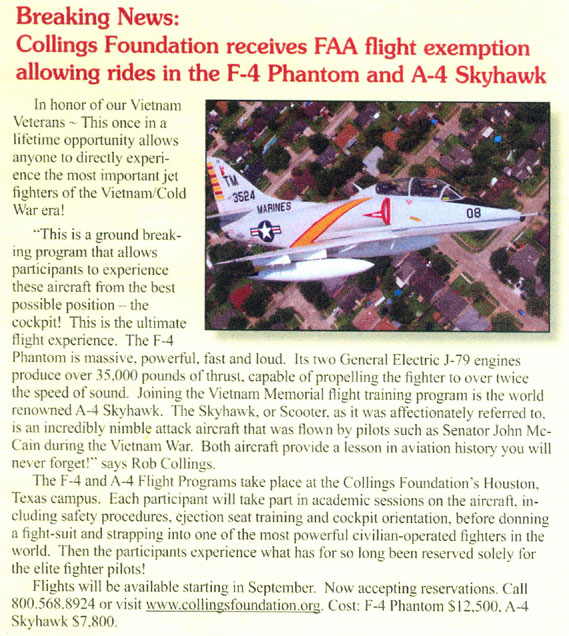 ---
LAST FLIGHTS
The Society sadly announces the passing of the following members:
David Finney (M) – 11 December 2010
James Pearce (F) – 2 February 2011
Bruno Schmitt (AF) – 6 February 2011
---

SETP SECTION CHAIRMEN
CANADA

Jason Randall

This email address is being protected from spambots. You need JavaScript enabled to view it.

GREAT LAKES

Robbie Robinson

This email address is being protected from spambots. You need JavaScript enabled to view it.

CENTRAL

Dan Hinson

This email address is being protected from spambots. You need JavaScript enabled to view it.

NORTHWEST

Leon Robert

This email address is being protected from spambots. You need JavaScript enabled to view it.

EAST COAST

John Tougas

This email address is being protected from spambots. You need JavaScript enabled to view it.

SOUTHEAST

Gary Plumb

This email address is being protected from spambots. You need JavaScript enabled to view it.

EUROPEAN

Marco Venanzetti

This email address is being protected from spambots. You need JavaScript enabled to view it.

SOUTHWEST

Bob Moreau

This email address is being protected from spambots. You need JavaScript enabled to view it.

WEST COAST

Stuart Rogerson

This email address is being protected from spambots. You need JavaScript enabled to view it.
2010 March

March 2010
MESSAGE FROM THE PRESIDENT
Terry E. Tomeny (F)
Boeing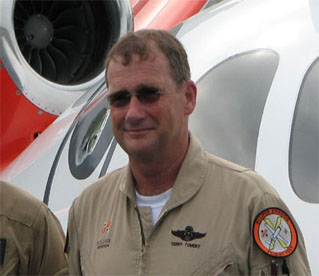 As we all get ready to head to San Diego, it's amazing how fast this year is going and we're now in the thick of the "symposia season".  I had the honor in February to attend an incredible Southeast Symposia with excellent attendance and some outstanding technical papers. Well done guys. And now that I'm a proud Boeing employee and up in the Northwest, I recently had the opportunity to join the Northwest Section for a "beer call" and meet several folks I've never had the pleasure to meet before. There seems to be lots of interest, wherever I go, in the Flight Test Wiki Site described below, which is very encouraging. I encourage you all to look into this and get involved with Dan Canin.  I'm excited to head to San Diego next week and hope to see many of you there. Tim McDonald has put together an outstanding event. Who could pass up meeting Jim Lovell?
Keep up the enthusiasm.
TT
---
Flight Test Wiki
 At last year's annual symposium it was suggested in the Open Forum that SETP initiate a "wiki" to facilitate the exchange of flight test information between Society members.  Dan Canin (M) has agreed to chair a committee to establish the wiki and has set up a prototype wiki online.  The Board of Directors would like several highly motivated individuals who are passionate about the idea of using the internet in this way to join Dan in establishing this capability.  Please contact Dan at This email address is being protected from spambots. You need JavaScript enabled to view it. if you would like to help set the foundation of the wiki that could become the most important component of our Society in the future.
---
SYMPOSIUM INFORMATION
 40th San Diego Symposium
Catamaran Resort Hotel & Spa
San Diego, CA
26-27 March 2010
The Society of Experimental Test Pilots 40th San Diego Symposium and Banquet will be held 26-27 March 2010 at The Catamaran Resort Hotel & Spa, 3999 Mission Boulevard, San Diego, California 92109. Tim McDonald (AF) of the USAF Test Pilot School, is the General Chairman of this event and Kevin Prosser (AF) of USAF is the Technical Session Chairman. Session I of the symposium will begin at 1:00pm on Friday followed by an evening reception. Session II will convene at 8:30am Saturday and adjourn at 12:00pm with a buffet luncheon on the beach. The Banquet will be held later that evening. With the symposium occurring only a few weeks before the 40th anniversary of the lift-off of Apollo13, we are very pleased to announce that this year's Keynote Speaker will be the Mission Commander, Captain James A. Lovell, USN (Ret) (F).
The Society wishes to express its deepest gratitude to the following Corporate Sponsors for this year's San Diego event: Northrop Grumman Corporation, Aerospace Services International, Scaled Composites, Mojave Airport, JT3, General Atomics Aeronautical Systems, and the Lockheed Martin Aeronautics Company. Thanks to their generosity, the Society has been able to significantly reduce both registration and banquet ticket prices.  To register for the events and for additional information please visit http://www.setp.org/table/san-diego/.  Please note the deadline for on-line registration is 22 March 2010.
2009 May
Newsletter description
2009 June
Newsletter description
2009 January
Newsletter description