Welcome to SETP
Introduction
The Society of Experimental Test Pilots is an international organization that seeks to promote air safety and contributes to aeronautical advancement by promoting sound aeronautical design and development; interchanging ideas, thoughts and suggestions of the members, assisting in the professional development of experimental pilots, and providing scholarships and aid to members and the families of deceased members.
SETP Fellows Class of 2022!
Bruce Barrett
Kevin Campbell
Peter Kosogorin
Kelly Latimer
Daniel Levin
Pamela Melroy
Eduardo Menini
Bruce Remick
Steven Roberts
Brian Sandberg
Kenneth Sasine
Markus Scherdel
Guy Thiel
Please join us in congratulating the Fellows Class of 2022 in person at the 66th Annual Symposium & Banquet, 21-24 September 2022! For more information on this event and to book your room reservation ASAP, please click HERE.
Book News
SETP Fellow, Chris Taylor, has published the following book titled "Test Pilot: An Extraordinary Career Testing Civil Aircraft".
You can purchase this by clicking HERE.
Scholarship for the USAF ROTC Detachment at the University of Missouri
Jeff Burrows recently established a Scholarship for the USAF ROTC Detachment at the University of Missouri in honor of his father Irving Burrows (F), a past President of SETP (Bio HERE). The Irving L. Burrows Jr. USAF ROTC Leadership Scholarship honors Burrows and many others' contribution to the F-15 Eagle program. Those interested can find the website at HERE.
2022 - EAA AirVenture Call for Papers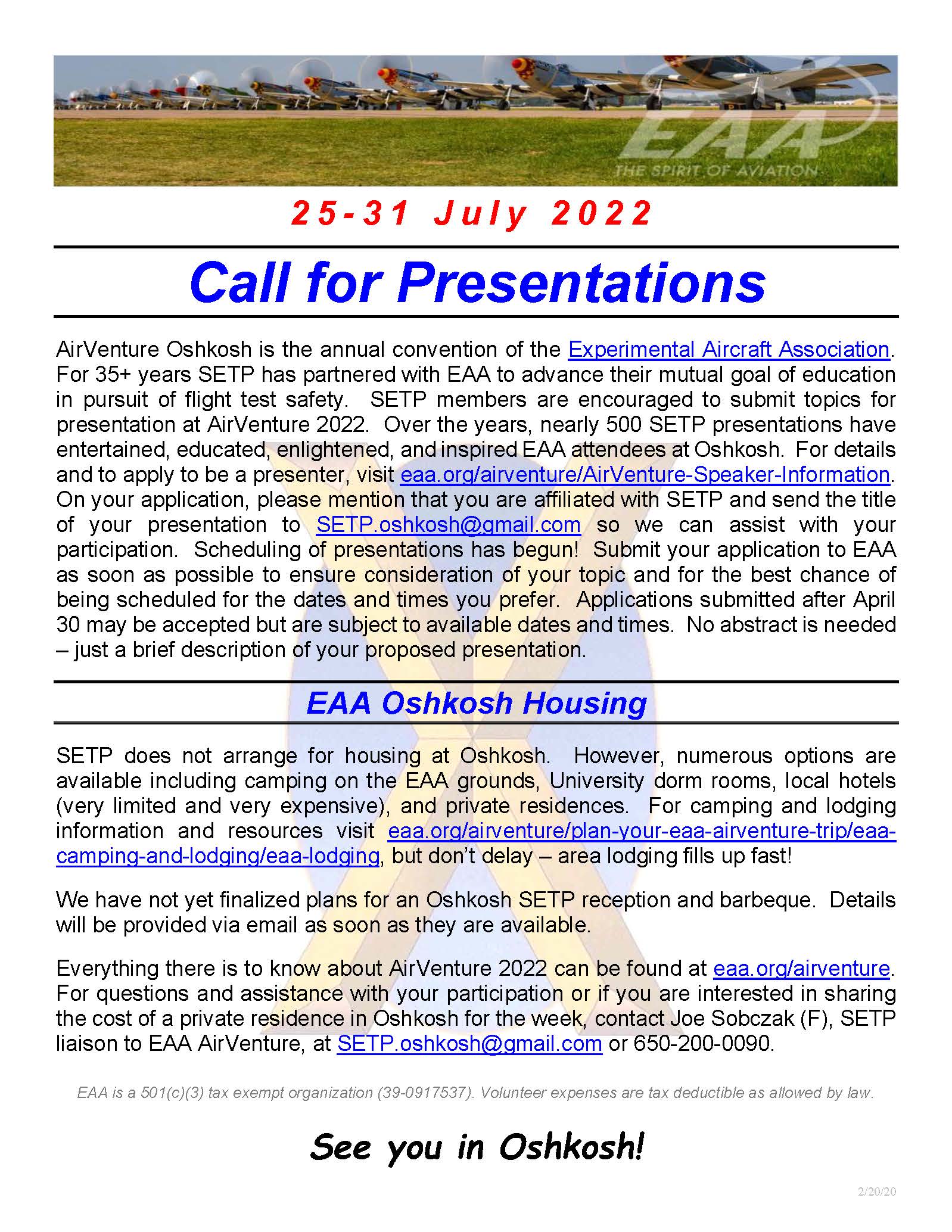 52nd European Symposium - Canceled
52nd European Symposium
Sevilla, Spain
SETP is sorry to report that due to the ongoing issues with COVID-19 that continue to bring many uncertainties with regard to planning an event, the European Planning Committee in Spain has made the difficult decision to cancel the 2022 European Symposium scheduled for 18-21 May 2022. We realize the disappointment that comes with this but felt it was the right decision due to the logistics in planning a symposium, travel restrictions/rules, etc.
We are pleased to announce that our Team in Sweden is on track for hosting the 2023 European Symposium in Linkoping for the June timeframe. More details will be announced as soon as they are available.
Thank you for your continued support of the Society. Check our website often for updates on other events. If you have any questions, please contact This email address is being protected from spambots. You need JavaScript enabled to view it..