Welcome to SETP
Introduction
The Society of Experimental Test Pilots is an international organization that seeks to promote air safety and contributes to aeronautical advancement by promoting sound aeronautical design and development; interchanging ideas, thoughts and suggestions of the members, assisting in the professional development of experimental pilots, and providing scholarships and aid to members and the families of deceased members.
SETP Annual Symposium & Banquet - Save the Dates!
The Society of Experimental Test Pilots
65th Annual Symposium & Banquet
We've got some great news! The Disneyland Resort has been informed by California State health officials that the COVID restrictions are expected to be relaxed by October 1st to allow for full capacity in-person conferences! While our normally scheduled dates are not available, and the Grand Californian conference spaces are not available in October, the Society is pleased to announce that the 65th Annual Symposium & Banquet will be an in-person event held on 27-30 October 2021 at the Disneyland Hotel - 1150 West Magic Way, Anaheim, CA 92802! We realize this is not our typical dates in September and the hotel conference venue is different (still on the Resort property) but are pleased that we are able to secure this timeframe in October in order to align with hotel availability (the entire room block including the government rate rooms will be at the Disneyland Hotel) and state guidelines related to COVID-19. We are looking forward to returning to a rewarding in-person S&B to support the mission of the Society!
NTPS 40th Anniversary!
The National Test Pilot School (NTPS) is proud to announce our 40th Anniversary!! 29 April 2021 marked 40 years of NTPS providing flight test training to Test Pilots & FTEs from over 40 countries around the world. We recently unveiled our 40th Anniversary Painting called "Changing of the Guard" which depicts the EC-145 taking the lead in helicopter flight test training from the UH-1 as they fly over NTPS and other school aircraft (Prints are available). There has been tremendous change in these past 40 years and NTPS has continued to adapt, innovate, and lead in the modernization of flight test training. NTPS was first with Master's degrees, Pre-TPS, significant Systems Curriculum, UAV curriculum integration, Graduate Assistant program, EASA certification, and University accreditation. All great examples of our commitment to our mission to advance flight test competency, improve flight test and aviation safety, and enhance the aerospace profession world-wide. NTPS would like to thank all of our loyal customers from across the globe. Here's to another 40 great years!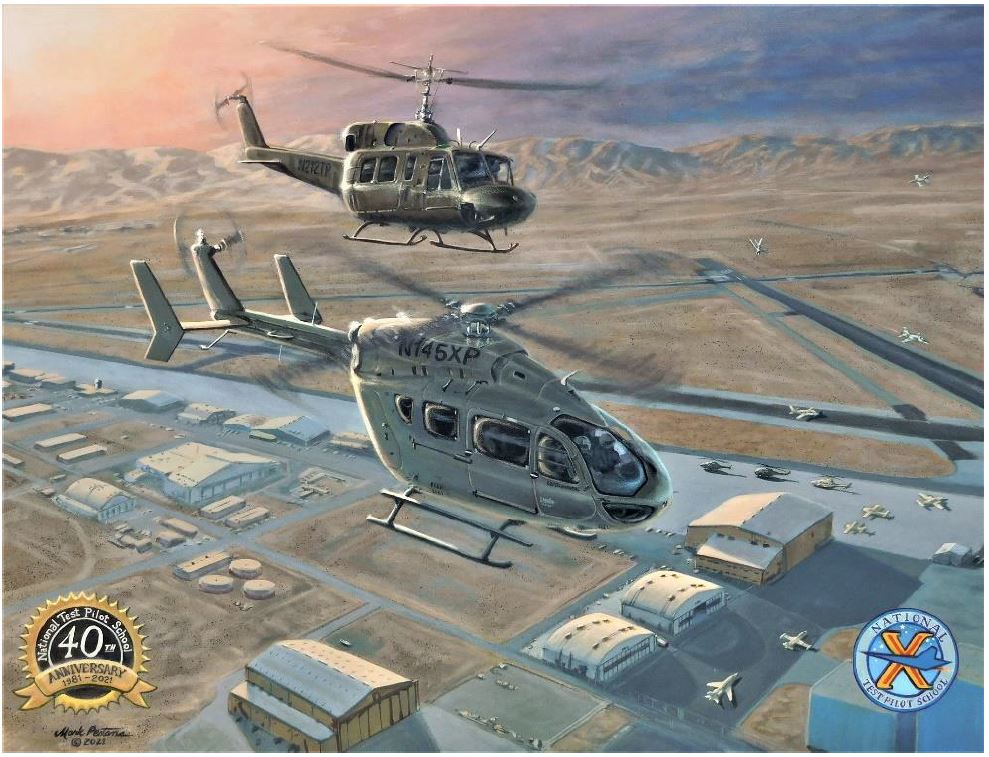 2021 Flight Test Safety Virtual Workshop - Registration Open
FTSC Virtual Workshop
27 May 2021
The Flight Test Safety Committee will hold a one day "virtual" Workshop on 27 May 2021.
The session will include a Tutorial with Technical Presentations and run from 7:00am – 1:30pm PDT (10:00am - 4:30pm EDT) with breaks scheduled throughout.
High-performing organizations recognize that a Safety Management System (SMS) can provide tremendous safety benefit, but only IF all four components are present, operational and EFFECTIVE. None drive to culture more than Component 4 – Safety Promotion, an organization's commitment to investing in its personnel and communicating safety information. The 2021 edition of the FTSW Tutorial will take a close look at what comprises industry standards for SMS Safety Promotion and further, what are the recommended practices that would enable an effective program for flight test organizations.
We will be conducting this vFTSW using Zoom.
Click HERE for more information and to register for the Virtual Workshop
Should you have any questions, please contact This email address is being protected from spambots. You need JavaScript enabled to view it.
Special Business Meeting & State of the Society
NTPS Selections for the 2021 Flight Test Engineer GA Program
The National Test Pilot School (NTPS) is pleased to announce that the selection process for the 2021 Flight Test Engineer Graduate Assistant Program has been completed and are excited to introduce the first three selectees. Click Here to download the full press release.
2021 - EAA AirVenture Call for Papers
For details and to apply to be a presenter, visit https://eaa.org/airventure/AirVenture-Speaker-Information
On your application, please mention that you are affiliated with SETP and send the title of your presentation to This email address is being protected from spambots. You need JavaScript enabled to view it.