Welcome to SETP
Introduction
The Society of Experimental Test Pilots is an international organization that seeks to promote air safety and contributes to aeronautical advancement by promoting sound aeronautical design and development; interchanging ideas, thoughts and suggestions of the members, assisting in the professional development of experimental pilots, and providing scholarships and aid to members and the families of deceased members.
Billie Flynn (F) Appointed Vice President Technology & Strategic Development, ITPS
ITPS is pleased to announce that Billie Flynn has been appointed Vice President Technology & Strategic Development. Since joining us over a year ago Billie has made excellent contributions to our projects, curricula and instruction.

As a 5th Gen Fighter Subject Matter Expert he is providing essential advice and guidance on the development and services at the International Test Pilots School and the International Tactical Training Centre (ITTC). His experience flying the world's most advanced 5th Gen fighter is being leveraged to develop a 5th Gen Technology Roadmap to ensure that the ITPS/ITTC 5th Gen platform and curriculum prepare fighter pilots and test pilot students for advanced fighter aircraft.

Billie will support the development, testing, and introduction to service of the ITPS 5th Generation Surrogate Training Aircraft (5STA) and Advanced Controls Evaluator L-39 (FBW, VSS aircraft) and fulfil a business development role leading key initiatives for the test pilot school. He will continue to provide insight and mentorship to students on modern combat aircraft flight testing and flight test safety.

On the tactical side, Billie will advise on technology and curriculum development for the International Tactical Training Centre (ITTC) programmes, delivered domestically and worldwide, to reflect the necessary advancements to properly equip today's fighter pilot trainees for tomorrow's service fighter aircraft.

Billie is a former Royal Canadian Air Force fighter pilot and test pilot. Billie's over thirty-year flight test career includes stints at Edwards AFB testing fighter aircraft, DASA (now Airbus, Manching) testing Eurofighter and at Lockheed Martin testing the F-35. He retired from Lockheed Martin as Senior F-35 Test Pilot and Fellow after a long and stellar career evaluating all variants of the F-35 and extensive F-16 testing. Billie is a Fellow and Past President of the Society of Experimental Test Pilots.

When asked about his new role at ITPS, Billie commented, "I am excited to support ITPS as it grows and leverages technology advancements to provide world-class instruction for future test pilots and flight test engineers. The future looks very bright indeed for ITPS."
Klaus Savier Awarded the Spirit of Flight Award
EAA, in partnership with the Society of Experimental Test Pilots (SETP), is proud to award Klaus Savier, EAA 258013, the Spirit of Flight Award.
International Flight Test Seminar at Indian Air Force Test Pilots School, Aste, Bangalore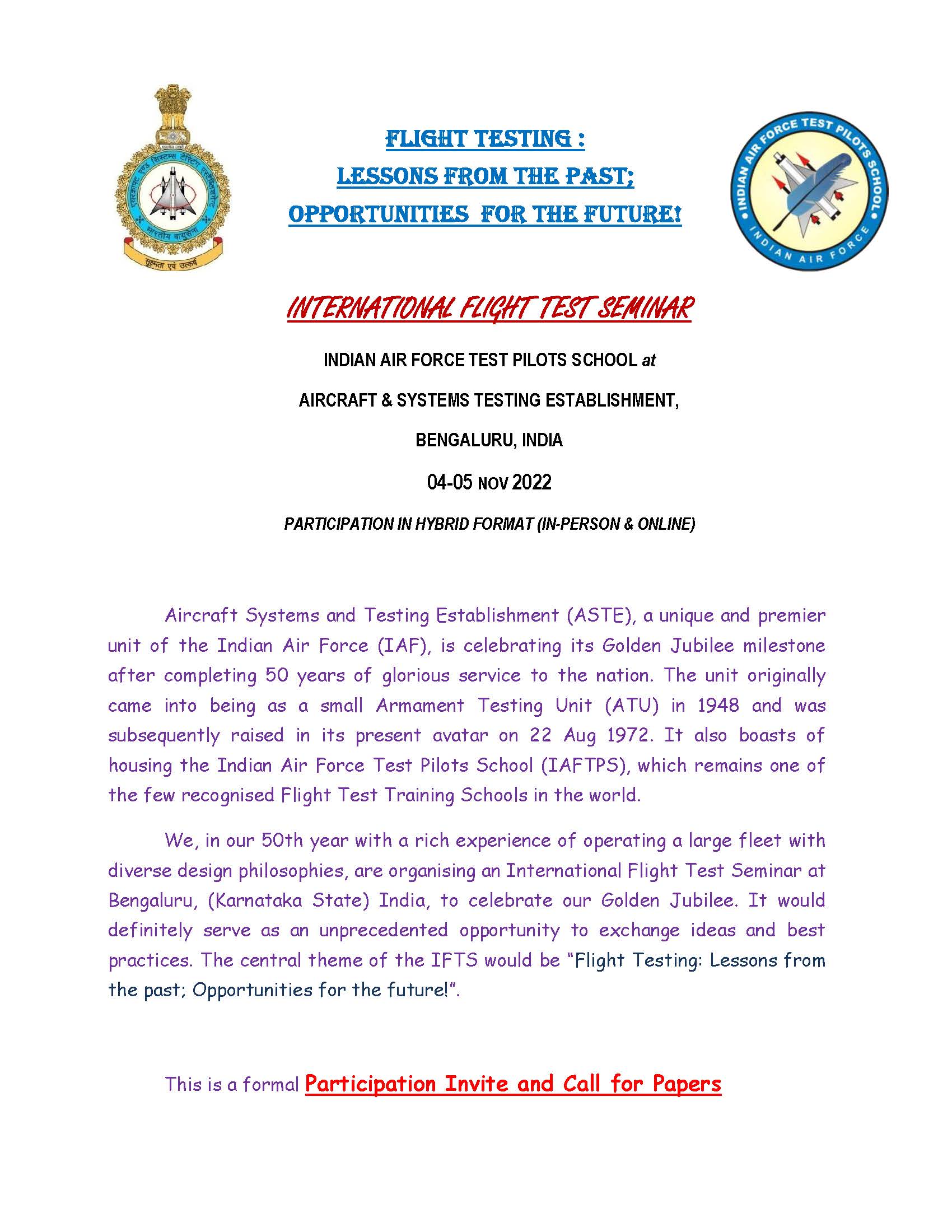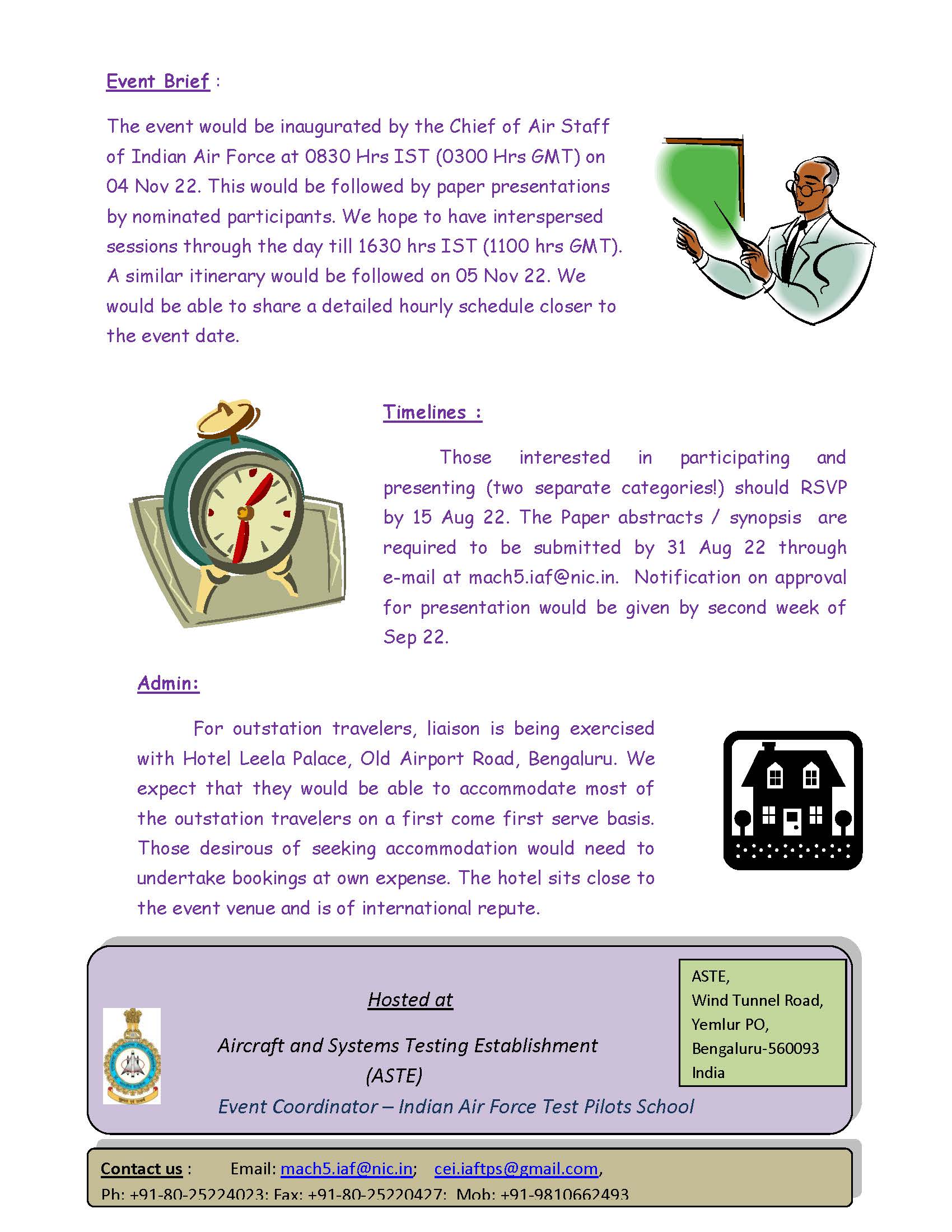 Contact us : Email: This email address is being protected from spambots. You need JavaScript enabled to view it.; This email address is being protected from spambots. You need JavaScript enabled to view it.,
Ph: +91-80-25224023; Fax: +91-80-25220427; Mob: +91-9810662493
SETP Election Results for 2022/2023 Board of Directors
John Tougas (AF) was elected as President-Elect. John will assume the Office of President of the Society in September 2023.
Andrew McFarland (AF) was elected as Vice President
Kerry Smith (AF) was elected as Secretary
Jameel Janjua (M) was elected as Treasurer
Kelly Latimer (AF) was elected as Legal Officer
SETP Fellows Class of 2022!
Bruce Barrett
Kevin Campbell
Peter Kosogorin
Kelly Latimer
Daniel Levin
Pamela Melroy
Eduardo Menini
Bruce Remick
Steven Roberts
Brian Sandberg
Kenneth Sasine
Markus Scherdel
Guy Thiel
Please join us in congratulating the Fellows Class of 2022 in person at the 66th Annual Symposium & Banquet, 21-24 September 2022! For more information on this event and to book your room reservation ASAP, please click HERE.
Book News
SETP Fellow, Chris Taylor, has published the following book titled "Test Pilot: An Extraordinary Career Testing Civil Aircraft".
You can purchase this by clicking HERE.