Welcome to SETP
Introduction
The Society of Experimental Test Pilots is an international organization that seeks to promote air safety and contributes to aeronautical advancement by promoting sound aeronautical design and development; interchanging ideas, thoughts and suggestions of the members, assisting in the professional development of experimental pilots, and providing scholarships and aid to members and the families of deceased members.
AirVenture Oshkosh - Call for Presentations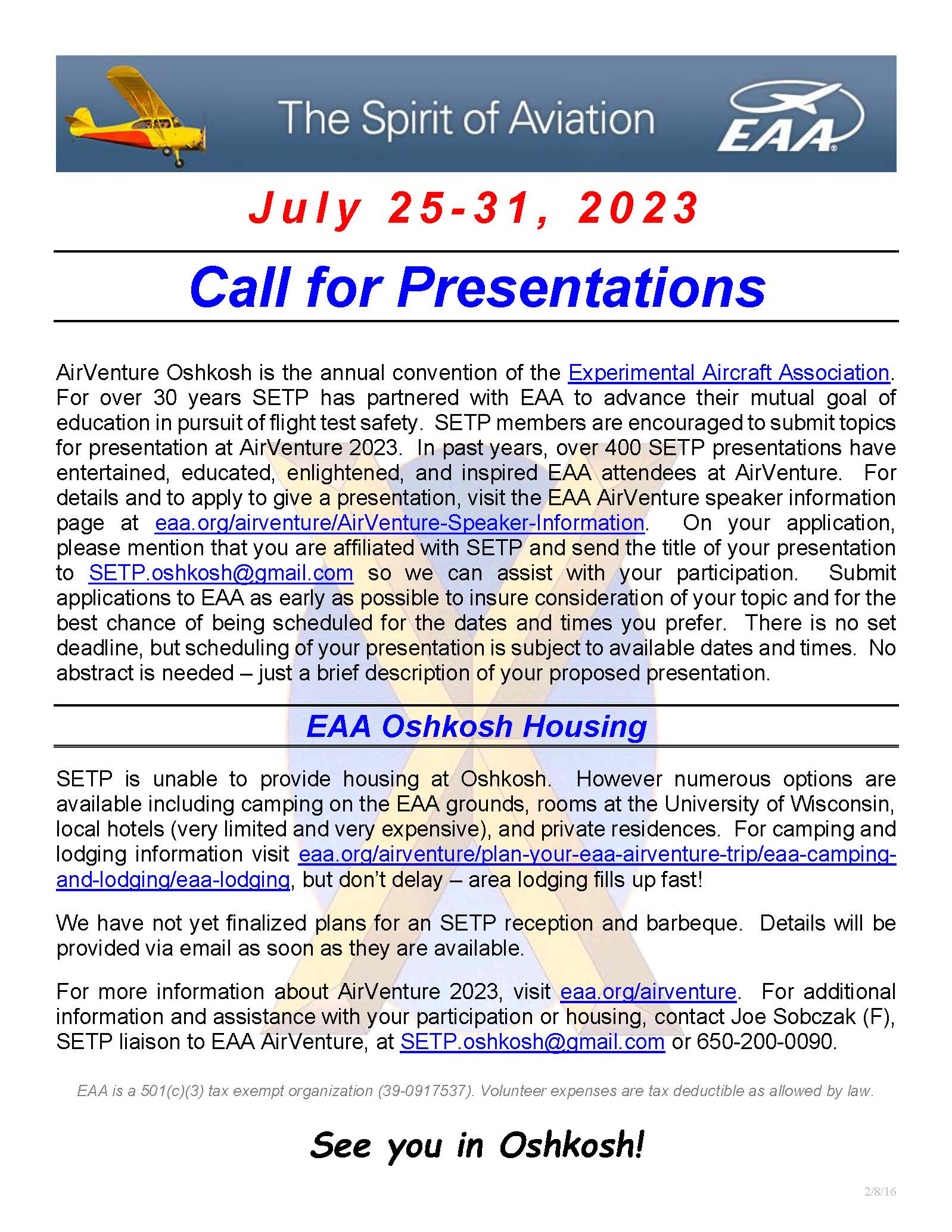 January 2023, President Message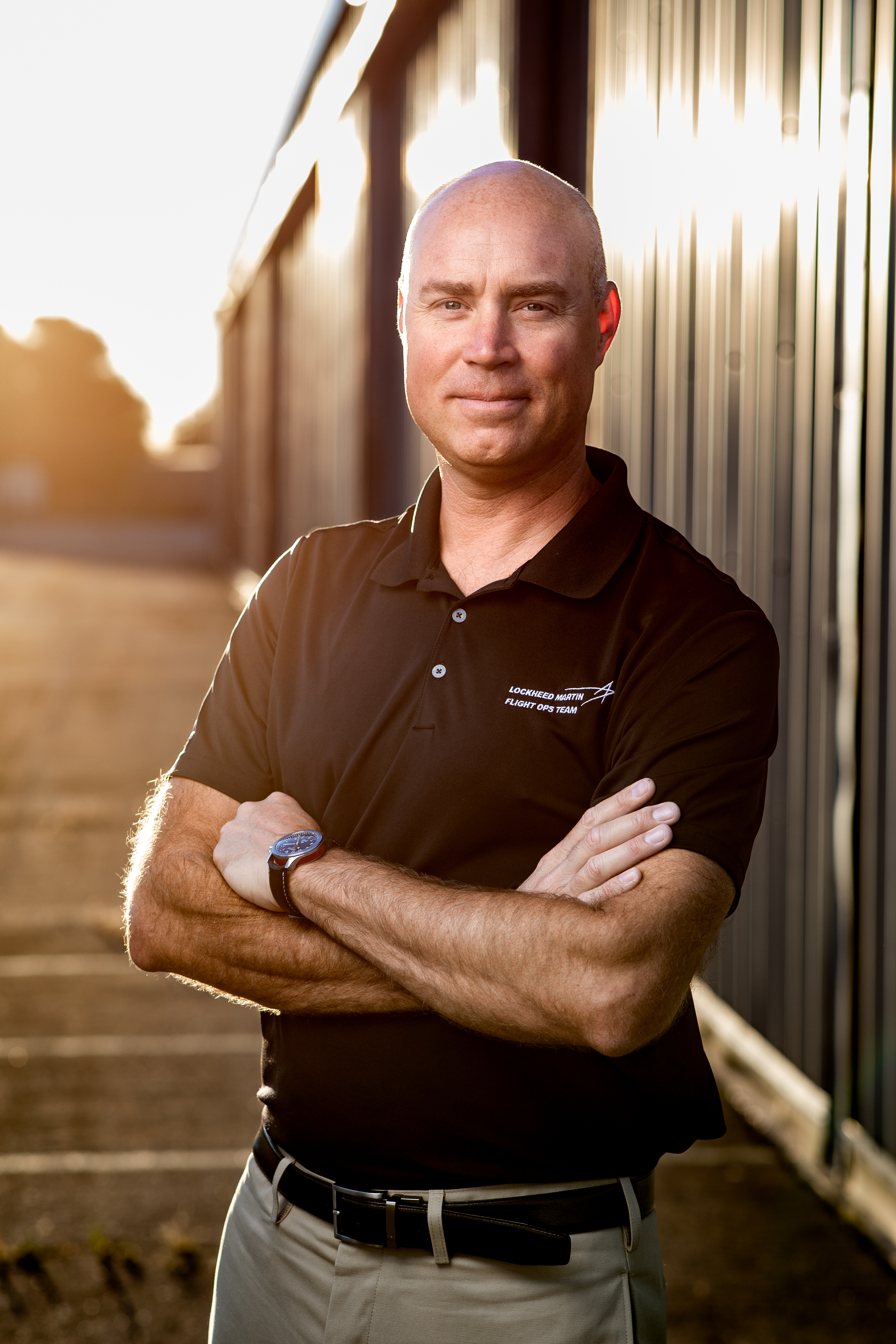 Happy new year! I am proud to report that your Board of Directors has set an aggressive agenda of tasks for 2023, with several initiatives meant to directly increase the value of SETP to our members worldwide.
Section Events
A few geographical sections have already scheduled their four required, plus additional events. If you have not heard, check that your setp.org member profile contact methods are correct, and reach out to your representative and officers- perhaps offer to help. These educational meetings are the forge from which high-quality technical papers are wrought. We expect to see benefits at the end of year symposium, for which Condor Koyama's (AF) S&B Committee is already planning.
Social Media Presence
You may have noticed the uptick in posts to our LinkedIn, Facebook, Twitter and Instagram accounts. Laurie, Susan, and I (plus Turbo Tomassetti (F) with the SETP Foundation's Flight Test Safety Committee messages) are shooting for an easy rhythm- a little less than once per week. Once we determine if such activity serves a Society need then we'll explore whether a dedicated committee should increase the tempo, or if we should abandon or switch platforms. Your feedback is appreciated.
Honorary Fellow and Lifetime Member Census
Without an annual dues feedback mechanism there's a chance we have lost touch with or missed the passing of some of our 700 prepaid members. Remember that all active members receive a complementary Lifetime Membership upon reaching 76 years of age. Secretary Kerry Smith (AF) and the staff are reaching out, then searching for stragglers, with the plan to have a corrected roster by the time Al Peterson's (F) Membership Committee completes action for any members in arrears (pay your dues, please).
Crisis Adjudication
Nations where we have members sometimes make unfavorable headlines, and one recent news story tangentially mentioned SETP. We were never approached by authorities nor the press but were prepared for such. Our individual and Corporate Members are held to our Code of Ethics, and as an international, apolitical organization we steer clear of aligning with sides. Additionally, the Officers and Board are working some minor issues with use of our X insigne (logo), with job postings involving new pay transparency laws, and long-term headquarters building maintenance. Pretty standard business you elected and appointed us to handle.
I look forward to visiting many of you this year at the largest of your local gatherings. Otherwise, I am always available for comments or concerns.
Brian Sandberg (F)
2022-2023 SETP President
This email address is being protected from spambots. You need JavaScript enabled to view it.
A Lot of Excitement in the Flight Test World at ITPS
Record-breaking year at ITPS
It has been a record breaking year at the International Test Pilots School (ITPS) which celebrated the graduation of 21 Test Pilots and Flight Test Engineers on its Graduate 2022A and Avionics Systems Flight Test Diploma Courses on 17 December 2022. Together with the earlier 2021B Course graduation, a total of 28 graduates and 15 Master of Science in Flight Test Engineering students have graduated from ITPS in 2022. This most successful year at ITPS was capped by a wonderful gala evening and graduation dinner. The keynote address by Maj. Gen. (RCAF Ret.) Dave Wheeler, former Deputy Chief of Defence Staff and fighter pilot, highlighted the vital contribution the flight test profession makes to ensuring operational crews receive aircraft that are fit for the mission. After 26 years at the helm, Giorgio Clementi was happy to hand over control of ITPS to Stephen "Croc" Crockatt who takes over as Head of Training from January 2023 assisted by David Lohse, who has been promoted to Deputy Head of Training. See photos and learn more: ITPS 2022A Graduation and News
Welcome International 2023A Test Pilot and Flight Test Engineer Students
First day at the International Test Pilots School (ITPS) for course 2023A with candidates from around the world, including Airbus - Spain, Leonardo PZL-Świdnik - Poland, Royal Netherlands Air Force (RNLAF), South African Air Force (SAAF), Turkish Air Force (THK) and Turkish Aircraft Industries (TAI). We are delighted to have the SAAF back at ITPS, and to welcome new customer the RNLAF! They are joined by ITPS Assistant Flight Test Instructors, Vaughn Guigui and Guy Lynch who will be participating in the full course. It is wonderful to welcome such a keen and enthusiastic group of professionals and we wish them a great year at ITPS! See photos and learn more: Welcome International Students 2023A
NTPS Acquires Flight Research INC
NTPS Acquires Flight Research INC
National Test Pilot School (NTPS) Mojave, CA
On behalf of the NTPS Board of Trustees and the Board of Directors of Flight Research, Inc, we are pleased to announce the acquisition of Flight Research Inc assets and the creation of a new NTPS not for profit Business Unit, Flight Research International LLC (FRI).
NTPS is The World's Test Pilot School. Our mission is to educate and train military and civilian aviation personnel so that each graduate increases flight test competency, improves flight test and aviation safety, and enhances the aerospace profession worldwide. We complete our mission through our professional Test Pilot and Flight Test Engineer short and on demand courses. NTPS is accredited to award Master of Science Degrees and maintains an EASA certification.
Flight Research is a world leader in aircraft maintenance, advanced flight training specializing in upset prevention and recovery training, flight test support, preparation for space travel, and custom high performance aircraft support and flight training.
Said NTPS Enterprise CEO Pat Garman, "The joining of NTPS and FRI increases operational efficiencies and enables both NTPS and FRI to serve the international flight test and aviation communities with a broader set of flight test and advanced flight training options."
Said Bill Korner retiring Chairman and CEO of Flight Research, Inc. "It is a natural fit bringing these two exceptional companies together with the ability to offer customers the very best in services that further the safety and advancement of aerospace."
James E Brown III will continue to lead the NTPS School as President, and Patrick Garman will serve as the Interim CEO of the NTPS Enterprise and acting President of FRI. To learn more, please visit us at WWW.NTPS.edu and WWW.flightresearch.com.
Walter W. Hollis Award for Lifetime Achievement in Test & Evaluation to Honorable Bob Behler (F)
Mike Rabens (F), Chair of the NDIA Industrial Committee on Test and Evaluation, and Jeff Bilco, NDIA T&E Division Chair, presented the Walter W. Hollis Award for lifetime achievement in Test and Evaluation to the Honorable Bob Behler (F) on 1 November at the NDIA Systems and Mission Engineering Conference. Bob entered the Air Force in 1972, attended USAF Test Pilot School, flew the SR-71 and 65 other types of aircraft, commanded the 31st Test and Evaluation Squadron, the 9th Operations Group, and the 9th Reconnaissance Wing before serving in many Pentagon roles, retiring as a Major General. Afterwards he became one of the leading voices for Software and Cyber Test and Evaluation at Johns Hopkins University Applies Physics Lab, MITRE Corporation, SRC, Inc., and finally as COO and Deputy Director of Carnegie Mellon University Software Engineering Institute before being appointed by the president as Director, Operational Test & Evaluation for the Dept of Defense, a position he held for 3 years. He was one of only two test pilots and SETP members to serve as Director of Operational Test and Evaluation, the other being Honorable Jack Krings (F). As you can see in the picture, Bob is very much alive and well, and says he intends to continue to support our nation's Defense. His test philosophy can be summed up as "Veritas - seek the truth". Asked why we test, his response: "We test to minimize the maximum regret". A most worthy individual for this award, which is presented by NDIA in the name of Walter W. Hollis to honor his dedicated and long-standing service in the field of Test & Evaluation. In 1980, Walt was appointed as the Deputy Under Secretary of the Army for Operations Research. In this position, he proudly served the Army and this country, leading the Army T&E and analysis communities for 26 years until his retirement in 2006, but his reach was well beyond the Army. In fact, he was affectionately known as the grandfather of T&E.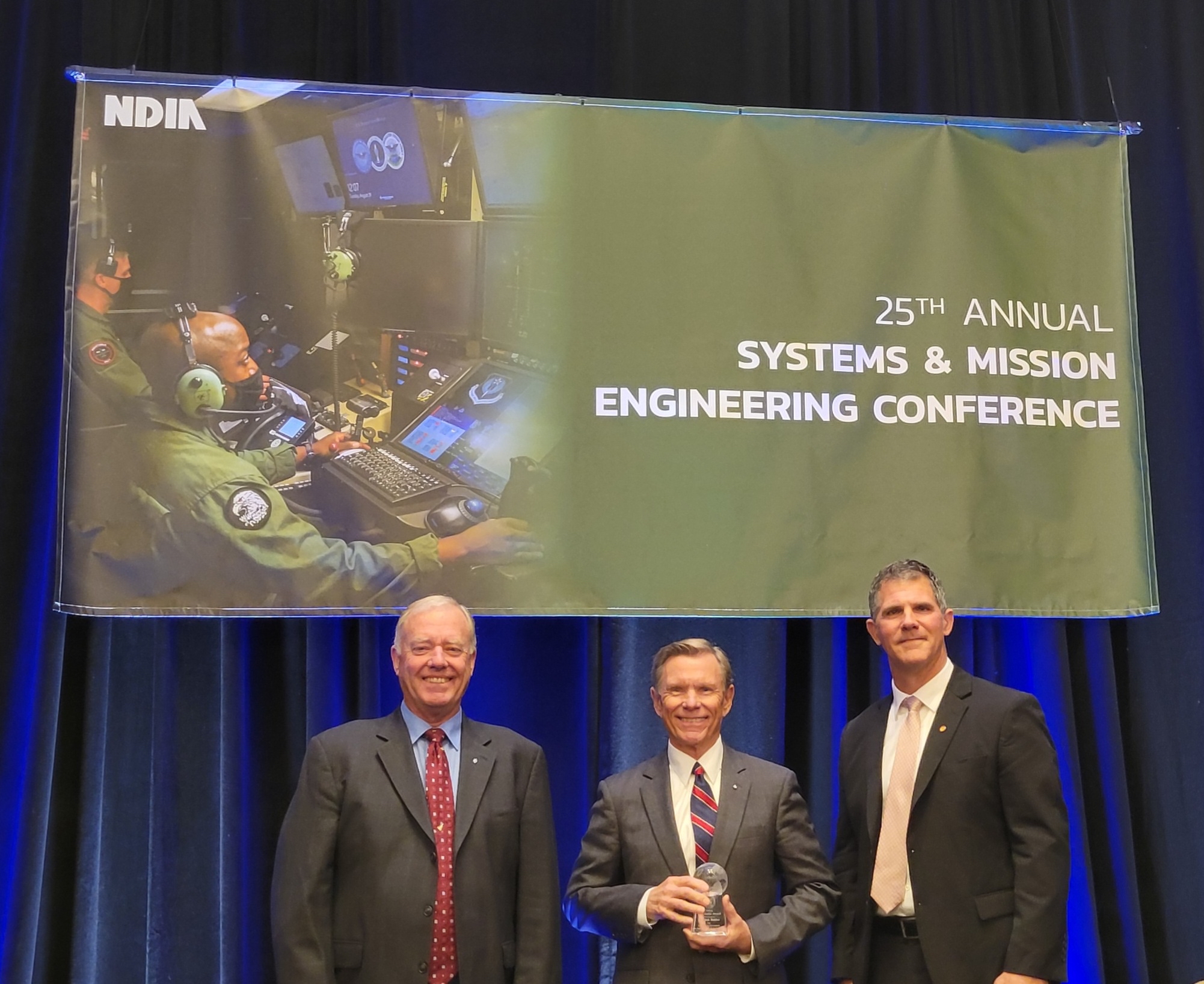 ITPS Canada Goes 100% Carbon Neutral with Partnership of LivClean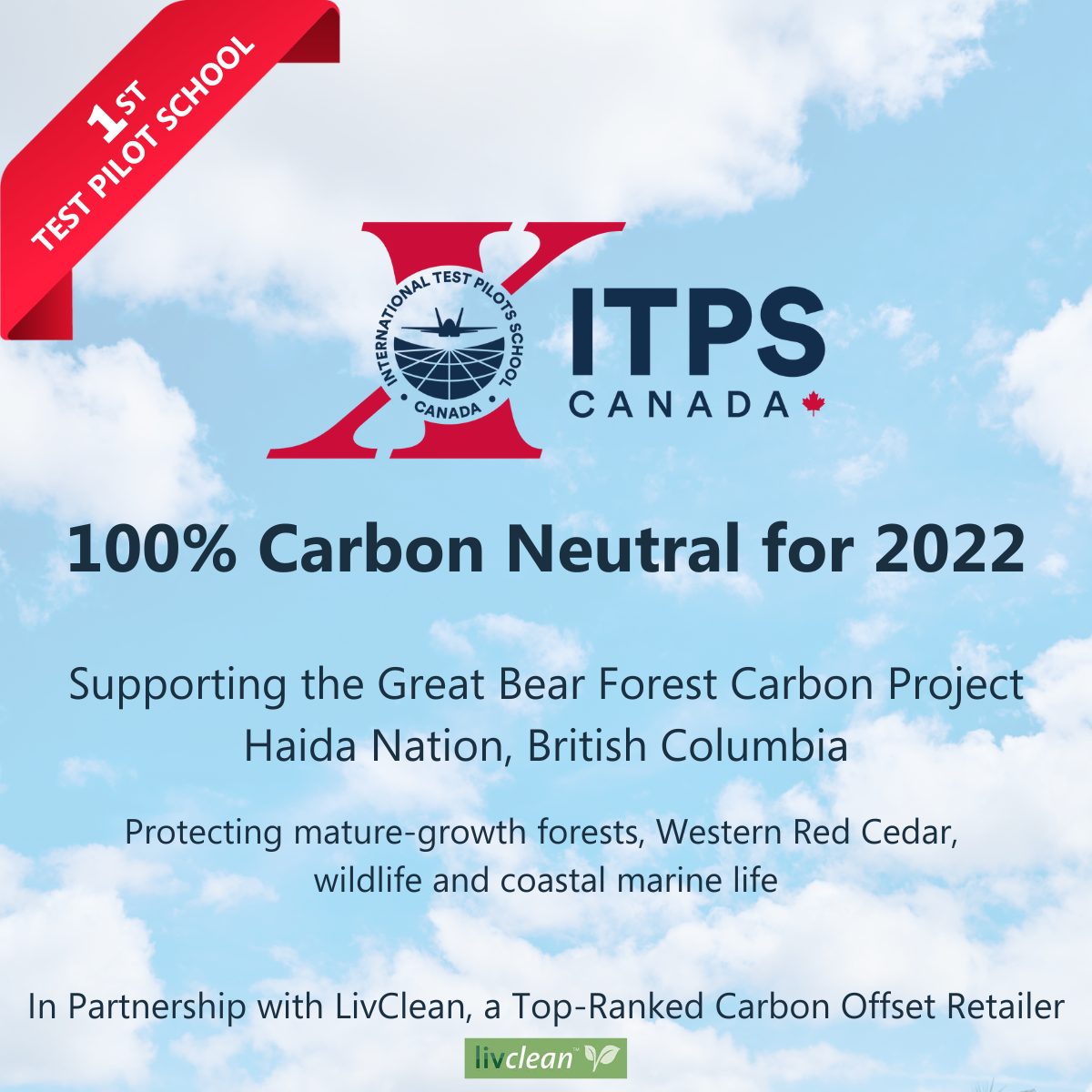 London, Ontario- ( November 19, 2022) - ITPS Canada is proud to announce a pledge to be 100% carbon neutral for 2022 and beyond
To help achieve the company's environmental goals, ITPS (International Test Pilots School) has partnered with LivClean, a top-ranked carbon offset retailer. Through the partnership, ITPS's carbon offset purchase will support the Great Bear Forest Carbon Project, located inside the traditional territories of the Haida Nation, British Columbia, Canada, and home to the largest remaining intact coastal temperate rainforest in the world.
"It's time for us all to take responsibility. Our partnership with LivClean and the Great Bear projects means ITPS Canada's carbon emissions from flying will be completely offset, making us the first test pilot school in North America to be 100% carbon neutral," says Giorgio Clementi, President of ITPS Canada. "This demonstrates ITPS is committed to climate action in aviation."
Read more: ITPS Canada Goes 100% Carbon Neutral with Partnership of LivClean