Welcome to SETP
Introduction
The Society of Experimental Test Pilots is an international organization that seeks to promote air safety and contributes to aeronautical advancement by promoting sound aeronautical design and development; interchanging ideas, thoughts and suggestions of the members, assisting in the professional development of experimental pilots, and providing scholarships and aid to members and the families of deceased members.
Test Pilot Instructor Earns Navy's First Army Broken Wing Award
Congratulations to Barbara Gordon (M) on receiving this prestigious award!
Read the full article HERE
SFTE Weekly Newsletter - 2019.09.13
Click HERE to download The Society of Flight Test Engineers Weekly Newsletter!
SETP-SFTE-AIAA Semi-Formal Dinner 24 October 2019
For more details and to register for this event please click HERE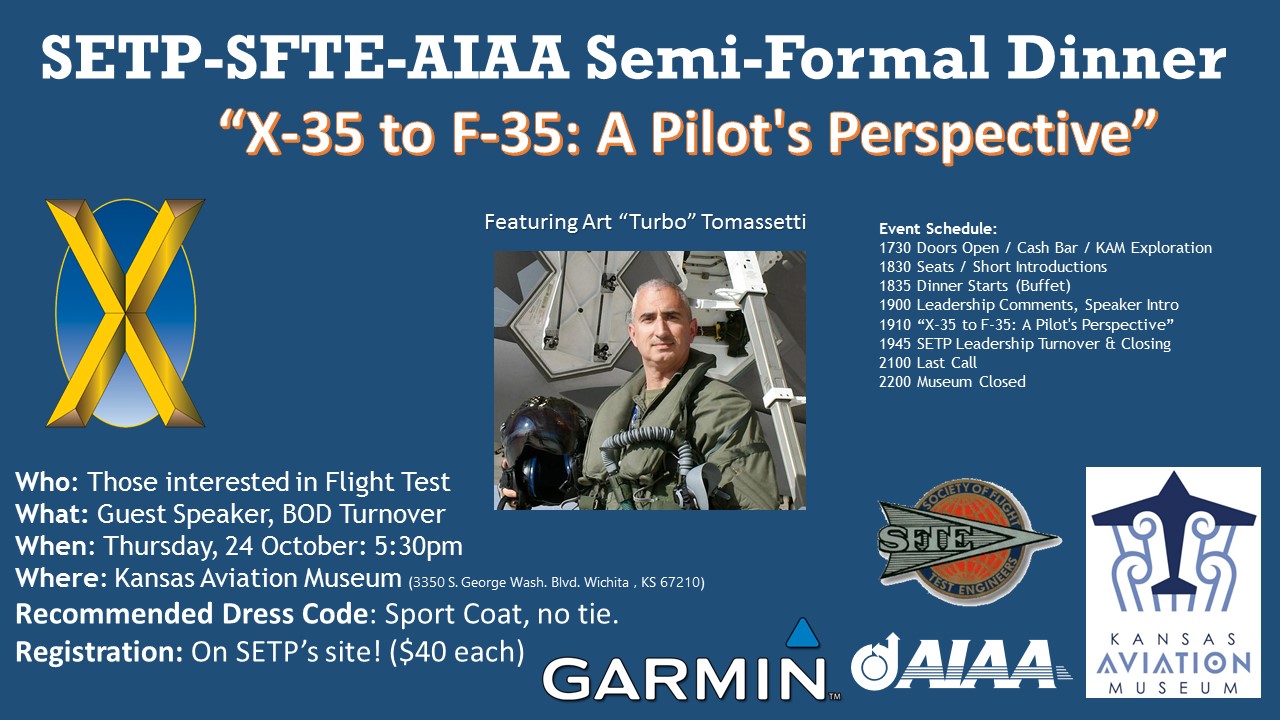 Air Cdre 'Rod' Banks / Schneider Trophy / Miles M.52 Supersonic Aircraft (National Aerospace Library Sound Archive)
For your information a historic sound recording of Air Commodore Francis Rodwell 'Rod' Banks in which he describes in detail his long career in aviation and in particular his long involvement with the development of aero engines and his key role in the Schneider Trophy contests has just been added to the National Aerospace Library Sound Archive - a real 'Who's Who' of aviation personalities and historical subjects based on original recordings held in the Library's archives - and is now available to listen to via the Royal Aeronautical Society's SoundCloud web-site :-
The specific link to the recording is (just click on the arrow button to 'Play'):-

https://www.aerosociety.com/news/audio-classic-lecture-series-fifty-years-of-engineering-learning-reflections-on-a-lifetime-with-aero-engines-by-air-cdre-f-r-banks/
Air Cdre Banks' 1967 lecture has been released alongside recordings of lectures by Schneider Trophy pilot Gp. L. S. Snaith and a 2004 lecture by Mike Hirst on the history of the Miles M.52 supersonic aircraft project.
A quick link to the historic lectures and speeches available so far (including Sir Frederick Handley Page, Igor Sikorsky, Jeffrey Quill, Peter Twiss, Charles H. Gibbs-Smith, Andrew Brookes, Silvius Dornier, Sir Richard Glazebrook, Commander Graeme Rowan-Thomson, Keith Hayward, Sir Dermot Boyle, Philip Wills, Chris Yeo, Captain John Cecil Kelly-Rogers, Col. Al Worden, Peter Hearne, Sir George Edwards, Captain John Cecil Kelly-Rogers, John Farley, A. W. 'Bill' Bedford, H.R.H. The Duke of Edinburgh, Christopher Bartlett, Andy Sephton, Dr. Ron Smith, A. R. Collar and Sir Vernon Brown) is:-
https://soundcloud.com/aerosociety-podcast/sets/classic-lecture-series

A quick link to the extended interviews available so far (including interviews with Captain Eric 'Winkle' Brown, Chuck Yeager, Scott Crossfield, Handel Davies, Al White, Bill Humble, Pete Knight, Dick Johnson, Philip Lucas, Peter Bugge, Col. Emil 'Ted' Sturmthal, Harald Penrose, John Morton, D. P. Davies, Jeffrey Quill, John Cunningham, Sir Barnes Wallis, R. A. C. Brie, Sir Harry Ricardo, Clayton Knight, Henry Knowler, Mike Savage and Hugh Dibley) is :-
https://soundcloud.com/aerosociety-podcast/sets/an-interview-with
Read more: Air Cdre 'Rod' Banks / Schneider Trophy / Miles M.52 Supersonic Aircraft (National Aerospace...
First Public Manned Demonstration of an EVTOL
On 30 August 2019, Damian Hischier (M) flew the first public manned demonstration of an EVTOL in aviation history, which makes him the first official test pilot of EVTOL aircraft.
To read the full press release, click HERE!
Celebrating the 30th Anniversary of B-2 Spirit Bomber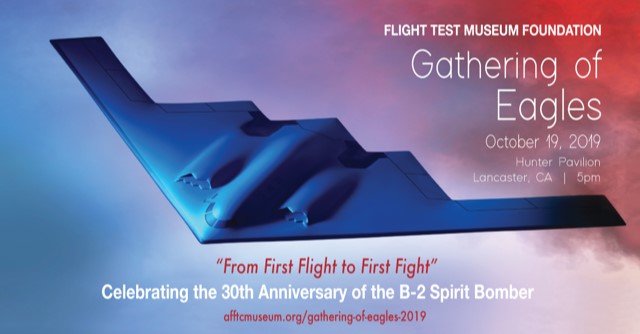 Celebrating the 30th Anniversary of B-2 Spirit Bomber
From First Flight to First Fight
Date: October 19, 2019
Location: Hunter Pavilion at AV Fairgrounds, Lancaster, CA
Time: 5pm, Dinner 6pm
Tickets: $100/person (full tables available)
Dinner & Discussion | Eagle Honoree Presentation | Keepsake Silent Auction
Facebook Event:
https://www.facebook.com/events/2403897319899874/
Flight Test Museum Website (info and tickets):
http://www.afftcmuseum.org/gathering-of-eagles-2019
2019 Honorees
Frank T Birk
Col, USAF; B-2 Combined Test Force Director
William "Flaps" Flanagan
Flight Test Weapon System Operator (NGC)
Anthony A 'Tony' Imondi
LtCol, USAF; Strategic Air Command Pilot
Thomas J LeBeau
LtCol, USAF; Operational Test & Evaluation Pilot; B2 Test Pilot
Robert G 'Bob' Myers
Vice President B-2 Flight Test (NGC)
Otto J Waniczek
Air Vehicle Manager (NGC)