Welcome to SETP
Introduction
The Society of Experimental Test Pilots is an international organization that seeks to promote air safety and contributes to aeronautical advancement by promoting sound aeronautical design and development; interchanging ideas, thoughts and suggestions of the members, assisting in the professional development of experimental pilots, and providing scholarships and aid to members and the families of deceased members.
Pat Garman Retiring as CEO of NTPS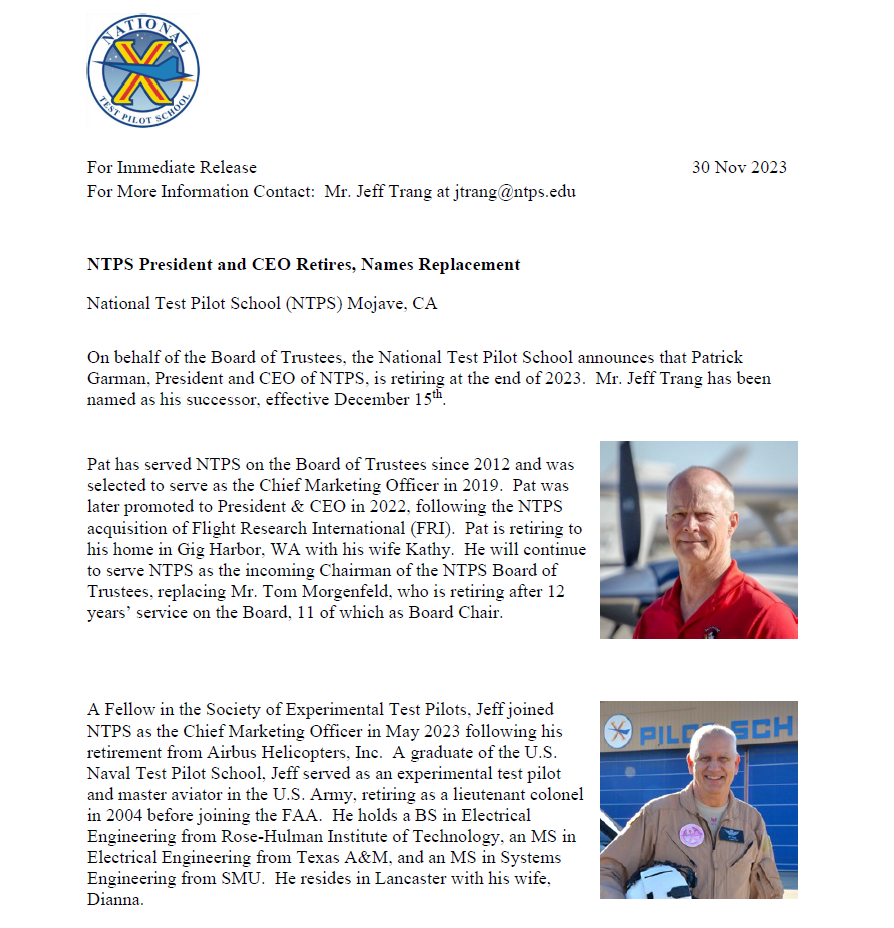 SETP Online Store
The SETP online store will close for the holidays starting 13 December 2023. Please make all purchases by 12 December to ensure shipping by 13 December. The store will reopen 2 January 2024.
Thank you!
Southeast Section STEM Event at Georgia Tech
The SETP Southeast Section held a combined STEM event with SFTE & AIAA last Friday at Georgia Tech. This was a big success, particularly from the standpoint of student engagement and STEM outreach. The whole event lasted 3 hours and was truly engaging. Many of the students stayed afterward to speak with professional flight testers and said they were inspired to pursue a career in flight test. Approximately 15 SETP Members, including SETP President John Tougas (AF), and other aerospace professionals were in attendance from Gulfstream, FAA, Army Redstone, Lockheed, and others. Thanks to Wayne Roberts (F) for a fascinating technical presentation and David Kern (AF) for helping to arrange this event.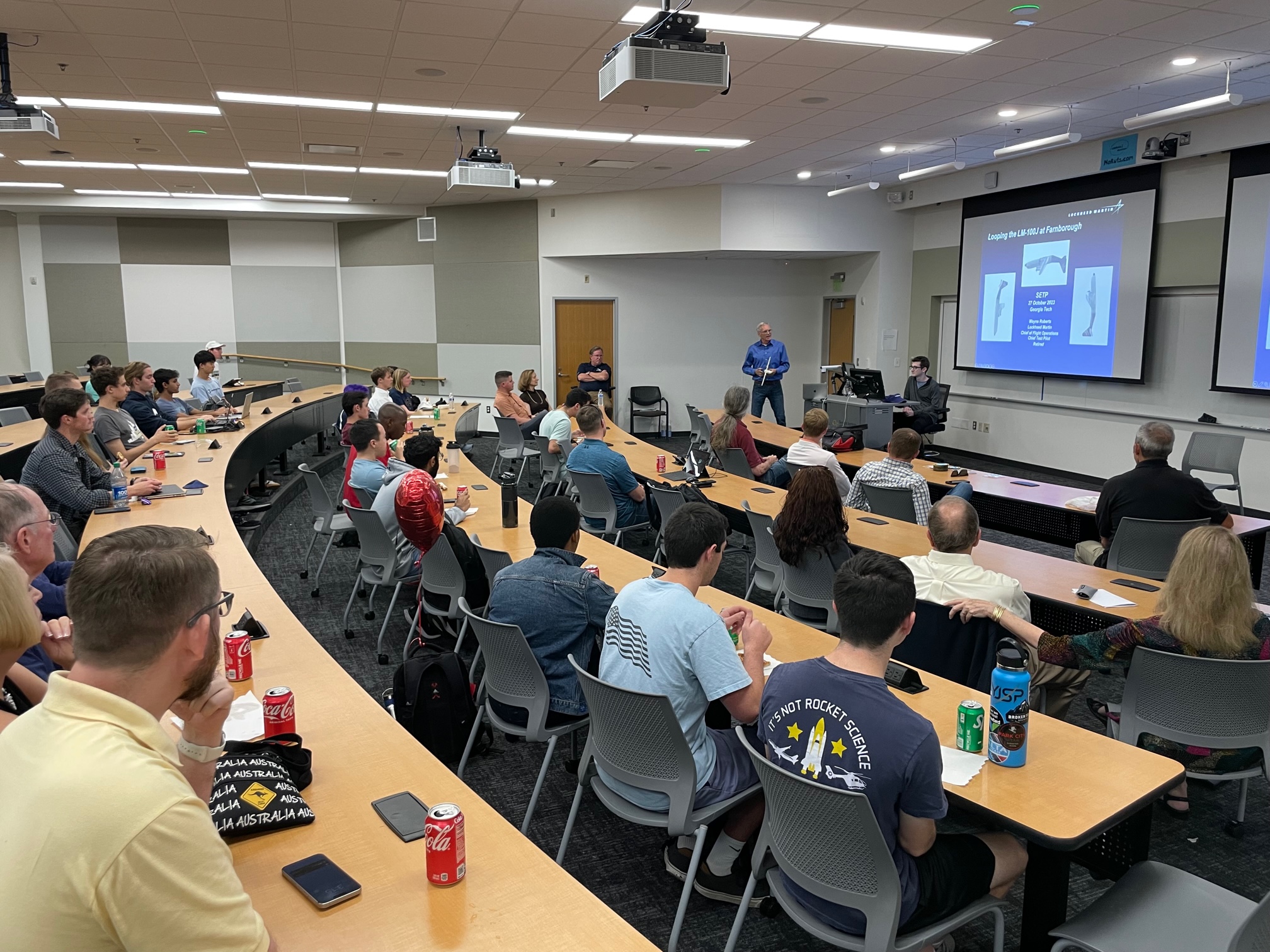 October 2023, President Message
It is my honor to serve as your President in the 68th year of our Society and I thank Brian for his prior service and continued service as one of 19 voting members on the SETP Board of Directors for 2023-2024. Yes, the out-going President becomes the Executive Advisor per our Constitution at the same time the President-Elect is installed. This is referred to as the triad of continuity, a brilliant design feature of our Constitution to ensure lessons learned are passed down.
Speaking of Constitution, at this moment there is an SETP Constitutional amendment being voted on and only 408 out of 2011 votes have been received. It's 2 days before the deadline! When I was elected President just 20% of the membership cast their votes! This is your Society and as I look around at ours and other industries and similar societies, SETP is arguably a huge success story by comparison. Start/re-start serving the Society by voting!
All past President's challenge the membership to get more involved, volunteer, mentor, contribute, write, present, and so on. The problem is there is no good gouge on how exactly to do that. But the knowledge is out there. Young bloods, ask the gray beards (myself included). Gray beards, help the young bloods. I'll give you an example. Latch Lippert (a young blood at VX-23) approached me (one of the gray beards at VX-23) at the 2022 Annual Symposium and Banquet asking me how to get involved. A few texts, phone calls and discussions later, he is your 2024 AS&B Symposium Chair under Condor's leadership as General Chair. We have 12 committees, 10 Sections and 2 foundations, and many opportunities for you to contribute.
Anaheim debrief - The Annual Symposium and Banquet is by far the largest event of the year. Thanks to our Executive Director, Laurie Balderas her outstanding staff and the General Chairman, William "Condor" Koyama and his staff of SETP member volunteers we had 825 attendees from 13 countries with 20 corporate displays. A few years ago, the Board of Directors decided to sign a multi-year contract with Disney locking in fixed known prices and venue availability for future events. Suggestions were made by members to explore new venues at different locations. For example, during the 2021 AS&B we did not even know if the "great" state of California would allow "large gatherings" until inside of 90 days prior to the event. Nevada had no such issues so we explored Las Vegas options. It turns out the cost would have been higher and availability lower for an adequately sized venue. And yes, I did notice a significant decrease in Disney staff performance like most of you that were there as ice cold water was spilled on my tuxedo at dinner while waiting for programs, soup and wine to be served. Don't worry, there WILL BE a detailed debrief with Disney and we will have them fix these issues. Otherwise, it was a huge success. Sorry you missed it if you did not attend.
Initiatives:
1. Strengthen SETP membership by recruiting every eligible individual and encouraging them to become a full member to share their experiences and promote safety. Bolster SETP outreach efforts to connect and inspire the younger generation to pursue our profession. Our world is short on pilots and even shorter on test pilots!
2. Advocate for robust in person attendance at all Symposia and Section Education events so that we may all benefit from the personal exchange of ideas and experiences to promote safety and best practices. And they are open to the public including industry. Bring a STEM group, Civil Air Patrol cadets, or others whom may benefit.
3. Whether you served on the board or not, I need your input, enthusiasm, and especially your volunteerism as our industry transforms at a rapid pace. I want to hear from you directly. Email me your ideas, requests, and funny memes and I will respond within 48 hours! This email address is being protected from spambots. You need JavaScript enabled to view it.
Fun fact:
On 26 September 1955, the new 15,000 foot runway at Edwards AFB was declared operational with the move of AFFTC Fighter Operations to main base. That same day, announcements were hand carried to all available Experimental and Engineering Test Pilots. A conference for the formulation of a Test Pilot Organization was now officially scheduled for 29 September 1955. The first organized meeting of the "Testy Test Pilots Society" was conducted and 17 test pilots from 9 organizations elected Ray Tenhoff as temporary chairman. This name was officially changed at the second meeting on 13 October 1955 to "The Society of Experimental Test Pilots."
Parting words:
"A good pilot is compelled to evaluate what has happened so he can apply what he has learned"
CDR Mike "Viper" Metcalf, from the original TOPGUN movie
In Your Service,
John "Toonces" Tougas (AF)
2023-2024 SETP President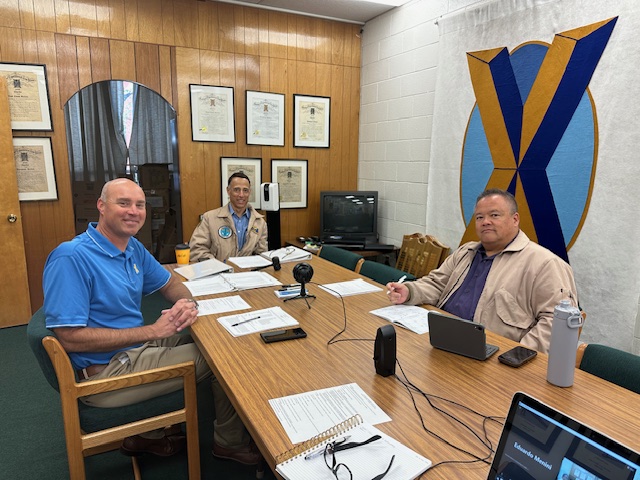 First Board of Director's meeting for new SETP President, John "Toonces" Tougas at SETP Headquarters!
Our Board is international and across the U.S. and participate via Zoom.
Picture includes: Executive Adviser, Brian Sandberg (far left); President Tougas (middle); Technical Adviser, William "Condor" Koyama (far right)
67th Annual S&B Award Winners and 2023 Fellow Class

The Society of Experimental Test Pilots is proud to announce the
Award Winners from the 67th Annual Symposium & Banquet and the 2023 Fellow Class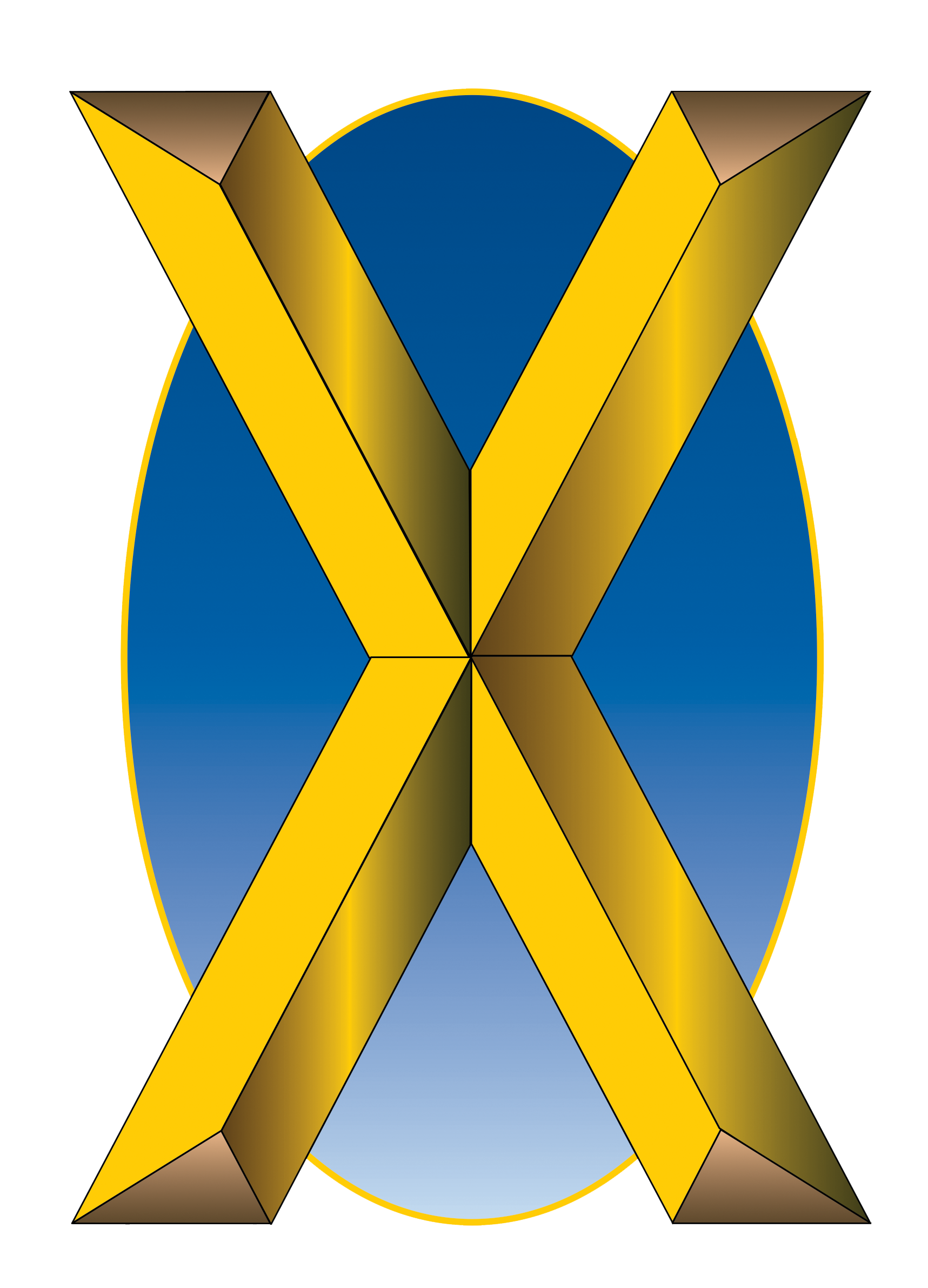 Herman R. Salmon Technical Publications Award
(Sponsored by Symbolic Displays)
For the Best Technical Paper published in Cockpit during the Past Year
"Technique for Determining Takeoff Performance of Modified Part 25 Aircraft"

Thomas A. Washington (M), MIT Lincoln Laboratory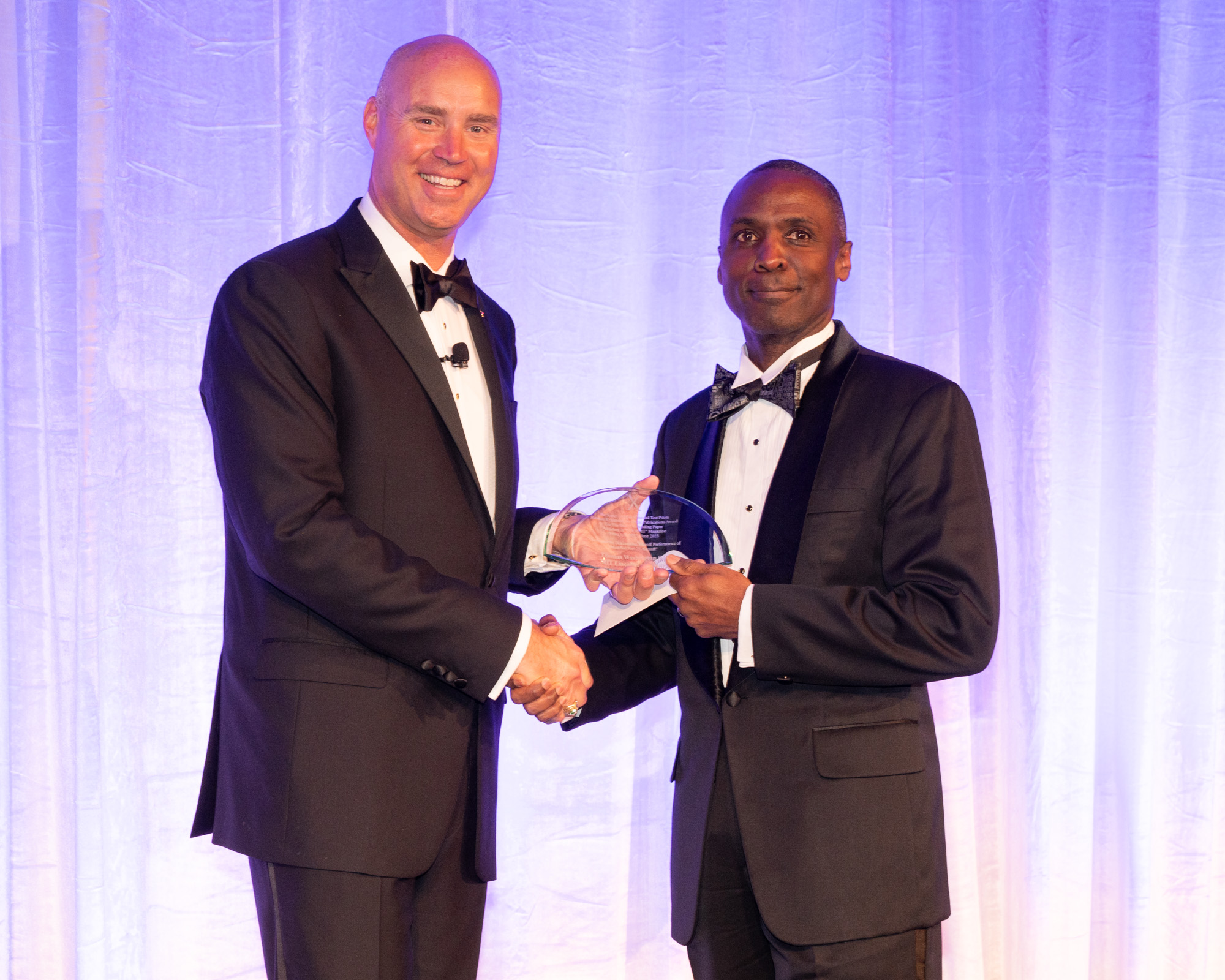 Read more: 67th Annual S&B Award Winners and 2023 Fellow Class
SETP Election Results for 2023/2024 Board of Directors
Andrew McFarland (AF) was elected as President-Elect. Andrew will assume the Office of President of the Society in September 2024.
Kerry Smith (AF) was elected as Vice President
Jameel Janjua (M) was elected as Secretary
Kelly Latimer (F) was elected as Treasurer
Rusty Lowry (AF) was elected as Legal Officer