Welcome to SETP
Introduction
The Society of Experimental Test Pilots is an international organization that seeks to promote air safety and contributes to aeronautical advancement by promoting sound aeronautical design and development; interchanging ideas, thoughts and suggestions of the members, assisting in the professional development of experimental pilots, and providing scholarships and aid to members and the families of deceased members.
2018 Flight Test Safety Workshop - Registration
2018 Flight Test Safety Workshop
1-3 May 2018

Sheraton Arlington Hotel
1500 Convention Center Drive.
Arlington, TX 76011
Phone: (1)(817) 261-8200
The theme of the workshop is "Risk Management – extracting test program risk through detailed planning: hazard identification and risk mitigation – what worked, what didn't, or what we missed in execution of test."

The purpose of this Safety Workshop is to gain further knowledge and competence into flight test risk management through academic tutorial, moderated group exercise, and industry briefings. A primary goal of this workshop is for attendees to return to their respective test organizations with relevant and useful risk management tools and methods that can contribute to thorough test hazard identification, risk mitigation, and improved test readiness.

Tragically, the flight test community has experienced far too many mishaps in the last several years, highlighting the critical importance of shared learning and incorporation of best practices to avoid needless loss of life and damage/loss of critical test assets. The workshop format is changing in 2018 to a more immersive and interactive discussion and debate, with deliverables of comprehensive risk management references, analysis tools and hazard analysis templates that will be available individually and community-wide.
SETP Southwest Section Social
CORRECTION TO RSVP EMAIL: Please contact John Brodnicki at This email address is being protected from spambots. You need JavaScript enabled to view it. by 19 April!
SETP Southwest Section Social
Sponsored by Airbus Helicopter and Bell
3 May, 6 PM
Hard Eight BBQ
688 Freeport Parkway
Coppell, TX 75019
Please plan to join the Southwest Section for an evening at the Hard Eight BBQ where we will enjoy some good Texas BBQ while catching up with each other and listening to the Bell V-280 test team recount the challenges leading up to and success of their first flight. Heavy hor d'oeuvres will be provided. Due to the limited space at the venue, please RSVP to John Brodnicki at by April 19th. We look forward to seeing all that are able to attend.
Thanks,
Your Southwest Section Officers
SETP EDUCATION OUTREACH NEWS
SETP West Coast Section Education Outreach
The SETP West Coast Section is hard at work inspiring younger generations to become aerospace professionals and hopefully test pilots.
At the Los Angeles County Air Show at Fox Field, Lancaster, CA on March 24-25 a group of SETP members volunteered to help out at the SETP STEM booth. STEM stands for Science, Technology, Engineering, and Math, an education buzzword focusing on technical subjects. We taught air show visitors the functions of major aircraft parts as they relate to stability and control using a simplified model aircraft (the garage inspiration of Brian "Sandbag" Sandberg (AF). We also set up a simulator to provide a hands-on activity for visitors to learn about different aircraft handling qualities. The simulator was put together by Mark "Forger" Stucky (F) last year proved to be a phenomenal tool again to demonstrate the work of a test pilot. With the constant draw of colorful paper airplanes, which was the most fun activity of the air show for many kids, the SETP booth was again a great success.
Talk about watching a planted seed begin to grow!
Many high school students visited our booth asking questions on how to become a test pilot. Some of them were students who had attended our main SETP symposium in Anaheim in the years before and they told us about their choice of college and future career plans. This is why we are there! The continued presence of SETP Education Outreach at air shows, career events, and other STEM related activities inspires the youth to consider becoming a test pilot later in life.
I'd like to thank Brian "Sandbag" Sandberg (AF), Paul "Promo" Calhoun (M), James "T-Pain" Hayes III (AM), Jonathan "Spades" Gilbert (M), Harry "Slinger" van Hulten (M), Andrew "Face" McFarland (AF), and Fred "Nadir" Meyer (PAM) for helping out at the SETP booth during the LA County Air Show.
If you would like to do something exciting for the Society this year, consider helping out at one of the upcoming STEM events! Our next event is the Aviation Career Day on Friday, April 27 from 9:00 a.m. to 3:00 p.m. at the Clay Lacy Hangar - Van Nuys Airport. Please let me know if you're interested.
Until next time,
Sjeng
Martin van de Pol (AM)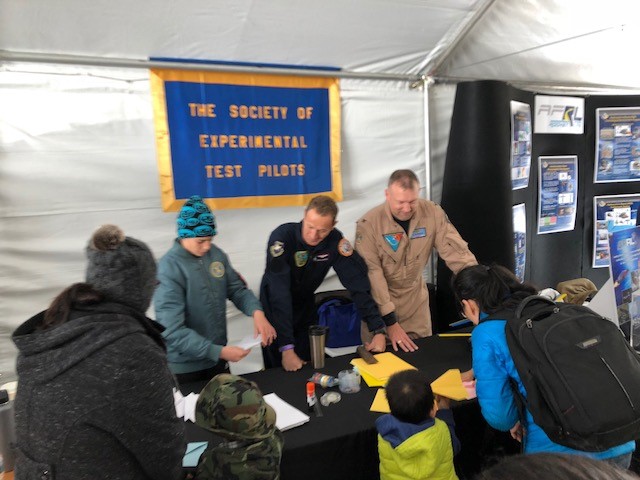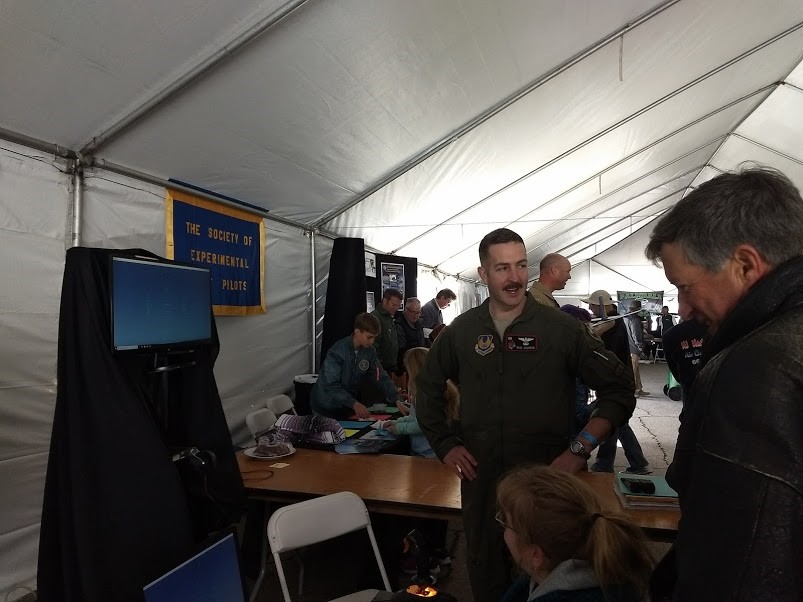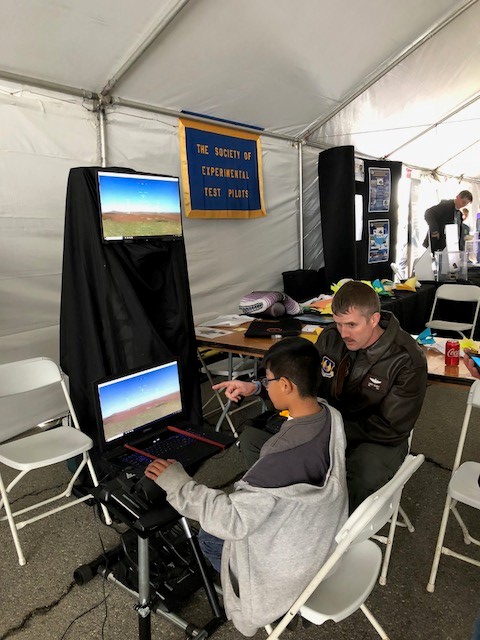 2018 EAA AirVenture-Call for Papers and Housing
Tony LeVier Flight Test Safety Award - Nominations Being Accepted
The Flight Test Safety Committee is soliciting nominations for the Tony LeVier Flight Test Safety Award. Criteria and nomination information can be found HERE. The deadline to submit a nomination is 30 March 2018.
Wright Brothers Master Pilot Award
In recognition of his half century of safe flight, Joe Biviano (AM) was awarded the Federal Aviation Administration's Wright Brothers Master Pilot Award. Congratulations Joe!