Welcome to SETP
Introduction
The Society of Experimental Test Pilots is an international organization that seeks to promote air safety and contributes to aeronautical advancement by promoting sound aeronautical design and development; interchanging ideas, thoughts and suggestions of the members, assisting in the professional development of experimental pilots, and providing scholarships and aid to members and the families of deceased members.
2016 SETP Oshkosh Reception & Barbecue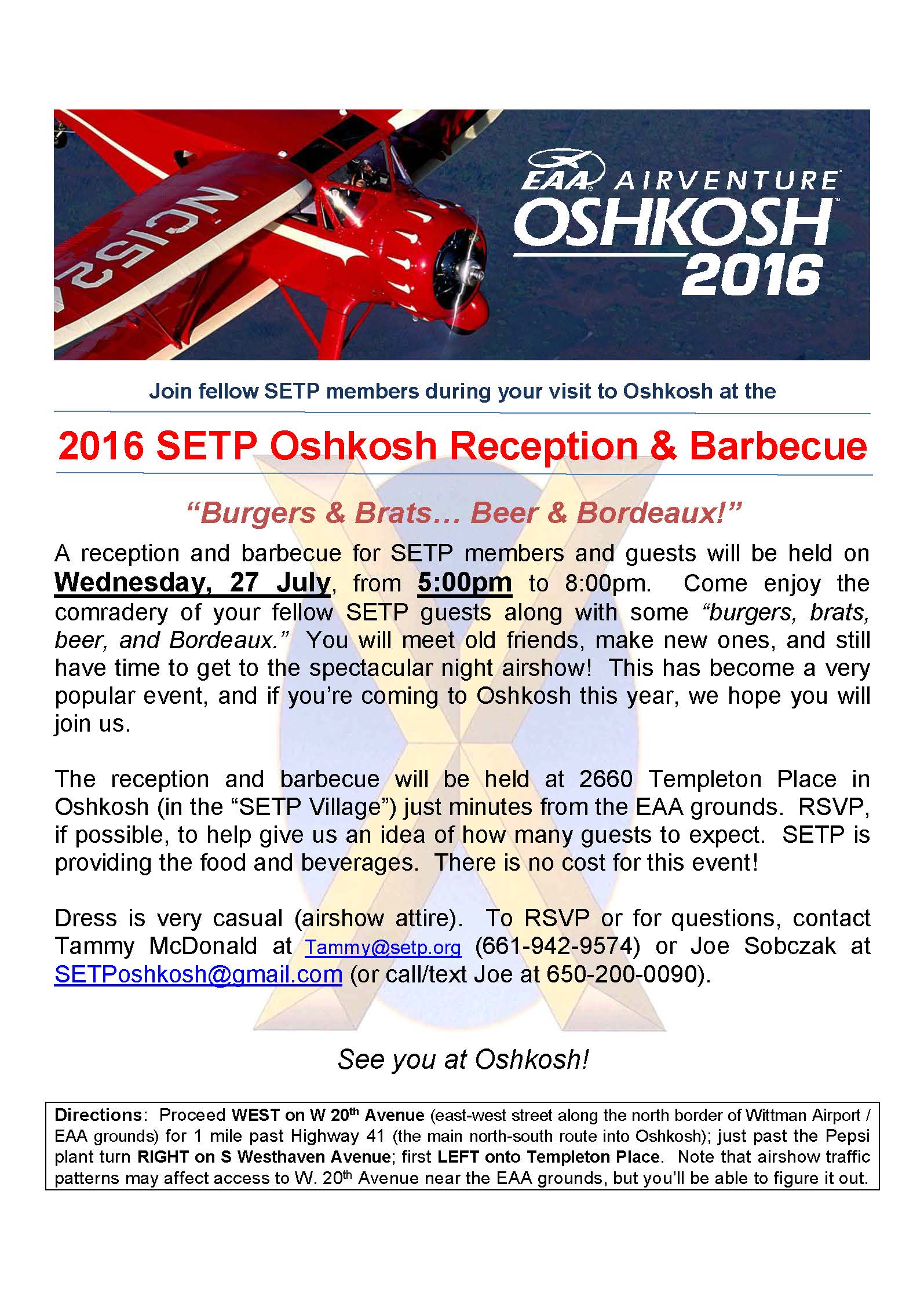 NTPS EASA CERTIFIED!
NTPS EASA CERTIFIED!
The National Test Pilot School (NTPS) is pleased to announce that the European Aviation Safety Agency (EASA) Certified NTPS as a Part-ORA Approved Training Organisation (ATO) for Part-FCL Flight Test Training. This means that NTPS is the first Test Pilot School in the world to be certified by EASA to provide Flight Test Ratings.
NTPS President and CEO Dr. Allen L. Peterson stated "This was an incredible team effort. We are excited to be the first test pilot school in the world to achieve certification as a Flight Test ATO from EASA. This certification is the culmination of several years of extremely hard work by a great number of people at both NTPS and EASA. Moreover, this independent agency certification further proves what we at NTPS have been saying for years; that our program and our graduates are on par with any other test pilot school in the world."
An innovative leader in total flight test training and research, the National Test Pilot School has been serving the world-wide flight test community since 1981 and has trained thousands of Test Pilots and Flight Test Engineers through its diverse course offerings. For more information about the 'World's Test Pilot School' visit NTPS at www.ntps.com
STEM Event-Wings Over Camarillo Airshow
Based on the success of the Science, Technology, Engineering and Math (STEM) booth at the Fox Field L.A County Airshow last spring, SETP has been invited to duplicate the event at the Wings Over Camarillo airshow 20 and 21 August 2016, at KCMA between 0900 and 1630 . This is a student outreach event with tabletop experiments and discussions on various aspects of our profession. We expect to have free admission, hangar space for a paper airplane challenge, and book or lithograph signing area.
Please reply to Brian Sandberg (M) This email address is being protected from spambots. You need JavaScript enabled to view it. (619)392-5911 with questions or to volunteer.
Aerospace Appreciation Night at the JetHawks Baseball Stadium
The West Coast Section of SETP has reserved a group of seats in the dugout section for this year's Aerospace Appreciation Night on 5 August! The first 1,000 fans through the gates will receive a Felix Baumgartner bobblehead doll! Tickets are limited so order early if you want to attend. With the purchase of tickets to this game, you will receive the same amount of tickets for a second game on Thursday, 25 August at 6:35pm for FREE!
The last day to purchase tickets is 4 August. Your tickets will be available for pickup at the Stadium's Will Call Office the day of the game.
Click HERE for more information and to purchase tickets.
SETP will have a booth set up at the game and we are looking for Members to volunteer to sign photos for the general public. Please contact Laurie at SETP, 661-942-9574 to let us know if you are available to work the booth.
Bring your family for this great event! We looking forward to seeing you there!
Nominations Now Being Accepted for Kincheloe and Doolittle Awards