Welcome to SETP
Introduction
The Society of Experimental Test Pilots is an international organization that seeks to promote air safety and contributes to aeronautical advancement by promoting sound aeronautical design and development; interchanging ideas, thoughts and suggestions of the members, assisting in the professional development of experimental pilots, and providing scholarships and aid to members and the families of deceased members.
2017 SETP Calendar of Events
2017 SETP Calendar of Events
Southeast Symposium (Eglin AFB, FL) – Date TBD
West Coast Symposium (San Diego, CA) – 31 March – 1 April
East Coast Symposium (Patuxent River, MD) – 7 April
Northwest Symposium (Seattle, WA) – 21 April
Flight Test Safety Workshop (McLean, VA) – 2-4 May
Central Symposium (Wichita, KS) – Date TBD
Great Lakes Symposium (Dayton, OH) – Date TBD
European Symposium (Bristol, England) – 4-7 July
61st Annual Symposium & Banquet (Anaheim, CA) – 20-23 September
Special Business Meeting - 13 May 2016
The SETP Special Business Meeting will be held on Friday, 13 May 2016 at Virgin Galactic/The Spaceship Company's FAITH Hangar.
The SETP Nominating Committee will prepare a slate of officers for 2016/2017 from SETP Members who have expressed an interest in the position and has called a special meeting to afford the membership an opportunity to make nominations from the floor. There will be a catered dinner by Café Rio and beer provided by Bravery Brewery.
Just a reminder that a quorum of 25 Members is required for this meeting!
Please click here for more information and to sign up for this event. We hope to see you there!
Martin-Baker Reception - 12 July 2016
For those attending the Farnborough International Air Show (FIAS 2016), Martin-Baker has, again, graciously offered to host an SETP Reception.
If you are working at the show, or are able to coordinate your visit to be there on the Tuesday, 12 July, please RSVP to, This email address is being protected from spambots. You need JavaScript enabled to view it. by 5 July so that we can keep track of numbers wishing to attend. This is a great social event offered through the generosity of Martin-Baker. We would like to limit our numbers to 40.
Please note that if you do not confirm your attendance in advance, you will not be allowed entrance into the Reception.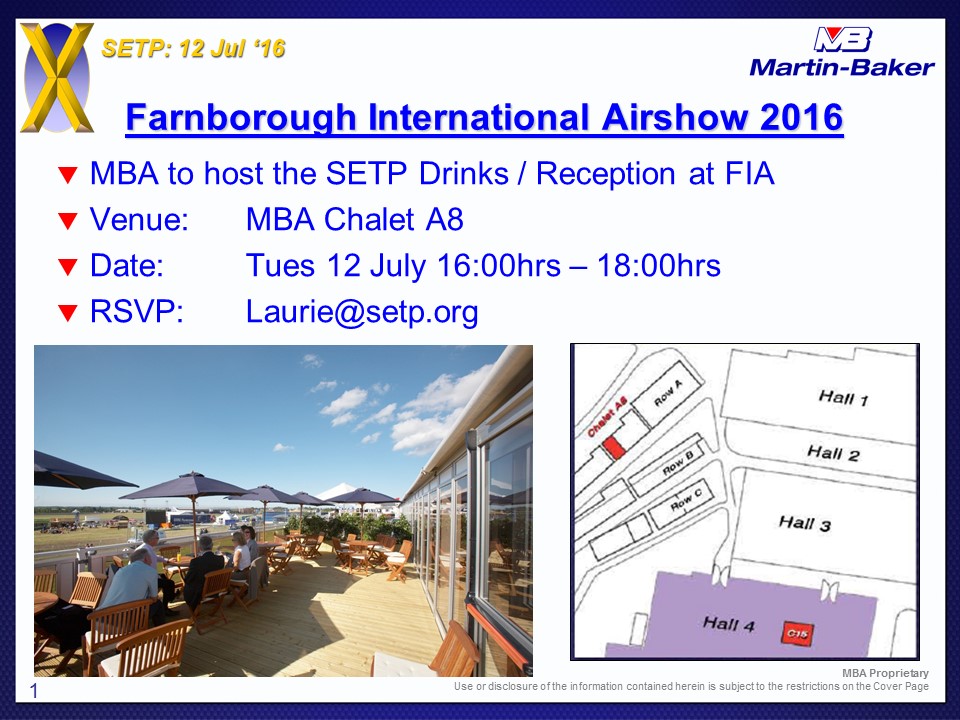 SETP at LA County Air Show
On March 19-20 this year the LAC County Air Show was held at William J Fox Airport, Lancaster. The theme of this show was the 75th anniversary of the Pearl Harbor attack with the Blue Angels as main performance. Great flight demonstrations were given by the Northrop N9MB flying wing, the Tora Tora Tora demonstration team, and a variety of historical and aerobatic planes.
SETP performed on the ground with a booth in the STEM tent. A highly committed group of SETP members volunteered to spend their weekend day off at the the booth and talk about flight test with air show visitors. Special attention was given to kids providing instructions about learning how to fold a paper plane and experiment with flying qualities. We hope we inspired the younger generations to find their future in flight test!
I'd like to thank Slinger, Karl, Cap, Laz, Yardman, Pel, Sasquatch, and Rost for helping out at the air show and representing our Society during the air show.
V/R
Maj Martin "Sjeng" Vandepol
Royal Netherlands Air Force