Welcome to SETP
Introduction
The Society of Experimental Test Pilots is an international organization that seeks to promote air safety and contributes to aeronautical advancement by promoting sound aeronautical design and development; interchanging ideas, thoughts and suggestions of the members, assisting in the professional development of experimental pilots, and providing scholarships and aid to members and the families of deceased members.
Mike Alsbury Memorial Fund
Michael (Mike) Alsbury, Test Pilot and Project Engineer for Scaled Composites, passed away on October 31, 2014 due to an anomaly during flight test. Mike was a husband, a father of two small children (ages 10 and 7), amazing friend and co-worker. Mike had worked with Scaled for over 15 years. This is a tragic loss that will leave a void in Mike's family, the Scaled family, and the surrounding community for years to come. We would like to do anything we can to support Michelle and his two children.
CLICK HERE TO DONATE TO THE MIKE ALSBURY MEMORIAL FUND
This fundraiser is being managed by Mike's friends and co-workers at Scaled Composites.
Celebration of the McDonnell F-101 Voodoo's 60th anniversary
The Missouri Aviation Historical Society is pleased to announce a special event in celebration of the McDonnell F-101 Voodoo's 60th anniversary. This event will take place on location at the James J. Eagan Civic Center in Florissant on Saturday, November 15th at 1:00 P.M. Former engineers, test pilots, workers, and enthusiasts will come together from across the country to pay tribute. After a special ceremony at the restored F-101 display (including remarks by Mayor Schneider), the event will head inside for an exclusive Q&A panel. For more information please visit http://moavhist.org/2014/11/02/60th-anniversary-of-the-f-101-voodoo/
Department of Homeland Security Test and Evaluation Professional of the Year
DHS Awards Professional of the Year for Test and Evaluation to Troy Fontaine (AF)
09/04/2014 - The Office of Air and Marine is pleased to announce that Troy Fontaine, Director, Test and Evaluation is being recognized as the Department of Homeland Security Test and Evaluation Professional of the Year for his work on the Multi-Role Enforcement Aircraft (MEA). Mr. Fontaine's execution of maintaining flight test safety and operational mission effectiveness during the test and evaluation process of the MEA went above and beyond the call of duty.
Mr. Fontaine skillfully coordinated, oversaw, and spearheaded the formulation and execution of the Test Plan and Operational Test Readiness Review process for the MEA program - a DHS Level I Acquisition Program for U.S Customs and Border Protection. The program's goal is to procure an aircraft capable of land, maritime and air-to-air interdiction missions, as well as use as a logistical transport of cargo and tactical teams.
When the CBP Commissioner ordered an early deployment of the first MEA aircraft to the Southwest Region, the OAM Executive Director, Operations tasked Mr. Fontaine to lead the effort to make the aircraft operationally ready. Within a 7-day span, his test team deployed to the contractor's facility and flew numerous acceptance sorties and operational missions along the southwest border. The initial deployment of this aircraft produced valuable test data and resulted in 77 arrests and the seizure of 3,167 pounds of contraband. Focused testing continued on the next
3 aircraft in development, and the results compiled in a report which was more than 200 pages and briefed at the highest levels. Today, seven aircraft are in service, operating off of both U.S. coasts, with three more in the production line.
Mr. Fontaine's accomplishments with the MEA program illustrates his professionalism, dedication and expertise. This prestigious award is a testament to his many years as a professional military test pilot and program manager. OAM is proud of his achievements and congratulates him on this honor.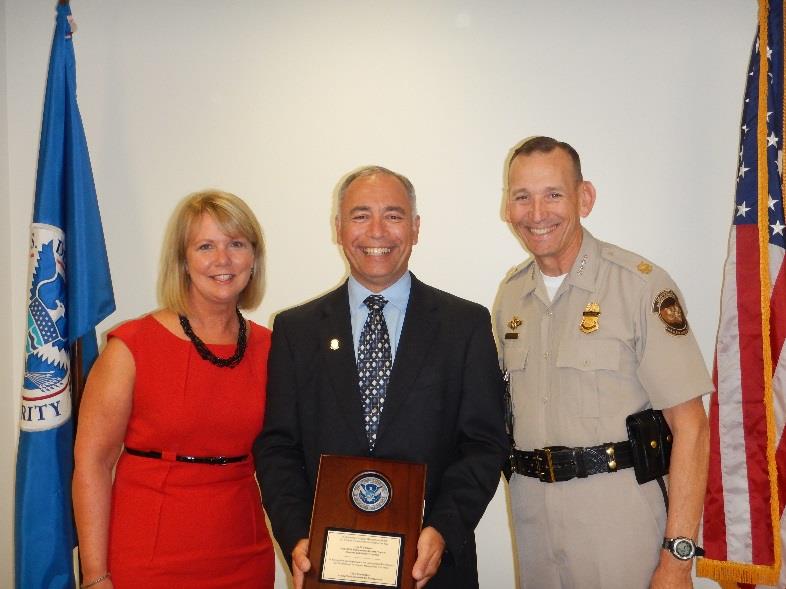 Assistant Commissioner Randolph D. Alles and Mr. and Mrs. Fontaine at the awards ceremony.