Welcome to SETP
Introduction
The Society of Experimental Test Pilots is an international organization that seeks to promote air safety and contributes to aeronautical advancement by promoting sound aeronautical design and development; interchanging ideas, thoughts and suggestions of the members, assisting in the professional development of experimental pilots, and providing scholarships and aid to members and the families of deceased members.
Royal Aeronautical Society - National Aerospace Library Sound Archive
For your information the National Aerospace Library is developing an aeronautical sound archive.
The latest batch of extended interviews with test pilots and other leading aviation personalites from the National Aerospace Library's archives has just been released via the Royal Aeronautical Society's SoundCloud site (just click on the arrow button to 'Play')
In two separate interviews Harald Penrose recalls numerous experiences from the days of his test flying career with Westland including the high altitude flying in the Houston-Westland PV.3 in preparation for the 1933 first flight over Mount Everest, the tailless Westland Pterodactyl series designed by Captain G T. R. Hill, the Westland P7 / PV.7 and working with W. E. W. 'Teddy' Petter on the development of the Westland Whirlwind, Welkin and Wyvern programmes and the English Electric Canberra.
In a complementary interview Penrose discusses some of the great figures he met during his career in the aircraft industry, including T. O. M. 'Tommy' Sopwith, Barnes Wallis and Sydney Camm, Vickers test pilots E. R. C. 'Tiny' Scholefield and Joseph 'Mutt' Summers and their Chief Designer Rex Pierson, before going on to recall his experiences of working with the test pilot Jeffrey Quill when Westland built Supermarine Seafires and he flew the prototype Supermarine Spitfire at Martlesham in 1936.
A quick link to the Rodney Giesler interviews available so far (including interviews with Captain Eric 'Winkle' Brown, Chuck Yeager, Scott Crossfield, Handel Davies, Al White, Bill Humble, Pete Knight, Dick Johnson, Philip Lucas, Peter Bugge and Col. Emil 'Ted' Sturmthal ) is

https://soundcloud.com/aerosociety-podcast/sets
Further interviews with Brian Trubshaw, John Cunningham, John Morton and D. P. Davies will be released later this year.

In addition to the Rodney Giesler interviews, the National Aerospace Library holds a historically significant collection of past Royal Aeronautical Society lectures, interviews and other recordings (probably over 100 separate recordings dating back to the 1940s, which are in many cases the only record which the Society has of a particular speech or lecture)
These recordings (from the original gramophone records, magnetic reel recordings, cassette tapes) have now been digitalised - a real 'Who's Who' of aviation personalities and historical subjects including the voices of Sir Frederick Handley Page, Igor Sikorsky, Sir Barnes Wallis, Theodore von Karman and many other great names - and the 'highlights' from this collection will subsequently be released via the Society's SoundCloud site over the next 18 months or so:-
As a 'taster' of what is to follow two of these historic recordings are already available - the eminent early aviation historian Charles Gibbs-Smith discussing the work of the 'Father of Aeronautics' Sir George Cayley:-
https://www.aerosociety.com/news/podcast-sir-george-cayley
and Peter Twiss and others describing the development of the Fairey Delta 2 and the world air speed record of 1,132 mph it achieved in 1956:-
https://www.aerosociety.com/news/podcast-fairey-delta-lecture
The intention of this project is to create a historically significant oral history archive which makes the voices of the past (pilots, engineers, scientists etc.) 'alive' once more to inspire and inform current and future generations and the sound archive has attracted a number of favourable comments / interest via social media.

Please note that if these recordings or extracts from these recordings are to be reproduced in any way (book, journal article, web-site etc.), acknowledgement should be made to the 'Royal Aeronautical Society (National Aerospace Library)' as being the source of the original.
Please feel welcome to forward details of these historic aviation recordings to anyone who may be interested.
The National Test Pilot School Hosts the Fifth Annual Flight Test Camp
Click HERE to see the kids enjoying their week at camp!
Southeast and West Coast Symposium Podcasts
The video podcasts for the Southeast and West Coast Symposiums are available to view in the Member's Only section of the SETP website.
You will need your username and password to access the podcasts. Click HERE to log in.
EAA AirVenture-Call for Papers and Housing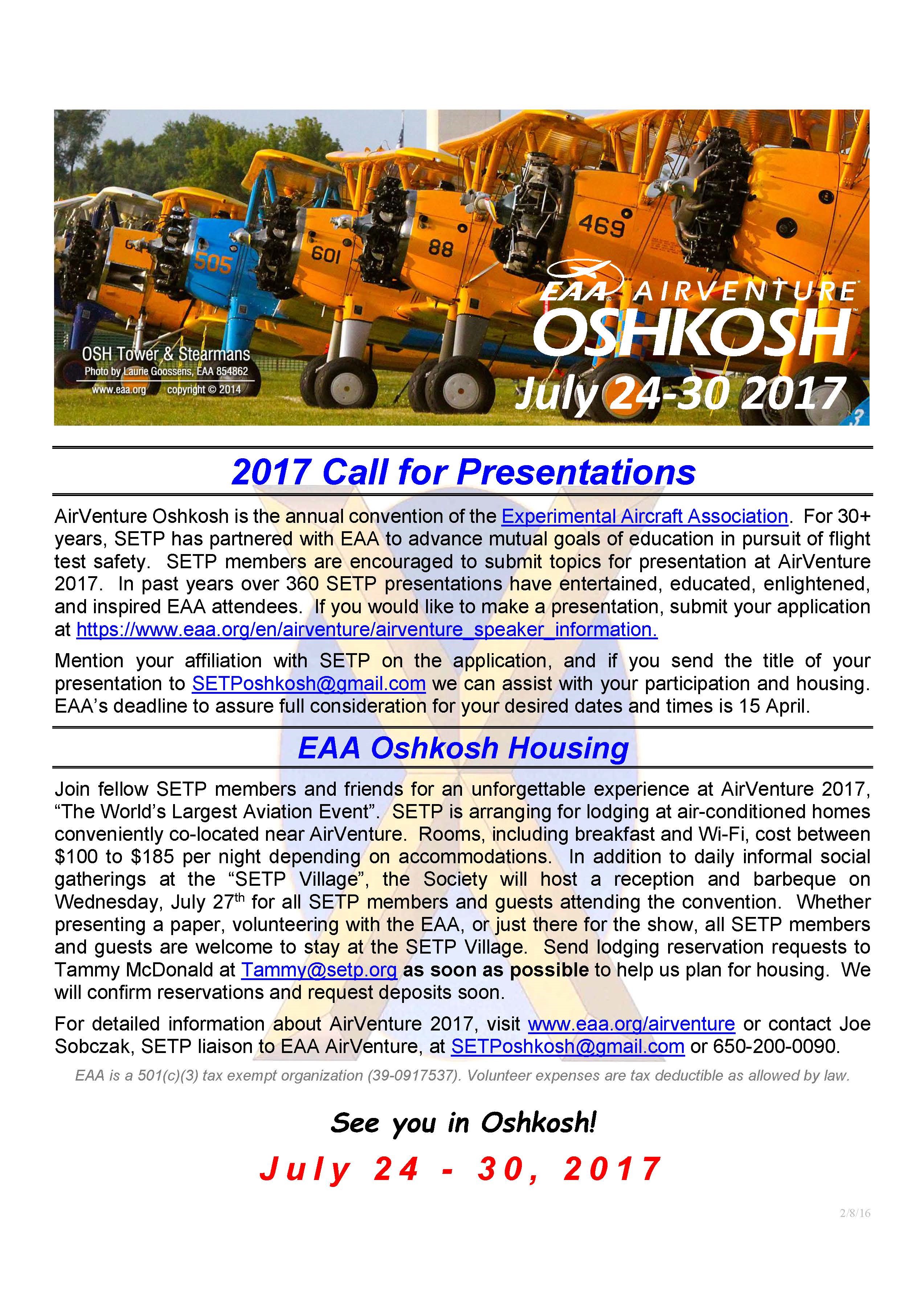 Nominations Now Being Accepted for Kincheloe and Doolittle Awards
PLEASE CLICK HERE TO DOWNLOAD A NOMINATION FORM FOR THE KINCHELOE AWARD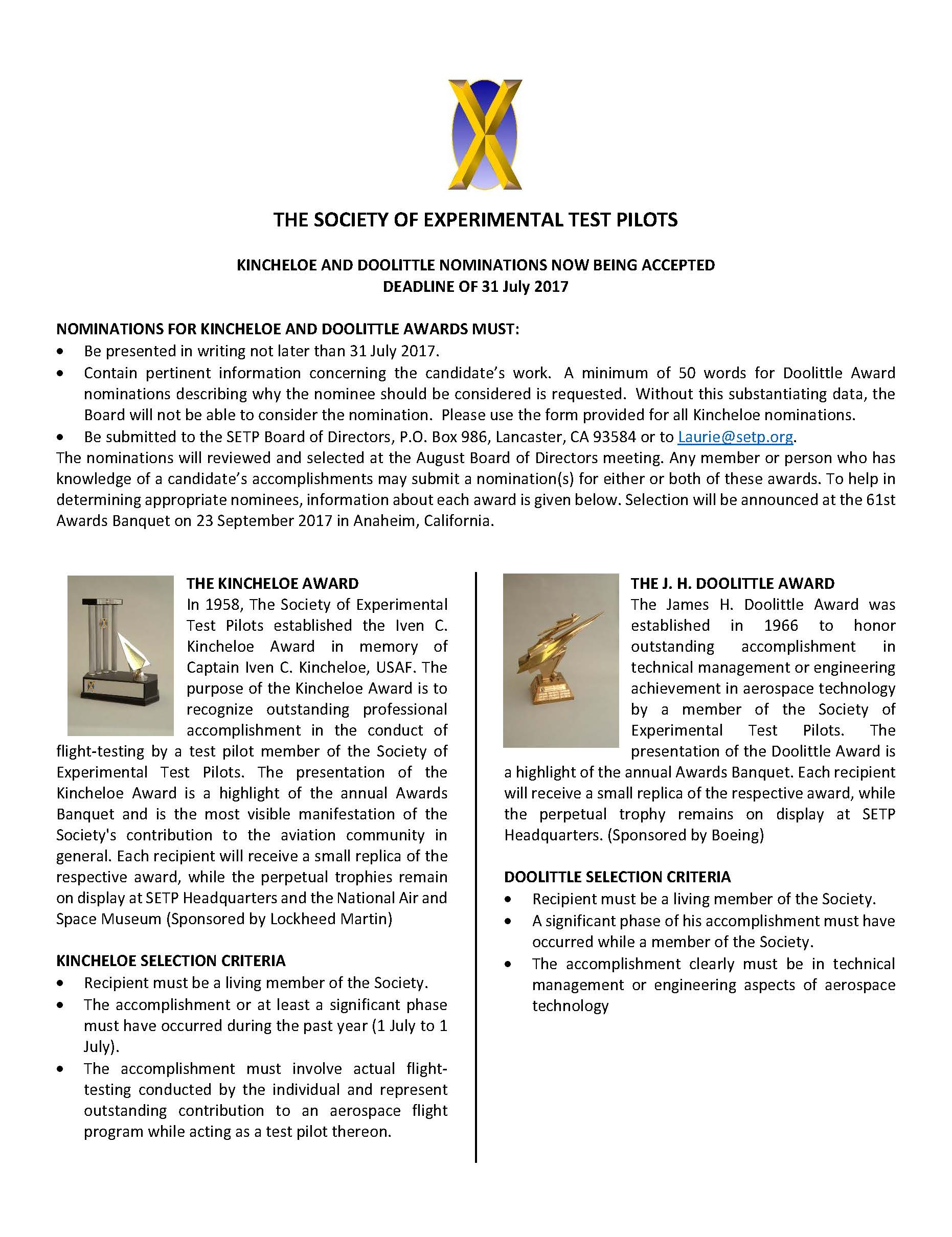 PLEASE CLICK HERE TO DOWNLOAD A NOMINATION FORM FOR THE KINCHELOE AWARD