March 2010
MESSAGE FROM THE PRESIDENT
Terry E. Tomeny (F)
Boeing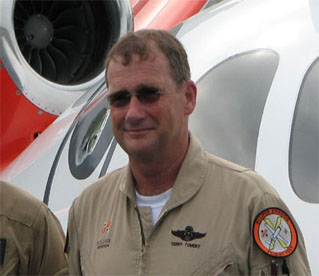 As we all get ready to head to San Diego, it's amazing how fast this year is going and we're now in the thick of the "symposia season".  I had the honor in February to attend an incredible Southeast Symposia with excellent attendance and some outstanding technical papers. Well done guys. And now that I'm a proud Boeing employee and up in the Northwest, I recently had the opportunity to join the Northwest Section for a "beer call" and meet several folks I've never had the pleasure to meet before. There seems to be lots of interest, wherever I go, in the Flight Test Wiki Site described below, which is very encouraging. I encourage you all to look into this and get involved with Dan Canin.  I'm excited to head to San Diego next week and hope to see many of you there. Tim McDonald has put together an outstanding event. Who could pass up meeting Jim Lovell?
Keep up the enthusiasm.
TT
---
Flight Test Wiki
 At last year's annual symposium it was suggested in the Open Forum that SETP initiate a "wiki" to facilitate the exchange of flight test information between Society members.  Dan Canin (M) has agreed to chair a committee to establish the wiki and has set up a prototype wiki online.  The Board of Directors would like several highly motivated individuals who are passionate about the idea of using the internet in this way to join Dan in establishing this capability.  Please contact Dan at This email address is being protected from spambots. You need JavaScript enabled to view it. if you would like to help set the foundation of the wiki that could become the most important component of our Society in the future.
---
SYMPOSIUM INFORMATION
 40th San Diego Symposium
Catamaran Resort Hotel & Spa
San Diego, CA
26-27 March 2010
The Society of Experimental Test Pilots 40th San Diego Symposium and Banquet will be held 26-27 March 2010 at The Catamaran Resort Hotel & Spa, 3999 Mission Boulevard, San Diego, California 92109. Tim McDonald (AF) of the USAF Test Pilot School, is the General Chairman of this event and Kevin Prosser (AF) of USAF is the Technical Session Chairman. Session I of the symposium will begin at 1:00pm on Friday followed by an evening reception. Session II will convene at 8:30am Saturday and adjourn at 12:00pm with a buffet luncheon on the beach. The Banquet will be held later that evening. With the symposium occurring only a few weeks before the 40th anniversary of the lift-off of Apollo13, we are very pleased to announce that this year's Keynote Speaker will be the Mission Commander, Captain James A. Lovell, USN (Ret) (F).
The Society wishes to express its deepest gratitude to the following Corporate Sponsors for this year's San Diego event: Northrop Grumman Corporation, Aerospace Services International, Scaled Composites, Mojave Airport, JT3, General Atomics Aeronautical Systems, and the Lockheed Martin Aeronautics Company. Thanks to their generosity, the Society has been able to significantly reduce both registration and banquet ticket prices.  To register for the events and for additional information please visit http://www.setp.org/table/san-diego/.  Please note the deadline for on-line registration is 22 March 2010.
---
The Society of Experimental Test Pilots is pleased to announce the 26thEast Coast Symposium, to be held on 16 April 2010 at Naval Air Station Patuxent River, Maryland.  This year's event chairman is CDR Eric Mitchell, USN (M).  This year' keynote luncheon speaker will be Admiral Dunaway. 
For more information and to register for this event please visit http://www.setp.org/table/east-coast/.
---
Flight Test Safety Workshop
The Doubletree Hotel
San Jose, CA
3-6 May 2010
 The Flight Test Safety Committee (FTSC) will be sponsoring the annual Flight Test Safety Workshop on 3-6 May 2010 at the Doubletree Hotel - San Jose, 2050 Gateway Place, San Jose, CA 95110.  The purpose of the Safety Workshop is to provide an open forum where flight test safety issues can be presented, discussed, and probed with other members and other disciplines within the flight test community.  FTSC Board of Directors Member, Rod Huete, FAA (Ret) is coordinating the event with the assistance of The Society of Experimental Test Pilots (SETP) and the Society of Flight Test Engineers (SFTE).
For more information and to register for this event please visit http://www.setp.org/table/workshop/.
---
TONY LEVIER FLIGHT TEST SAFETY AWARD
Sponsored by Gentex Corporation
Nominations for the 2010 Tony LeVier Flight Test Safety Award are being accepted by the Flight Test Safety Committee. The recipient(s) will be recognized at annual FTSC Workshop 3-6 May 2010, Doubletree Hotel, San Jose, CA and at the Society of Experimental Test Pilots Annual Symposium Banquet.  The deadline for nominations is 16 April 2010.
A qualified nomination must be a significant contribution to the Flight Test Safety Community over a period of time.

However, a single individual flight test safety achievement involved in saving human life, a flight test program or test aircraft maybe nominated only where flight test safety rules were not broken.

The award could be awarded to an individual or team of individuals.

The award could be awarded to a significant achievement recognized by the Awards Committee as worthy of recognition by the FTSC. Examples are: Contractor Safety Office Duties, Government Safety Office Duties, FTSC Symposium Efforts, work with the FTSC, development of significant safer flight technology or flight test techniques or a team effort to develop a significant safety technology.
Re-submission of awards nominations are appropriate. 
Please visit http://www.setp.org/nomination/award-nomination-form.html to submit a nomination.
---
 3rd Central Section Symposium
Wichita, KS
18 June 2010
The 3rd Annual Central Section Symposium will be held 18 June 2010 at the Hotel at Old Town in Wichita, Kansas.  This is an official call for papers. Presentations should be limited to 45 minutes, including the discussion period. No proceedings are published for this Symposium, therefore, formal written papers are not required.  The SETP Lloyd C. Stearman Award will be presented for best paper.  Those interested in presenting should submit an abstract ASAP to:
Marc Mannella
2010 Central Section
Symposium Chairman
C/O SETP Headquarters
P.O. Box 986
Lancaster, CA 93584
Email: This email address is being protected from spambots. You need JavaScript enabled to view it.
To register for the symposium, book hotel reservations or for more information regarding the event please visit http://www.setp.org/table/central/.
---
European Symposium Announcement
Cambridge, England
13-16 July 2010
England plays host to this year's Society of Experimental Test Pilots European Symposium, running from 13 to 16 July in and around the historic university town of Cambridge. The Symposium itself, including all technical sessions will take place at the impressive Imperial War Museum at Duxford, just outside the city centre, while accommodation and a variety of social events can be found in Cambridge itself.
The Symposium will begin with a welcome reception, including pre-conference registration, at the Doubletree hotel on the banks of the River Cam on Tuesday 13 July. Technical sessions will run on Wednesday, Thursday and Friday, and will include a technical tour and the chance to take a look around the museum. An evening gathering at King's College, at the very heart of the 800 year-old University, will give attendees the chance to soak up some atmosphere, and one of the high-points of the Symposium is sure to be the 40s-themed Gala Dinner, to be held at the American Air Museum, with fantastic speakers and a Swing Band to keep everyone entertained.
This is an official "Call for Papers".  Presentations should be limited to 30 minutes, including the discussion period. Papers will be included in Symposium Proceedings, and should be in Word/PowerPoint format. There will be a prize for the best symposium paper. The prize will be presented at the Conference Banquet, which will be on the evening of Friday, 16th July in the American Air Museum at Duxford.
Those interested in presenting should submit an abstract, no later than 30th April 2010, to:
Rhys Williams
Empire Test Pilots' School
MoD Boscombe Down
Salisbury SP4 0JF
This email address is being protected from spambots. You need JavaScript enabled to view it.
Further information and guidance on presenting at the Symposium is available either from Rhys, or from Geoff Connolly at This email address is being protected from spambots. You need JavaScript enabled to view it..
To register for the symposium, book hotel reservations or for more information regarding the event please visit http://www.setp.org/table/european/.
---
EAA AirVenture
Oshkosh, WI
26 July - 1 August 2010·
CALL FOR PAPERS
The Experimental Aircraft Association has invited members of SETP to submit topics for forum presentations at the world's largest aviation event to be held July 26th through August 1st2010 at Oshkosh, Wisconsin.·
Joe Sobczak is the SETP liaison for member participation in the EAA convention.· If you are interested in giving a forum presentation please contact him at 650-291-2596, or email This email address is being protected from spambots. You need JavaScript enabled to view it..
In the past the Society has rented a house during the AirVenture and we have had many members interested in renting rooms during this event.· This year the Society is considering renting a house. If you are interested in staying in the SETP house please contact Paula Smith at This email address is being protected from spambots. You need JavaScript enabled to view it..
---
54th Symposium & Banquet
Disneyland Grand Californian Hotel
Anaheim, CA
22-25 September 2010
New Venue for Friday Night Reception!
The S&B committee is off the ground planning all of the details behind the 54th Annual Symposium and Banquet to be held at Disney's Grand Californian Hotel in Anaheim, CA 22-25 September 2010. ·The committee is changing the venue for the Friday night reception to Festival Arena located within Disneyland Park.·As a result, those attending this popular Friday night social gathering will have full access to the entire park and all of it's attractions from 5PM until the park closes at 12 PM, with a two hour dinner planned (exact times to be determined). ·Although we have all enjoyed Soaring Over California over the last several years, feedback from attendees has indicated that it might be time for a change. ·The new outdoor venue is considerably farther away from the Grand Californian, and the committee wants to ensure that transportation is available to those members who may need assistance to and from the new venue. ·Transportation will not be provided for all attendees of the Friday night reception, only those who require it. ·There will be provisions during the registration process to identify those members and their guests who desire to take advantage of this Disney provided service. ·You're not going to want to miss this year's Annual Symposium and Banquet. ·See you in Anaheim!··· 
---
 OLDIES BUT GOODIES 
Greg Lewis (F) is this year's Session Chairman for Saturday morning at the annual SETP Symposium in Anaheim.· The session will feature several historical papers of technical significance with broad appeal.· Those interested in presenting such a paper are asked to contact Greg at This email address is being protected from spambots. You need JavaScript enabled to view it..
---
SECTION NEWS
SOUTHEAST SECTION SYMPOSIUM
The SETP SE Section held its very successful 3rdAnnual Symposium on 4-5 February at the Ramada Plaza Beach Resort, Fort Walton Beach, Florida. The two-day event began with a well attended Thursday night reception.· On Friday over 80 members and interested parties in attendance were treated to 11 briefings split over morning and afternoon technical sessions.· Additionally Col Art 'Turbo' Tomasetti, USMC (AF) delivered the thought-provoking lunchtime presentation, "Test Pilot 2040".·SETP President Terry Tomeny chaired the morning session consisting of the following excellent papers: "Time Safety Margin: A New Look at Dive Planning for Flight Test", Lt Col Bill Gray, USAF (Ret, AF), "New Approaches to BAL Loads Testing", John Sekas, USAF Seek Eagle Office, "Dropping the Bomb: A-10C JDAM Testing Failures", Maj Matthew Domsalla, USAF (PAM) and Capt Kirt Cassell, USAF, "Abort! Abort! Abort! Origins, Revisions and a Compelling Need to Change The Flutter Testing Uniform Abort Policy", Lt Col Mike Jansen, USAF (M). The fifth paper was a 'blast from the past' presented by Larry Van Pelt entitled "The Affect of External Stores on Aircraft Stability" and was a welcome reprise of his National Symposium award winning paper from 1969.
Following a great l
unch and Turbo's colorful exploration of what test pilots might be doing in2040, the afternoon session was chaired by the 46 Test Wing Vice Commander, Col Evan Thomas, USAF (M). The session consisted of a further five absorbing papers: "Just Say "No" to Crack: A-10C Precision Engagement Modified Pylon Cracking Investigation", Maj Chris Seager, USAF (PAM) and Ellis Moser, 40 FLTS, "Tanker Tests With Typhoons: USAF KC-135/KC-10 & NATO Eurofighter Air Refueling Qualification Testing Over the Irish Sea", Maj Prospero Uybarreta, USAF (PAM), "T-38 Airframe and Engine Integration", Maj Matthew Berggren, USAF (PAM) and Capt Lane Haubelt, USAF, "Evaluation of Asymmetrical Roll Rates of the HH-60G Pavehawk Helicopter", Lt Col Paul Fiorenza, USAF and Maj Jeffrey Mabry, USAF (M), "Developmental Flight Testing of a Special Mission DeHavilland Canada Dash 8/102", Paul Schreck, SAIC (M) and Jesse Whitfield, SAIC, and "What Happens When the Safety Review Fails", Edward Curtis (M).
The briefings covered a diverse array of topics and were all of a very high standard. The judging committee awarded the best brief to Lt Col Fiorenza and Maj Mabry for their HH-60G paper, followed a close second by Lt Col Gray for his dive planning paper and third place went to Lt Col Jansen for his flutter abort policy paper. The SE Section Committee wishes to thank all of the presenters, attendees, sponsors and the SETP HQ staff for making this event so successful and look forward to more of the same at the 4th Annual Symposium next year.
---
NORTHWEST SECTION
The Northwest Section will be looking for a few good volunteers to speak at the Aviation High School in Seattle as part of our new outreach program. ·As reported in the last newsletter the school website address is http://www.avitionhs.org/pub/pub.aspx. ·In the mean time Loran Haworth and Kevin Greene (since several of us are employed by the FAA) are in discussions with the FAA education coordinator and SETP on how to establish an educational outreach partnership between SETP and the FAA. ·Thomas Twiggs is working with the Aviation High School's science teacher and Robert Stoney with the humanities teacher to outline requested support.· A future meeting is planned with the school's teachers to gain a better understanding of the school's curriculum and how SETP fits in.
---
WEST COAST
The West Coast Section of SETP had their inaugural beer call of 2010 on Fri February 26th.· The event was graciously hosted by the National Test Pilot School in Mojave and was attended by SFTE members as well as the current class at USAF TPS.· Around fifty people attended the beer call, including an extremely strong showing from the 416thFLTS at Edwards AFB.· The night started off with a tour of NTPS' numerous aircraft spread out across five hangers including the Saab Draken and the remarkable glass cockpit of the Cirrus SR22.· NTPS has 37 aircraft in their inventory, many of them with unique flying qualities chosen to effectively demonstrate flight test theory to the NTPS students.· Following the tour, NTPS Director Sean Roberts gave a short informative brief on NTPS' history and capabilities.·· Many thanks to Greg Lewis for working with the West Coast Section board members in organizing this event and to all the NTPS staff for helping out with cooking the burgers on the BBQ.· Good food, a few beers and some great discussions about aircraft and flight test made for a fantastic evening and will hopefully encourage some of the upcoming TPS graduates to join SETP.· The West Coast Section plans to rotate the beer call between NTPS, NAWC China Lake and Edwards AFB over the next year to maximize participation by all the test pilots in the area.· Scaled Composites has also offered to let us in the hanger sometime this year, so when that event is announced, make sure you mark it on your calendar.· Finally, don't forget to register for the annual San Diego Symposium coming up at the end of March.·
---
WHO...WHAT...WHERE...
On 10 March 2010, Neil Armstrong (F),was presented his Naval Astronaut Wings in a ceremony onboard the USS Dwight D. Eisenhower on behalf of the Naval Enterprise and all the Naval Aviators he inspired, past, present and future.· Also aboard the ship was Jim Lovell (F), Gene Cernan (F), Brig Gen Steve Ritchie, USAF (Ret), the last Air Force Pilot Ace, and Bob Gilliland (F), test pilot and the first man to ever fly the SR 71 Blackbird.
On 16 March 2010 the President of the United States nominated Vice Admiral David J. Venlet, USN (M) for reappointment to the rank of Vice Admiral and assignment as director, Joint Strike Fighter program, Office of the Secretary of Defense, Arlington, Va.· Venlet is currently serving as Commander, Naval Air Systems Command, Patuxent River, Md.
---
MEMBERSHIP NEWS AND UPDATES
2010 SETP Proposed Constitutional Changes
This is a reminder that all voting members should have received by now the 2010 SETP Proposed Constitutional Changes ballot regarding "E-Voting" and "Expulsion".· Your Board of Directors urges each member to participate by voting on these important issues.· For any one of these amendments to be adopted, it must receive a two-thirds majority of the votes cast.·
Please return your executed ballot in the provided reply envelope coded "CONST."· Ballots must be received at SETP Headquarters not later than 9 April 2010.· Any ballots received after the specified deadline or in envelopes other that the one specially provided will be considered invalid.· Please do not include any other material in this special mailing as envelopes are held unopened until the ballots are counted.· The Board of Directors wished to thank you for your participation.
---
LAST FLIGHT
The Society sadly announces the passing of the following members:·
Brace, Robert L. - 28 March 2010
McPherson, Raymond L. - 14 January 2010
Ready, John K. - 15 January 2010
White, Robert M. - 14 March 2010
---
DON CORNELL MEMORIAL
On 9 April 2010 at 1400, a plaque will be dedicated to Don Cornell at National Museum at Wright Patterson.· ·He will be honored as a "Pioneering Test pilot in Stealth Technology".
---
Dannie D. Slone (M), passed away on September 28, 2009 just after his 67thbirthday.· Dannie received his private pilot certificate at age 17.· During the Viet Nam war, he served two tours on aircraft carriers Constellation and Coral Sea where he was a plane captain and mechanic; then used his military service and the GI Bill to earn an aeronautical engineering degree and multi-engine airplane ratings that furthered his flying career.
He accepted his first engineering position at McDonnell Douglas, and then worked as a flight instructor and line pilot flying deHavilland Heron Commuter airliners.· Later he became a Fixed Base Operation's Manager and co-pilot on DC-3's for weather modifications.· He then joined the Ted Smith Aerostar Company as a Test Pilot for the Aerostar series of airplanes in California and Florida.· In 1983 he was hired by the Federal Aviation Administration as a Flight Test Pilot in Aircraft Certification where he served until his passing.· Dannie graduated from civilian test pilot schools at the University of Tennessee Space Institute and National Test Pilot School.· He was a Certified Flight Instructor and held types ratings the Douglas DC-3; Douglas DC-9; Fairchild Metro; Gulfstream G-II; and Cessna Citation series, Learjet series and Dassault Falcon series of business jets.· During his 26 years of public service, Dannie contributed to initial development and certification of various safety enhancements in aircraft avionics systems such as Flight Management, Autopilots, Windshear Detection, Enhanced Ground Proximity Warning, Traffic Alert and Collision Avoidance (TCAS), and advanced Air Data Computers in support of initial Reduced Vertical Separation Minimum qualifications.· Dannie also flew FAA Flight Tests in the Peoples Republic of China.· He logged thousands of hours flying various types of small and large general aviation and transport category airplanes; with reciprocating, turboprop and jet engines.
For the past fifteen years Dannie also served as the FAA Los Angeles Aircraft Certification Office Flight Safety Officer and Flight Program Coordinator, responsible for maintaining the currency, proficiency and safety of all FAA Flight Test Pilots and Flight Test Engineers.· As Dannie often has said, no other job would have offered him the opportunity to have such a profound effect on aviation safety.· His career concluded during the safest period in US aviation history.· Clearly, his contributions have had a significant and continuing effect on global aviation and aviation safety.
Dannie is survived by his wife of 41 years, Diana and two sons: Trevor and Devlin.
---
SETP "LOST MEMBERS"
Anyone knowing the whereabouts of the Following SETP member Johannes Joubert please contact Laurie Simmons at SETP Headquarters at 1-661-942-9574 or This email address is being protected from spambots. You need JavaScript enabled to view it..
---
SETP NEW MEMBERS AND UPGRADES
The Society would like to welcome the following new Members:
Abel, Brandon (PAM)
Alsbury, Michael (M)
Bernardin, Brian (PAM)
Berto, Mario (M)
Bieze, Raymond (PAM)
Brunette, Xavier (PAM)
Carter, Kristopher (PAM)
Crawford, Robert (PAM)
Deas, Brian (PAM)
De Michele, Fabio (PAM)
DeWitt, Ryan (PAM)
Donohue, David (AM)
Estrugo, Rolf (PAM)
Evans, Lee (PAM)
Formoso, Stephen (PAM)
Green, Nicholas (PAM)
Guilfoyle, Kyle (M)
Henderson, Jennifer (AM)
Hohner, Gabriel (PAM)
Hoover, Shannon (PAM)
Howland, Ryan (PAM)
Hubley, Joseph (PAM)
Jacques, Lin (AM)
Johansen, Bendik (PAM)
Johnson, Kip (PAM)
Johnson, Scott (PAM)
Kennedy, Jeffrey (PAM)
Kipper, Rory (PAM)
Kuhlman, Henry (M)
Lachs, Shlomi (PAM)
Maxwell, Bruce (PAM)
McCullins, Mark (M)
Neubert, Fredeic (PAM)
Paquin, Jason (PAM)
Park, Ji Won (PAM)
Rasmussen, Spencer (PAM)
Rein, Donevan (PAM)
Rigby, John (M)
Rusanen, Kari (PAM)
Rusnok, Richard (PAM)
Schiffelbein, Jonathan (PAM)
Shadforth, Scott (PAM)
Slager, Jonathan (PAM)
Tabert, Christopher (PAM)
Tetteroo, Patrick (PAM)
Toda, Hayato (M)
·· Maj, Brazilian AF
Vermeersch, Thomas (AM)
Wees, Darren (PAM)
Yang, Jaehak (PAM)
·
Congratulations to those members who have upgraded their membership!
·
Amdal, Eskil (M)
Baldwin, Matthew (M)
Belanger, Emmanuel (AM)
Berggren, Matthew (AM)
Cassada, Josh (AM)
Cochran, Daniel (M)
Comeau, Perry (AM)
Creviston, Douglas (AM)
Domsalla, Matthew (M)
Dotter, Jason (M)
Freedman, Jeffrey (M)
Hutchinson, Karl (AF)
Jones, Mark (M)
Kimberlin, Ralph (AF)
Klein, Adam (M)
Maris, John (AF)
Massaro, Mark (M)
Mouser, Adam (AM)
Puckett, Steven (M)
Rich, Daniel(AM)
Ringelberg, Wayne (AF)
Scola, Dominic (M)
Stanko, David (M)
Tulley, Sean (M)
Uybarreta, Prospero (AM)
Walker, William (M)
Walsh, Christine (AF)
·
Welcome Back!· The following members have re-instated their membership:
·
Boddington, Jeremy (M)
·· CDR, RN
Frick, Stephen (M)
·· CAPT, USN
·
The Society would like to welcome the following new Corporate Members:
Flight Test Centre of Excellence
Modern Technology Solutions, Inc.
---
SETP SECTION CHAIRMEN
CANADA
Rob Erdos
CENTRAL
Maurice Girard
EAST COAST
Dave Culbertson
EUROPEAN
Craig Penrice
GREAT LAKES
Jay Jabour
NORTHWEST
Leon Robert
SOUTHEAST
Gary Plumb
SOUTHWEST
Alan Norman
WEST COAST
Eddie Cabrera
---
MEMBERS CAN CHANGE THEIR INFORMATION
ON-LINE
·
·
If you have recently moved or have changed your contact information you can change your information on-line at http://66.102.193.156/user_area.asp.
·
---
·
·
2010 Calendar of Events
40th San Diego Symposium
26-27 March 2010
Catamaran Resort Hotel
San Diego, CA
·
26th East Coast Symposium
16 April 2010
Naval Air Station Patuxent River, MD
·
Flight Test Safety Workshop
3-6 May 2010
Doubletree Hotel
San Jose, CA
·
Great Lakes Section Symposium
27 May 2010
Club and Banquet Center
Wright Patterson Air Force Base
Dayton, OH
·
Central Section Symposium
18 June 2010
Old Town Conference Center
Wichita, KS
·
42nd European Symposium
13-16 July 2010
Cambridge, England
·
54th Symposium & Banquet
22-25 September 2010
Grand Californian Hotel
Anaheim, CA
·
European Flight Test Safety Workshop
28-29 September 2010
Royal Aeronautical Society
London, UK
---
·
EDWARDS AIR FORCE BASE
FLIGHT TEST HISTORICAL FOUNDATION
Presents the 2010
EXCELLENCE IN AVIATION AWARDS
DATE:  Saturday May 8, 2010 - Doors open 6pm - Dancing until 12 midnight.
LOCATION OF EVENT:  Proud Bird Restaurant Ballroom
  1022 Aviation Blvd.
                          Los Angeles, CA  90045
THE EVENT
The Flight Test Historical Foundation will honor three American pilots for EXCELLENCE IN AVIATION: Bob Hoover and General Robert Cardenas will receive awards for excellence in Flight Test; Clay Lacy will receive the award for excellence in Aviation Business.  Also at this event the Foundation will present a posthumous honor to the family of David Tallichet for his devotion to aviation and all that he accomplished during his life to help promote aviation through his restaurants, collecting and preservation efforts.  The event will include a dinner and award ceremony followed by live entertainment and dancing to top off the celebration.  Dress is cocktail/business attire. 
Special discounted room/suite rates have been negotiated with the LAX Hilton.  We are able to offer a discounted convention rate of $79 per night (plus tax) for a King Room or 2 Double Beds.  The usual rate is $189 per night (plus tax).
Further information and tickets are available online at www.EdwardsMuseum.com 
Tickets are $125 each.  Corporate tables are $1,500 (seats 10)
Or send check to: 
Flight Test Historical Foundation
Excellence in Aviation Awards
405 S. Rosamond Blvd.
Edwards Air Force Base, CA.  93524
661-277-8050 for further information
---