Vision
To support the Society of Experimental Test Pilots by providing flight test education, mentoring our youth, promoting flight test safety, and preserving flight test history.
Mission Statement
The Mission of the SETP Foundation is:
Education
To provide flight test educational programs by sponsoring symposia and disseminating educational materials in order to increase the safety and efficiency of flight test and enhance the professional knowledge of test pilots, astronauts, cosmonauts and other aerospace professionals in the field of research and development.
To provide mentors for educating our youth, while encouraging them to enter flight test or an aerospace-related profession.
Flight Test Safety
To initiate and sustain a flight test related safety organization intended to promote flight safety, reduce the risk of mishap, promote risk reduction management and continually improve the profession's communication and coordination.
To develop, implement and maintain a computerized data base, readily available to all members and member organizations, containing flight test-related data collected from the industry.
History
To be the world's leading source of history relating to test pilots and their profession.
To preserve the historical significance of the accomplishments of test pilots, the SETP, and the aerospace industry by displaying memorabilia, written and oral records, reports, photographs, video, and other artifacts.
To archive and display such history in a manner that supports and enhances the efforts of flight test education and flight test safety for current and future generations of flight test personnel and the general public.
Donations

The SETP Foundation is a 501(c)(3) charitable organization, and all donations are tax-deductible.
---
Check Presentation to The Flight Test Historical Museum
On 23 October at the Gathering of Eagles event in Lancaster, CA, Art "Turbo" Tomassetti (F) and other past Presidents of SETP presented a check to The Flight Test Historical Museum for $100,000. Turbo noted "The flight test profession usually looks forward to the future with new technologies and new aircraft. The Society recognizes that we build that future on the foundations of the past, the things we have done and the things we have learned. This museum will provide a place that will care for that past." This contribution is part of the Society's pledge to the construction of the facility outside the gates of Edwards AFB, which will house The Bob Hoover Library, SETP Archives and a STEM Classroom.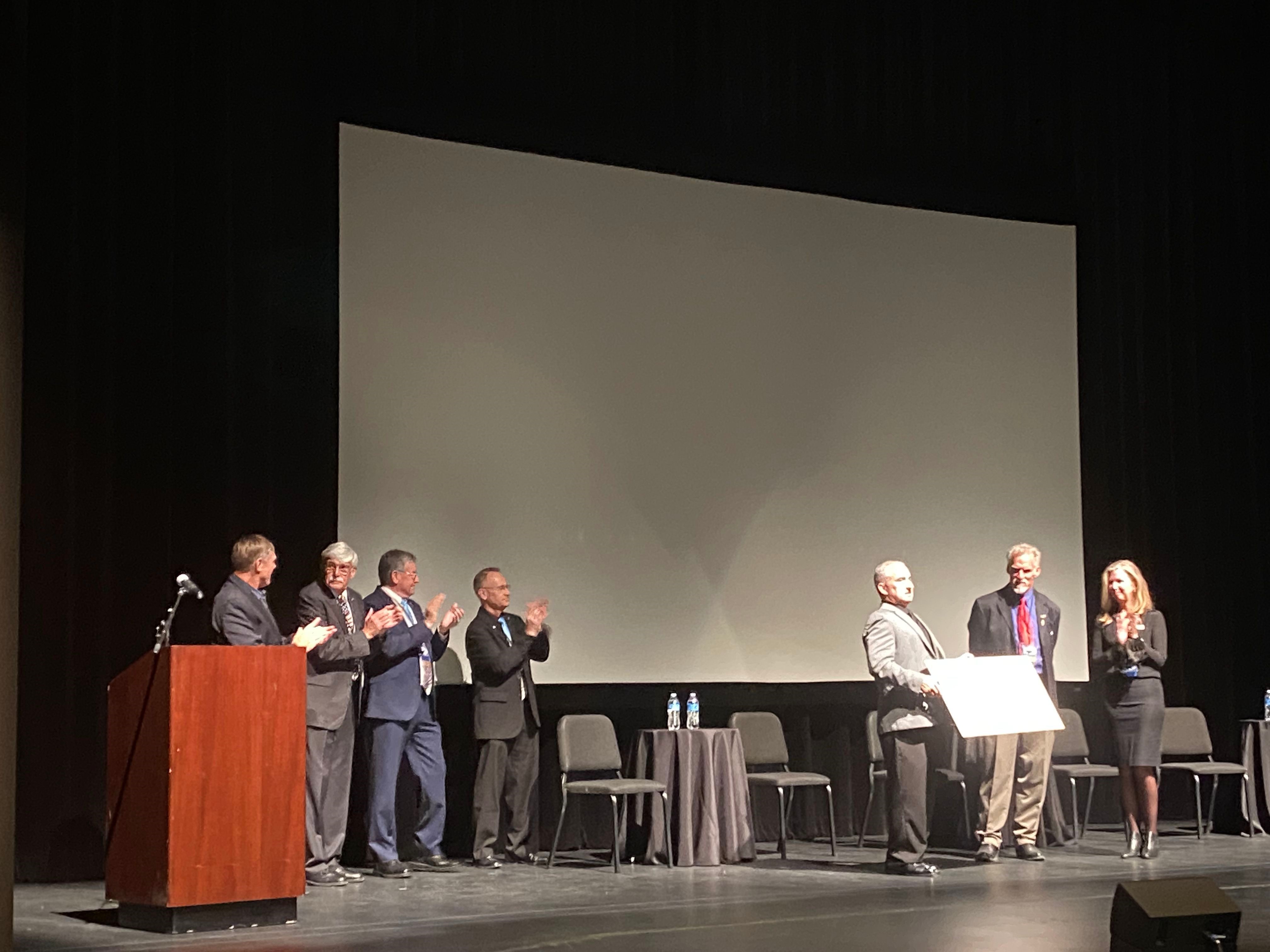 L-R Past Presidents Roy Martin (F), Tom Morgenfeld (F), JB Brown (F), Steve Rainey (F)
Art Tomassetti (F) presents the check to The Flight Test Historical Museum's Art Thompson and Lisa Brown