Welcome to SETP
Kincheloe & Doolittle Nominations - Deadline is 31 July 2021
Click HERE for the Kincheloe Award Nomination Form
Click HERE for the Doolittle Award Nomination Form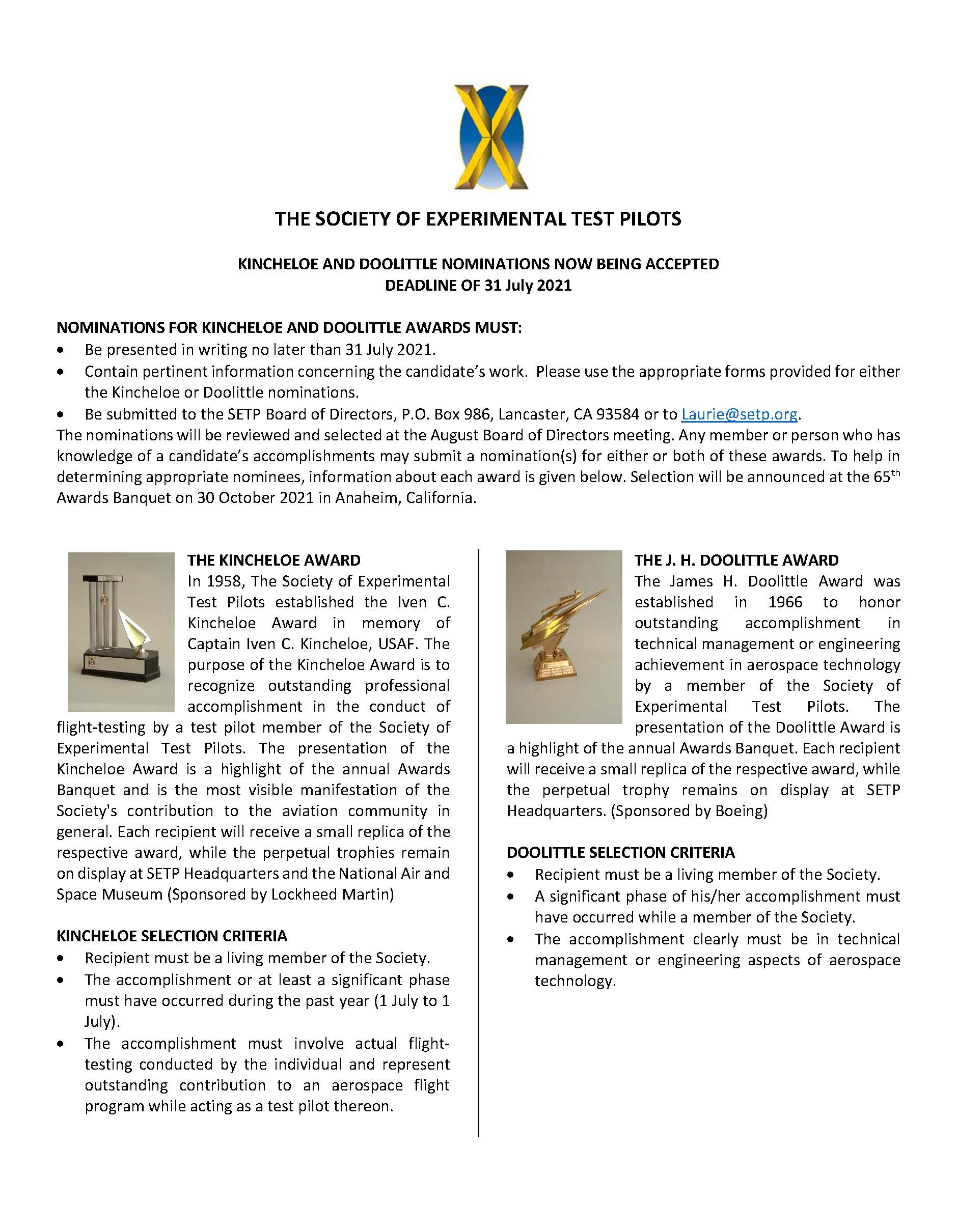 Junior Test Pilot Summer Program at Blackbird Airpark - Request for Speakers
The Society is posting this request for volunteers on behalf of the Flight Test Historical Foundation:
We are thrilled to be able to offer our Junior Test Pilot Summer Program at Blackbird Airpark IN PERSON this summer! Below is a brief synopsis of the program and the concepts the students cover each session. We take any volunteer speakers from the aerospace industry, as I try to balance all aspects of career opportunities in the industry. However, having our test pilots come out is always a thrill for our kids.
Audience: The program is intended for 3rd-6th grade, but we often have a range of kids -- but mostly 3rd-6th.
Daily themes cover: Flight, Edwards Dry Lake Bed, Stealth, Altitude, MACH Speed, Payload, Engines, Maneuverability, and Reconnaissance
More information here: https://www.afftcmuseum.org/jtps-summer-program
We like to have speakers from across all career paths in the AV's aerospace industry every day if possible. The times are flexible between 11:00 and finish by Noon.
The program is running in-person Monday-Thursday June 21st-July 29th.
There are speaking opportunities via Zoom every week running from June 28th - July 29th. (These can be scheduled very flexibly based on the person's availability!)
Speakers can conduct a presentation, do a hands-on activity, or simply talk about their careers. We like to ask what they wanted to be when they grew up, when they became interested in aerospace or aviation, and what they needed to do education-wise to become what they are today. I also like to ask what the hardest subjects were in school, and what they needed to do to overcome any challenges they may have had on their journey.
Thank you to all of you who have volunteered every year thus far! Your participation truly makes a difference in these children's lives. If you are interested in volunteering, please contact This email address is being protected from spambots. You need JavaScript enabled to view it..
SINCERELY and GRATEFULLY,
Lisa
Lisa Sheldon Brown
Director of Education and Community Outreach
Flight Test Museum Foundation
call: 323.630.4789
write: This email address is being protected from spambots. You need JavaScript enabled to view it.
follow: Facebook | Instagram | Twitter
explore: flighttestmuseum.org
Calspan 75th Anniversary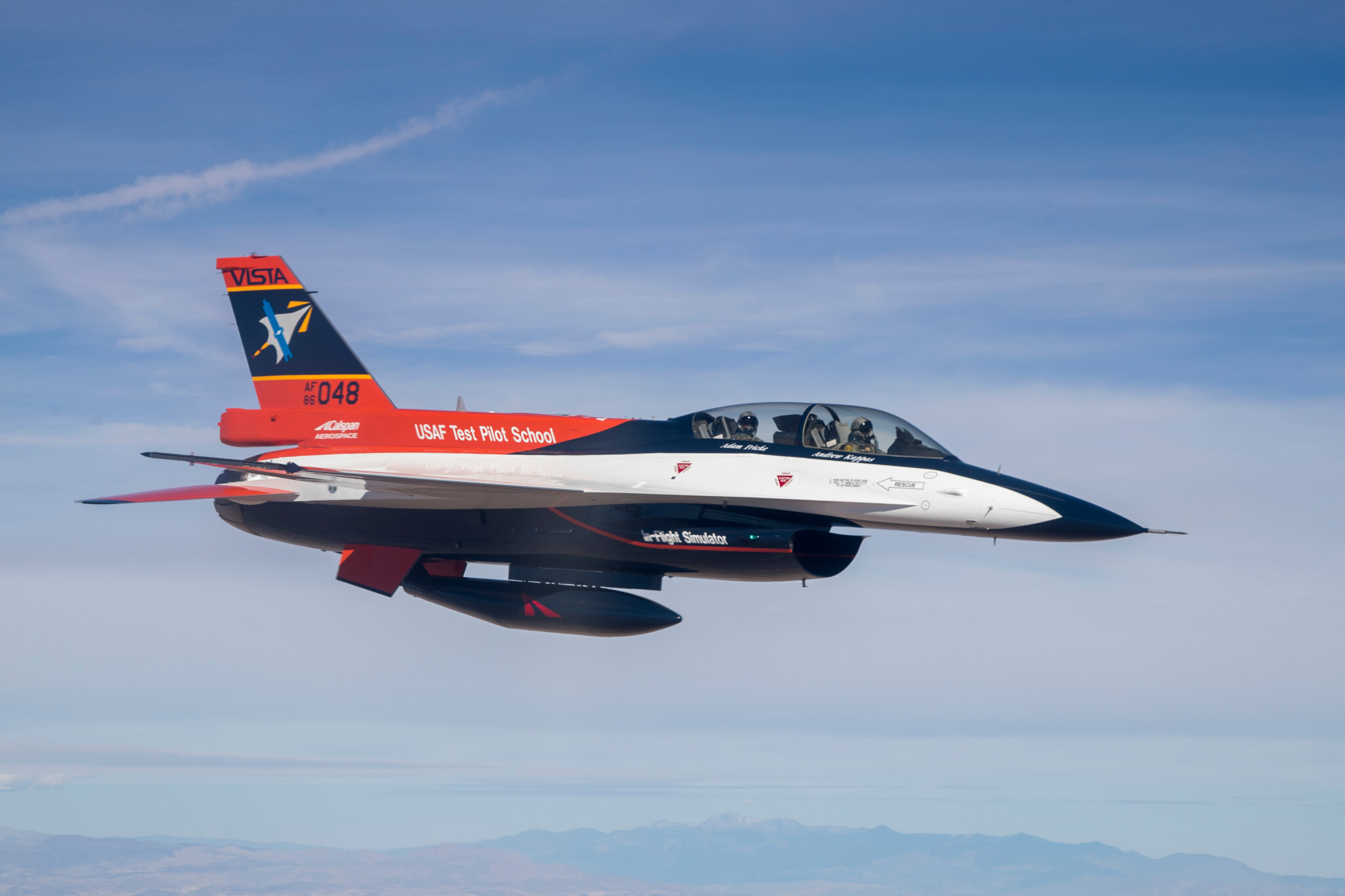 This year Calspan celebrates its 75th anniversary. In January 1946, the Curtis Wright Research Laboratory was donated to Cornell University, and it became the Cornell Aeronautical Laboratory (C.A.L.). C.A.L., now Calspan, developed one of the first variable stability aircraft, a Navy F-4U, in 1948. Since that time Calspan has developed several generations of in-flight simulator aircraft culminating in the United States Air Force (USAF) VISTA NF-16D based at the USAF Test Pilot School (TPS) at Edwards Air Force Base in California. Today, Calspan proudly provides maintenance, operations support, engineering, and curriculum development for the USAF TPS VISTA/F-16. With their fleet of variable stability aircraft, Calspan supports the training curricula at the USAF TPS, the United States Naval TPS, the Empire TPS, the (French) EPNER TPS, The National TPS, and numerous other test organizations. Calspan is committed to providing flight test services and training around the world for decades to come.
Flight Test Safety Virtual Workshop 2021 - Videocasts
The Videocasts approved for public release from the 2021 Flight Test Safety Virtual Workshop are now available to view with the link below.
65th Symposium & Banquet - Preliminary Schedule
For the latest information on the Disneyland Resort's guidelines and important information, please visit https://disneyland.disney.go.com/
Technical Sessions & Banquet will be held at the Disneyland Hotel this year, 27-30 October 2021
Preliminary Annual Symposium & Banquet Schedule:
Wednesday, 27 October 2021
We are in the beginning planning stages of trying to arrange a Technical Tour that will occur on this day. More information to follow once we have details
A Welcome Reception will be held this evening at approximately 6:30pm – 8pm
Thursday, 28 October 2021
Opening Ceremonies and Session I will begin at approximately 8am
We are in the beginning planning stages of trying to arrange a Spouse's Event that will occur this day. More information to follow once we have details
The New Member Reception will take place at the end of Session I. This event is by invitation only
Session II Technical Session
Thursday Evening Networking Reception on Adventure Lawn outside of the Disneyland Hotel
Friday, 29 October 2021
Session III Technical Session
Luncheon with keynote speaker
Session IV Technical Session
The President's Dinner will take place at approximately 6pm. This event is by invitation only
Friday Night Reception & Dance in the ballroom
Saturday, 30 October 2021
Session V Technical Session
The Annual Business Meeting will begin at the conclusion of the final technical session
The Awards Banquet will begin at approximately 5:30pm
NTPS 40th Anniversary!
The National Test Pilot School (NTPS) is proud to announce our 40th Anniversary!! 29 April 2021 marked 40 years of NTPS providing flight test training to Test Pilots & FTEs from over 40 countries around the world. We recently unveiled our 40th Anniversary Painting called "Changing of the Guard" which depicts the EC-145 taking the lead in helicopter flight test training from the UH-1 as they fly over NTPS and other school aircraft (Prints are available). There has been tremendous change in these past 40 years and NTPS has continued to adapt, innovate, and lead in the modernization of flight test training. NTPS was first with Master's degrees, Pre-TPS, significant Systems Curriculum, UAV curriculum integration, Graduate Assistant program, EASA certification, and University accreditation. All great examples of our commitment to our mission to advance flight test competency, improve flight test and aviation safety, and enhance the aerospace profession world-wide. NTPS would like to thank all of our loyal customers from across the globe. Here's to another 40 great years!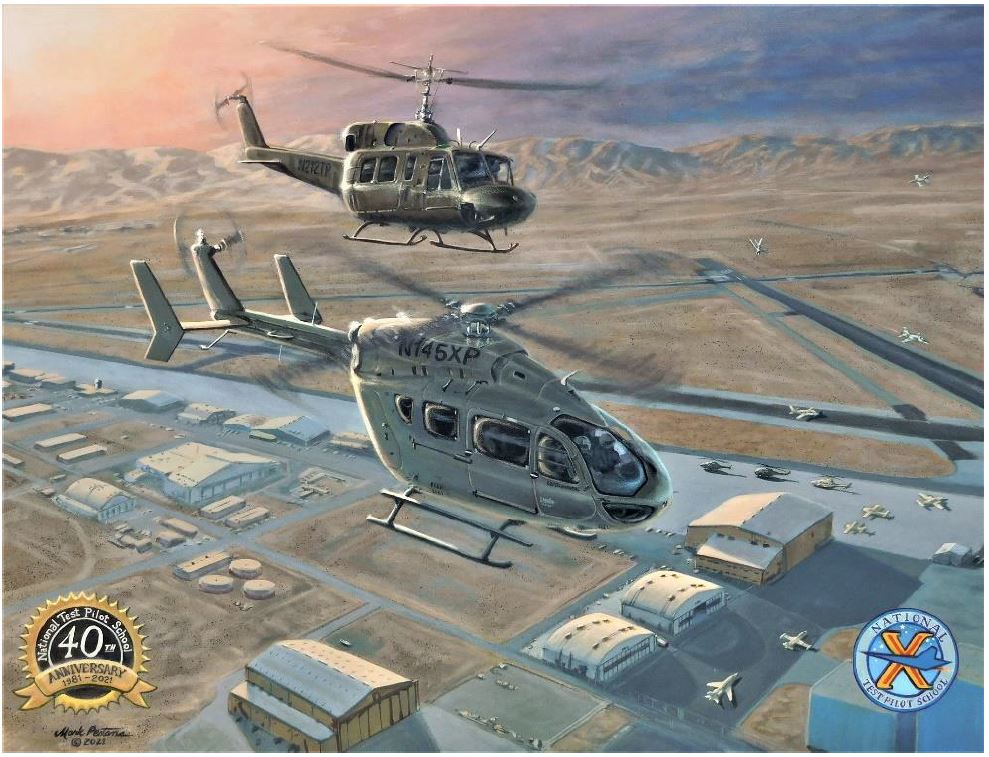 Special Business Meeting & State of the Society