SETP News
National Test Pilot School - WASC Accreditation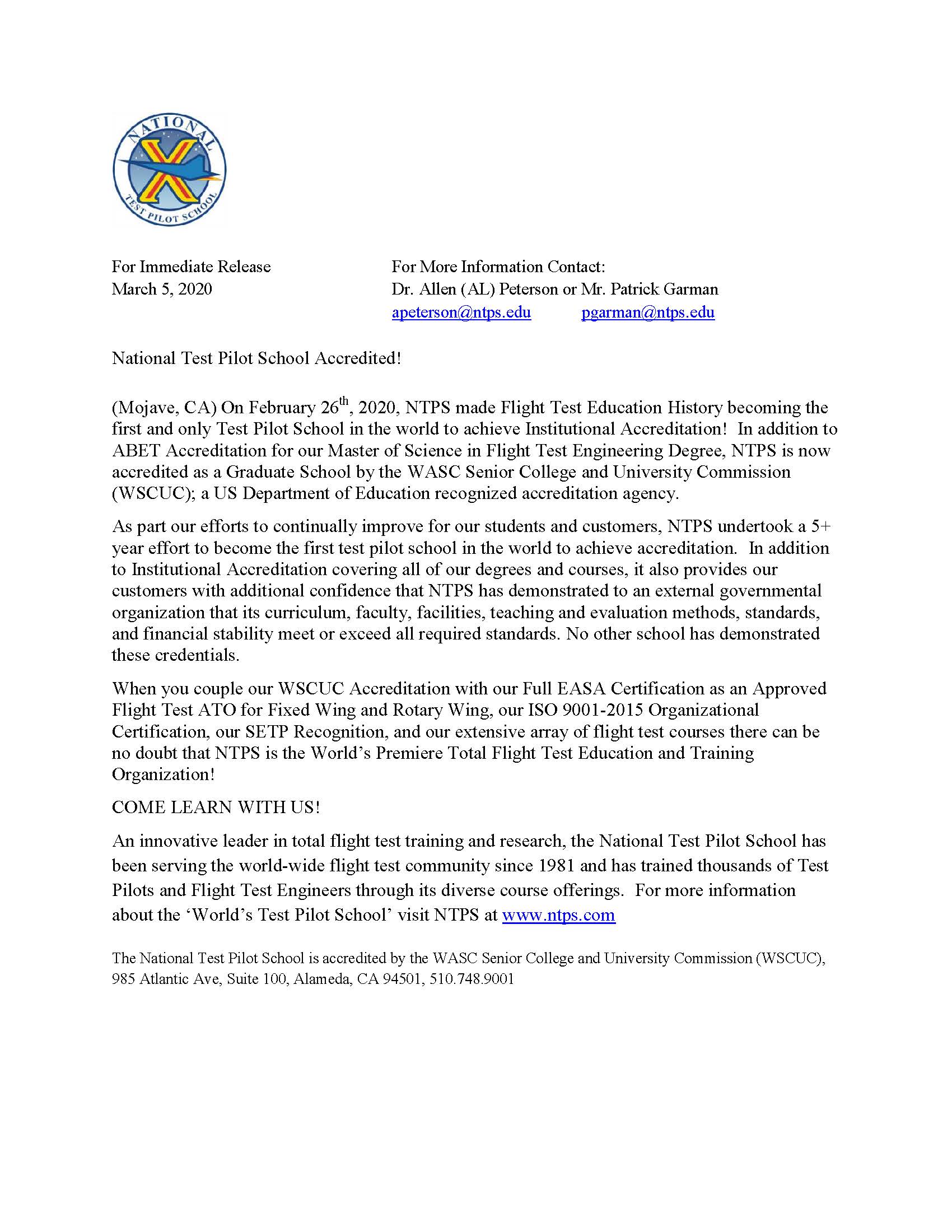 The Hiller X-18 / Fairchild C-123 / History of the Shorts Company / Future of Air Power (National Aerospace Library Sound Archive)
For your information a 2006 sound recording of Dr. Don Richardson HonFAIAA HonFRAeS in which he recollects on the parallel evolution of the Hiller X-18 / Fairchild C-123 has just been added to the National Aerospace Library Sound Archive - a real 'Who's Who' of aviation personalities and historical subjects based on original recordings held in the Library's archives - and is now available to listen to via the Royal Aeronautical Society's SoundCloud web-site :-
https://www.aerosociety.com/events/catch-up-on-events/video-audio-archive/
The specific link to the video / sound recording is (just click on the arrow button to 'Play'):-
https://www.aerosociety.com/news/audio-classic-lecture-series-from-gliders-to-jets-the-insiders-guide-to-the-hiller-x-18-the-fairchild-c-123-by-dr-don-richardson-hon-fraes/
Dr. Richardson' lecture has been released alongside recordings of a 2007 lecture by Sir Brian Burridge FRAeS in which he reviews the future direction of air power requirements and a 2009 lecture by Gordon Bruce FRAeS in which he describes the long aviation history of the Shorts company.
A quick link to the historic lectures and speeches available so far (including Sir Frederick Handley Page, Igor Sikorsky, Jeffrey Quill, Peter Twiss, Charles H. Gibbs-Smith, Andrew Brookes, Silvius Dornier, Sir Richard Glazebrook, Commander Graeme Rowan-Thomson, Keith Hayward, Sir Dermot Boyle, Philip Wills, Chris Yeo, Captain John Cecil Kelly-Rogers, Col. Al Worden, Peter Hearne, Sir George Edwards, Captain John Cecil Kelly-Rogers, John Farley, A. W. 'Bill' Bedford, H.R.H. The Duke of Edinburgh, Christopher Bartlett, Andy Sephton, Dr. Ron Smith, A. R. Collar, Sir Vernon Brown, Air Commodore F. R. 'Rod' Banks, L. S. Snaith, Mike Hirst, Air Chief Marshal Sir Philip Joubert de La Ferte, Air Marshal Sir Victor Goddard, Sir Peter Masefield, Alan Mulally, Sir Charles Masefield and Sir Ralph Robins) is:-
https://soundcloud.com/aerosociety-podcast/sets/classic-lecture-series
Read more: The Hiller X-18 / Fairchild C-123 / History of the Shorts Company / Future of Air Power (National...
Sir George Edwards / Sir Ralph Robins / Sir Charles Masefield (National Aerospace Library Sound Archive)
For your information a historic 1973 sound recording of Sir George Edwards HonFRAeS in which he recollects on the how the British aircraft industry evolved during his long career in aviation has just been added to the National Aerospace Library Sound Archive - a real 'Who's Who' of aviation personalities and historical subjects based on original recordings held in the Library's archives - and is now available to listen to via the Royal Aeronautical Society's SoundCloud web-site :-
The specific link to the video / sound recording is (just click on the arrow button to 'Play'):-
https://www.aerosociety.com/news/audio-classic-lecture-series-looking-ahead-with-hindsight-by-sir-george-edwards-hon-fraes/
Sir George Edwards' lecture has been released alongside recordings of the 1997 Inaugural Whittle Lecture lecture by Sir Ralph Robins in which he discusses the legacy of Sir Frank Whittle and a 1997 lecture by Sir Charles Masefield in which reviews the future direction of European aerospace collaboration beginning with his personal selection of the 16 most significant aircraft platforms in aviation history.
Read more: Sir George Edwards / Sir Ralph Robins / Sir Charles Masefield (National Aerospace Library Sound...
National Test Pilot School Graduation December 2019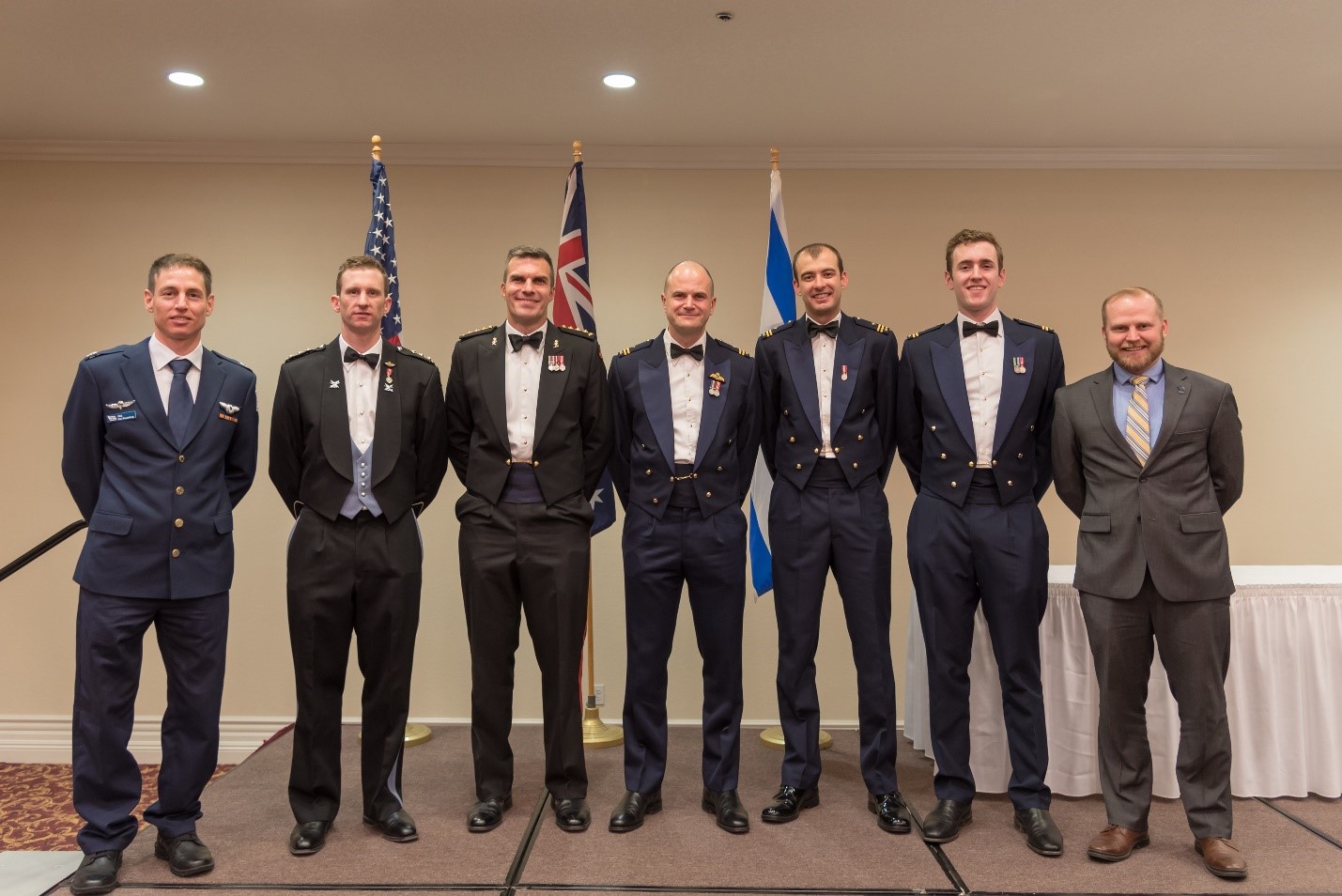 On Friday December 13th, 2019 The National Test Pilot School celebrated the graduation of the Test Pilot and Flight Test Engineer Professional Course 2019A. The graduation culminates an intensive year of academics and flight test training in aircraft performance, handling qualities, and systems. The graduates were: Flight Lieutenant Dylan Banning, Royal Australian Air Force; Captain Waldo Britz, Australian Army; Captain James Flawith, Australian Army; Flight Lieutenant Andrew Gill, Royal Australian Air Force; Flight Lieutenant David Kennedy, Royal Australian Air Force; Major Raz Rosenberg, Israeli Air Force. The graduates were awarded Experimental Flight Test or Flight Test Engineering Certificates and Masters' degrees in Flight Test and Evaluation or Flight Test Engineering. The graduates will return to their home countries and start their careers in flight testing. The National Test Pilot School also celebrated Mr. Jacob Varnus for completing the NTPS Graduate Assistant Program. Jacob received a Flight Test Engineering Certificate and Master's Degree in Flight Test Engineering and has accepted a position with the Space Ship Company, right here in Mojave.
The National Test Pilot School (NTPS) is a not-for-profit civilian educational institution located and incorporated in the State of California. The School was established in 1981 to meet the flight test training needs of both the US and international aerospace communities. NTPS students and customers come from a variety of backgrounds including military organizations, aerospace industry, governments, certification agencies, and even private citizens. NTPS is accredited by ABET, the first test pilot in the world to be certified by European Aviation Safety Agency, and is recognized by the Society of Experimental Test Pilots.
The mission of the National Test Pilot School is to educate and train military and civilian aviation personnel so that each graduate increases flight test competency, improves flight test and aviation safety, and enhances the aerospace profession world-wide. Our mission is primarily accomplished through our professional courses and master's programs that provide graduate level flight test education and training to test pilots and flight test engineers who learn to safely and effectively plan, execute, and report on flight test programs for their military or civilian organizations. Our mission is further accomplished through NTPS' continuing education programs, flight test-related research programs, and flight test support activities that increase competency, safety, and the breadth of knowledge in the aviation and flight test professions.