SETP News
National Aerospace Library Sound Archive (History of the Air Transport Auxiliary / Eurofighter programme)
The latest batch of historic recordings from the National Aerospace Library's archives - a real 'Who's Who' of aviation personalities and historical subjects - has just been released via the Royal Aeronautical Society's SoundCloud site (just click on the arrow button to 'Play')
They include a 1965 lecture by Philip Wills recalling the development the Air Transport Auxiliary through the perspective of his personal experiences during the Second World War and a review of the early evolution and flight testing of the Eurofighter in a 1995 lecture by Chris Yeo.
A quick link to the historic lectures and speeches available so far (including Sir Frederick Handley Page, Igor Sikorsky, Jeffrey Quill, Peter Twiss, Charles H. Gibbs-Smith, Andrew Brookes, Silvius Dornier, Sir Richard Glazebrook, Commander Graeme Rowan-Thomson, Keith Hayward and Sir Dermot Boyle ) is:-
https://soundcloud.com/aerosociety-podcast/sets/classic-lecture-series
A quick link to the extended interviews available so far (including interviews with Captain Eric 'Winkle' Brown, Chuck Yeager, Scott Crossfield, Handel Davies, Al White, Bill Humble, Pete Knight, Dick Johnson, Philip Lucas, Peter Bugge, Col. Emil 'Ted' Sturmthal, Harald Penrose, John Morton, D. P. Davies, Jeffrey Quill, John Cunningham, Sir Barnes Wallis, R. A. C. Brie and Sir Harry Ricardo) is :-
https://soundcloud.com/aerosociety-podcast/sets/an-interview-with
All the historic podcasts released via the National Aerospace Library Sound Archive can also now be downloaded for free via iTunes:-

https://itunes.apple.com/gb/podcast/aerosociety-podcast/id1216235459?mt=2
The intention of the National Aerospace Library Sound Archive project is to create a historically significant oral history archive which makes the voices of the past (pilots, engineers, scientists etc.) 'alive' once more to inspire and inform current and future generations and the sound archive has attracted a number of favourable comments / interest via social media.

Please note that if these recordings or extracts from these recordings are to be reproduced in any way (book, journal article, web-site etc.), acknowledgement should be made to the 'Royal Aeronautical Society (National Aerospace Library)' as being the source of the original.
Please feel welcome to forward details of these historic aviation recordings to anyone who may be interested.
An online version of an article published in the Royal Aeronautical Society's magazine Aerospace December 2017 which reviews the latest developments with the National Aerospace Library Sound Archive is available via the following web-site:-
https://www.aerosociety.com/news/listen-to-aviation-voices-come-alive/
NTPS Students Complete the 2018 Systems Phase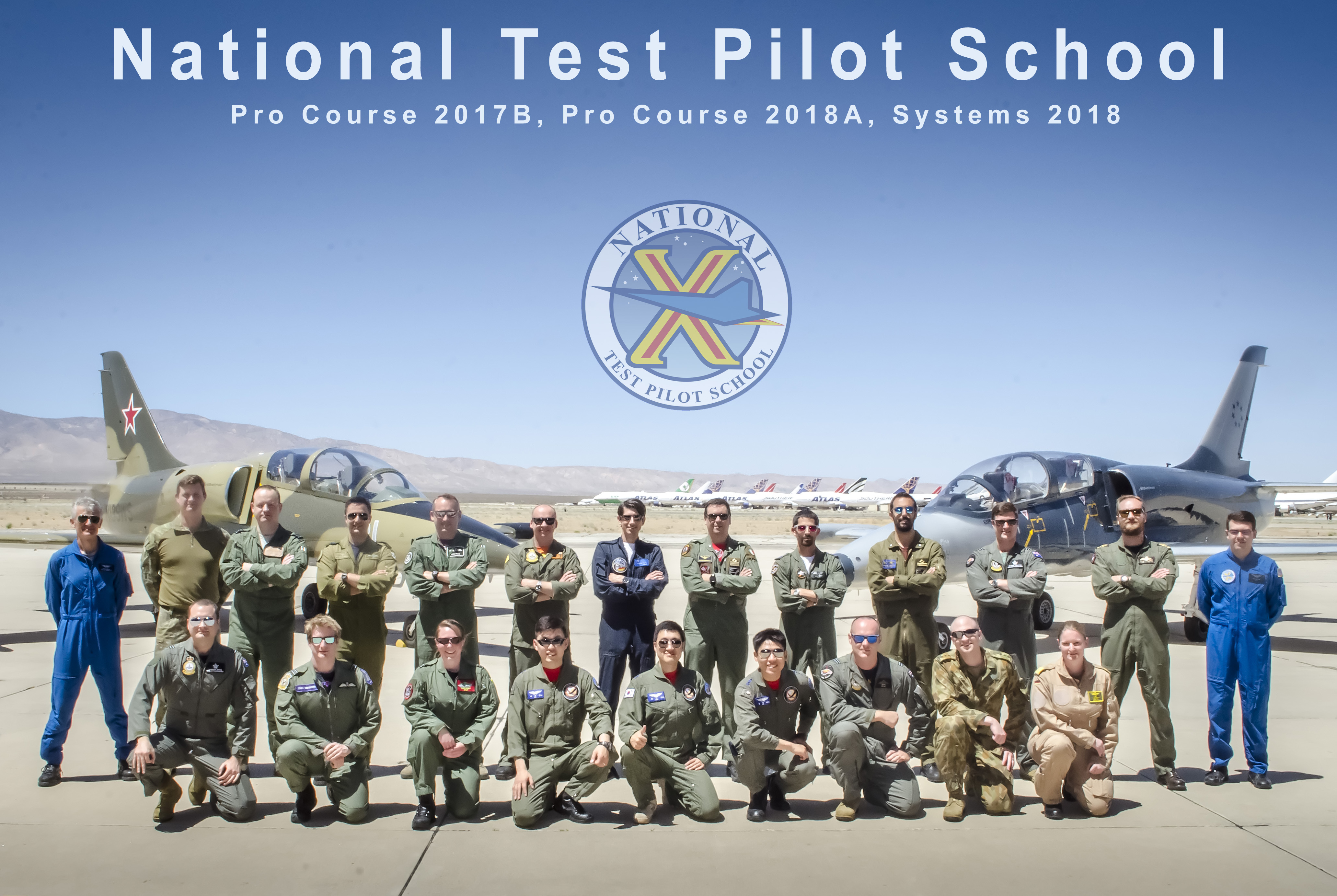 A group shot in Mojave of all the students who just completed the 6 month Systems Phase of the NTPS Test Pilot and Flight Test Engineer Professional Course. A great group of students from all over the world who learned a lot and had a lot of fun as a class. Nice job!
Space Vehicle Research Opportunity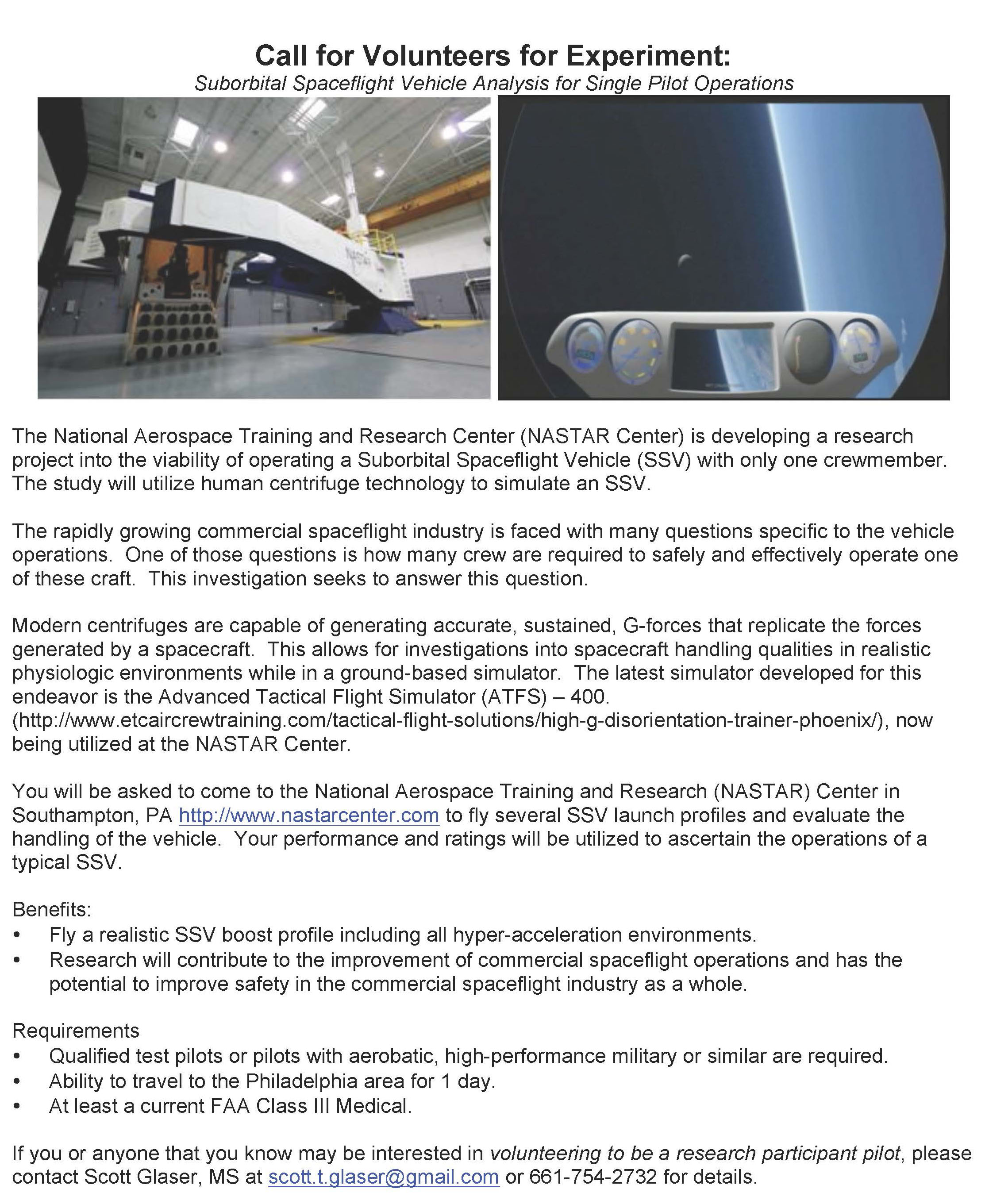 Fellows Class of 2018
The Society of Experimental Test Pilots is pleased to announce the Fellows Class of 2018.
The Fellows' presentation will be held during the 62nd Annual Symposium at the Banquet on Saturday, 29 September.
More information on the Annual Symposium can be found HERE. We hope you can join us!
Fellows Class of 2018
Kevin Bredenbeck
Mike Bryan
Charles Ellis
Thomas Horne
Norman Howell
David Nils Larson
Ignacio Lombo
Allen Peterson
Michael Preston
Dan Wells
Wright Brothers Master Pilot Award
In recognition of his half century of safe flight, Joe Biviano (AM) was awarded the Federal Aviation Administration's Wright Brothers Master Pilot Award. Congratulations Joe!