Welcome to SETP
52nd European Symposium - Canceled
52nd European Symposium
Sevilla, Spain
SETP is sorry to report that due to the ongoing issues with COVID-19 that continue to bring many uncertainties with regard to planning an event, the European Planning Committee in Spain has made the difficult decision to cancel the 2022 European Symposium scheduled for 18-21 May 2022. We realize the disappointment that comes with this but felt it was the right decision due to the logistics in planning a symposium, travel restrictions/rules, etc.
We are pleased to announce that our Team in Sweden is on track for hosting the 2023 European Symposium in Linkoping for the June timeframe. More details will be announced as soon as they are available.
Thank you for your continued support of the Society. Check our website often for updates on other events. If you have any questions, please contact This email address is being protected from spambots. You need JavaScript enabled to view it..
65th Annual S&B Award Winners and 2020/2021 Fellow Class

The Society of Experimental Test Pilots is proud to announce the
Award Winners from the 65th Annual Symposium & Banquet and the 2020 / 2021 Fellow Class
Herman R. Salmon Technical Publications Award
(Sponsored by Symbolic Displays)
For the Best Technical Paper published in Cockpit during the Past Year
"Bionics In Aviation – The Geranos Winggrid Project"
Robert Hierl (F)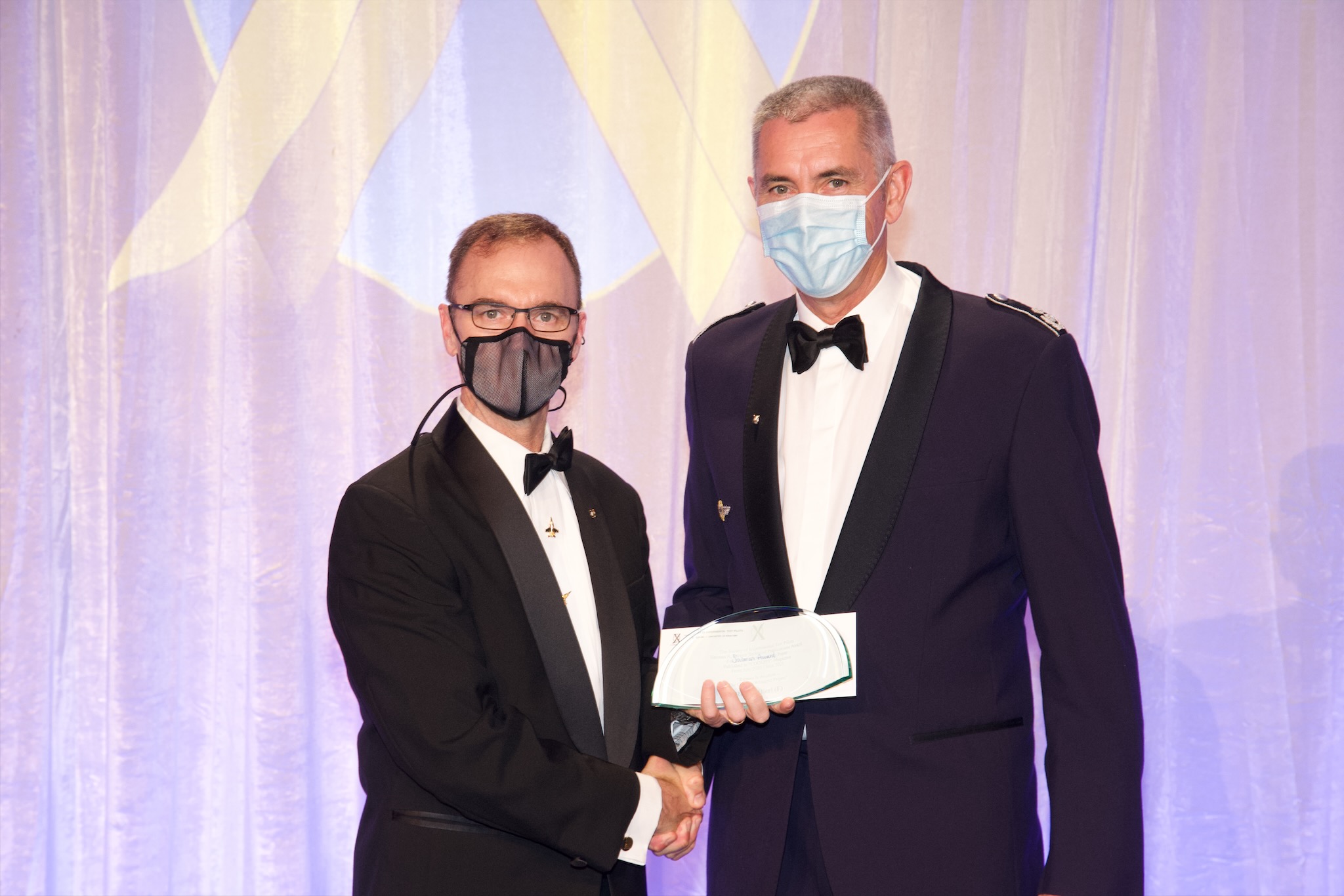 Read more: 65th Annual S&B Award Winners and 2020/2021 Fellow Class
Volocopter Conducts South Korea's First Crewed Public Air Taxi Test Flight
Damian Hischier (M) had the honor to do another historical first flight with Volocopter.
Click Here to read the full press release.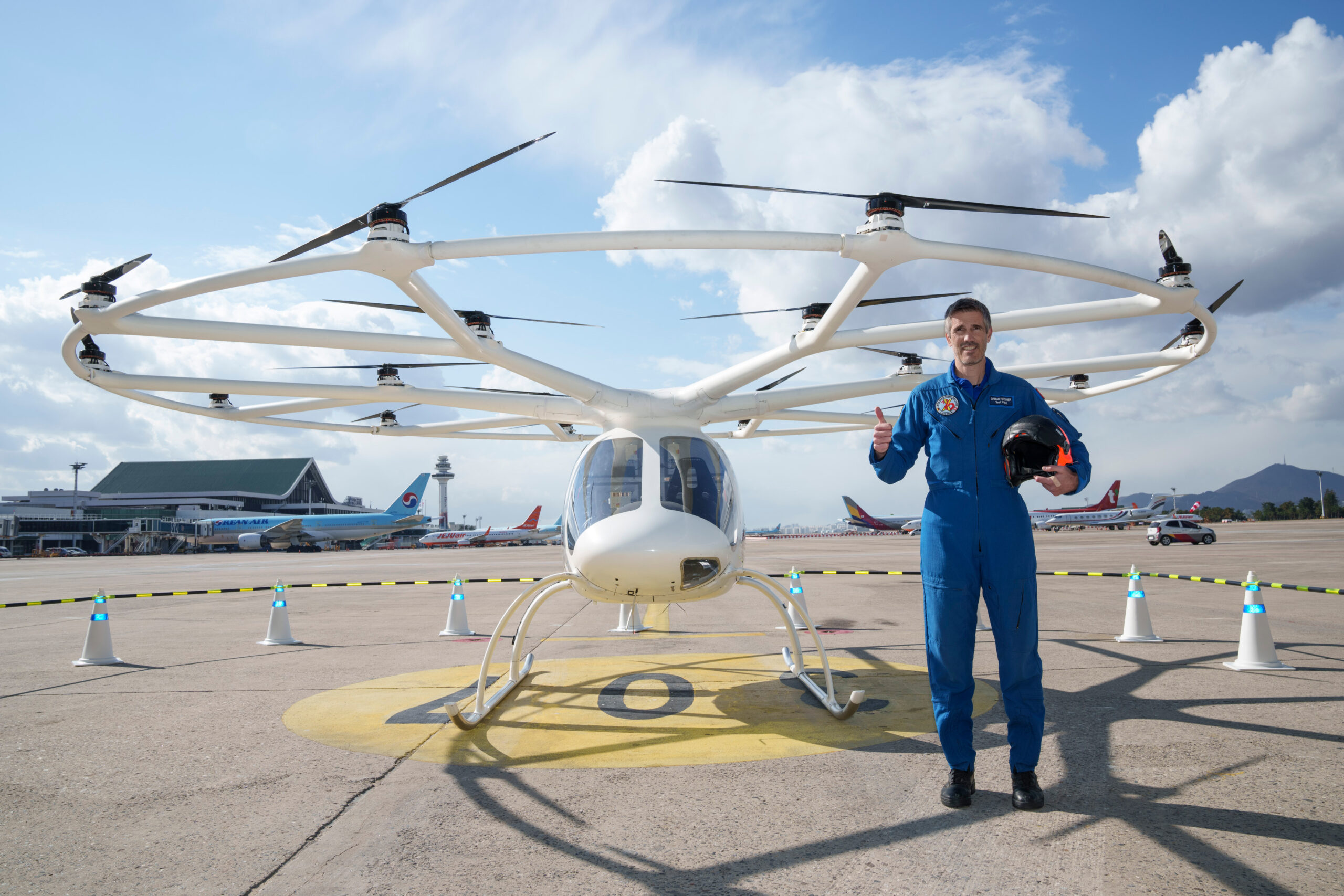 Check Presentation to The Flight Test Historical Museum
On 23 October at the Gathering of Eagles event in Lancaster, CA, Art "Turbo" Tomassetti (F) and other past Presidents of SETP presented a check to The Flight Test Historical Museum for $100,000. Turbo noted "The flight test profession usually looks forward to the future with new technologies and new aircraft. The Society recognizes that we build that future on the foundations of the past, the things we have done and the things we have learned. This museum will provide a place that will care for that past." This contribution is part of the Society's pledge to the construction of the facility outside the gates of Edwards AFB, which will house The Bob Hoover Library, SETP Archives and a STEM Classroom.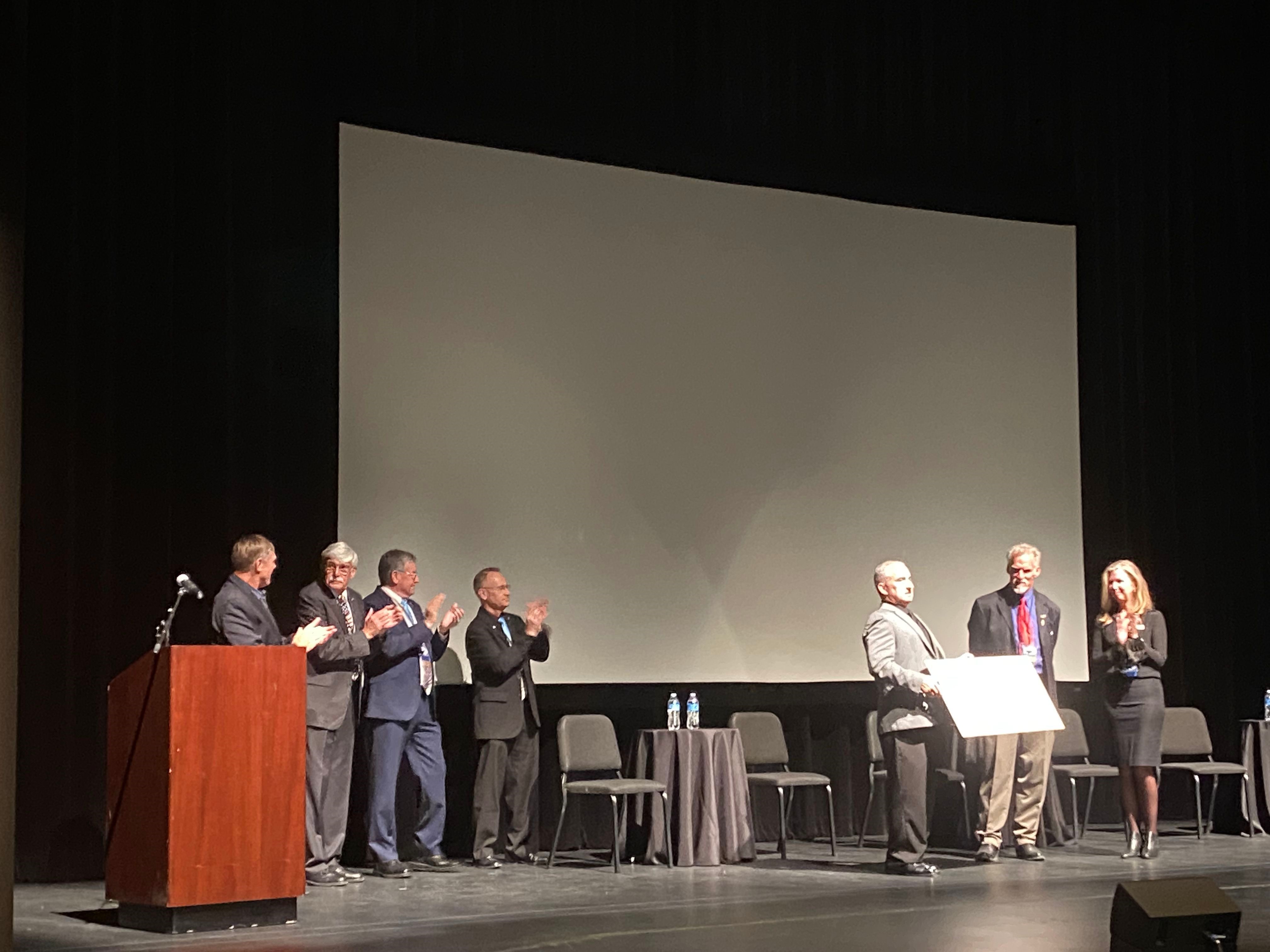 L-R Past Presidents Roy Martin (F), Tom Morgenfeld (F), JB Brown (F), Steve Rainey (F)
Art Tomassetti (F) presents the check to The Flight Test Historical Museum's Art Thompson and Lisa Brown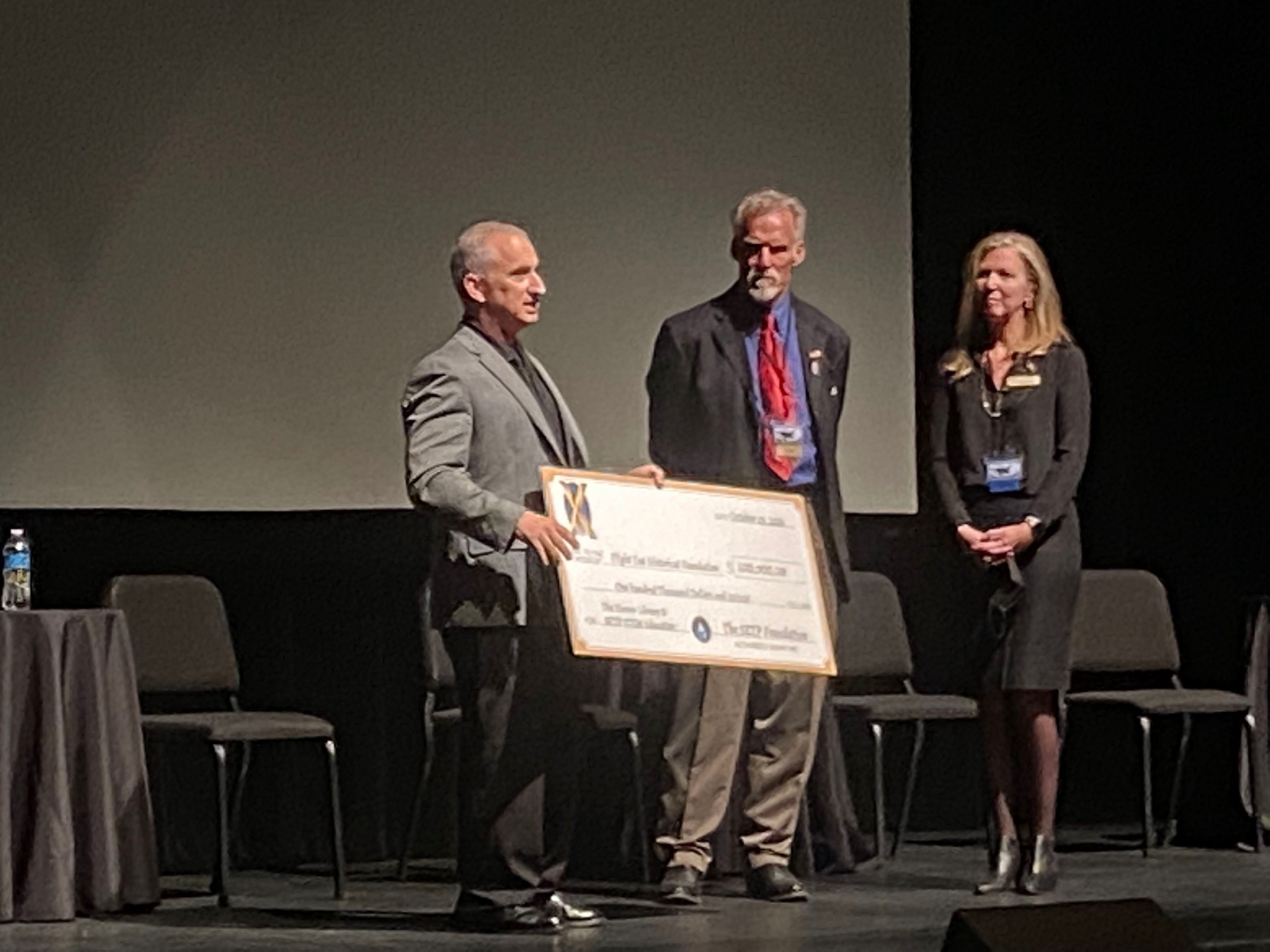 Wings Over Camarillo, SETP STEM Pavilion
The Society of Experimental Test Pilots, West Coast Section, participated in the Wings Over Camarillo annual airshow and STEM Pavilion on Saturday and Sunday, August 21 and 22 respectively. We had a strong showing with eight members of The Society who dedicated their time to further the SETP educational outreach program at the STEM event. The airshow gates opened at 0900 each morning and soon the STEM pavilion was full of young people and their families curious and eager to make paper airplanes and learn how airplanes fly. There were some tried and true airplane designs that flew well in each of the mission areas, speed and accuracy (through the hula-hoop), long distance, and long duration, as well as some new ad-hoc designs that could not overcome gravity. The interest at our table ebbed and flowed with the dynamics of the air show events. For obvious reason, the STEM pavilion emptied when the thunderous Super Hornet demonstration shook the ground, and then again when the Red Bull aerobatic helicopter took to the sky. Some of the best moments were helping the adults make a paper airplane for the first time and seeing the expression of accomplishment when their design flew well. On Saturday, one young teenager spent about two hours making airplane after airplane, each time refining the design, just to fly his airplane through the hula-hoop from greater and greater distance away. There was serious effort and therefore learning placed into each new aircraft he made. One of the most enjoyable moments came when a little boy about 5 years of age, tried and tried to fly his airplane through the hoop. When he was finally successful, the dance he danced and smile on his face said it all…he completed the mission. In total, this was a very good event with a little return toward normal in this COVID Delta Variant environment. I believe we made a difference in some, maybe more than a few, to continue learning about flight and flight test.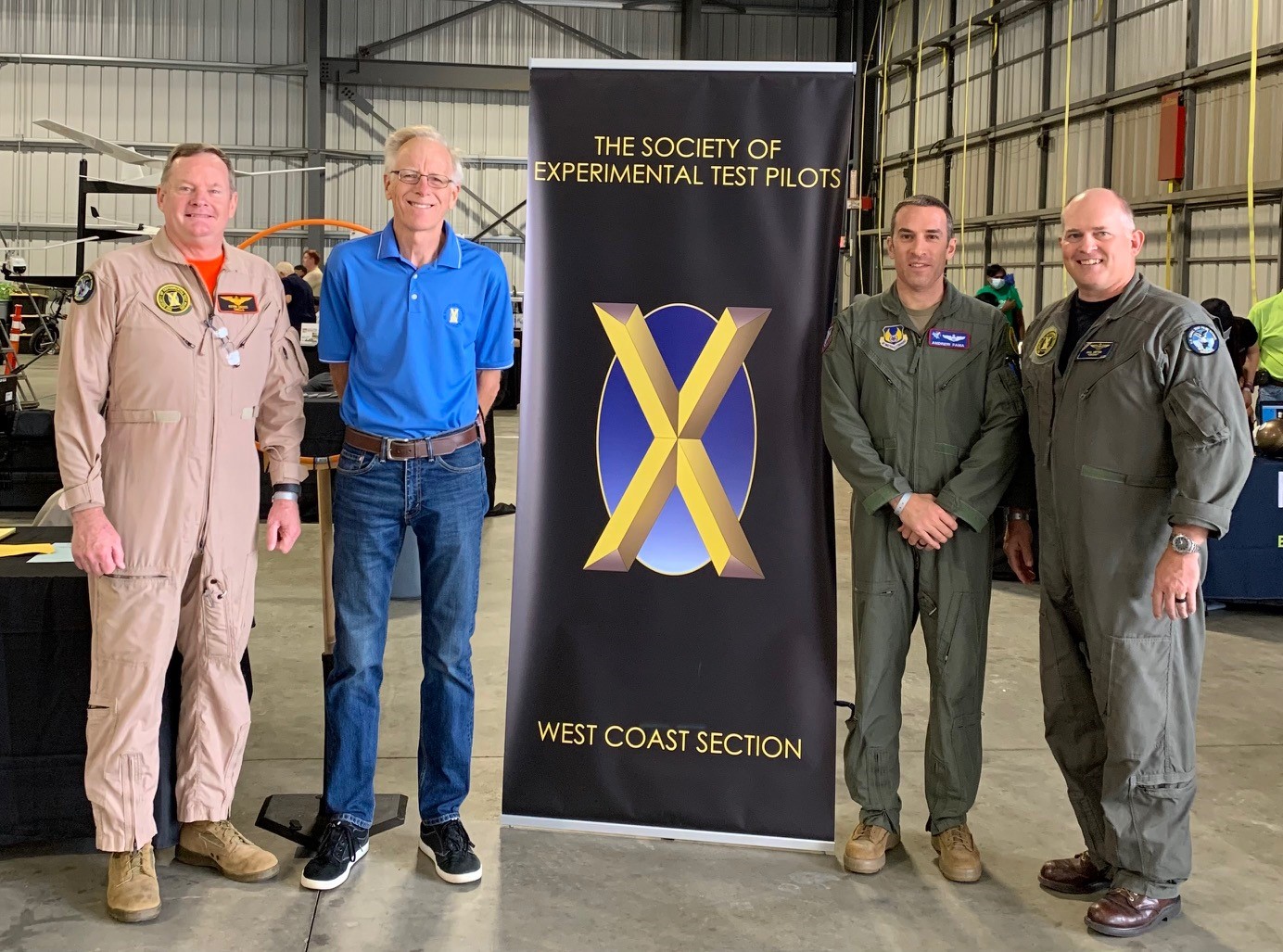 SETP Saturday Team, Kevin Gross (AF), Mike Meier (AF), Andrew Fama (M), Paul Meyer (AF) (not pictured is Brian Sandberg (AF)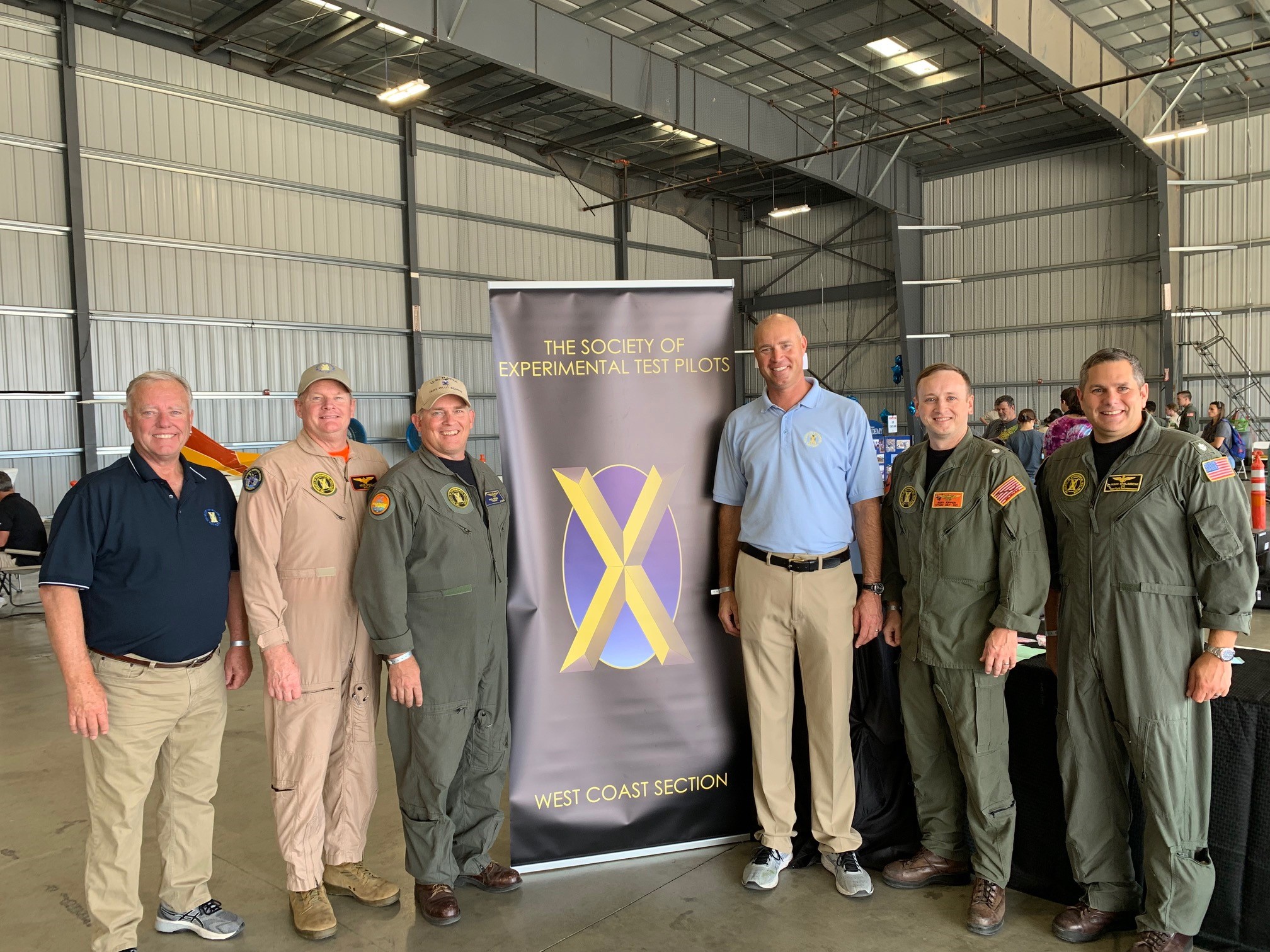 SETP Sunday Team, Mike Rabens (F), Kevin Gross (AF), Paul Meyer (AF), Brian Sandberg (AF), Rory Kipper (M), Jason Saglimbene (M)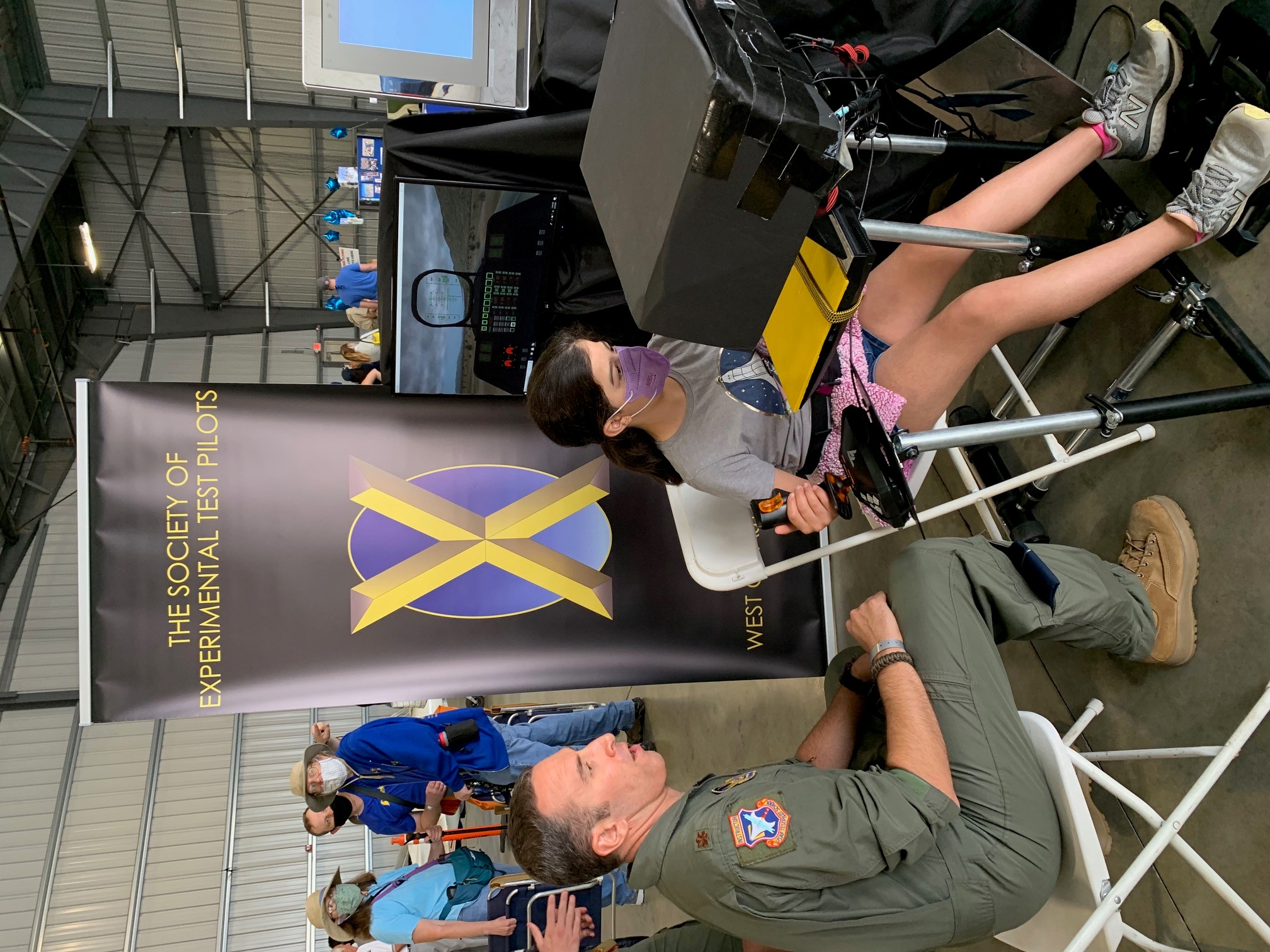 Andrew Fama (M) with a future test pilot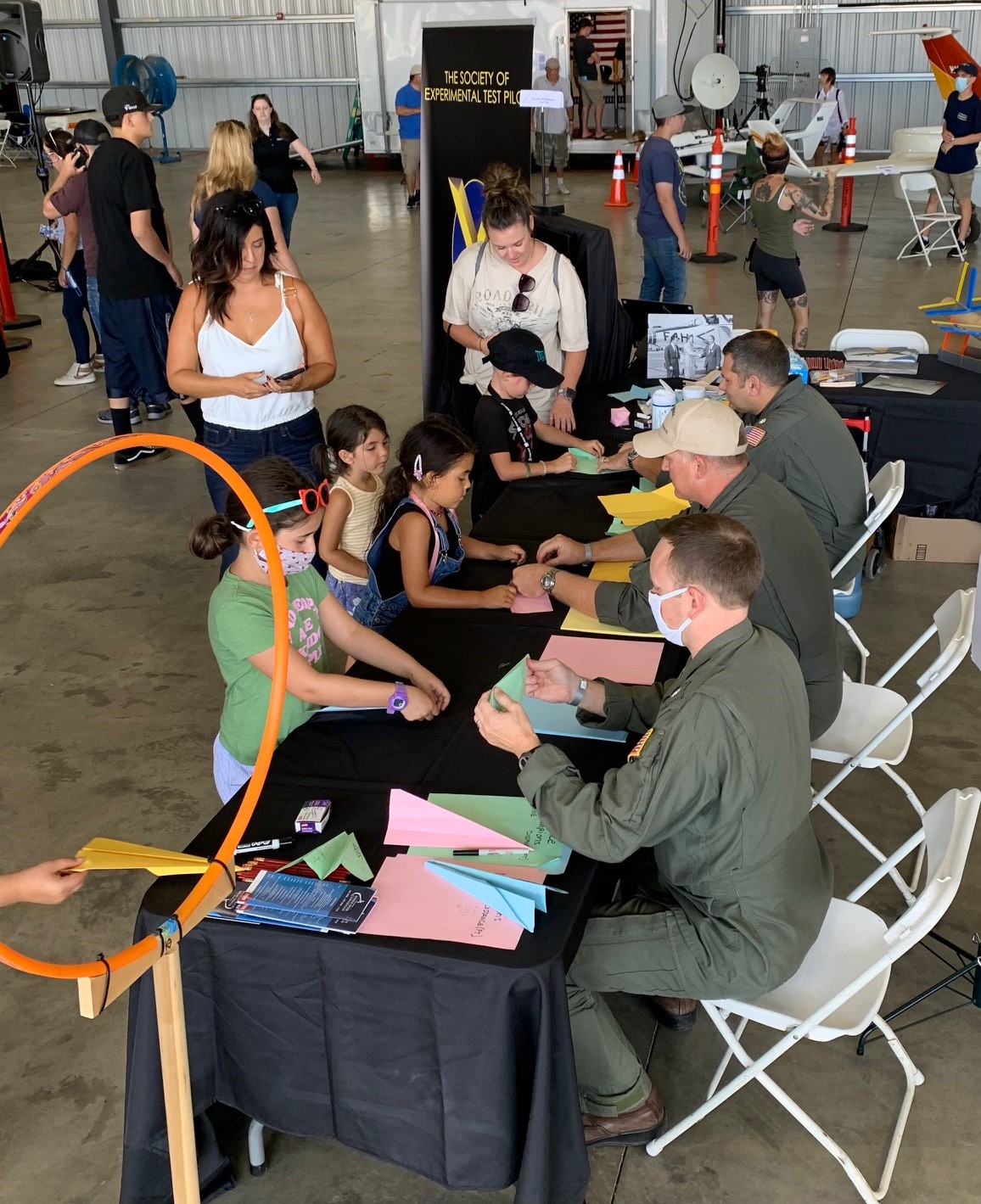 Teaching future test pilots
JB Brown (F) Named NTPS President
National Test Pilot School (NTPS) Mojave, CA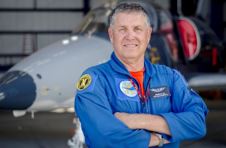 On behalf of the Board of Trustees, NTPS President & CEO, Dr. Allen L. (AL) Peterson is pleased to announce that Mr. James E. (JB) Brown III has been selected as the next NTPS President effective 3 September 2021. As President, Mr. Brown will be responsible for ensuring NTPS meets all facets of its Mission and Strategic Goals.
JB joined NTPS in 2016 after retiring from Lockheed Martin where he served in a numerous flight test positions in the F-117 and F-22 programs including Chief Test Pilot. While at NTPS, he served in a variety of management positons including Vice President, COO, CFO, Head of Training, and Chief FW Test Pilot Instructor. JB also spent a few thousand hours passing on flight test knowledge test to students both in the classroom and in the air.
JB is a Fellow and Past President of the Society of Experimental Test Pilots, a Fellow in the Royal Aeronautical Society, and a member of Daedalians. He has a BS in Civil Engineering from VMI, a MS in Management from Troy State University, and is a graduate of USAF Test Pilot School class 86A.
Mr. Luca Campello will replace Brown as NTPS COO. Dr. Peterson will continue as the NTPS Chief Executive Officer focusing on Strategic Initiatives across the NTPS enterprise.