Welcome to SETP
Central Section Tech Talk with Jim "JB" Brown
The SETP Central Section hosted a short Virtual Tech Talk, Flying Lockheed's Stealth Fighters, on 25 June with Jim "JB" Brown (F).
ITPS Canada - First Virtual Graduation Ceremony
On Friday, June 19th, ITPS Canada held its first ever virtual graduation ceremony for the 2019B Graduate Test Pilot and Flight Test Engineer Course. The seven graduates from China, Turkey, Germany, Italy and Canada received their certificates at the ITPS facility with social distancing and protective measure in place, while friends, family, and sponsors from all over the world attended via Zoom. Guest of Honour and keynote speaker, Mr. Fernando Alonso, President of Airbus Spain and CEO of Airbus Military Aircraft Division (retired), gave the new graduates valuable advice as they embark on their new career. It was not an easy year for the graduates due to the workload and intensity of their training but also the unforeseen pandemic that gave them an extra life lesson of expecting the unexpected. Through a combination of online instruction and re-structuring of the programme, the students graduated only three weeks later than planned despite the seven week hiatus due to the lockdown. ITPS is excited to see our graduates thrive in this next chapter of their careers. Congratulations to all!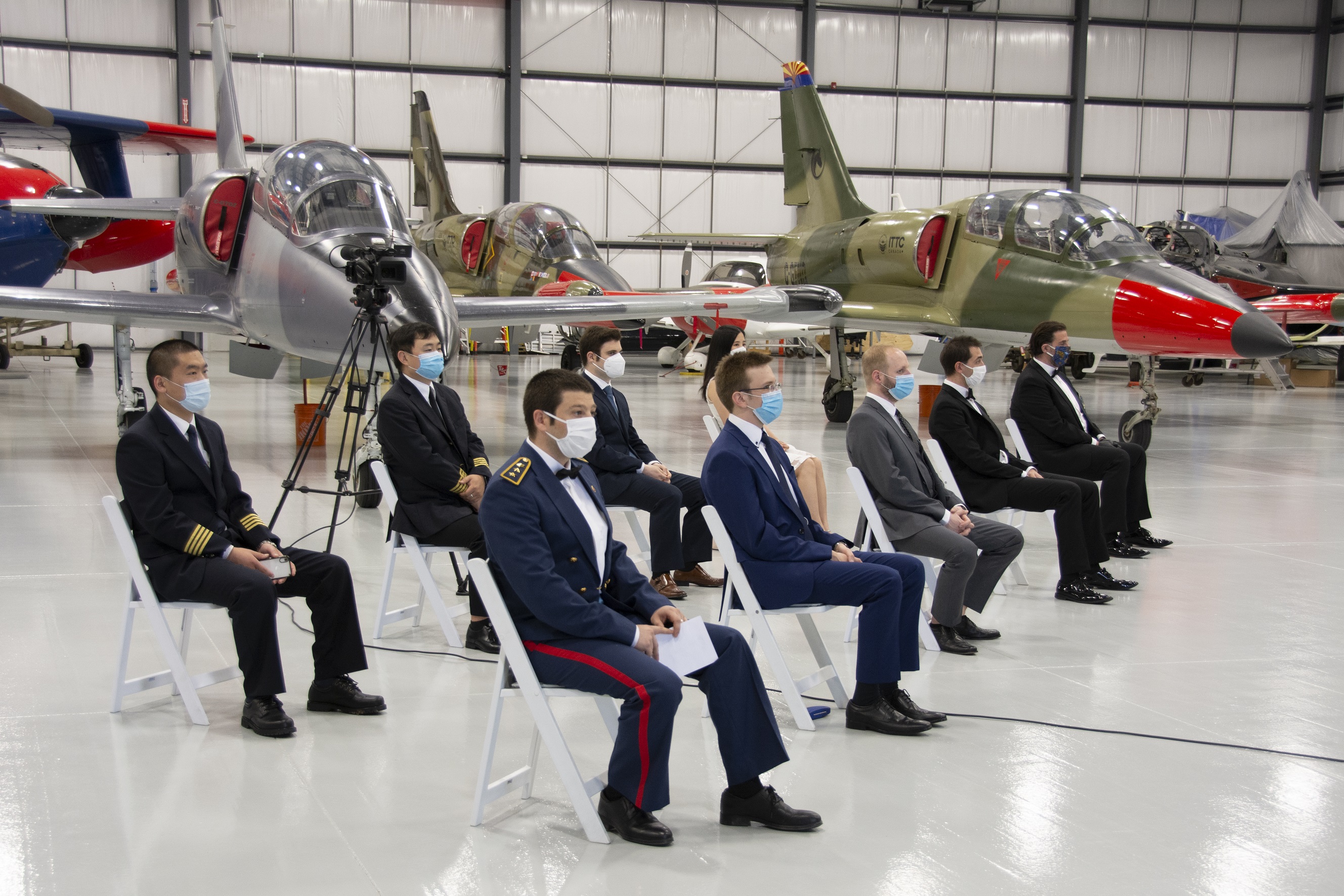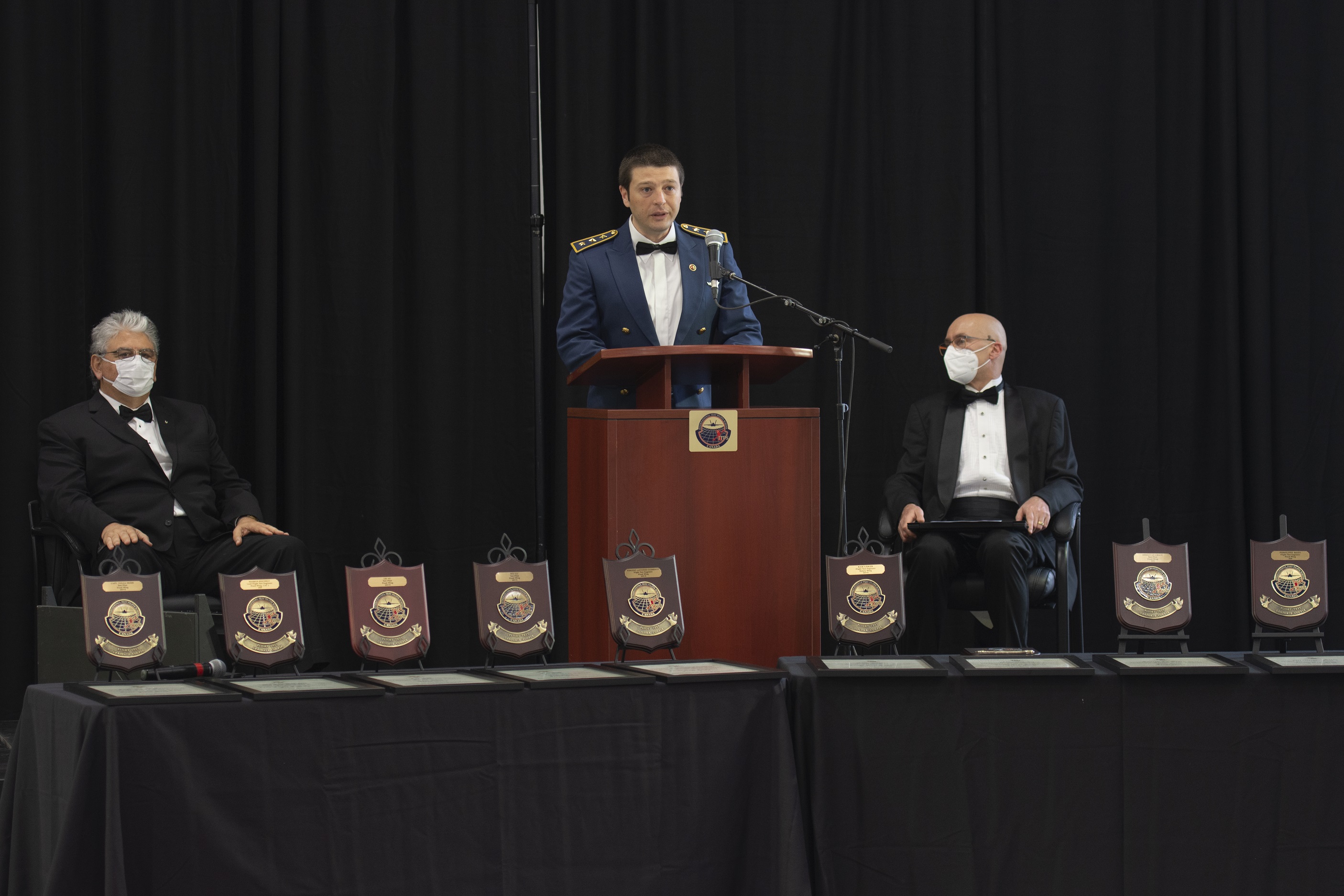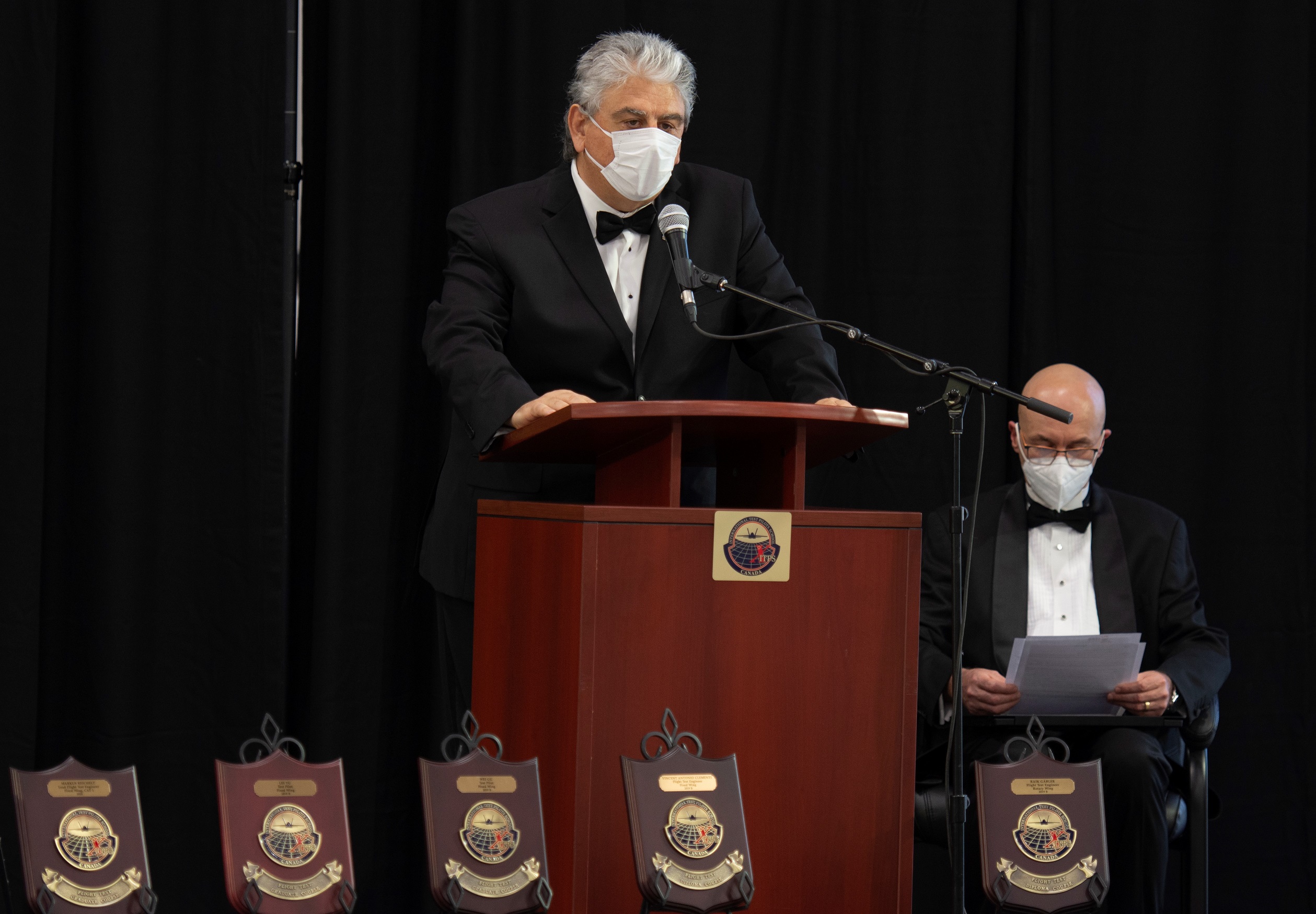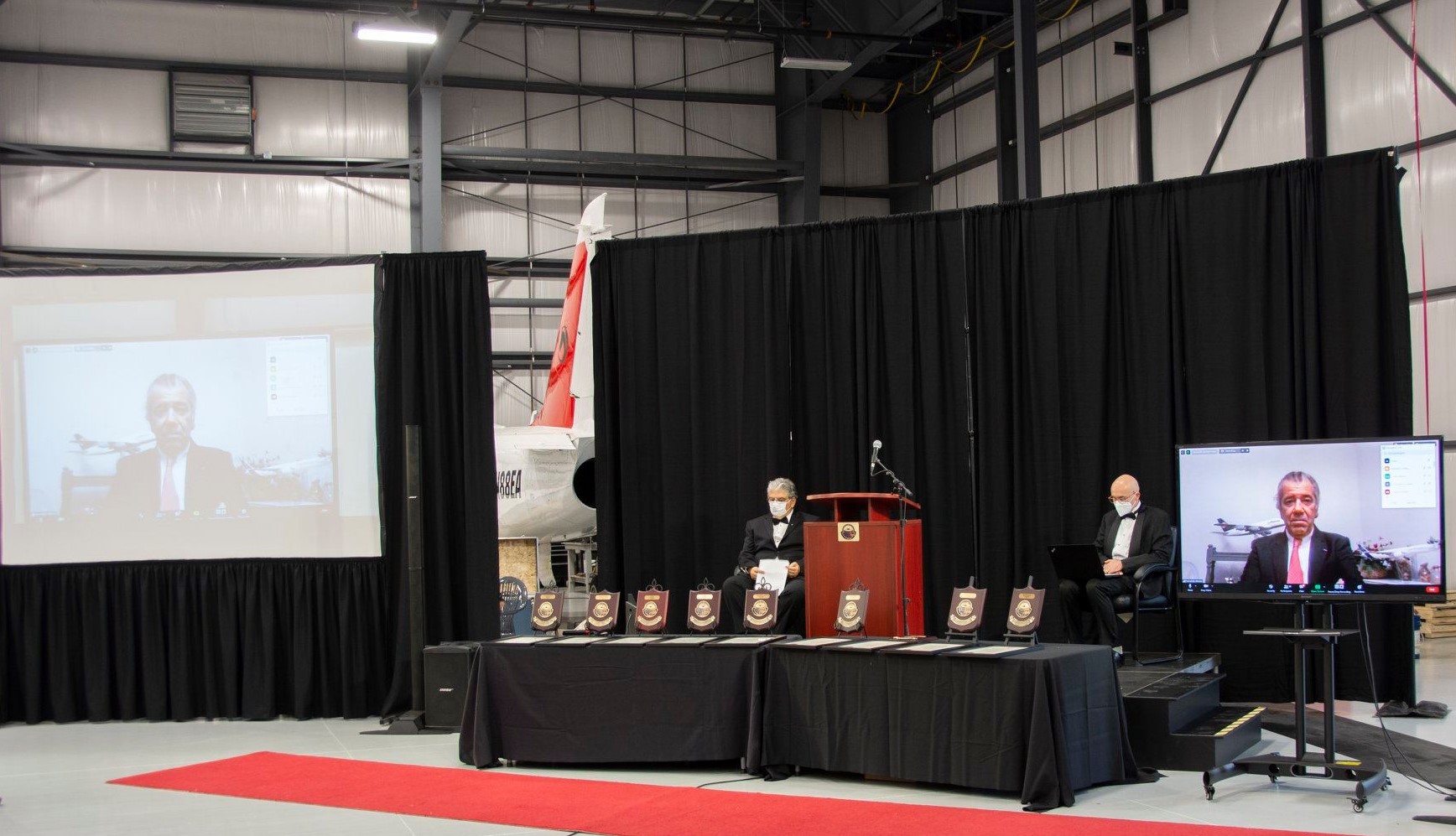 SETP and AmazonSmile
Hey Amazon Shoppers! Don't forget, Amazon will donate 0.5% of the price of your eligible AmazonSmile purchases when you shop at AmazonSmile (smile.amazon.com).
AmazonSmile is now available when shopping via the Amazon App through your smart phone! Please see how to sign up with the Amazon App HERE.
SETP has set up 2 links for our charitable organizations that you can choose the donation be made to when you purchase items through AmazonSmile. The links are listed below and we hope you will use them for future Amazon shopping:
http://smile.amazon.com/ch/32-0188969 - Link for SETP Foundation
http://smile.amazon.com/ch/95-2479396 - Link for SETP Scholarship Foundation
Thanks for the support!
Annual Symposium and Banquet Update
In the long list of the hardships being felt world-wide from the COVID-19 pandemic, the travails of A. J. "Face" McFarland and his entire S&B Team to date are appreciated by the Society, but minor in global comparison. For those of us looking forward to the camaraderie of our annual get-together, including the opportunity to compare notes with kindred souls from around the world, hear the latest from professionals across the spectrum of flight test, and honor members for both singular and lifelong accomplishments, the 2020 Annual Symposium (S&B) had the potential to be a celebration of both our profession and our return to normal life. Sadly, it cannot happen. As Society President, I can assure you that this is a profoundly painful email to send. But, as a long-time member and flight test professional, my heart is warmed by the hope and pride I feel for our Society and the many good people who have worked so hard in the last few months to keep the 2020 S&B possible. In the end safety has been prioritized over desire – which if you think about it is a hallmark of our profession.
In summary, the physical S&B cannot happen and has been cancelled. The S&B Team will shift their efforts toward a virtual symposium and ensure that Society business, including recognition of professional achievement, is not disrupted.
There will be many questions, so I will try to address the most important issues here.
First, a practical matter; if you have hotel reservations with the Disney Resort through the SETP group rate link, please do not cancel them online or call the hotel to do this. The Disney Reservations Desk will take care of this automatically and inform you directly. If you want to go to Disneyland in lieu of the S&B, the group rate will not apply and you will have to book your room through the regular Disney website.
Laurie and our professional staff have been amazing through all of this. They have kept the Society running smoothly while working almost entirely at home and dealing with the difficulties that the pandemic has brought to them personally. They have also worked diligently with Disney to adjust S&B plans so that we would be ready to go if the pandemic situation allowed.
The amazing event planners and hosts at Disney have always been there for us and have been conscientiously preparing to make an event happen if at all possible. For them, as for all of us, everything was changing on a daily basis. When Disney announced a re-opening plan for their parks and hotels just a few days ago, the situation came into focus and they informed Laurie—with heart-felt sadness—that they could not accommodate our event. I cannot know the ins and outs of Disney's business decisions, but I imagine that the effort and mitigations necessary to safely open the park to tens of thousands of guests and keeping thousands of Disney cast members employed and supporting their families, simply made accommodating our gathering impossible. They did all of this at no charge to us and are anxious to help us craft an amazing event next year. I truly believe that the folks at Disneyland—without question the best at what they do—correctly perceive us as their colleagues; world-class experts dedicated to a difficult, important, and rewarding profession.
Everything that must happen during the annual S&B will happen. We will find a way to present annual awards, our new Fellows will become Fellows, the Presidency and Board of Directors will change hands, and the necessary business of the Society will be accomplished. Face and his team, relieved of the substantial burden of planning the social events of the S&B, will shift their focus to these tasks. Your Board of Directors has decided to hold the technical sessions on-line. Jameel "Chocolate" Janjua, a man who apparently needs neither sleep nor stasis, will shift from running the Symposium to making the technical sessions both educational and interactive. Please keep your calendars free so that you can join us!
I have had the honor of standing on the stage at the Banquet and accepting the accolades of my colleagues. I am determined—and Mike "Sting" Wallace with me—that we will not deny that experience to this year's honorees. I hope that this year's class of Fellows and our 2020 award winners will plan to attend next year's Banquet so we can properly celebrate their accomplishments.
Finally, the S&B team will be looking for sponsors to fund the online content and the additional work needed to respond to this year's changes. Sponsorship—which is not tax-deductible in the US—is not limited to Corporate Members; any member can become a personal sponsor, either named or anonymous. Thanks to the difference between the costs I incur at the S&B and the frugal official travel reimbursements provided to government employees (Lisa and I do not hold back), our family budget suddenly has some extra cash available which we plan on putting toward a successful online event.
The committee will keep you all updated as planning for online content this fall moves forward and would greatly appreciate any ideas you might have to improve this virtual event. Please send your ideas to Laurie Balderas (This email address is being protected from spambots. You need JavaScript enabled to view it.).
It is difficult for me to say how much I will miss seeing so many of you—my lifelong friends and esteemed colleagues—and how sad I am to announce the cancellation of our most important annual event. It feels like I'm cancelling Christmas! Nevertheless, I am confident that we are doing the right thing and that our Society is much more than the 2020 S&B. We are going to do our best to put together an outstanding online experience, but sharing lessons, mentoring, and professional fellowship can and will happen year-round in spite of what 2020 may throw at us!
Warmest Regards,
Bill
William Gray (F)
President, SETP Board of Directors

Members Only Login Trouble
Dear Members,
It has been brought to our attention that some of you are having trouble logging in to the Members Only portion of the website.
If you have issues logging in with the proper credentials, please try using a different web browser (FireFox, Internet Explorer, Safari, Edge, Chrome).
Thank you.
National Aerospace Library YouTube Channel campaign Introduction
The National Aerospace Library funded by the Royal Aeronautical Society has launched a new online heritage film collection with more than 30 videos uncovered films previously held in its archives and recently digitalised for viewing for the first time on the newly launched National Aerospace Library YouTube channel.
Films from the archive date back to 1927 and include among other highlights rare footage from Donald W. Douglas which showcases early airliners, the original inflight movie being shown and a film from the first round-the-world flight which took place in 1924.
The film archive covers the evolution of aviation and aerospace including:
A range of early rotorcraft films in colour and black-and-white
Airport footage, including from Britain's first major international airport in Croydon
Early commercial aviation videos
Historical footage of the beginnings of the aerospace industry and aircraft design
In addition, this YouTube channel contains other video content such as documentaries and lectures which promotes rich heritage content.
A full list of the video content is arranged under 'Playlists' which can be found here: www.aerosociety.com/movies
The archive content will continue to be added to the YouTube channel, and viewers can subscribe for free to be alerted to new uploads.
Partners and Supporters
The key goal of this campaign is to inform current and future aviation professionals and enthusiasts of this rich historical video content as well as serve as a valuable historical record.
The National Aerospace Library's campaign is supported by Royal Aeronautical Society, but partners and supporters have an essential role helping these unique and rare films to reach a larger audience by sharing, endorsing and talking about the campaign materials.
A few simple ways you can support this campaign:
- Subscribe to our YouTube channel: www.aerosociety.com/movies
- Share Introduction text above on your website and encourage people visit our YouTube channel
- Share our social media assets (find posts examples below and social cards are attached)
- Tell your staff and networks to visit our YouTube channel and share social media assets with anyone who might be interested in aviation history
- Show some of our films on your events – contact our library staff This email address is being protected from spambots. You need JavaScript enabled to view it. to see how videos can be shared.
We are very grateful for your help in sharing these great videos and the love for aviation history with as wide audience as possible!
Social Media Posts
Twitter
The National Aerospace Library with @AeroSociety has launched a new online heritage film archive which allows viewers to watch uncovered films held in its archives for the first time. History is now just one click away: www.aerosociety.com/movies #nalibrary
LinkedIn
The National Aerospace Library with @RoyalAeronauticalSociety has launched a new online heritage film archive with more than 30 videos and allows viewers to watch uncovered films held in its archives for the first time. Aviation History is now just one click away: www.aerosociety.com/movies #nalibrary
Facebook
The National Aerospace Library with @RoyalAeronauticalSociety has launched a new online heritage film archive. Films date back to 1927 and include historical footage of the beginnings of the aerospace industry and aircraft design, early rotorcraft, airport footage and early commercial aviation videos. Watch Aviation History come Alive: www.aerosociety.com/movies #nalibrary
Instagram
The National Aerospace Library with @royalaerosociety has launched a new online heritage film archive with more than 30 videos and allows viewers to watch uncovered films held in its archives for the first time. Watch Aviation History come Alive: www.aerosociety.com/movies #nalibrary
If you have any further questions please email This email address is being protected from spambots. You need JavaScript enabled to view it. and we will assist you as soon as possible.
Cockpit Magazine - Call For Articles
Dear SETP Members,
We would like to offer you the opportunity to have your work published in the next edition of SETP Cockpit Magazine.
Contribute to SETP through the submission of technical articles, RefleXions style articles, organizational successes, and photos for possible inclusion in an upcoming edition.
Technical Articles can relate to current or previous flight test work, with insights, results, and lessons learned that will certainly benefit the organization.
If you are uncertain if your article meets the criteria, submit it and our editing staff will provide feedback.
Provisional Associate Members are also invited to submit, as they are the future of our organization.
Please reply to this message with your article submissions or email them directly to This email address is being protected from spambots. You need JavaScript enabled to view it..