Welcome to SETP
2019 Flight Test Safety Workshop - VideoCasts
The videocasts approved for public release from the 2019 Flight Test Safety Workshop held in Charleston, SC are now available to view.
Fellows Class of 2019
The Society of Experimental Test Pilots is pleased to announce the Fellows Class of 2019. The Fellows' presentation will be held during the 63rd Annual Symposium at the Banquet on Saturday, 28 September. More information on the Annual Symposium can be found HERE. We hope you can join us!
Fellows Class of 2019
Thomas Archer
Craig Bomben
Roderick Cregier
John Croll
Paul Edwards
Robert Hover
Jake Howard
Thomas LeBeau
Scott Martin
Tore Reimers
James Richmond
IT FLIES Aircraft Design Competition for Students
On Saturday, 6 April 2019, the Great Lakes Section of Society of Experimental Test Pilots supported a University of Dayton hosted IT FLIES aircraft design competition for students using their engineering flight simulator. SETP members Ed Conant, Frank Delsing, Brad Fairfax and Gary Konnert evaluated the handling qualities of the student designs in the Merlin engineering simulator. Local SFTE members judged the associated presentation portion of the competition. The volunteers helped support this exciting Science, Technology, Engineering and Math educational initiative and inspire budding aeronautical engineers. This international contest was held at the University of Dayton (UD) campus' Kettering Labs building with contestants from not only the local university, but the University of Cincinnati, University of Manchester, England and University of South Wales, England, as well. Between student presentations the volunteers conducted a simulator flight evaluation of each team's model . The teams briefed the pilots on their aircraft's operations and configurations. Throughout the day approximately 8 simulator evaluations were accomplished. The models ranged from clean sheet designs of a fire bomber to a solar powered motor glider to a business jet to training aircraft. Each simulator flight evaluation lasted about 20 minutes. Afterwards the Test Pilot provided a personal de-brief with the team on their model's handling qualities. This gave the students their first exposure to working in a flight test team environment. The actual simulator evaluations and real time evaluator comments were observable by all the contestants through a visual/audio hook up into the presentation room. The students were highly enthusiastic and motivated by the competition and chance to talk their design over with actual test pilots and engineers. The winners this year were designs for a WWI Triplane from University of Dayton, a flying boat from the University of South Wales and the Galaxy general aviation aircraft from the University of Manchester. This was the chapter's ninth year supporting this competition and we always have a great time talking aviation and inspiring future engineers.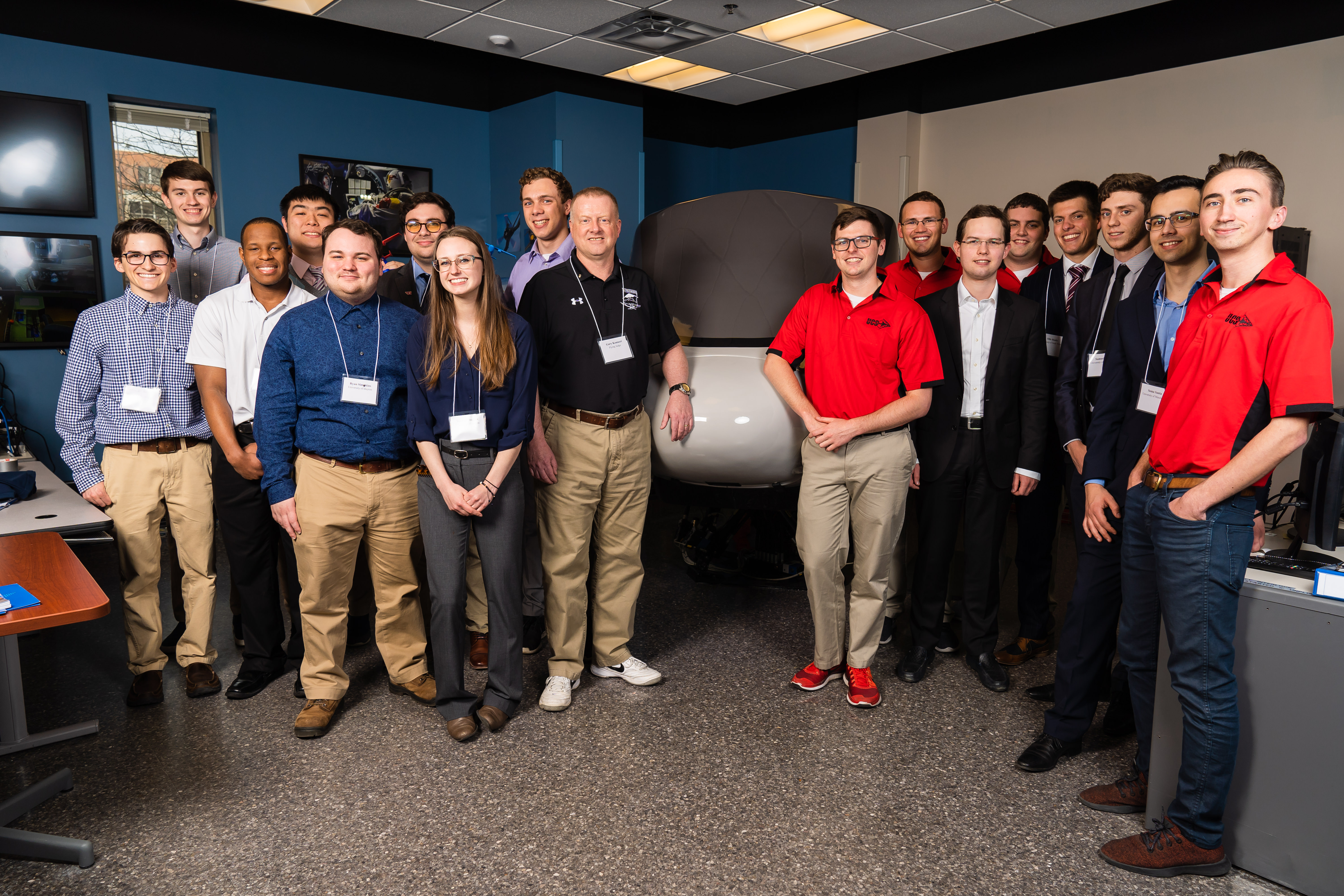 Gary Konnert with Students of the IT FLIES Aircraft Design Competition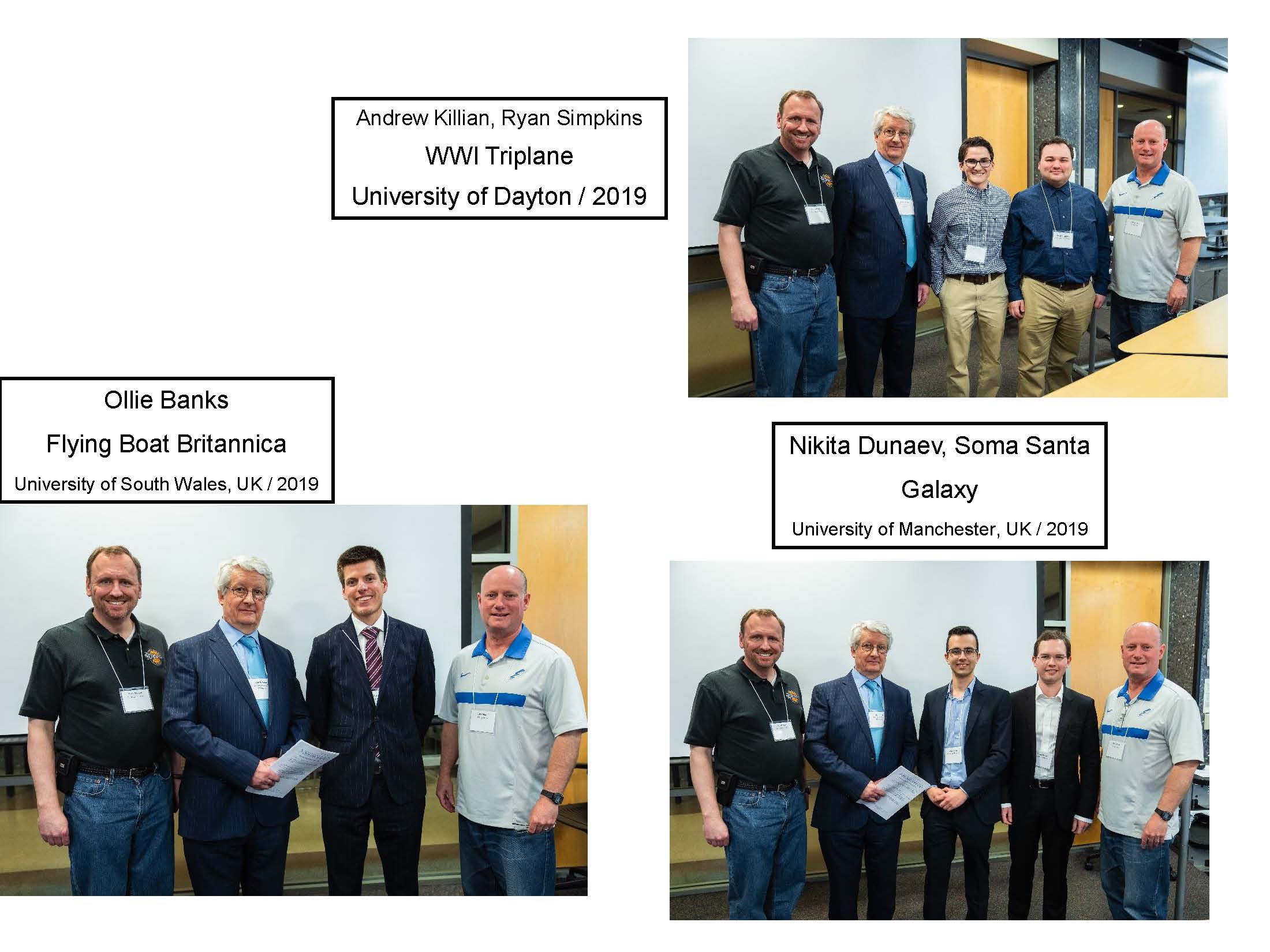 Ed Conant (right) with the Winning Students and SFTE Volunteers