Job Listings
Flight Test Facility Manager - MIT Lincoln Laboratory
Flight Test Facility Manager
Overview
Lincoln Laboratory operates the Flight Test Facility to provide airborne platforms in support of diverse research and development programs. Multiple aircraft are flown, maintained, and managed by a professional staff of pilots, certified maintenance technicians, and administrative personnel. All flight operations are conducted using procedures and equipment that meet or exceed all Federal Aviation Administration (FAA) requirements, and safety of flight is a top priority.
Please click HERE for more information and to apply for the position.
Mission Systems Technical Expert - USAF TPS
Job Title: Mission Systems Technical Expert
Organization: USAF Test Pilot School (TPS)
Location: Edwards AFB, CA
Grade: NH-IV
Salary Range: $100,000 - $120,000 Base Pay ($130,000 - $156,000 including Los Angeles locality pay)
Need Date: Summer – Fall 2018
Qualifications:
Required – Masters Degree in Engineering, 10+ years of experience in mission systems flight test, and must be able to obtain/maintain a DoD TS security clearance.
Desired – Graduate of a military test pilot school; able to meet USAF flying class III physical requirements including the ability to fly ejection seat aircraft; prior teaching experience; and be an internationally recognized flight test technical expert as evident through participation with professional organizations such as SFTE, SETP, AIAA, ITEA, etc.
Position Description: This job is for an experienced flight tester who is excited to teach and mentor the next generation of experimental and developmental test pilots, combat system officers, flight test engineers and remotely piloted aircraft test pilots.
The 4 major duties related to Mission Systems test are 1) Senior Advisor to TPS Leadership, 2) Curriculum Developer, 3) Master's degree educator, and 4) International Technical Expert. Individual duties include the following:
Serves as the top education advisor and senior technical consultant to the Commandant and the Technical Director on the Mission Systems phase of instruction.
Provides the technical expertise, corporate knowledge, and long term continuity for all mission systems academic course material, ground instructional events (simulators, laboratories, ground test), and in-flight instructional methods taught by the USAF TPS.
Defines, integrates, and implements curriculum development and strategic initiatives for a graduate-level educational program in mission systems test to ensure the TPS curriculum includes state-of-the-art test technology and continues to advance new concepts in flight testing and flight test education, test and safety planning, data collection and analysis, and reporting..
Teaches academic courses, leads simulator and/or laboratory sessions, and conducts control room and in-flight instruction related to mission systems test.
Analyzes and evaluates a student's progress relative to syllabus objectives.
Represents TPS as a recognized technical expert on mission systems test at national and international symposia and conferences.
Acts as technical and/or safety advisor, subject matter expert, and/or report reviewer for AFMC, DoD, NASA, other government agencies, and allied nations as required.
POC: Mr. David Vanhoy (661) 277-3000 or This email address is being protected from spambots. You need JavaScript enabled to view it.
Send Resumes to: Tamara Rice This email address is being protected from spambots. You need JavaScript enabled to view it.
Test Pilot - Scaled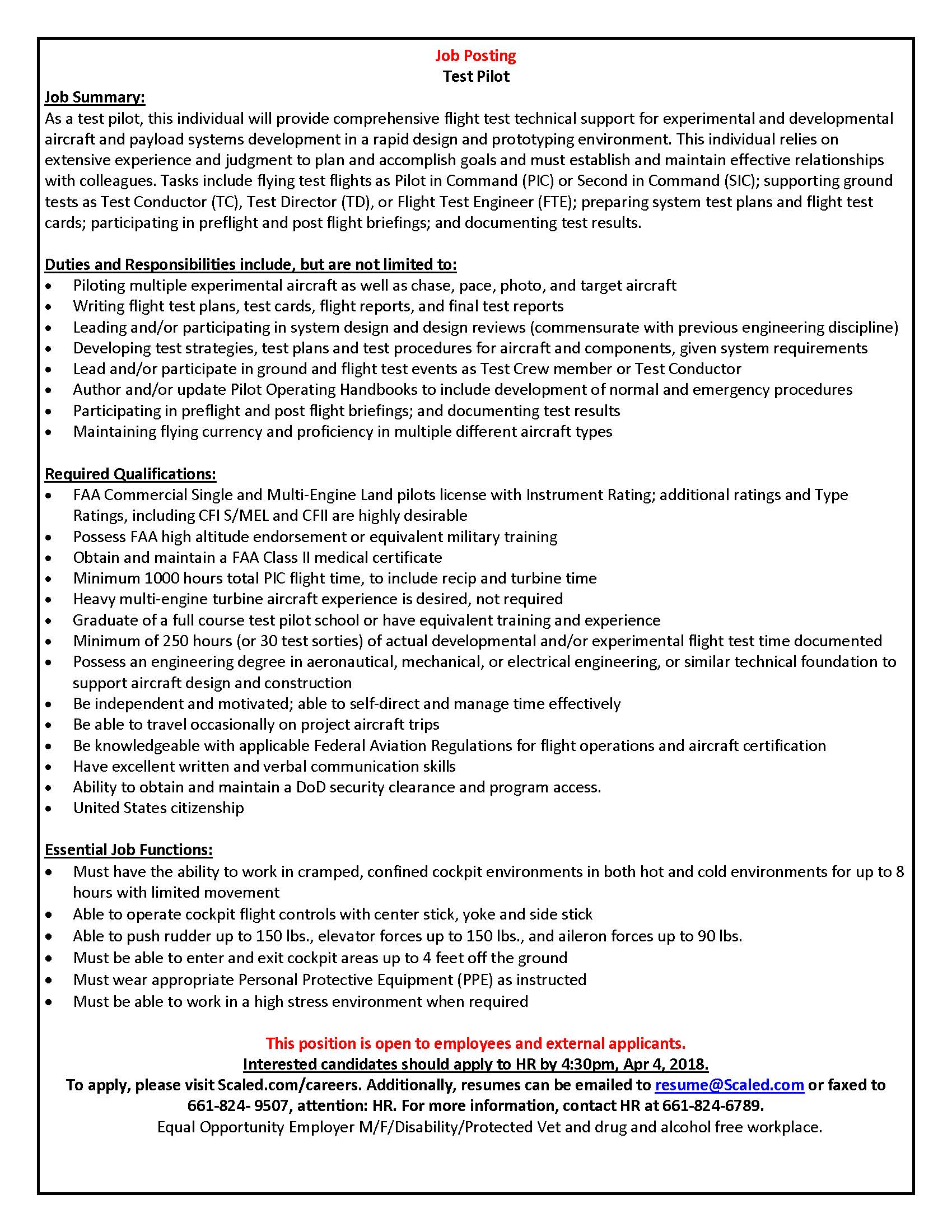 Flight Safety Officer & SMS Administrator - AeroTEC
Position: Flight Safety Officer & SMS Administrator
Location: Moses Lake, WA
AeroTEC, Inc. is an aerospace flight test, engineering and certification organization that provides development services to aircraft modifiers and OEMs. We are a rapidly growing company in Seattle, WA that was founded in 2001. Our core team is comprised of very talented and experienced aerospace engineers, technicians, mechanics, and support staff. We strive to create a high functioning, collaborative environment where team members can find opportunities for professional growth and innovation.
Please Apply via aerotec.com/careers or by using this link: Flight Safety Officer & SMS Administrator
The Flight Safety Officer & SMS Administrator will lead the safety program for flight and aviation maintenance specific functions. The position will work closely with the Flight Operations Group (Test Pilot, Flight Test Engineer, and Dispatch group), Maintenance and Industrial Safety, to administer the Flight Safety Program. This role requires the significant exercise of independent discretion and judgment in matters of significance.
Job Duties and Responsibilities (Essential Functions):
Lead implementation of a Flight Safety Program for an OEM Type Certificate program.
Establish and operate a comprehensive Safety Management System. Serve as the SMS administrator and key safety officer.
Collaborate with other company safety managers (EH&S Manager, etc.) and processes.
Establish safety processes and guidelines and audit cycles.
Maintain safety guidelines per ICAO annex 19
Lead organizational Safety Training Sessions and Safety Stand Downs
Collect and distribute safety concerns.
Facilitate consensus on safety issues and establish program standards.
Liaise with FAA, JCAB and NVSB organizations to ensure compliance with governmental standard, policies, practices and regulations.
Work with the Flight Operations Group (FOG) to ensure robust practices, policies, and procedures.
Represents company FOG at safety seminars/workshops.
Advocate and champion non-punitive flight & aircraft maintenance safety culture.
Conduct and publish Safety Investigation findings.
Train and oversee safety teams and Deputy Safety Officers.
Provide an independent aviation safety voice to senior management.
Assist management to apply sound safety judgement for balance between safety and performance
Lead the Safety Review Board, comprised of different specialty areas across Moses Lake Flight Test Center.
Level Requirements (Minimum):
Education:
Bachelor's Degree
Degree in a hard science or engineering field preferred.
Experience:
3+ years of Flight Operations experience
Experience in a flight test organization preferred
Safety background (CRM, SMS, Risk Management, etc.)
Are you looking for a challenge? AeroTEC Inc. is composed of ambitious and motivated professionals and we are looking for other talented individuals to join our team. We offer a unique work environment including insurance benefits (100% Medical for employee) as well as a 401K with match, Performance Bonus Pay, a generous vacation policy. If you think you may be a good fit for our team, please respond with your resume and cover letter. AeroTEC Inc. is proud to be an equal opportunity employer.