Job Listings
Job Opening-Lead Test Pilot Honeywell
Lead and determine airworthiness of Honeywell's aircrafts through inspection, flight testing and evaluation of flight performance, engine operation and flight characteristics. You will design flight tests, supervise technical staff, participate in accident investigation and ensure compliance with Federal Aviation Regulations. You will recommend changes to aircraft to better meet the pilot's needs or to improve flight. You will be the subject matter expert and ensure the highest levels of flight safety and comfort.
Provide the safest and most reliable travel experience for Honeywell executives through efficient and thorough flight testing
Develop effective flight testing methodologies to assess an airplane's performance and ensure it meets the highest quality and safety standards
Create and implement plans to achieve department goals and ensure best in class flight testing
YOU MUST HAVE
Bachelor's Degree
Minimum of 3000 flight hours in turbine powered aircraft Airline Transport Rating, Airline Transport
Pilots License (ATPL)
Multi engine land and appropriate Type rating
FAA ATP Certificate - Airplane, Multi-Engine Land
WE VALUE
Bachelor's Degree in Aviation or Engineering
Rotorcraft - Helicopter Instrument Rating – Rotorcraft or Helicopter
Extensive experience in flight testing and inspection
Experience in engineering flight testing of experimental types of aircraft or the solution of technical engineering problems at a professional level
Proven knowledge of all safety requirements for compliance
Knowledge of regulations and standards in aircraft testing
To apply visit:
https://www.honeywell.com/careers and use req# HRD27926
Job Openings - MTSI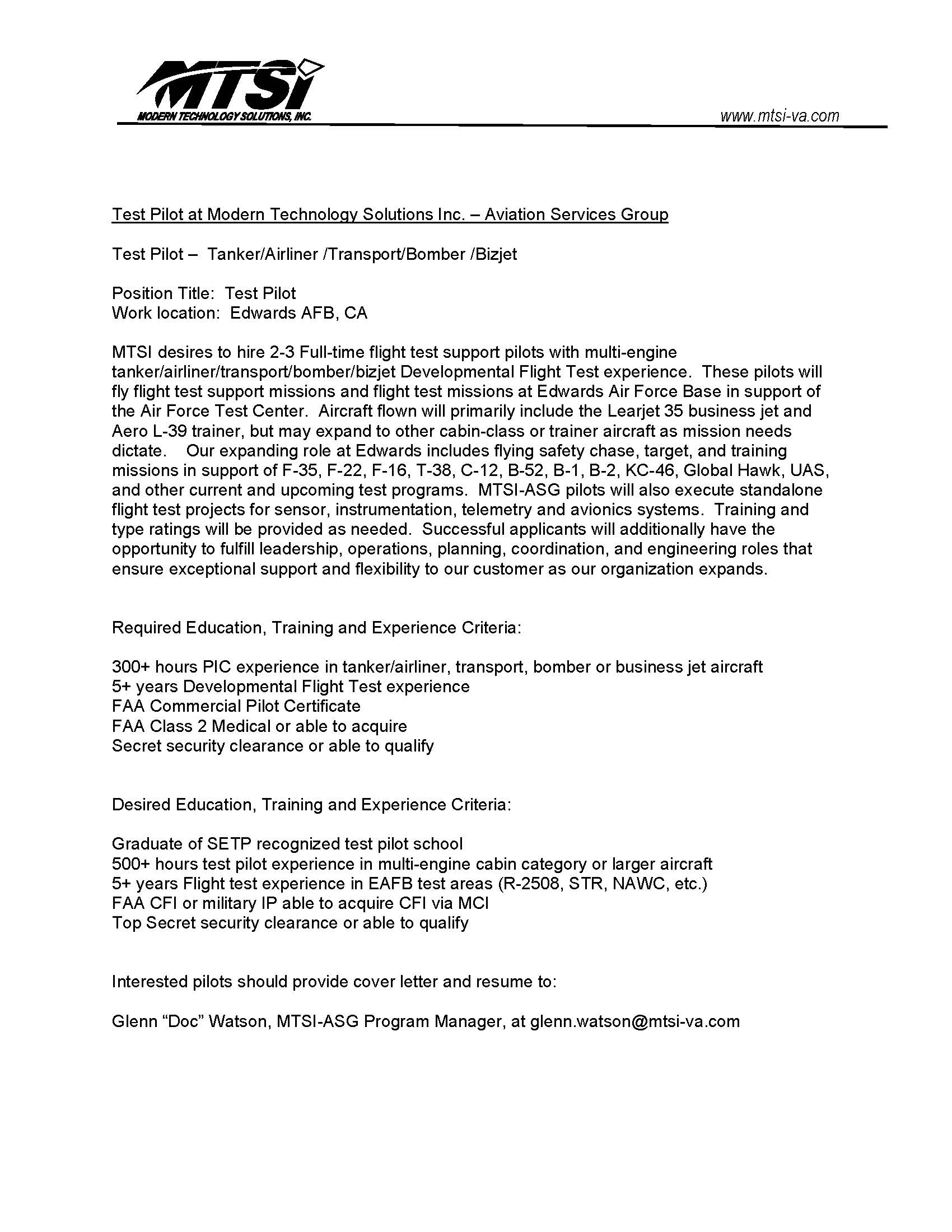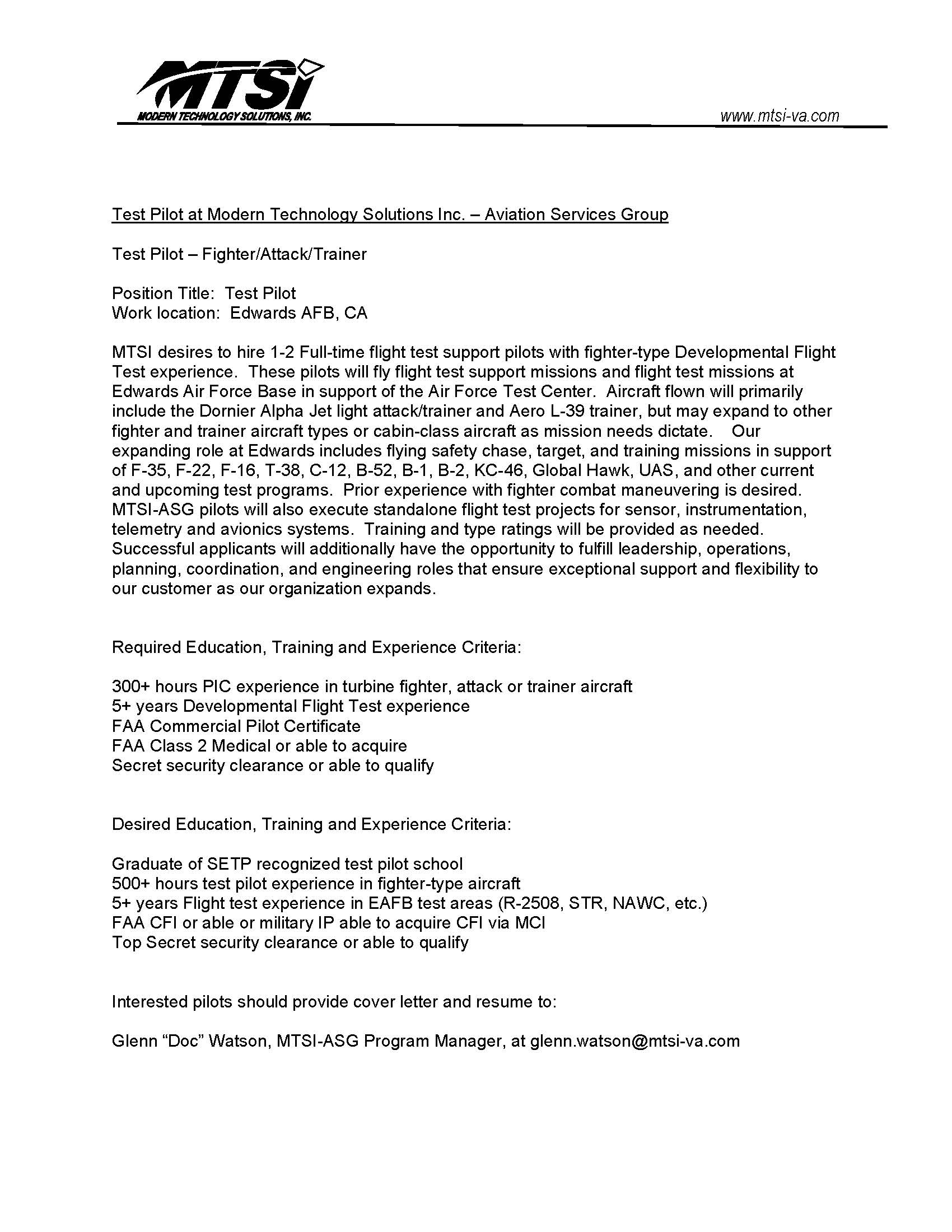 Job openings at SkyRyse
Job openings at SkyRyse. Click the links below for more information and to apply:
Test Pilot/Specialist - MIT Lincoln Laboratory
Test Pilot/Specialist
MIT Lincoln Laboratory
Lexington, MA
The mission of the Flight Test Facility is to provide airborne platforms in support of specific research and development programs at Lincoln Laboratory. The Flight Test Facility provides a method of validation with actual field collected data. Flight Test Facility Research aircraft are flown, maintained, and managed by a professional staff of pilots, certified maintenance technicians, and administrative personnel. The Flight Test Facility's first priority is safety of flight. All flight operations are conducted by using procedures and equipment that meet or exceed all Federal Aviation Administration (FAA) requirements. As a result of various past airborne testing programs, mission-specific procedures have been developed. These procedures and the Federal Aviation Regulations provide for safe and successful operations. The Flight Test Facility was created to support early air-to-air collision avoidance research programs sponsored by the FAA. As the need for more extensive airborne testing increased, the Flight Test Facility has expanded to support a variety of Department of Defense and FAA programs. The Flight Test Facility currently operates seven aircraft. The aircraft are experimentally certificated flying test beds ranging in size from a hand-launched UAV to corporate jets and a Boeing airliner.


Position Description: Test Pilot/Specialist
As part of the MIT Lincoln Laboratory Flight Test Facility, which is responsible for integration of prototype systems into experimentally certificated aircraft, the engineering Test Pilot is responsible for conducting mission planning and test operations on general aviation aircraft and unmanned aerial vehicles for the purpose of Research and Development.

Duties:
The Test Pilot is directly responsible for the safe conduct of flights to which they are assigned. Primary duties include test planning, test readiness, safety of flight and test operations; The Pilot must communicate to engineering and project personnel on the planning, conducting and results of the test flights (ground and/or flight). The pilot must also observe company and FAA rules and regulations, and proper use of safety and risk mitigation methods. When assigned to a flight, the Pilot in Command (PIC) has the final authority in the operation of the aircraft. The PIC must ensure compliance with all federal, state, local, USAF and foreign regulations as well as company policies and procedures specified in the company operations manual. The PIC is the most visible LLFF representative to the Laboratory and must act with tact and decorum while ensuring an efficient and safe operation. The duties of the PIC include:
Work effectively with a small team to engage with the engineering customer and ensure a smooth aircraft integration process
Work with the engineering customer to understand project scope, build schedules, write test plans (including flight profiles and test cards), analyze flight test risk, manage logistics, and coordinate airspace.
Ensure that preflight inspections are performed.
Study weather conditions at destination, en route, alternate airports, and departure points.
Ensure that flight plans are properly prepared and filed.
Ensure that the aircraft is prepared for flight with all provisions on board for the safety and comfort of the engineering crew.
Review and calculate the aircraft weight and balance, fuel on board, and performance charts.
Investigate, review, and comply with military range operating procedures.
Comply with schedules and other directives governing the aircraft's operation.
Use Standard Operating Procedures (SOPs).
Conduct other day to day administrative responsibilities required in the flight operations department (i.e. flight safety, training, record keeping, navigation tools/database maintenance, process development, etc).
Qualifications:
Practical knowledge of flight test procedures with 5 years of flight test experience
Military Pilot experience is strongly preferred
Have an Airline Transport Pilot Certificate with MEL privileges and at least Commercial SEL privileges
Jet aircraft experience with type ratings desired
Experience in DeHavilland Twin Otter, Falcon 20, Gulfstream II/IV and single engine Cessna desirable
Current FAA Medical Certificate (First or Second Class)
Minimum of 2500 hours, including 1000 hours of turbine, at which at least 500 hours is Pilot in Command time.
Bachelor's Degree or equivalent highly preferred
Interpersonal skills necessary to work effectively with a variety of individuals, departments and organizations
Ability and willingness to work with irregular hours and work days
Ability to travel on short notice
Familiarity with FAA Certification processes and procedures a plus
Familiarity with UAS systems is also desired
Must be able to obtain and maintain government (DoD) clearance
To Apply:
For full position description, and to apply, please visit https://careers.ll.mit.edu and search using requisition #25488
For Benefits Information, click http://hrweb.mit.edu/benefits
MIT Lincoln Laboratory is an Equal Employment Opportunity (EEO) employer. All qualified applicants will receive consideration for employment and will not be discriminated against on the basis of race, color, religion, sex, sexual orientation, gender identity, national origin, age, veteran status, disability status, or genetic information; U.S. citizenship is required.
Test Pilot Tutor - Test Flying Academy of South Africa
Fixed & Rotary Wing Test Pilot Tutors - TFASA
Position Title: Test Pilot Tutor.
Worksite: Far East Asia.
The Test Flying Academy of South Africa are looking to fill a number of new Test Pilot Tutor positions in both Fixed Wing and Rotary Wing disciplines as part of an exciting and challenging new joint venture with a Far East Asian customer. Successful applicants will work as part of a vibrant and cohesive team developing and delivering Fixed Wing or Rotary Wing and Systems flight test course material. New Test Pilot Tutors will be introducing positive and dynamic change; teaching both ground and airborne instruction to test pilot and flight test engineer students. Applicants can anticipate teaching all aspects of the Fixed Wing or Rotary Wing P&FQ and Systems curriculum. The role requires excellent interpersonal skills allowing successful applicants to relate and work well alongside staff and students with a wide range of experience and background. Applicants must be able to explain inherently complex subjects in an instructional manner that can be easily understood and applied by all students.
Required Education, Training & Experience Criteria:
Test Pilot Graduate of an SETP recognized test pilot school (Full 12 month/Cat 1/Class A course)
Degree in Engineering or closely related to flight testing field (or significant equivalent experience).
Minimum of 3 years' experience as a test pilot.
Medically fit to fly.
Fluent in English.
Competent in IT skills
Desired Education, Training & Experience Criteria:
Six years of flight test experience.
Test experience with Certification, AFCS, Radar, EO/IR and Comm/Nav systems.
Previous test pilot school instructional experience.
TFASA offers an outstanding salary and benefits package. There is also occasional travel associated with this position for field trips, student projects, course presentation, and consulting. Initial contract commitment of 5 years with negotiable terms possible.
Interested parties should provide cover letter and resume/CV to:
Craig Penrice, GDB Manager, TFASA, at This email address is being protected from spambots. You need JavaScript enabled to view it.