Job Listings
Flight Test Facility Manager - MIT Lincoln Laboratory
Flight Test Facility Manager
Overview
Lincoln Laboratory operates the Flight Test Facility to provide airborne platforms in support of diverse research and development programs. Multiple aircraft are flown, maintained, and managed by a professional staff of pilots, certified maintenance technicians, and administrative personnel. All flight operations are conducted using procedures and equipment that meet or exceed all Federal Aviation Administration (FAA) requirements, and safety of flight is a top priority.
The Flight Test Facility Manager will report to the Assistant Director of Operations and responsibilities include a wide range of operational and administrative duties, including but not limited to:
Duties and Responsibilities
Provide leadership and management direction to flight, maintenance and engineering personnel to ensure optimal performance and professional competence.
Establish and maintain an active aviation safety program.
Ensure that high levels of customer service are provided to technical staff and sponsors.
Establish relationships with, and represent Flight Test Facility to external test organizations
Responsible for organizing, staffing, and resourcing the Flight Test Facility to meet R&D project requirements
Responsible for development of, and compliance with, the Flight Test Operations Manual
Evaluates and conduct performance reviews with direct reports including the Chief Test Pilot (CTP), Operations Head, maintenance head and Business manager
Establish and maintain FTF safety program to ensure compliance with all ground and flight safety requirements
Maintain currency as FTF CAT C test pilot
Ensure all FTF training and qualification programs are established and managed
Designate all pilot qualifications
Provide an environment that encourages personal development and opportunity for career growth.
Foster a working environment that provides staff members with ever increasing levels of responsibility and project ownership, and supports such activities through strong mentoring and guidance.
Lead change as required to ensure high quality FTF procedures are established and operations are maintained.
Prepare annual operating budgets that include operating expenses, facilities, supplies, outside services, personnel, training, capital expenses and reserves.
Advise management and technical staff on the capabilities and requirements for aircraft and other equipment in support of the Laboratory technical needs and goals.
Schedule and establish criteria for annual technical audits of the aircraft and maintenance operations.
Prepare near-term and long-range plans that align Laboratory and Flight Test Facility.
Required Qualifications
Bachelor's Degree in aviation management engineering, science, physics or related field
5 years developmental /experimental test pilot experience
Flight test organization management experience
Graduate of SETP recognized TPS Fixed Wing syllabus
FAA Commercial pilot license with minimum of 2000 hrs. in wide range of aircraft types including high performance jet aircraft
Preferred Qualifications
10 years flight test experience
3000 hrs. pilot time in single and multi-piloted aircraft
U.S. Military fixed-wing pilot
Experience with FAA experimental airworthiness DEA and DAA certifications
FAA commercial single/multi-engine instrument ratings and CFI qualifications
Member of SETP
Masters Degree in technical field
UAS Experience
In order to be considered for this role, all interested candidates should apply via the following link:
https://careers.ll.mit.edu/job/Flight-Test-Facility-Manager-MA/469596700/
Position Openings at USAF 413th Flight Test Squadron, Hurlburt Fld, FL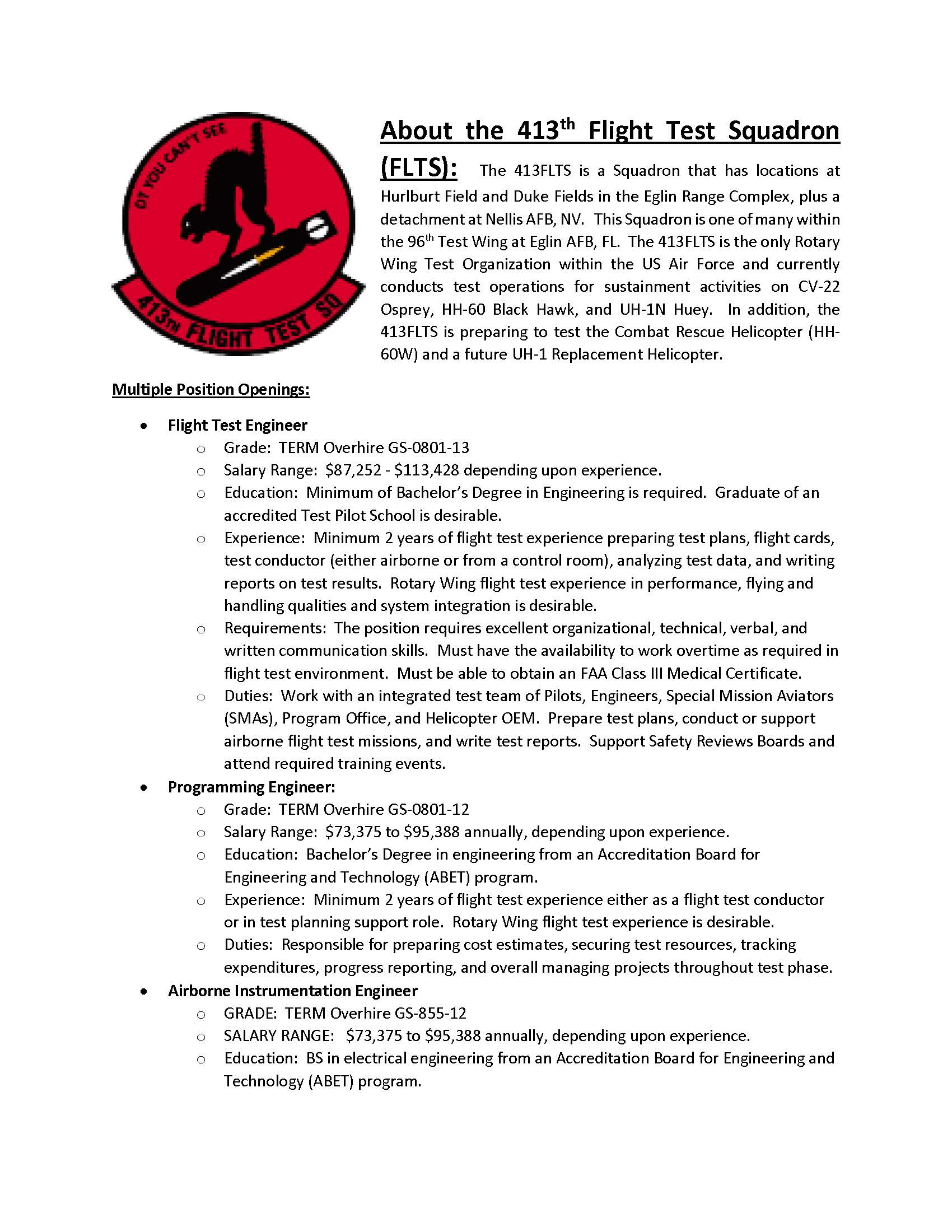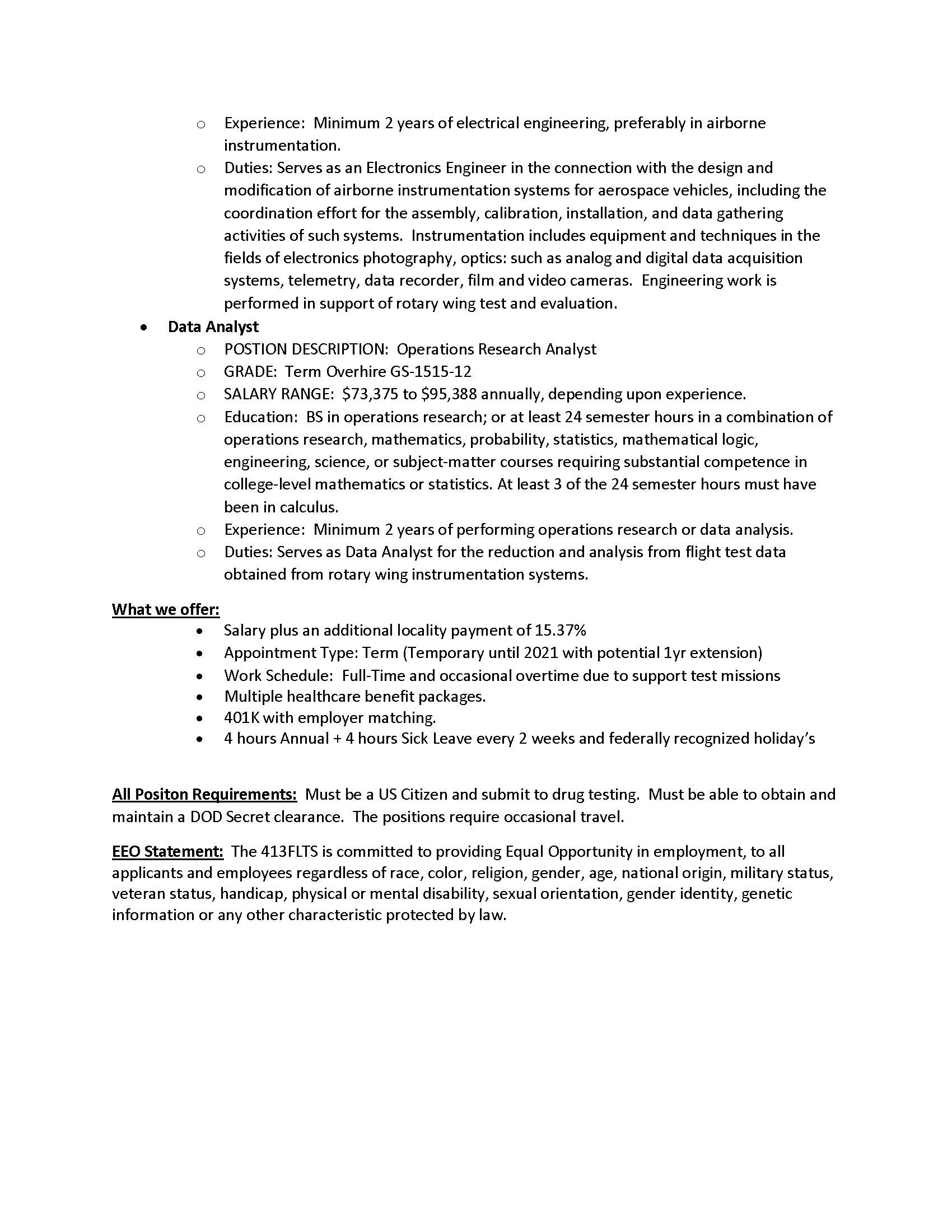 Fixed Wing Test Pilot Instructor - NTPS
Position Title: Fixed Wing Test Pilot Instructor.
Worksite: Mojave, CA.
Come and join the World's Test Pilot School! The National Test Pilot School is the World's Leading Total Flight Test Training and Education Organization and we are looking to fill a Fixed Wing Test Pilot Instructor position. You will work as part of a close team developing and delivering Fixed Wing and Systems flight test course material. In this role you will get down and dirty teaching both ground and airborne instruction to test pilot and flight test engineer students. You can anticipate teaching in all aspects of the Fixed Wing P&FQ and Systems curriculum. You should have excellent interpersonal skills that will allow you to relate and work well with people with a wide range of experience and from diverse cultural backgrounds. You must be able to explain inherently complex subjects in a manner that can be assimilated and applied by all students. Come on! Check us out.
Required Education, Training & Experience Criteria:
Test Pilot Graduate of an SETP recognized test pilot school (Full 12 month/Cat 1/Class A course)
Master's/Bachelor's Degree in Engineering or closely related to flight testing field (or significant equivalent experience).
Minimum of 3-5 years' experience as a Fixed Wing experimental test pilot.
Class II FAA medical or equivalent.
Fluent in English.
Proficient in Microsoft Office products.
Desired Education, Training & Experience Criteria:
Ten years of Fixed Wing flight test experience.
Test experience with Civil Certification, Radar, EO/IR and Comm/Nav systems.
Previous test pilot school instructional experience.
FAA Commercial Pilot License; Single-Engine & Multi-Engine Airplane, Instrument & CFI ratings.
EASA Category I Test Pilot rating and Flight Test Instructor rating.
NVG Experience
NTPS offers a competitive salary, 401k retirement plan, and benefits package. There is occasional travel associated with this position for field trips, student projects, course presentation, and consulting.
Interested parties should provide cover letter and resume/CV to:
Nigel Speedy, Head of Training
This email address is being protected from spambots. You need JavaScript enabled to view it.
+1 6618242977
Lead Test Pilot Honeywell
The Required Job ID is HRD27926
To apply: https://www.honeywell.com/careers
Please see job description below:
Lead and determine airworthiness of Honeywell's aircrafts through inspection, flight testing and evaluation of flight performance, engine operation and flight characteristics. You will design flight tests, supervise technical staff, participate in accident investigation and ensure compliance with Federal Aviation Regulations. You will recommend changes to aircraft to better meet the pilot's needs or to improve flight. You will be the subject matter expert and ensure the highest levels of flight safety and comfort.
Provide the safest and most reliable travel experience for Honeywell executives through efficient and thorough flight testing
Develop effective flight testing methodologies to assess an airplane's performance and ensure it meets the highest quality and safety standards
Create and implement plans to achieve department goals and ensure best in class flight testing
YOU MUST HAVE
Bachelor's Degree
Minimum of 3000 flight hours in turbine powered aircraft Airline Transport Rating, Airline Transport
Pilots License (ATPL)
Multi engine land and appropriate Type rating
100 hours minimum total pilot time in the Category and Class: Airplane, Multi-Engine Land; Rotorcraft, Helicopter
FAA ATP Certificate - Airplane, Multi-Engine Land; Rotorcraft - Helicopter Instrument Rating - Rotorcraft, Helicopter
WE VALUE
Bachelor's Degree in Aviation or Engineering
Extensive experience in flight testing and inspection
Experience in engineering flight testing of experimental types of aircraft or the solution of technical engineering problems at a professional level
Proven knowledge of all safety requirements for compliance
Knowledge of regulations and standards in aircraft testing
3 Test Pilot Job Openings with Lockheed Martin
Chief Test Pilot, F-16 Portfolio
Requisition 433642BR
URL: http://search.lockheedmartinjobs.com/ShowJob/Id/114788/F-16-Chief-Test-Pilot/
Overview:
Lockheed Martin Aeronautics is seeking a Chief F-16 Test Pilot in our Fort Worth, Texas location. The selected candidate will be the chief advisor and primary liaison in support of the F-16 portfolio.
· Chief adviser to the Flight Operations Senior Manager on all aspects of F-16 production and flight test from programmatic to technical support

· Primary liaison between flight operations, the Integrated Fighter Group and F-16 Chief Engineers

· Provide daily technical support to include Product Vehicle Interface (PVI) development, requirements development, market assist, and subject matter expert on all performance aspects of the F-16 aircraft

· Subject matter expert for flight test program to include flight test planning, run card development, test execution, flight test safety and reporting

· Fly all models of the F-16A/B/C/D/E/F in support of our worldwide mission, to include production, experimental and engineering flight test, test support, customer demonstration flights and other duties as assigned

Basic Qualifications

· Suitable FAA commercial pilot's certificate (SE Land, Instrument Airplane)

· Current FAA Class II medical certificate

· Flight test experience in a fourth or fifth generation fighter aircraft

· 1,500 hours first-pilot time to include 100 hours as first pilot during engineering and/or acceptance flight tests

· Graduate of a military Test Pilot School (TPS) or meet the qualifications for a TPS Waiver (2000hrs, 200hrs engineering flight test, 10 hours experimental flight test)

· Must be willing to travel

· Must be a US citizen

· This position requires special access and a Secret security clearance updated within the last 5 years to start

Desired Skills

· Current and qualified on the F-16, or previous F-16 flight test experience

· Broad experience and qualification across the entire spectrum of flight test disciplines

· Exceptional staff, communication and organizational skills

· TOP SECRET security clearance
---
Test Pilot, Advanced Development Programs – Palmdale
Requisition 416865BR
URL: http://search.lockheedmartinjobs.com/ShowJob/Id/101024/Test-Pilot-Senior-Staff-Advanced-Programs/
Overview:
Lockheed Martin Aeronautics is seeking a Test Pilot for manned and unmanned aircraft at our Skunkworks facility in Palmdale, California.
· All aspects of Flight Test and Evaluation including:

o Flight Test planning

o HMI evaluation

o Systems Integration Lab support

o Flight Manual review

o Pilot Checklist development

o Test Pilot instruction on platform

o Test Execution, Test Reporting, and other test duties as assigned

· Flies manned and unmanned aircraft for functional checks, sensor systems development, tests improvements and updates to aircraft and ground systems

· Writes flight test reports as required

· Assists in writing test plans and test cards

· Participates in formal safety reviews

· Complies with all training and currency requirements under government contract supervision

· Serves other LM Aero flight test programs as pilot or advisor as needed

· Must be willing to travel

· Applicant hired must agree to take and pass a polygraph examination

· Must be a US Citizen, position is located at a facility that requires special access

· Selected applicant must have a Top Secret security clearance with a Background investigation within the past five years

Basic Qualifications

· FAA commercial pilot's certificate (SE Land and ME Land, Instrument Airplane) or Airline Transport Pilot

· FAA Class I or II medical certificate

· Test Pilot School (TPS) or equivalent experience

Desired Skills

· Experience in all flight test disciplines to include weapons, avionics, and flight sciences

· Instructor/training experience a plus

· Strong communication and organizational skills