SETP News
Gulfstream G600 Takes Flight Ahead of Schedule
Details

Created: 04 January 2017

04 January 2017

Last Updated: 04 January 2017

04 January 2017

Hits: 180

180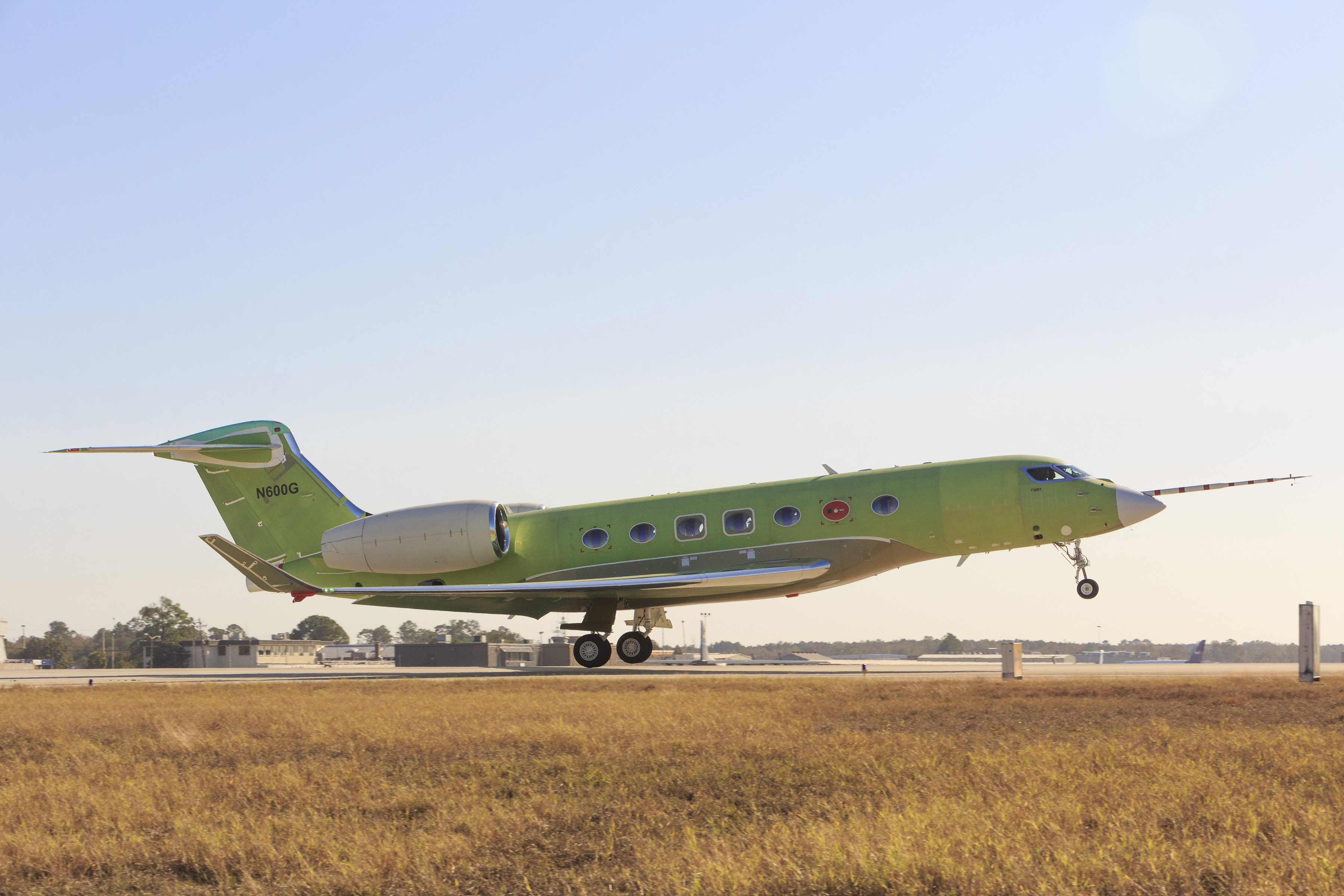 Second And Third G600 Aircraft Delivered To Flight Test
SAVANNAH, Georgia, December 17, 2016 — Gulfstream Aerospace Corp. today announced the Gulfstream G600 has completed its first flight, officially kicking off the aircraft's flight-test program. Two additional G600 test aircraft have been inducted into the flight-test center in anticipation of their flights early next year.
"Launching the G600's flight-test program is a milestone for us and our customers, who have guided the vision for this aircraft from the beginning," said Mark Burns, president, Gulfstream. "We look forward to delivering this aircraft to them in 2018. Today's flight, which went flawlessly, represents a significant step forward in the journey to certification and delivery."
The G600 departed Savannah-Hilton Head International Airport at 1:50 p.m. Dec. 17 and spent 2 hours and 53 minutes in the air. The aircraft was piloted by Gulfstream experimental test pilots Scott Martin (AF) and Todd Abler (M), with Flight Test engineer Nathaniel Rutland providing on-board support.
"This flight went exactly as anticipated, thanks in large part to the investments we have made in our ground-based laboratories," Burns said. "This flight is the perfect way to wrap up 2016 and set the tone for a successful 2017."
The G600 has been designed with input from customers to ensure an unparalleled passenger experience. It has the longest cabin in its class, satellite communications and high-speed internet and can accommodate up to four living areas to create distinct yet flexible spaces for work, entertainment, dining and rest. Fourteen panoramic windows ̶ the largest in the industry ̶ a low cabin altitude and 100 percent fresh air contribute to the superior cabin environment, helping passengers feel refreshed and rested upon arrival.
The G600 can travel 6,200 nautical miles/11,482 kilometers at Mach 0.85 and 4,800 nm/8,890 km at Mach 0.90, and its maximum operating speed is Mach 0.925, the same maximum speed as the flagship Gulfstream G650ER.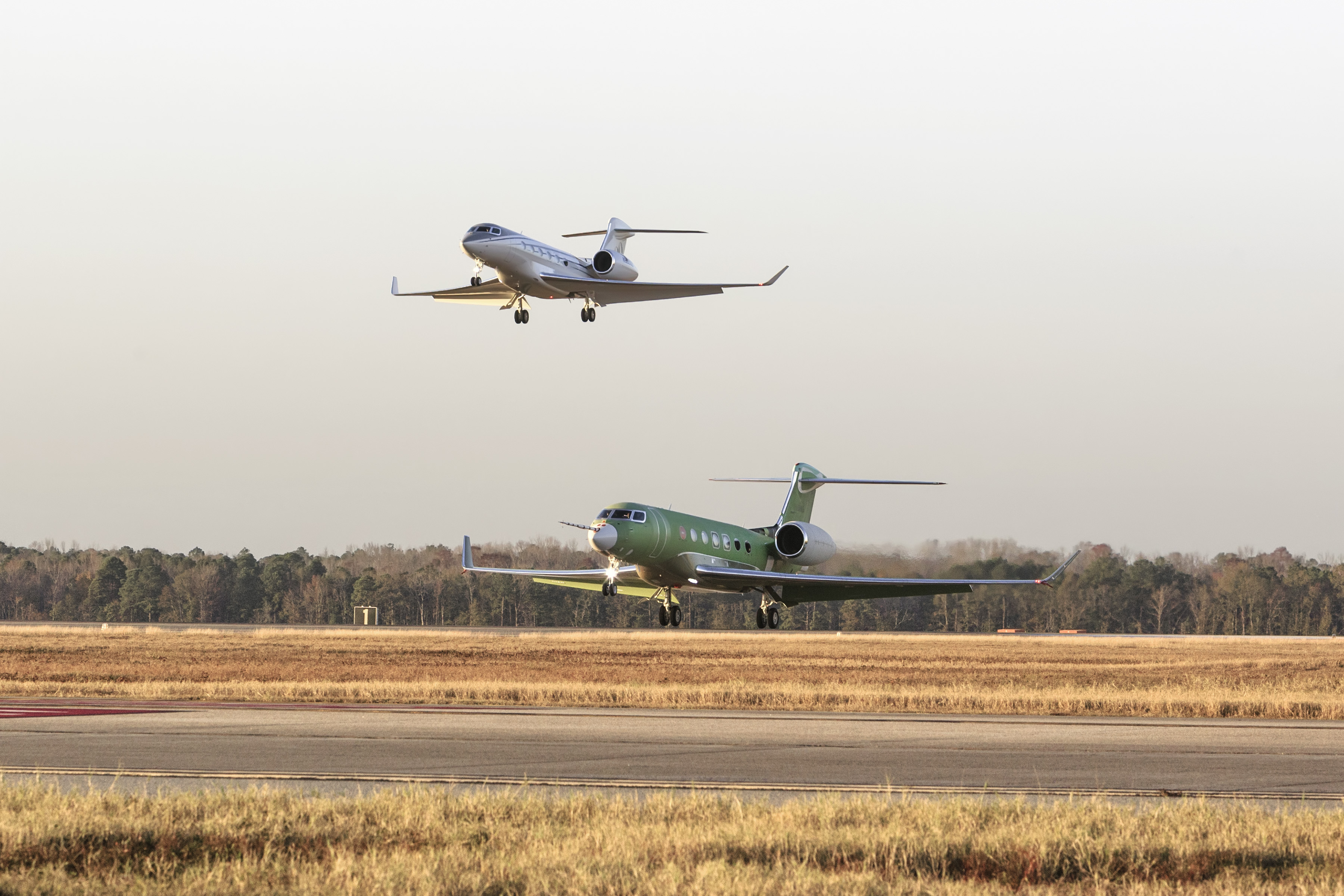 Bombardier Global 7000 Aircraft Successfully Completes First Flight
Details

Created: 18 November 2016

18 November 2016

Last Updated: 18 November 2016

18 November 2016

Hits: 506

506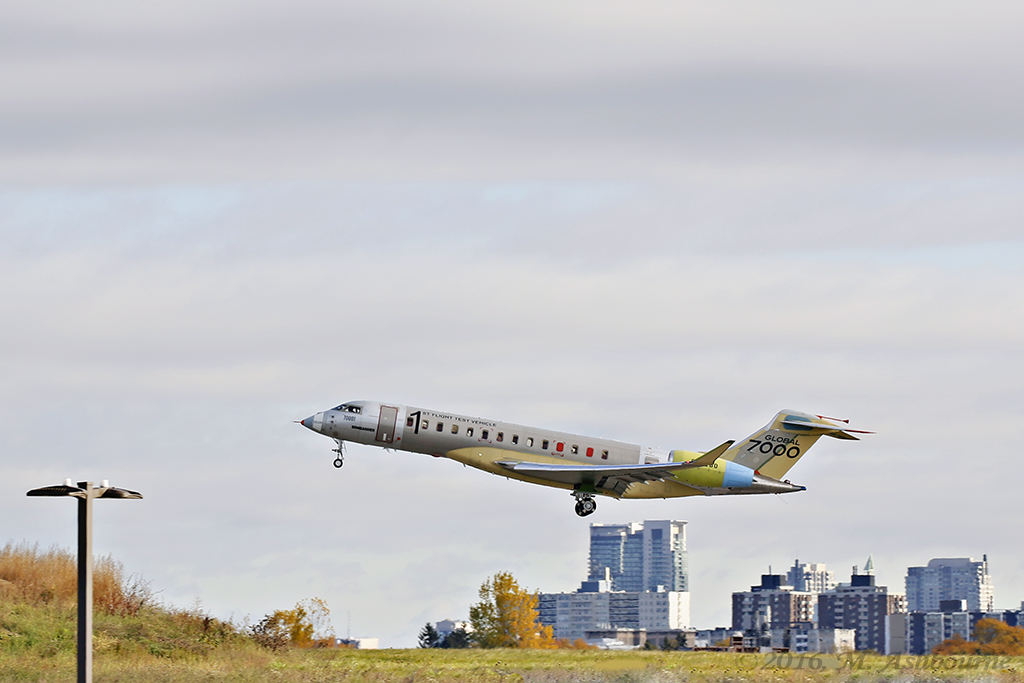 Bombardier announced that its segment-defining Global 7000 aircraft program completed the successful maiden flight of its first flight test vehicle (FTV1). This first flight marks the start of a flight test program for the newest member of Bombardier's flagship Global aircraft family, which is scheduled to enter into service in the second half of 2018.
The Global 7000 flight test vehicle took off from Bombardier's facility in Toronto under the command of Captain Ed Grabman (AF), assisted by his co-pilot, Jeff Karnes (AF) and Flight Test Engineer Jason Nickel under clear conditions.
Dedicated to testing basic system functionality and assessing the handling and flying qualities of the aircraft, the flight lasted approximately 2 hours and 27 minutes, during which all flight controls were exercised, and the systems and aircraft performed as expected. The flight crew conducted a gradual climb to 20,000 feet (6,096 m) and the aircraft reached a planned test speed of 240 knots.
Dan Raymer's 2017 Aircraft & Spacecraft Conceptual Design Short Courses
Details

Created: 10 November 2016

10 November 2016

Last Updated: 10 November 2016

10 November 2016

Hits: 674

674
Hello,

Dan Raymer here. I'll be personally presenting my aerospace vehicle design short courses this January here in Los Angeles, near LAX and the LA tourist destinations.

These classes provide a fun and intensive introduction to new aerospace vehicle concept development. They also provide a broad overview of aerospace engineering from structure to aerodynamics to propulsion and more.

See the links below for details and comments from the many people who've already taken the classes.

Hope you can make it to one or more.

--------------------------------------------------------------------
- Aircraft Conceptual Design Short Course (Jan. 23-27)
www.aircraftdesign.com/shortcrs1.html

- Aircraft Configuration Layout, Loft, & CAD (Jan 28)
www.aircraftdesign.com/shortcrs2.html

- Spacecraft & Launch Vehicle Design (Jan 30 - Feb 1)
www.aircraftdesign.com/shortcrs4.html
--------------------------------------------------------------------

Seats are limited so please contact me if you are interested. Kindly route this around to others who might be interested. I do my own marketing and I need all the help I can get!

Thanks and Best Regards,

Daniel P. Raymer, Ph.D.
President, Conceptual Research Corp.
www.aircraftdesign.com

--------------------------------------------------------------------
Dan Raymer is President of the design and consulting company, Conceptual Research Corporation. Recipient of the prestigious AIAA Aircraft Design Award, he is a recognized expert in the areas of Aerospace Vehicle Design and Configuration Layout, Computer-aided Design Methodologies and Design Education. During his 10 years in the Advanced Design Department of Rockwell (North American Aviation) he conceived and did the layout design of Rockwell's entries in what became the F-22, B-2, and T-45 programs, and was Head of Air Vehicle Design for X-31 from "blank sheet of paper" (CAD screen) to the configuration that flew (with minor fabrication-driven changes).

His industry career includes positions as Director-Advanced Design with Lockheed, Director-Future Missions at the Aerojet Propulsion Research Institute, and Project Manager-Engineering at Rockwell North American Aviation. He also served as a research engineer and aerospace design consultant at the famous RAND Corporation think tank.

Dr. Raymer is the author of the best-selling textbook "Aircraft Design: A Conceptual Approach" and the well-regarded layman's book, "Dan Raymer's Simplified Aircraft Design for Homebuilders". His newest book, "Living In The Future: The Education and Adventures of an Advanced Aircraft Designer", covers his career and his design projects including most of those described below. Raymer has received both Rockwell Engineer of the Year and the AIAA Summerfield Book awards, and was recently made a Fellow of the American Institute of Aeronautics and Astronautics.

Dr. Raymer received B.S. and M.S. engineering degrees in Astronautics and Aeronautics from Purdue, an MBA from the University of Southern California, and a Doctorate of Engineering (Ph.D.) from the Swedish Royal Institute of Technology (KTH).
--------------------------------------------------------------------


Longitude First Flight
Details

Created: 19 October 2016

19 October 2016

Last Updated: 19 October 2016

19 October 2016

Hits: 783

783
Cessna Aircraft Company, a subsidiary of Textron Aviation Inc., conducted the successful first flight of its Citation Longitude super-midsize jet on October 8th, 2016. The Longitude took off from the company's east campus Beech Field Airport, crewed by experimental test pilots Stuart Rogerson (AF) and Ed Wenninger. The two hour and two minute flight was supported by Scott Foster (AM) and Dustin Smisor in chase and Charlie Volk (AF) in the Telemetry Room. The flight accomplished everything they wanted to do during this maiden flight, setting the pace for the flight test program. The prototype aircraft will continue to expand the envelope, focusing on testing stability and control and performance, while the first production model, set to fly in the coming weeks, will be primarily used for systems testing.
With seating for up to 12 passengers, the Longitude features a stand-up, flat-floor cabin with a standard double-club configuration and a walk-in baggage compartment fully accessible in flight. The Longitude includes the next evolution of the Garmin G5000 flight deck and is powered by FADEC-equipped Honeywell HTF7700L turbofan engines with fully integrated autothrottles. The aircraft offers a full fuel payload of 1,500 pounds, a maximum cruise speed of 476 knots and a high-speed range of 3,400 nautical miles.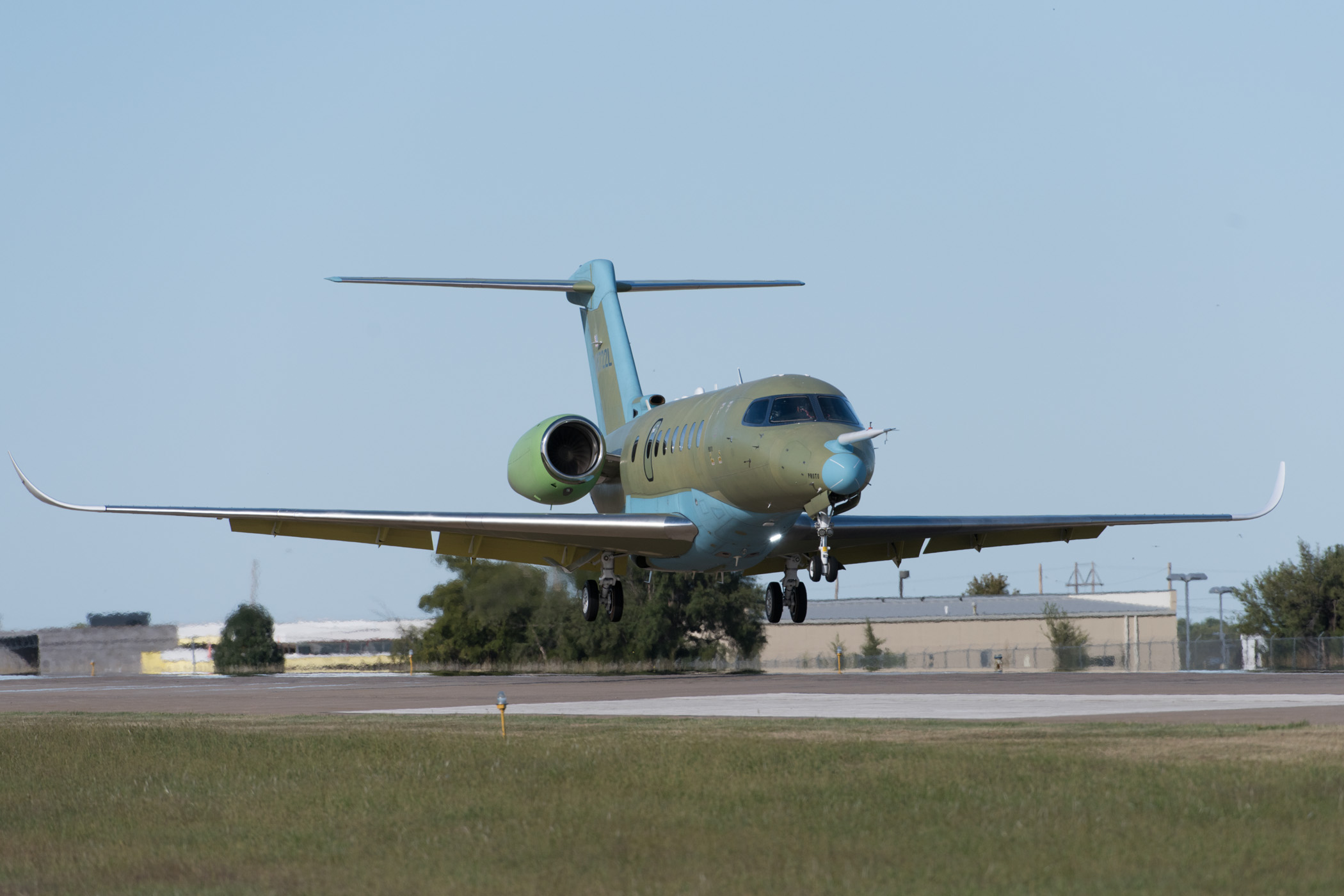 SETP 60th Annual Symposium - Podcasts and Photo Gallery Now Available
Details

Created: 11 October 2016

11 October 2016

Last Updated: 18 October 2016

18 October 2016

Hits: 692

692
The video podcasts for the 60th Annual SETP Symposium are now available to view in the Member's Only section of the SETP website.
You will need your username and password to access the podcasts. Click HERE to log in.
Click HERE to view the photo gallery for the Annual Symposium.