SETP News
Wings Over Camarillo Airshow and STEM Pavilion
Details

Created: 27 August 2018

27 August 2018

Last Updated: 27 August 2018

27 August 2018

Hits: 163

163
The Society of Experimental Test Pilots was invited to participate at the Wings Over Camarillo airshow and STEM Pavilion, 18-19 August 2018.

The SETP booth consisted of the STEM Simulator, paper airplane mission challenge station, and paper airplane making station. The STEM simulator allowed the student pilot to compare flying and handling qualities between the F-22 and the F-4 by flying attitude capture tasks and landing task with the F-4. The airplane mission challenge introduced the concept of mission based test with the requirement to design a paper airplane to accomplish any of the three mission areas: Accuracy Distance mission; Endurance mission; and Range mission. For the Accuracy Distance mission, we had a hula hoop standing on a Tee Ball Tee with 5ft, 10ft, and 15ft marks on the hangar floor. The Distance challenge had a start line on the hangar floor with distance marks every 20 ft and the Endurance challenge required the use of a stop watch to determine how long an airplane remained airborne. The best part of the three challenges was the "List of Champions" where the pilots with the best Accuracy Distance, longest Range, and Endurance wrote their name and benchmark.

The SETP team that supported the STEM event over the weekend were Kevin "Smells" Gross (AF), AJ "Face" McFarland (AF), Mike "Rabies" Rabens (F), and Maj Greg "Evil" Marcus (M). This small team provided an exceptional introduction to flight test for the young and young at heart. STEM coordinators told me that the paper airplanes and the SETP simulator were the best stations in the Pavilion.

Semper Fi,
"Smells"
Kevin Gross (AF)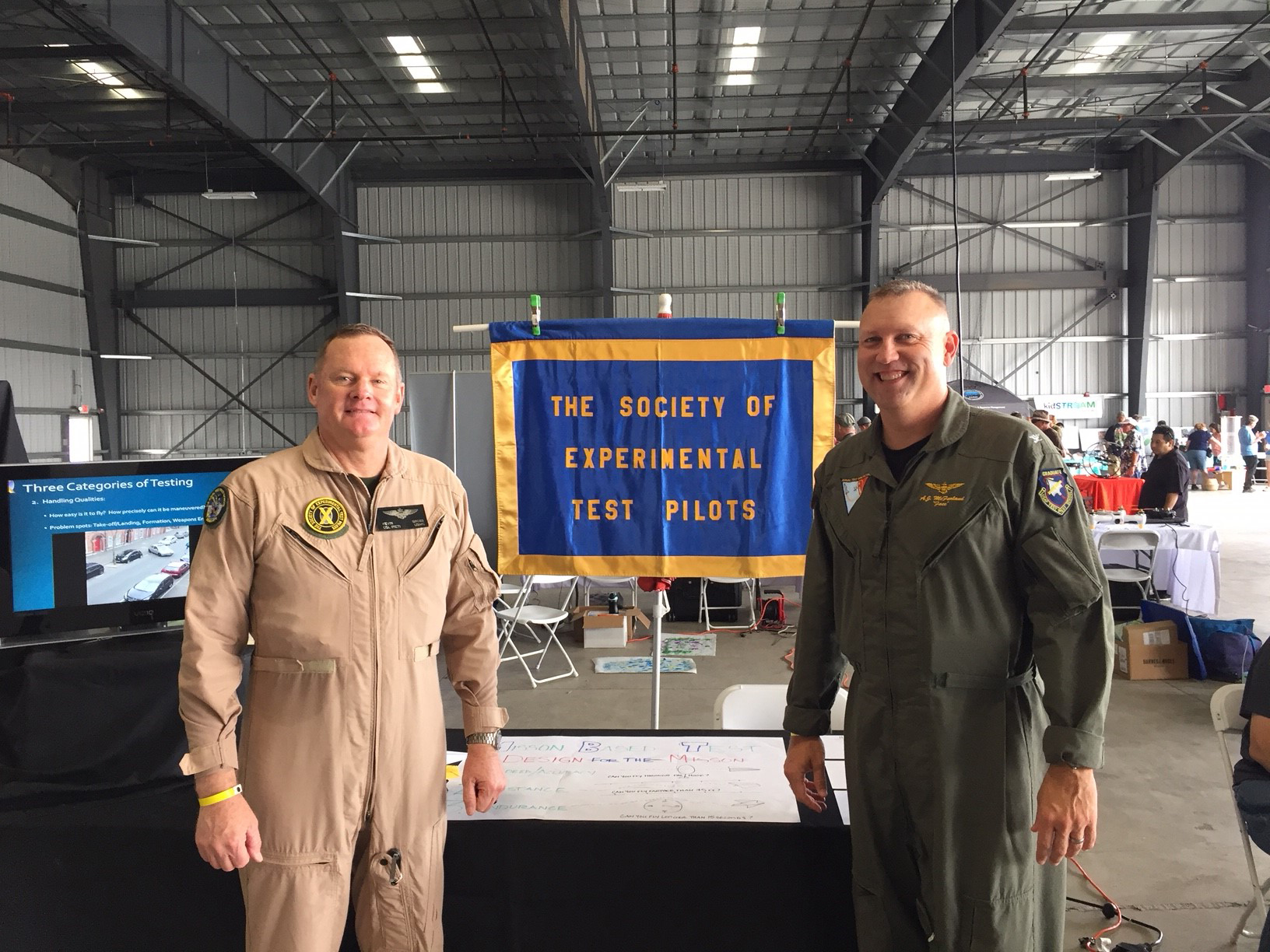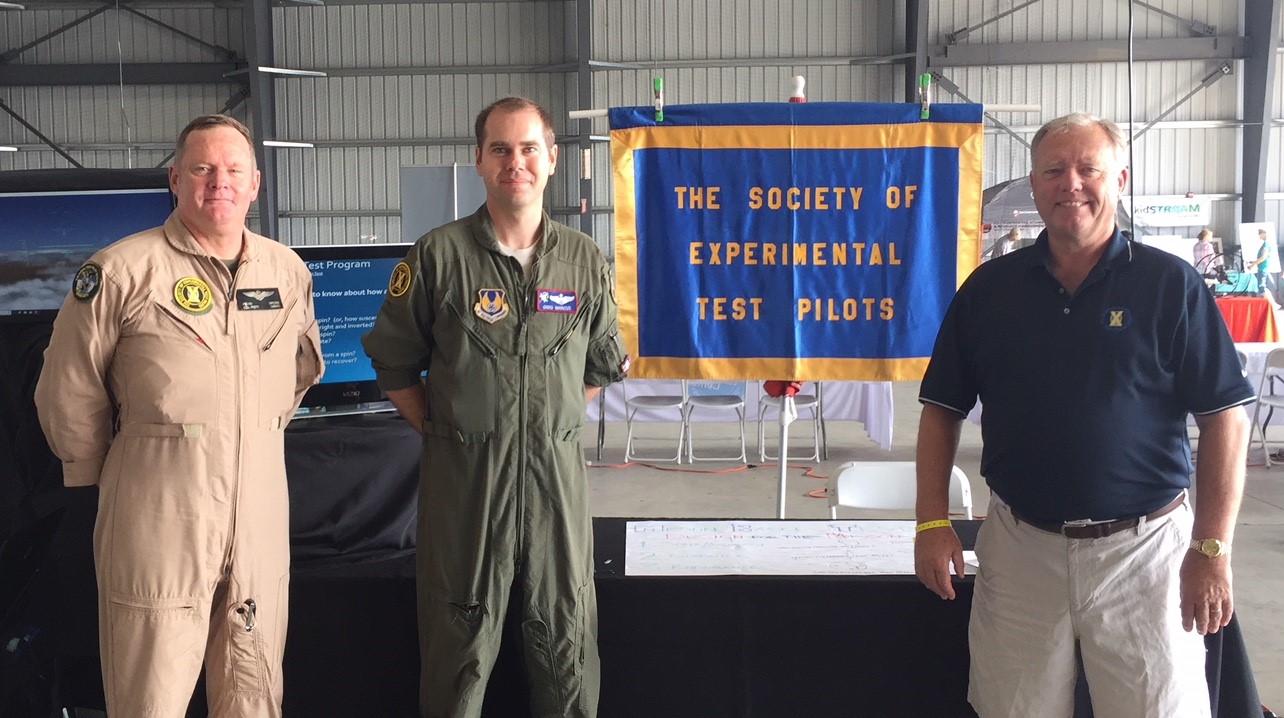 Robert "Bob" Little (F) Last Flight
Details

Created: 06 August 2018

06 August 2018

Last Updated: 07 August 2018

07 August 2018

Hits: 485

485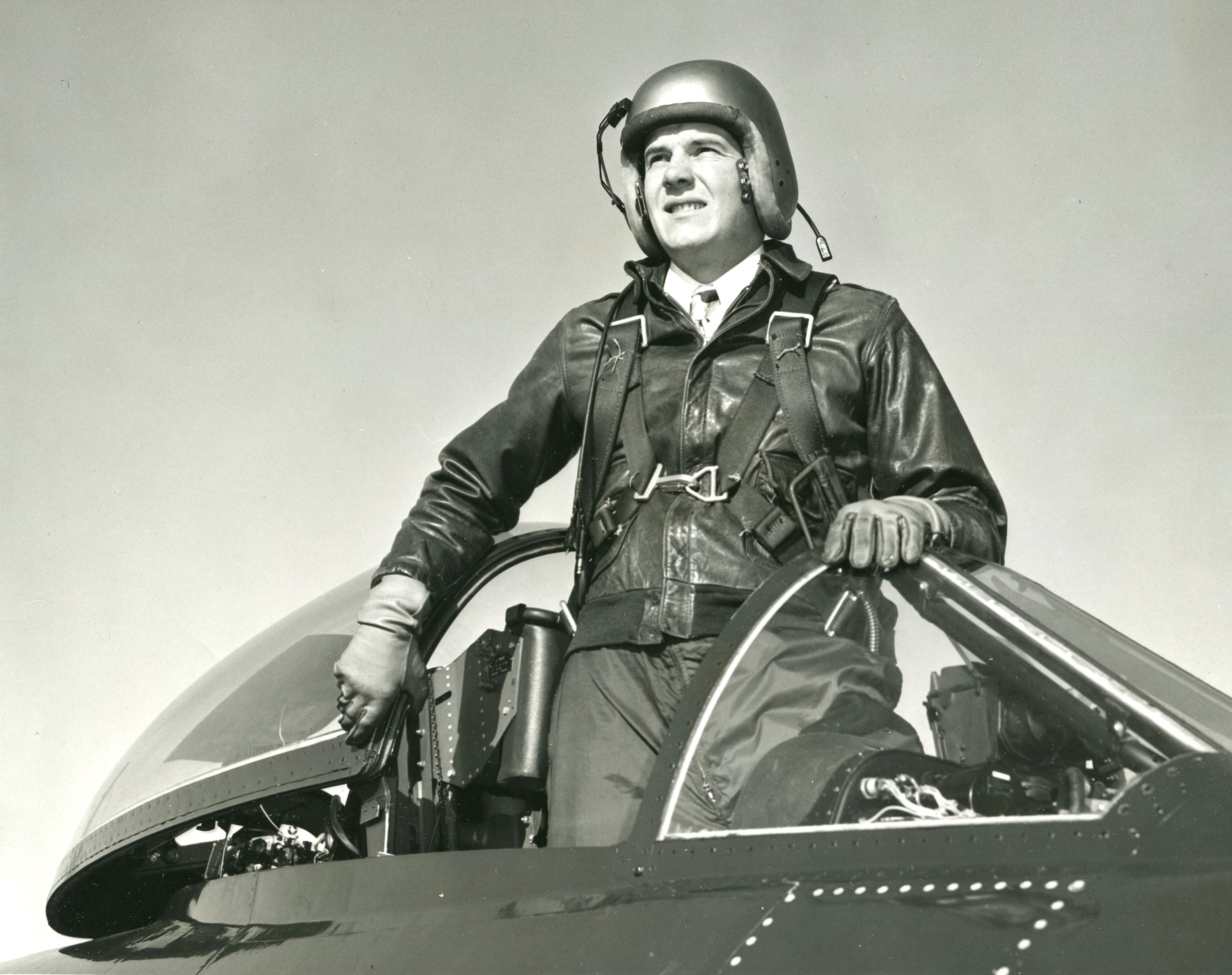 Robert "Bob" Little (F) took his last flight on 3 August 2018. He was 93.
Bob was born March 12, 1925 in Kansas City, Missouri. He was a P-51 Mustang pilot for the U.S. Army Air Corps from 1943-1945 serving 68 combat missions over Europe during WWII. He was awarded the Distinguished Flying Cross and the Air Medal with 13 Oak Leaf Clusters before returning home and receiving his B.S. in Mechanical Engineering from Texas A&M University in 1948.
Bob began working for McDonnell Aircraft Corp. as a flight test engineer performing flight test engineering assignments on the XF-88 and the F2H Banshee while flying P-51's with the Air National Guard. In 1949 he became the fifth pilot on the McDonnell test pilot staff and flew production flights on various Banshee models. In 1951, after being promoted to experimental pilot, Bob began with external stores demonstration work on the F2H-2B and also did some work on the XF-88.
In 1953 he became Chief Test Pilot and made the first flight on the J-40 powered F3H, which was the modified production version of the XF3H. During that time, he did the major share of the usual early test and evaluation programs, aerodynamic, structural, flight envelope extension and flutter.
Bob then went to Edwards Air Force Base where he conducted all the initial flying on the F-101. He conducted all the preliminary development and evaluation, the entire structural demonstration, the inertia coupling demonstration and all the flight envelope extension work culminating in a maximum speed of 1.88M, which set the stage for returning the World's speed record to the United States.
Bob stepped out of the cockpit in 1960 and became the Program Manager for the F-4. He rose to Director of Sales in 1964, Vice President-Marketing in 1968 and received his first corporate position in 1972-Corporate Vice President-Marketing. By the time he retired in 1989, he was on the Board of Directors and was the Vice Chairman-Government Business.
Bob had the distinction of being the first man to pilot four McDonnell Douglas jet fighters which went on to successful production runs: the F3H-1 Demon, F-1014A, F-101B Voodoo and the F-4 Phantom II.
He became an SETP Fellow in 1961. His many other accomplishments include receiving the James H. Doolittle award in 1977, the Spirit of St. Louis Aviation Award in 1991 and the Aerospace Walk of Honor in 2003.
Bob is survived by his wife Betty, 3 daughters, Susan Burr, Martha McCoy, Elizabeth "Liz" Little; and son James "Jim" Little along with 3 grandchildren.
Funeral service information is as follows:
Bopp Chapel
10610 Manchester Road
Kirkwood, MO 63122
Phone: 314-965-7680
Visitation is Friday, August 17th from 4:00pm-7:00pm
Funeral Service is Saturday, August 18th at 11:00am
Oral History Videos - Watch Now!
Details

Created: 26 July 2018

26 July 2018

Last Updated: 16 August 2018

16 August 2018

Hits: 213

213
We have started editing the Oral Histories we have and the first three are now available on the website under the Foundations tab.
Click HERE to view the recently released Oral Histories of Buzz Aldrin, Eric "Winkle" Brown, and Robert A. Hoover.
Robert A. Hoover
Neil Armstrong Luncheon Address
Details

Created: 26 July 2018

26 July 2018

Last Updated: 09 August 2018

09 August 2018

Hits: 382

382
While digging in our archives we found this historic presentation from SETP Charter Member Neil Armstrong (F),
at the Luncheon held during the 2005 Symposium that celebrated the SETP 50th Anniversary.
Please take 30 minutes out of your day to watch this captivating talk!