Job Listings
Piper Aircraft – Manager Test Operation
Piper Aircraft – Manager Test Operation
Piper Aircraft Company is looking to expand the experimental test organization with the addition of a test operation manager. This is a non-flying position.
Positions limited to permanent residents and US Citizens. Visa sponsorships are not available.
SUMMARY
Manage and coordinate all activities pertaining to Flight Tests, Engineering Test Operations, Instrumentation and Experimental Hangar including but not limited to providing status reports, creating/maintaining schedules and overall planning to support Engineering projects implementation & execution, Production Support and Customer Service.
JOB DESCRIPTION
Manage and coordinate the daily activities of the test operations (Flight Test, Engineering Test Operations, Instrumentation and Experimental Hangar) associated with all engineering projects.
Coordinate with engineering personnel to ensure programs proceed according to schedule, scope and budget.
Coordinate test operation services for Production and Customer Services
Develop work breakdown structures.
Develop and maintain program schedules and budgets.
Interview, train and evaluate employees.
Perform other related duties as required as assigned by the Director of Engineering.
SUPERVISORY RESPONSIBILITIES
Responsibilities include supervision, training and assisting employees.
QUALIFICATIONS
To perform this job successfully, an individual must be able to perform each essential duty satisfactorily. Reasonable accommodations may be made to enable individuals with disabilities to perform the essential functions.
EDUCATION AND EXPERIENCE
Requires a Bachelors' Degree and preferably a Master' Degree in an Engineering discipline, a minimum of ten years' experience in Engineering with at least five years of progressive supervisory responsibility. Commercial Pilot certificate, Airframe and Powerplant (A&P) mechanic certificate, and understanding of flight crew duties/responsibilities is preferred.
Comprehensive knowledge of CAR 3, 14 CFR Part 21 and 23 or 25, knowledge of aircraft design, testing and certification, testing operation duties including flight test, structural testing and instrumentation, ability to coordinate programs across teams, create and manage schedule and budgets, are required to perform the duties of this position.
LANGUAGE SKILLS
The employee must possess the ability to communicate effectively with all internal and external customers in both written and oral form.
To apply for this position, please use the following website: www.piper.com/careers or email: This email address is being protected from spambots. You need JavaScript enabled to view it..
Test Pilot Senior Manager - Lockheed Martin
Job Code/Title :
L6086:Test Flight Sr Mgr
Job Description :
This position is the Palmdale Senior Manager for Skunkworks Aircraft. The selected candidate will direct and coordinate all Palmdale Flight Operations efforts to include testing and acceptance of special mission aircraft to determine compliance with specifications and operational suitability.
Responsible for ensuring proper flight ops support for program engineering efforts (IDR, FDR, CDR, SRB, TRB, etc…), for aircraft and subsystem test flights, program proposal development efforts , Business Development efforts to include special requests for demonstration flights with customers, government officials, or other personnel to exhibit aircraft performance, flying qualities and system capabilities, and other taskings as required. Responsible for ensuring compliance with all company, FAA and government directives.
1. Will be the primary Point of Contact (POC) for Flight Operations for all matters related to production acceptance and testing for Special Mission Aircraft. This includes, but is not limited to:
a. Assign and coordinate the activities of all Flight Operations personnel to support special mission aircraft test and acceptance.
b. Ensure aircrew currency and proficiency meet required standards and training as prescribed by contractual requirements and internal processes.
c. Responsible for flight safety for special misssion aircraft operations. Ensure all aircrew have appropriate training and attend required aviation safety meetings.
d. Coordinate and schedule Flight Operations aircrew support for all production and test flying requirements.
e. Coordinate daily flight operations with the Government Flight Representative and ensure all flying is conducted under the ground flight risk clause or through insured lease arrangements.
2. Coordinate with Chief pilot on selection of special mission program Chief Test pilots.
3. Coordinate and consult with Chief Test Pilots and Program Engineers in the publication of the Flight Standards Manuals for special mission aircraft.
4. Manage in coordination with Chief Test Pilot, DCMA, Production Flight, and Safety all annual or regularly scheduled inspections, i.e. AOI, related to the Special Mission Aircraft programs.
5. Manage inputs for Chief Test Pilot, Flight Operations Dispatchers, DCMA, Production Flight, and Safety and annual reviews for the Consolidated Flight Operations Procedures to include appropriate program annexes and the Palmdale Site Supplement.
6. Manage the coordination with Chief Test Pilot, Customer Support, Tech Pubs Chief and other Special Mission Aircraft aircrew members to insure customer Flight Manuals are accurate and correct.
7. Manage special mission aircraft flight operations dispatchers, tower personnel, and flight equipment support personnel to ensure full support of all flights.
8. Maintain a strong teaming relationship with GFR pilots and other DCMA personnel.
9. Manage attendance at all Special Mission Aircraft Flight Manual Conferences to review and approve changes/supplements to all versions of any Special Mission Aircraft flight manuals.
10. Advise and assist Special Mission Aircraft Program management for all requirements related to Flight Operations. This includes any activity from initial quoting and proposal requirements, requirements definition for all Flight Operations activities through testing, training, production and delivery of any Special Mission program.
11. Responsible for all personnel management issues including Talent Management for the Special Mission Flight Ops team.
Must be a US citizen. This position works in a facility that requires special access and will require a Secret security clearance updated within the last 5 years to start.
Basic Qualifications
Education: Minimum of Bachelor's degree, Engineering or Technical discipline.
Aircraft Pilot in Command experience of at least 3000 hours total pilot time.
Must be a graduate of a military Test Pilot School.
Must be able to obtain a Second Class FAA Medical.
Desired skills
Developmental Aircraft Flight Test Experience desired.
Experience in Functional Check Flight, Production Acceptance, Delivery Flights, and follow-on Customer Crew Training required.
Qualification or previously qualified on any LM Aero products is highly desired.

As a leading technology innovation company, Lockheed Martin's vast team works with partners around the world to bring proven performance to our customers' toughest challenges. Lockheed Martin has employees based in many states throughout the U.S., and Internationally, with business locations in many nations and territories.
Join us at Lockheed Martin, where we're engineering a better tomorrow.

Lockheed Martin is an Equal Opportunity/Affirmative Action Employer. All qualified applicants will receive consideration for employment without regard to race, color, religion, sex, pregnancy, sexual orientation, gender identity, national origin, age, protected veteran status, or disability status.
Job Location(s): Palmdale California
Pilot Positions - USAF Test Pilot School
The USAF Test Pilot School is looking to hire two test pilots (NH-IV), graduate of any of the Test Pilot Schools, and a non-test pilot (NH-III) that would be interested in flying T-38s. The pay range for the test pilot is $130,000-$150,000 with possible recruitment and leave accrual incentives. The non-test pilot would be $115,000-$128,000 with the same type of incentives. The Direct Hire announcement can be viewed at https://www.usajobs.gov/GetJob/ViewDetails/483783900 and shows the additional documentation that will be required later in the process.
Anyone interested in interviewing for either of these positions should send a resume to:
This email address is being protected from spambots. You need JavaScript enabled to view it.
Individuals will be contacted directly for additional supporting documentation.
F16 / VISTA Test Pilot - Calspan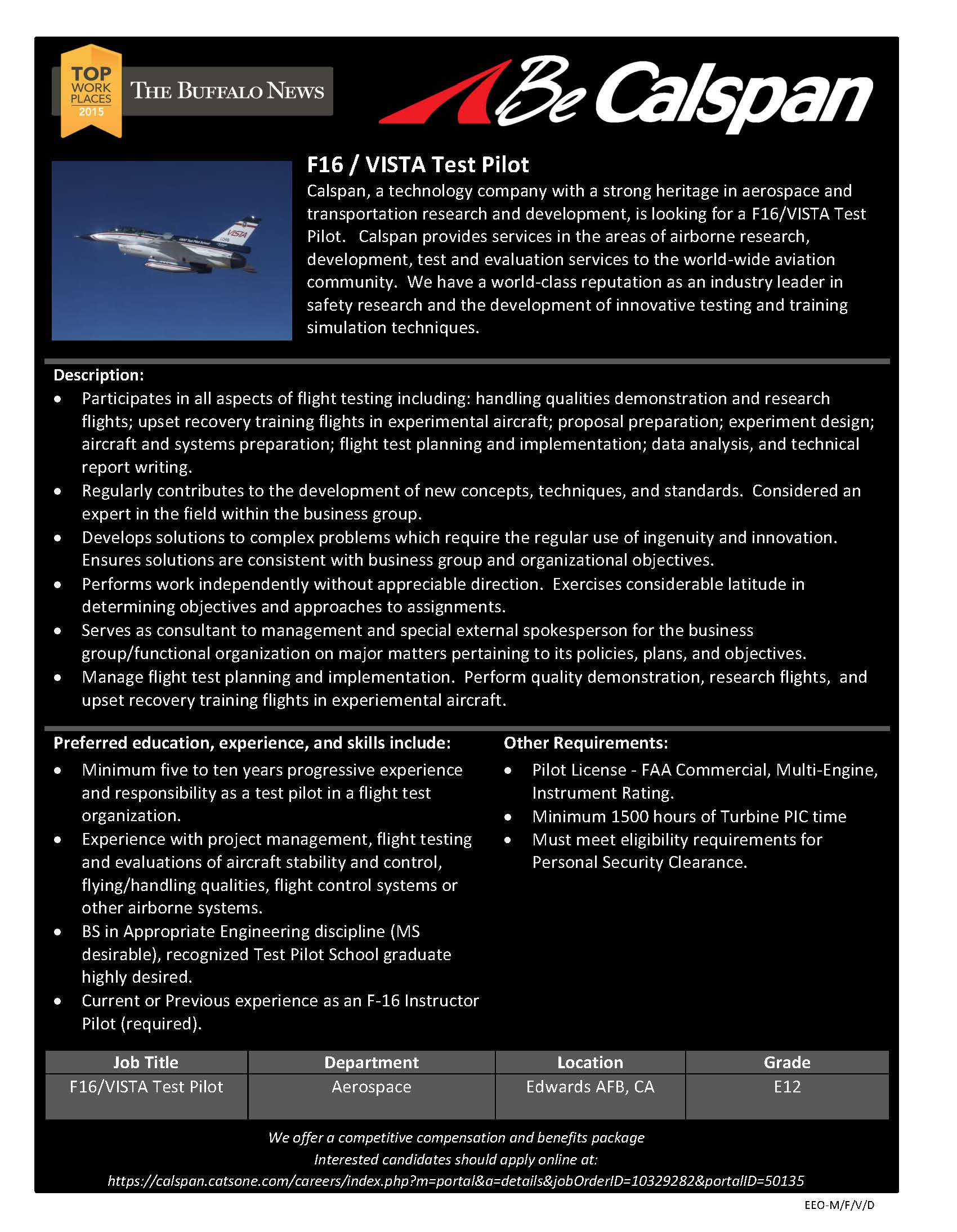 Interested candidates should apply online at:
https://calspan.catsone.com/careers/index.php?m=portal&a=details&jobOrderID=10329282&portalID=50135
Flight Test Pilot - Piper Aircraft
Piper Aircraft is looking for a Flight Test Pilot. To apply for this position, please use the following website: www.piper.com/careers or email:This email address is being protected from spambots. You need JavaScript enabled to view it.; This email address is being protected from spambots. You need JavaScript enabled to view it..
Summary:
Provide technical support for aircraft development and certification flight tests. Prepare flight test cards, participate in pre/post flight briefings, fly test flights and document test results. Prepare Flight Test Plans, Type Inspection Authorizations (TIA), Type Inspection Reports (TIR), and Pilot Operating Handbooks (POH). Ensure that a proper liaison is established and maintained between Engineering. Quality Assurance and Flight Test Departments.
Job Description:
Conduct research, development, and certification flight tests, to assure test aircraft comply with company requirements and/or applicable Civil and Federal Aviation Regulations (CAR and FAR). prepare test plans.
Coordinate flight test program activities and department resources, under the direction of Manager Experimental Flight Test.
Attend practical and academic training classes/seminars to keep abreast of engineering flight test practices and to maintain flight proficiency.
Attend required safety training classes and lead Flight Test Safety Process in accordance with Piper Flight Operations Policy and Procedures Manual.
Conduct audtis of production airlines as required under Piper Organization Designation Authorization (ODA).
Generate technical reports and position papers used for the evaluation, development, substantiation, and certification of systems, powerplants, and airframes.
Prepare Pilot Operating Handbooks and Flight Manuals.
Stay abreast of the FAA/JAA regulations and policies as they pertain to flight tests, to assure compliance with applicable FAR/Joint Aviation Requirements (JARs).
Act as liaison between Flight Test and other departments as necessary.
Perform other related duties as required.
Supervisory Responsibilities:
May be required to supervise, train, and assist other employees.
Qualifications:
To perform this job successfully, an individual must be able to perform each essential duty satisfactorily. The requirements listed are representative of the knowledge, skill, and /or ability required. Candidate must qualify for an FAA 2nd Class Medical.
Education and Experience Requirements:
Requires a Bachelors' Degree in a Mechanical or Aeronautical Engineering discipline, with continued advanced training in Flight Test Engineering and a minimum of seven years active test pilot experience related to Stability and Control, Performance, Avionics, Mechanical Systems, and or, Powerplant Systems.
FAA certificates/ratings (commercial pilot license, multi-engine, and instrument ratings), and comprehensive knowledge of aircraft design, testing, and certification are necessary to perform the duties of this position. Candidate must be able to qualify for ODA test pilot appointment within one year of employment with the Company. Strong preference for candidates with documented CFAR Part 23 or Part 25 experience as a DER or ODA UM.
Language Skills:
The employee must possess the ability to communicate effectively with all internal and external customers in both written and oral form.
Test Pilot Senior Staff / Advanced Programs - Lockheed Martin
Test Pilot Senior Staff job opening at Lockheed Martin in Palmdale, California.
Position ID 416865BR
For more information and to apply please click HERE.