Job Listings
Lead Test Pilot - Honeywell
Join a team recognized for leadership, innovation and diversity
Lead flight tests as pilot in command to develop, certify, and demonstrate Honeywell Aerospace products providing accurate, repeatable, and cost effective data for our internal Honeywell customers. You will design flight test plans, supervise flight crew members, and ensure compliance with Federal Aviation Regulations. You will evaluate and recommend changes to products to better meet the pilot's needs or to
improve safety. You will be the subject matter expert as products are demonstrated to end users.
Grow pilot skills to maintain proficiency in multiple, diverse aircraft types while executing flight test plans of new and often one-of-a-kind products.
Develop effective flight test plans along with flight test engineering to assess a product's performance and ensure it meets the highest quality and safety standards. Create and implement plans to achieve department goals and ensure best in class flight testing.
CLICK HERE for more info and to apply!
MUST HAVE​
Bachelor's Degree in Aviation or Engineering
Minimum of multi-engine Airline Transport Pilot (ATP) rating
Ability to hold a FAA Class II Medical
Ability to pass pilot in command proficiency check in the type of aircraft to be flown
WE VALUE
Experience in engineering flight test
Formal flight test training highly desirable
2,000 flight hours of pilot time
500 flight hours in turbine powered aircraft
Knowledge of regulations and standards in aircraft testing
Must be a US Citizen due to contractual requirements. Exempt Interface with Engineering and Marketing TeamsCertify Safety of Flight ProductsTest Flight Planning and DesignAircraft and Systems PreparationDevelop New Techniques, Test Standards
INCLUDES
Relocation Provided
Some Travel Required
Continued Professional Development
ADDITIONAL INFORMATION
Job ID: HRD10582
Category: Flight Operations
Location: 111 S 34th St, Phoenix, AZ USA
NASA Research Pilot Engineer
NASA is helping transform aviation by developing advanced technologies for revolutionary aircraft shapes and propulsion, and for the airspace in which they fly, which dramatically improve efficiency, reduce noise and maintain safety in more crowded skies. This position is assigned to NASA Glenn Research Center; Aircraft Operations Office, located in Cleveland, OH. Shaping the World of Tomorrow NASA
The NASA Glenn Research Center in Cleveland, Ohio designs and develops innovative technology to advance NASA's missions in aeronautics and space exploration.
You will be piloting aircraft used in research, development, and test programs; evaluating test parameters and results; performing flight and ground simulations of advanced missions and aircrafts; and participating in the development, design, testing, evaluation, and reporting on new aircraft concepts and new advanced aircraft systems.
You must apply via: https://www.usajobs.gov/GetJob/ViewDetails/479628000
Please see the announcement for job requirements and qualifications.
Fixed Wing Test Pilot Instructor - NTPS
The National Test Pilot School is looking to fill a Fixed Wing Test Pilot Instructor position. You will work as part of a close team developing and delivering Fixed Wing and Systems flight test course material. In this role you will be delivering ground and airborne instruction to both pilot and engineer students. You will be expected to teach all aspects of the Fixed Wing and Systems curriculum, based on your experience. You should have excellent interpersonal skills that will allow you to relate and work well with people with a wide range of experience and from diverse cultural backgrounds. You must be able to explain inherently complex subjects in a manner that can be assimilated and applied by all students.
Position Title: Fixed Wing Test Pilot Instructor.
Worksite: Mojave, CA.
Education, Training & Experience Required Criteria:
Master's Degree in Engineering (or closely related field) or equivalent.
Test Pilot Graduate of an SETP recognized test pilot school
Minimum of three years' experience as a Fixed Wing experimental test pilot.
Class II FAA medical or equivalent.
Fluent in English.
Skilled in Microsoft Office products.
Education, Training & Experience Desirable Criteria:
Ten years of Fixed Wing flight test experience.
Test experience with Civil Certification, Radar, EO/IR and Comm/Nav systems.
Previous test pilot school instructional experience (civil or military).
FAA Commercial Pilot License with Airplane, Single-Engine & Multi-Engine, Instrument & CFI ratings.
EASA Commercial Pilot License with Category I Test Pilot and Flight Test Instructor ratings.
Rotary Wing Flight Test Experience
NTPS offers a competitive salary, 401k retirement plan, and benefits package. There is occasional travel associated with this position for field trips, student projects, course presentation, and consulting.
Interested parties should provide cover letter and resume/CV to:
Lynda Matos
This email address is being protected from spambots. You need JavaScript enabled to view it.
+1 661-824-2977
Test Pilot for Combat Aircraft - Airbus Defence & Space Manching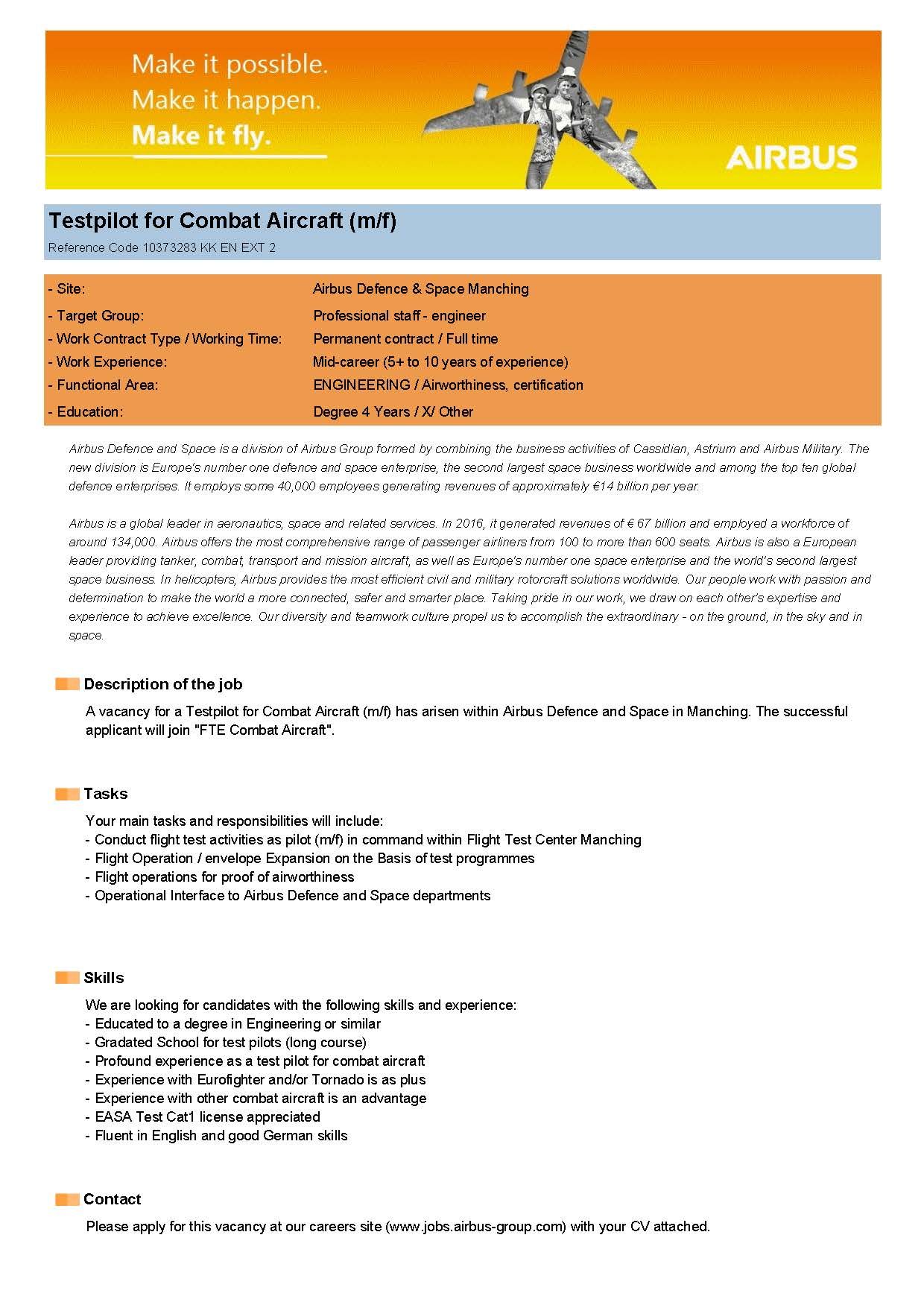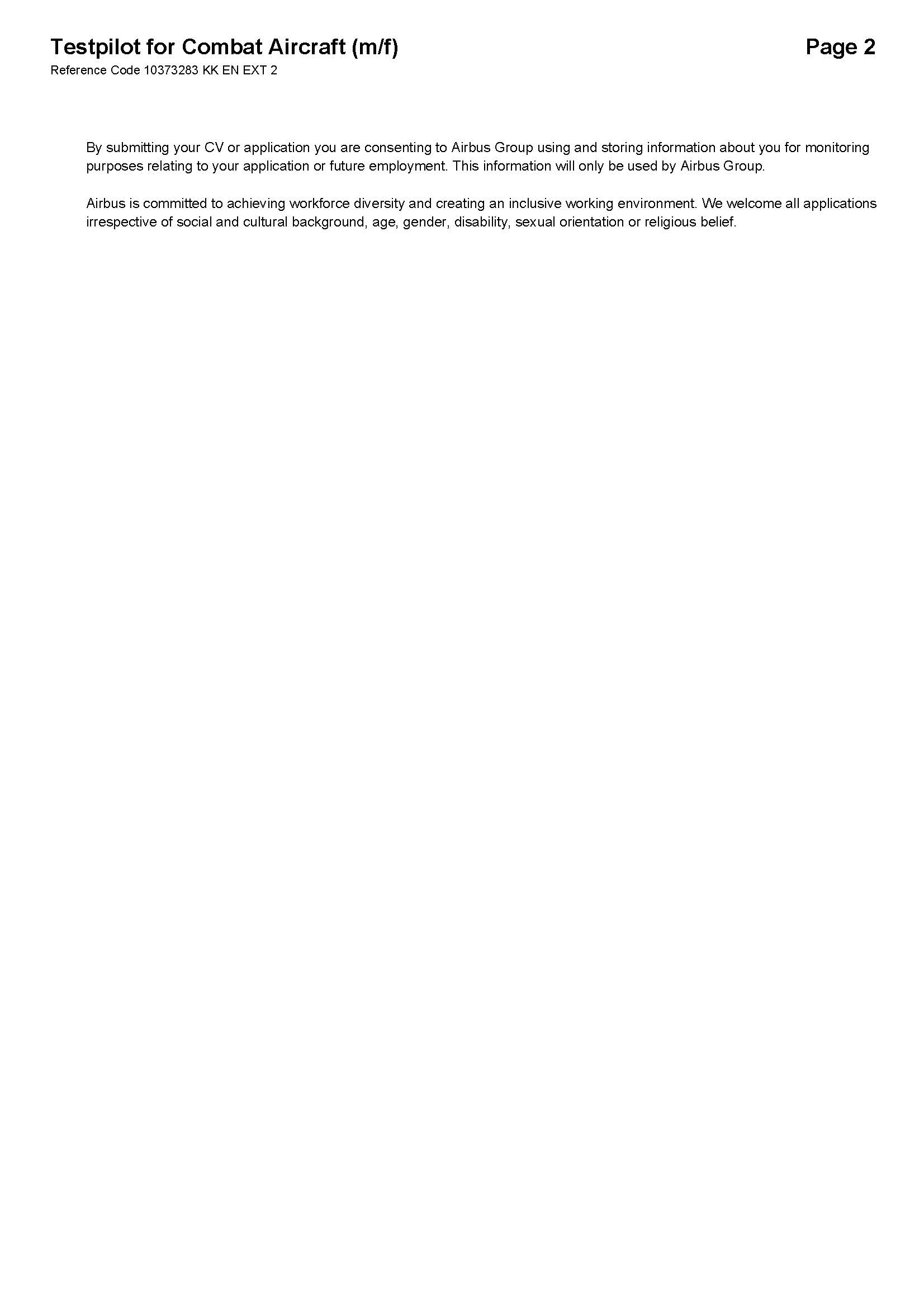 Test Safety Director - The Spaceship Company
Job opening at The Spaceship Company. Click HERE for more information and to apply.