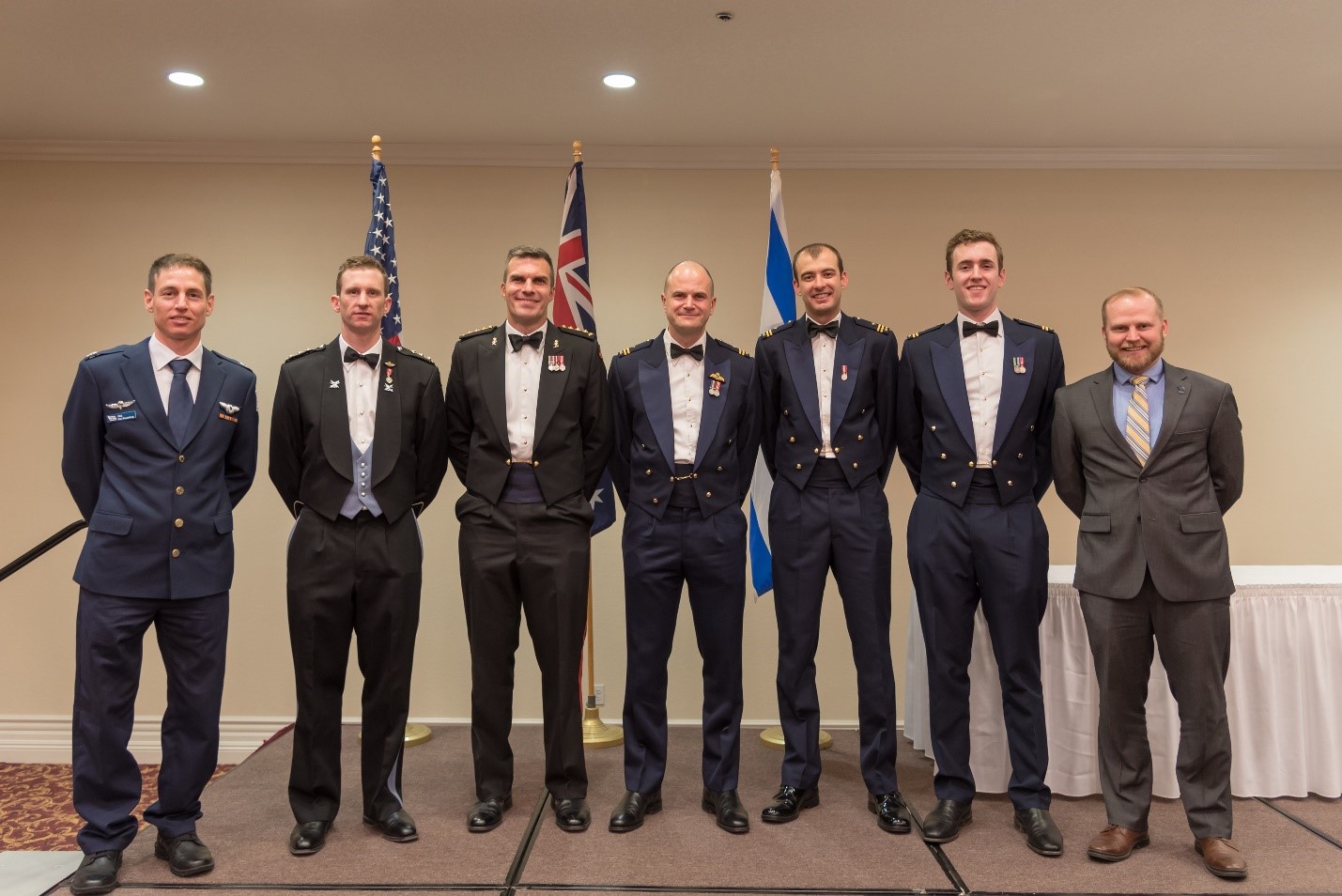 On Friday December 13th, 2019 The National Test Pilot School celebrated the graduation of the Test Pilot and Flight Test Engineer Professional Course 2019A. The graduation culminates an intensive year of academics and flight test training in aircraft performance, handling qualities, and systems. The graduates were: Flight Lieutenant Dylan Banning, Royal Australian Air Force; Captain Waldo Britz, Australian Army; Captain James Flawith, Australian Army; Flight Lieutenant Andrew Gill, Royal Australian Air Force; Flight Lieutenant David Kennedy, Royal Australian Air Force; Major Raz Rosenberg, Israeli Air Force. The graduates were awarded Experimental Flight Test or Flight Test Engineering Certificates and Masters' degrees in Flight Test and Evaluation or Flight Test Engineering. The graduates will return to their home countries and start their careers in flight testing. The National Test Pilot School also celebrated Mr. Jacob Varnus for completing the NTPS Graduate Assistant Program. Jacob received a Flight Test Engineering Certificate and Master's Degree in Flight Test Engineering and has accepted a position with the Space Ship Company, right here in Mojave.
The National Test Pilot School (NTPS) is a not-for-profit civilian educational institution located and incorporated in the State of California. The School was established in 1981 to meet the flight test training needs of both the US and international aerospace communities. NTPS students and customers come from a variety of backgrounds including military organizations, aerospace industry, governments, certification agencies, and even private citizens. NTPS is accredited by ABET, the first test pilot in the world to be certified by European Aviation Safety Agency, and is recognized by the Society of Experimental Test Pilots.
The mission of the National Test Pilot School is to educate and train military and civilian aviation personnel so that each graduate increases flight test competency, improves flight test and aviation safety, and enhances the aerospace profession world-wide. Our mission is primarily accomplished through our professional courses and master's programs that provide graduate level flight test education and training to test pilots and flight test engineers who learn to safely and effectively plan, execute, and report on flight test programs for their military or civilian organizations. Our mission is further accomplished through NTPS' continuing education programs, flight test-related research programs, and flight test support activities that increase competency, safety, and the breadth of knowledge in the aviation and flight test professions.