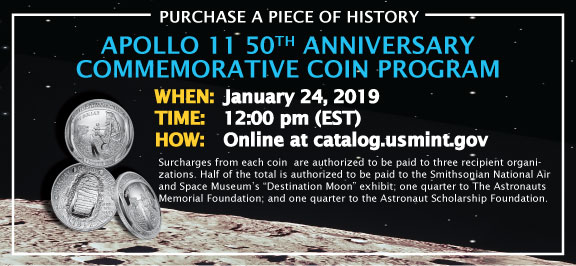 The world eagerly watched on July 20, 1969, as Neil Armstrong and Edwin "Buzz" E. Aldrin, Jr. took mankind's first steps on the moon. This unprecedented engineering, scientific, and political achievement was the culmination of the efforts of an estimated 400,000 Americans and secured our Nation's leadership in space for generations to come. The Apollo 11 crew—Armstrong, Aldrin, and Michael Collins—safely returned to Earth on July 24, 1969, fulfilling the national goal set in 1961 by President John F. Kennedy. Nearly half a century later, the United States is the only country ever to have attempted and succeeded in landing humans on a celestial body other than Earth and safely returning them home.
In recognition of the 50th anniversary of the first manned landing on the moon, Public Law 114-282 authorized a four-coin program: a curved $5 gold coin, a curved $1 silver coin, a curved half-dollar clad coin, and a curved 5 ounce $1 silver proof coin. In 2019, the U.S. Mint will celebrate the 50th anniversary of the historic Apollo 11 mission by producing and selling commemorative coins. Half of the coins' surcharges are authorized to be paid to the Smithsonian National Air and Space Museum's "Destination Moon" exhibit; one quarter to the Astronauts Memorial Foundation; and one quarter to the Astronaut Scholarship Foundation. The one-fourth of the coin surcharges will directly benefit the Astronaut Scholarship Foundation as long as the Foundation raises matching funds.
The sale of the coin begins on January 24, 2019 at 12 pm (EST) via the U.S. Mint. The demand is high so order yours right away.
ONLINE
CATALOG.USMINT.GOV
PHONE
1-800-USA-MINT (872-6468)
8 AM - 12:00 AM EST
Seven (7) days a week
TTY: 1-888-321-MINT (6468)
8:30 AM - 5 PM EST
Monday - Friday