MESSAGE FROM THE PRESIDENT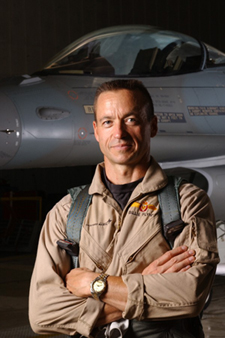 Let me begin by relating how honored and excited I am to take the reins of SETP. I have such enormous respect for what the membership represents and for the caliber of individuals who are part of the Society. I promise to represent you and your ideals this coming year with the same professionalism that you show every day you fly.
Our organization is steeped in history of great test pilots and bold endeavors but also filled with the energy of test pilots actively engaged testing the newest flying vehicles all over the globe. SETP members are dedicated to testing and flying in the safest manner possible. As part of our calling, we communicate with one another to ensure that our lessons learned from testing are passed on to our colleagues and that our mistakes are not repeated. I learned this during my earliest encounters with SETP and continue to believe it so.
My efforts as President this coming year will be two fold. First, I want to energize and encourage our younger test pilots not only to join in SETP activities but also to spur them to relate what they have learned from their current test programs. It is the active test pilots in the field who are pushing the boundaries and have the most to contribute including the lessons learned for all of us to learn. Secondly, we need to reinvigorate our Corporate Members. The glory years where test pilots knew the company owner personally are long past. We need to make ourselves known and present in more than just flying activities. Test pilots contribute far more to test programs and the development of aircraft than merely just being the stick and rudder person. We must ensure that the contributions of test pilots are recognized as a valuable resource both in and outside of the cockpit.
I will be traveling extensively this year participating in as many of the activities as possible. I look forward to meeting you all. I welcome your comments and feedback on how the Society is being run and how to make things better. Until then, fly safe.
Cheers,
Billie Flynn (F)
Lockheed Martin
---
MESSAGES FROM HEADQUARTERS
The 2010 Symposium and Banquet Photo Gallery is now available on our website at http://www.setp.org/index.php?option=com_expose&Itemid=84
********************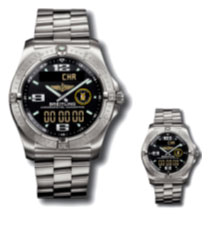 You should have received an email from SETP Headquarters offering the option of electronic invoice for future billing for those Members who pay annual dues. If you have not already done so, please respond to This email address is being protected from spambots. You need JavaScript enabled to view it. if you would like to go paperless. Please be sure to indicate which email address you prefer the invoice to be sent to.
********************
A little over a year ago, SETP was offering the membership the option to purchase a customized SETP Breitling Watch. The minimum order that can be placed must be 25 watches. We thought it would good to offer this watch to the membership once again to see if we can attain the minimum order.
The retail cost of the watch is $3,630, however, Breitling has offered SETP a discount price of $2,178. Once the minimum order of 25 is attained, Breitling has indicated that the turn-around time is 10-12 months. If you would like to order a watch please contact This email address is being protected from spambots. You need JavaScript enabled to view it.
---
CALENDAR OF EVENTS
• Southeast Section Symposium – 24-25 February 2011, Ramada Plaza Beach Resort, Ft. Walton Beach, FL
• 41st San Diego Symposium – 25-26 March 2011, Catamaran Resort & Spa, San Diego, CA
• East Coast Symposium – April 2011
• Flight Test Safety Workshop – 3-6 May 2011, Hilton Pensacola Beach Gulf Front Hotel, Pensacola, FL
• 43rd European Symposium – 25-29 May 2011, Venice, Italy
• Special Business Meeting – June 2011
• Central Section Symposium – Wichita, KS 6 June 2011, Hotel at Old Town, Wichita, KS
• Great Lakes Section Symposium – Dayton, OH (tentative date of 19 May 2011)
• 55th Symposium & Banquet – 21-24 September 2011, Anaheim, CA
• European Flight Test Safety Workshop – 8-10 November 2011, Salzburg, Austria
---
CALL FOR PAPERS
4th Annual SETP Southeast Symposium
Ft. Walton Beach , Florida
24-25 February 2011
The 4th Annual Southeast Symposium will be held 24-25 February 2011 at the Ramada Plaza Beach Resort in Ft. Walton Beach, Florida.
This is an official call for papers. Presentations should be limited to 30 minutes, including the discussion period. No proceedings are published for this Symposium therefore formal written papers are not required. Those interested in presenting should submit an abstract by 20 December 2010 to:
Gary Plumb, SE Section Chairman
C/O SETP Headquarters
Post Office Box 986
Lancaster , California 93584-0986
Email: This email address is being protected from spambots. You need JavaScript enabled to view it.

41st Annual San Diego Symposium
San Diego, California
25-26 March 2011

The 41st Annual San Diego Symposium will be held 25-26 March 2011 at The Catamaran Resort Hotel & Spa, 3999 Mission Boulevard, San Diego, California.
This is an official call for papers. Presentations should be limited to 30 minutes, including the discussion period. No proceedings are published for this Symposium therefore formal written papers are not required. Those interested in presenting should submit an abstract by 21 January 2011 to:
Brett Vance, Symposium Chairman
C/O SETP Headquarters
Post Office Box 986
Lancaster , California 93584-0986
Email: This email address is being protected from spambots. You need JavaScript enabled to view it.

2011 FLIGHT TEST SAFETY WORKSHOP INFORMATION
Hilton Pensacola Beach Gulf Front
Pensacola, FL
3-6 May 2011
The Flight Test Safety Committee (FTSC) will be sponsoring the annual Flight Test Safety Workshop on 3-6 May 2011 at the Hilton Pensacola Beach Gulf Front, 12 Via de Luna Drive, Pensacola Beach, FL 32561. This year the workshop is being held in conjunction with the 100th Anniversary of Naval Aviation.
The purpose of the Safety Workshop is to provide an open forum where flight test safety issues can be presented, discussed, and probed with other members and other disciplines within the flight test community. Rusty Lowry, USN Test Pilot School, is coordinating the event with the assistance of The Society of Experimental Test Pilots (SETP) and the Society of Flight Test Engineers (SFTE).
The theme of the workshop is "Last Flights". The committee is currently requesting papers and presentations highlighting unique flight test aspects associated with "last flights", both planned and unplanned. Unique challenges may include aircraft limitations, pilot proficiency, team continuity, media distractions, life-limited components, funding, or any number of other issues found with a final flight in a flight test program. Submittals are encouraged from all areas of flight testing including experimental, research flights, developmental test efforts, rotary wing or fixed wing flight testing, or space flight. Presentations should be limited to 25 minutes and every effort will be made to group similar test programs together in each session to maximize the lessons learned from "Last Flights" presentations. Please send paper/presentation proposals to the 2011 Flight Test Safety Workshop Chairman, Mr. Rusty Lowry at This email address is being protected from spambots. You need JavaScript enabled to view it. If you should have any questions regarding submitting an abstract please contact Rusty Lowry at 301-757-5052. The deadline for abstracts is 15 January 2011 to allow for appropriate consideration and inclusion in the program.
A block of rooms has been reserved at the Hilton and has provided a special rate of $133.75 single/double per night + tax. YOUR RESERVATION MUST BE RECEIVED BY MONDAY, 11 APRIL 2011 TO GUARANTEE A ROOM AT THE SPECIAL RATE. Rates are subject to change after the cut-off date. Reservations can be made by calling 1-866-916-2999 and ask for group reservations or online at www.pensacolabeachgulffront.hilton.com. When making your reservation, please refer to group/convention code SEP.
43rd European Symposium
Venice, Italy
25 – 29 May 2011
The European Symposium will be held 25-29 May 2011 in Venice, Italy.
This is an official call for papers. Presentations should be limited to 30 minutes, including the discussion period. No proceedings are published for this Symposium therefore formal written papers are not required. Those interested in presenting should submit an abstract by 31 March 2011 to:
Marco Venanzetti, Symposium Chairman
Email: This email address is being protected from spambots. You need JavaScript enabled to view it.
Central Section Symposium
Wichita, Kansas
6 June 2011
The Central Section Symposium will be held 6 June 2011 at Hotel at Old Town in Wichita, Kansas.
This is an official call for papers. Presentations should be limited to 30 minutes, including the discussion period. No proceedings are published for this Symposium therefore formal written papers are not required. Those interested in presenting should submit an abstract by 4 February 2011 to:
Dale Bleakney, Symposium Chairman
C/O SETP Headquarters
Post Office Box 986
Lancaster , California 93584-0986
Email: This email address is being protected from spambots. You need JavaScript enabled to view it.
---
MEMBERSHIP NEWS AND UPDATES
SETP Member Ronald G. Puckett received the Kansas Governors Aviation Honor Award for 2010 on 6 November 2010.
Mr. Puckett's long aviation career began in the U.S. Navy, flying fighters off aircraft carriers in the Pacific during WWII. After the war he worked as a test pilot at Chance Vought, testing the F-7 Cutlass. Ron later joined the FAA as a test pilot, where he took part in testing many of the aircraft built in Kansas. In 1972 he was relocated to the FAA Aircraft Certification Office in Wichita, where he became Chief of the Flight Test Section and remained in that position until his retirement in 1980. After he retired he continued test flying as a FAA DER until 2000.
Ron Puckett spent almost his entire life in aviation, where his accomplishments are too numerous to mention. He is truly deserving of a place in the Kansas Aviation Hall of Fame. Congratulations, Ron!
********************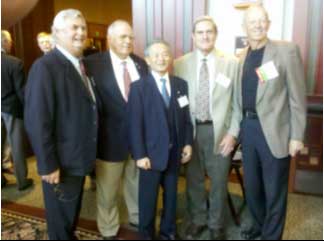 From 41 years ago, Edwards ARPS Class 68-B, five class members are pictured here:
From left to right: Leo Janssens (F); Bob Ettinger (F); Yasuo Oda (F); Jim Martin (F); Lonny McClung (M)
Also at the 54th Symposium was classmate Keith Glenn (M) who was not available for the picture. Class 68-B claims six members present to be a record for Edwards' classes graduating more than 20 years ago.
********************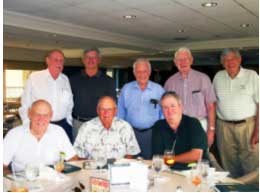 The sterling group of Test Pilots that gathered for our monthly luncheon at the Suntree Country Club in Melbourne, Florida
Next month the meeting will be held on an earlier date due to conflict with Thanksgiving. The new date is set for Noon on Thursday 18 November at the Suntree Country Club.
Seated L. to R.: Bob Mosley, Al Crews, Paul Deehan
Standing L to R.: Paul Chell, Bob Hood, Ray Roberts, Bud O'Connor, Bud Evans
********************
KENTUCKY AVIATION HALL OF FAME
HONORED TEST PILOT AND ENGINEER
CHARLES COLLINS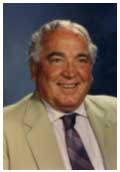 LEXINGTON, KY, OCTOBER 7, 2010: Charles "Chip" Collins, Colonel, USAF (Ret.), World War II veteran and former manager of the premier aeronautical engineering laboratory at Massachusetts Institute of Technology, was inducted into the Kentucky Aviation Hall of Fame on November 6, 2010 in Lexington.
From his wartime service as a B-29 bomber commander in the Pacific, Chip Collins entered the challenging field of aeronautical systems' development. He oversaw the MIT Flight Facility and served as its senior engineering test pilot for 32 years. Collins was pilot-in-command of the first coast-to-coast, non-stop, pure inertial navigation flight in 1953. His flying career covers 15,000 pilot hours in 60 different types of aircraft. Joining Collins in the induction to the Hall of Fame are: Col. David Fleming, US Army aviator who led the Kentucky Army National Guard; James Graybill, accomplished commercial and executive pilot; and Gene Soucy, air show performer and three-time national aerobatic champion.
********************
If you have any membership news such as upcoming events, the death of a Member, scheduled burials at Arlington Cemetery or special awards or recognitions, please notify SETP.
---
SETP FOUNDATION NEWS
The SETP Foundation invited the winner of the 2010 Intel International Science & Engineering Fair, Joseph Gerner to attend the 2010 Symposium & Banquet to display his project. Below is a letter from Joseph to past President, Terry Tomeny.
Dear Mr. Tomeny,
Thank you for the invitation to attend the 2010 SETP Symposium. I thoroughly enjoyed listening to the many interesting presentations as well as having the privilege to interact with so many talented members of the flight test community. I am especially grateful for the opportunity to have exhibited my science fair project and discuss my research with such a knowledgeable body of aerospace professionals. The many insightful questions and sage advice has left me with several new ideas for future research.
On the other end of the spectrum, I really appreciated the opportunity to interact with other invited students of like mind and to share in their enthusiasm for aerospace. Attending this event has definitely left an impact on me and further reinforced my desire to one day become a test pilot myself.
Thank you once again for the incredible opportunity to attend the SETP Symposium and especially for your Society's committed outreach to inspire the next generation of aerospace professionals.
Sincerely,
Joseph Gerner
Freshman, Aeronautical Engineering, Class 2014
Embry-Riddle Aeronautical University, Prescott, AZ
********************
The following letter was sent to Bill Connor (AF), Chairman of the SETP Academic Bridge to the Aerospace Industry:
Hi Bill,
First of all, thank you for inviting me to the annual SETP symposium. The whole experience was very enlightening and I especially enjoyed the company of the Northrop Grumman test pilots.
I am quite humbled by your efforts as well as the efforts of Bob Hood and the SETP to reach out and encourage aviation as a professional career. As you know the profession has come under much scrutiny after Colgan 3407. I've noticed that this has created an uneasy feeling for those about to enter the industry such as myself. It's very encouraging however when organizations such as SETP take notice and make an effort to further the profession and industry.
I remember you had asked for suggestions or ideas. I think SETP has taken a good first step in getting involved with NIFA. I know a lot of those involved with NIFA and its competition wonder if their efforts ever get noticed by others in the industry and I'm sure the more involved SETP becomes, the more motivated its contestants and teams will become. Expanding your involvement beyond just the flight departments is also an excellent idea. The engineers that are on the flight team have wished that there were more competitions specific for engineers.
The only thing that I would add is to try and reach out to those in high school. My counselors and teachers in high school were not very helpful in guiding me for a career in aviation (they had no clue). Much of my life planning was done by speaking to my grandfather and searching the internet.
Thank you again for your involvement and inviting me. Please feel free to contact for any more ideas and comments.
Regards,
Sherman Carll
---
EUROPEAN FLIGHT TEST SAFETY WORKSHOP HIGHLIGHTS
The Flight Test Safety Committee sponsored a Flight Test Safety Workshop 28-29 September 2010 at the Royal Aeronautical Society (RAeS), London. The purpose of the Safety Workshop is to provide an open forum where test safety issues can be presented, discussed and probed with other members and disciplines of the flight test community. Moe Girard, Senior Engineering Test Pilot, Cessna Aircraft Company, Thomas E. Roberts, RDT&E Safety Manager, Naval Test Wing Atlantic, Dennis Morley, Chief Flight Test Engineer, BAE Systems, the Society of Experimental Test Pilots, The Society of Flight Test Engineers and the RAeS coordinated the event.

The theme of the workshop was "Fight Test Professionals – skill sets, knowledge and experience critical to successful and safe test programs". The workshop's theme was an attempt to focus discussion on flight tests where the participants' skill sets, knowledge, and experience levels proved critical to safe and successful program completion. Preference was given to presentations that highlighted test programs where the linkage between participants' backgrounds and the test outcome could be established and critical skills identified for the test professionals involved including test pilots, test engineers, or test technicians.
The technical program started with opening remarks by Tom Roberts, Moe Girard, Dennis Morley and AVM David Couzens (President, RAeS). Each challenged the audience "to make the most of this workshop, to participate in the panel discussions and to put forward their own viewpoint." In essence to contribute.
Moe Girard did a fantastic job of preparing and conducting the technical sessions. The workshop had 65 attendees. When the committee planned the workshop it set a goal of 50 attendees, it was gratifying to exceed that goal. Thanks to all SETP and SFTE members who solicited attendance for the workshop - it paid off.
We were very fortunate in having Dennis Morley, CDR Eric Mitchell, Barbara Gordon and Rod Job as our session chairs. The session chairs were instrumental in getting maximum participation from the audience during the panel discussions.
The committee followed the strictest of non-attribution rules to ensure an uncensored flow of safety information. The presentations that have been cleared for publication will be posted to www.flighttestsafety.org shortly. All of the authors deserved great praise for their efforts.
All was not hard work; Moe Girard put together a pub crawl for Tuesday night. The crawl included 4 pubs within walking distance of the hotel. To say the least, we all had a great time!
The event ended with the Flight Test Safety Dinner and the Gerard Guillaumaud Flight Test Safety Award Ceremony. The dinner was well attended and the food and atmosphere made it an especially entertaining night. The committee thanks Karen Lowry for her thoughtful and spirited invocation.
The evening ended with the presentation of the European Flight Test Safety Award. The award was sponsored by the Flight Test Safety Committee and presented by Heidi Biermeier. The purpose of the European Flight Test Safety Award is to enhance flight test safety in the European flight test community. The award shall serve as a motivation and recognition of an accomplishment in the interest of flight test safety. The accomplishment may either be an exceptional act which contributed to avoiding a test accident, or a presentation within the framework of the European Flight Test Safety Workshop which contributed most to improving flight test safety. The award is based on the following philosophy as its guiding principle: Gerard Guillaumaud lost his life in execution of his profession, but his spirit will still be alive, Gerard's passion for flying and aircraft should be a legacy for us for achieving one aim: improving flight test safety. The selection committee had a very difficult time as there were a number of worthy presentations in the end they were able to make an outstanding choice for the first recipient of this award. Heidi announced the 2010 Award recipient as Billie Flynn and Mark Skoog for their excellent presentation on "Automatic Ground Collision Avoidance System Flight Test Results". Congratulations!
Special thanks to AgustaWestland, BAE Systems, University of the West of England and Wyle for providing sponsorship for the event. I would be remise if I did not recognize Paula Smith (SETP), Gemma Crabb (RAeS) and the entire RAeS for the work they did to make the workshop a great event.
The next three European Flight Test Safety Workshops will be as follows:
2011 – Salzburg, Austria, hosted by Dr. Dieter Reisinger, Austrian Airlines.
2012 – Linköping, Sweden, hosted by Mats Lundberg, SAAB
2013 - Amsterdam, Netherlands, hosted by Arun Karwal, Research Test Pilot, National Aerospace Laboratory NLR
We hope to see you there!
---
SECTION NEWS
GREAT LAKES
The Great Lakes Section recently held an election with the following results:
Chairman – Robbie Robinson (AF), ATK
Vice Chairman – Dave Glade (AF), USAF (Ret)
Secretary – Eric Fitz (M), USAF, AFRL
Treasurer – Sam Ryals (M), USAF
********************
CENTRAL
The Central Section recently held an election with the following results:
Chairman – Dan Hinson (M), Hawkerbeechcraft
Vice Chairman – Don Parker (M), DCMA
Secretary – Scott Whitley (M), Bombardier Flight Test Center
Treasurer – Jeff Karnes (AF), Bombardier Aerospace
---
SETP ELECTED OFFICERS FOR 2010/2011
President: William A. Flynn (F), Lockheed Martin
President-Elect: Steve Rainey (AF), Boeing
Vice President: David Nils Larson (AF), NASA/DFRC
Secretary: Doug Benjamin (F), Boeing
Treasurer: Maurice Girard (AF), Cessna
Legal Officer: Kevin Prosser (AF), Calspan
---
LAST FLIGHTS
The Society sadly announces the passing of the following members:
Nello Infanti (F) – 19 July 2010
Gay E. Jones (AF) – 22 July 2010
Charles Plummer (F) – 28 September 2010
---
SETP SECTION CHAIRMEN

CANADA
Rob Erdos
This email address is being protected from spambots. You need JavaScript enabled to view it.
CENTRAL
Dan Hinson
This email address is being protected from spambots. You need JavaScript enabled to view it.
EAST COAST
John Tougas
This email address is being protected from spambots. You need JavaScript enabled to view it.
EUROPEAN
Marco Venanzetti
This email address is being protected from spambots. You need JavaScript enabled to view it.
GREAT LAKES
Robbie Robinson
This email address is being protected from spambots. You need JavaScript enabled to view it.
NORTHWEST
Leon Robert
This email address is being protected from spambots. You need JavaScript enabled to view it.
SOUTHEAST
Gary Plumb
This email address is being protected from spambots. You need JavaScript enabled to view it.
SOUTHWEST
Alan Norman
This email address is being protected from spambots. You need JavaScript enabled to view it.
WEST COAST
Eddie Cabrera
This email address is being protected from spambots. You need JavaScript enabled to view it.