SETP News
Save The Date-New Flight Test Museum Ground Breaking Ceremony 23 March 2018
Details

Last Updated: 16 February 2018

16 February 2018

Created: 16 February 2018

16 February 2018

Hits: 410

410
As you know, for the past few years the SETP Foundation has been raising funds for the Robert A. Hoover Research Library and STEM classroom that will be housed in the new Air Force Flight Test Museum at Edwards AFB, CA. SETP was originally planning to build its own building, but the was cost prohibitive so we are partnering with the Flight Test Historical Foundation to have a strong presence in the new museum.
As you see below, the ground-breaking ceremony for the museum will be held on March 23rd and all SETP members are invited and encouraged to attend. We have raised $140,000 of the required $250,000 for our part of the museum, and we hope you will help us reach our goal. Donations can be made on line at http://www.setp.org/foundations/foundation.html or by mail to SETP Foundation, PO Box 986, Lancaster, CA 93584 or by phone by calling 1-661-942-9574.
Thank you for taking part in this important part of preserving SETP's legacy.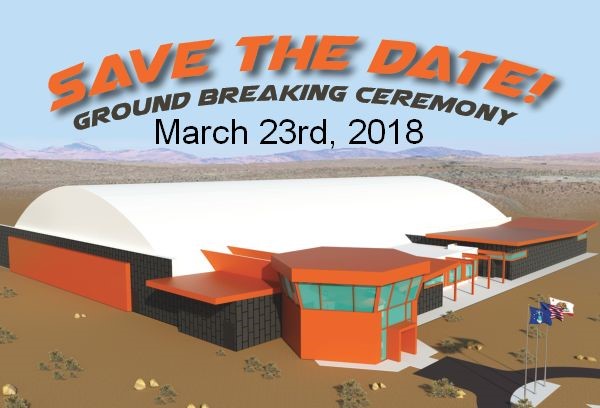 The Directors and Trustees of the Flight Test Historical Foundation cordially invite you to attend a ground-breaking ceremony for the new Air Force Flight Test Museum campus on Friday, March 23rd at 1:00 PM.

The ceremony will take place at the West (Rosamond Blvd.) Gate of Edwards AFB near the Century Circle display of aircraft. Base access is not required for this event.

RSVP is not necessary, however, parking in the Visitor Control Center parking area is restricted so please follow directions from Security Forces and base personnel, allow extra time as you arrive and park where directed.

We look forward to having you share this milestone event with us as we begin the process of constructing a new, state-of-the-art Flight Test Museum and Aerospace STEM Education Center. Once complete, this new facility outside the security boundary of Edwards AFB will finally make these awe inspiring artifacts accessible to their owners - the general public and the next generation of scientists, engineers, technicians and pilots who make our nation strong.
Thank you for all your support!

Sincerely,

Lisa Gray
Chairwoman of the Board
Flight Test Historical Foundation