Welcome to SETP
Nominations Now Being Accepted for Kincheloe and Doolittle Awards
PLEASE CLICK HERE TO DOWNLOAD A NOMINATION FORM FOR THE KINCHELOE AWARD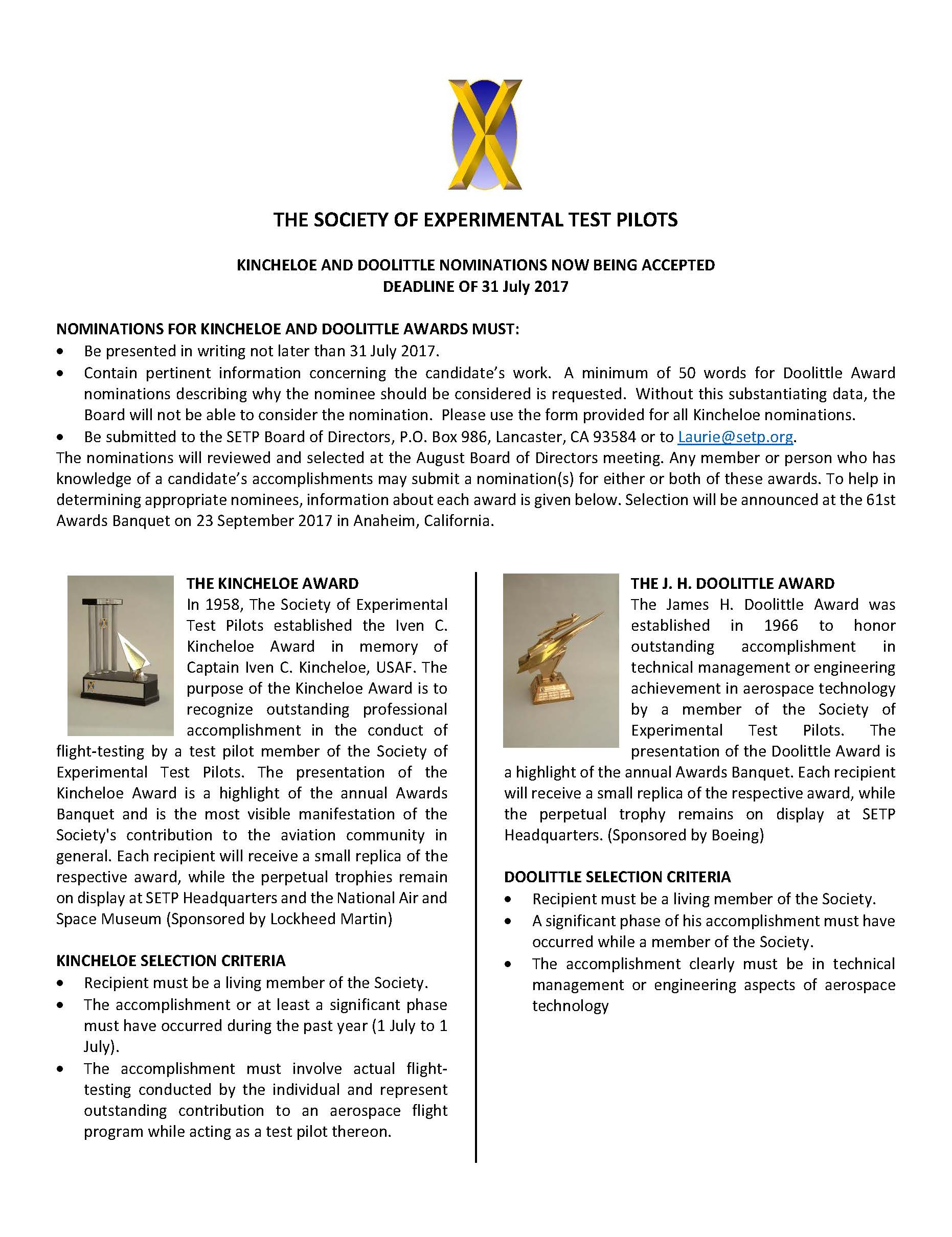 PLEASE CLICK HERE TO DOWNLOAD A NOMINATION FORM FOR THE KINCHELOE AWARD
SFTE Call For Papers - Annual Symposium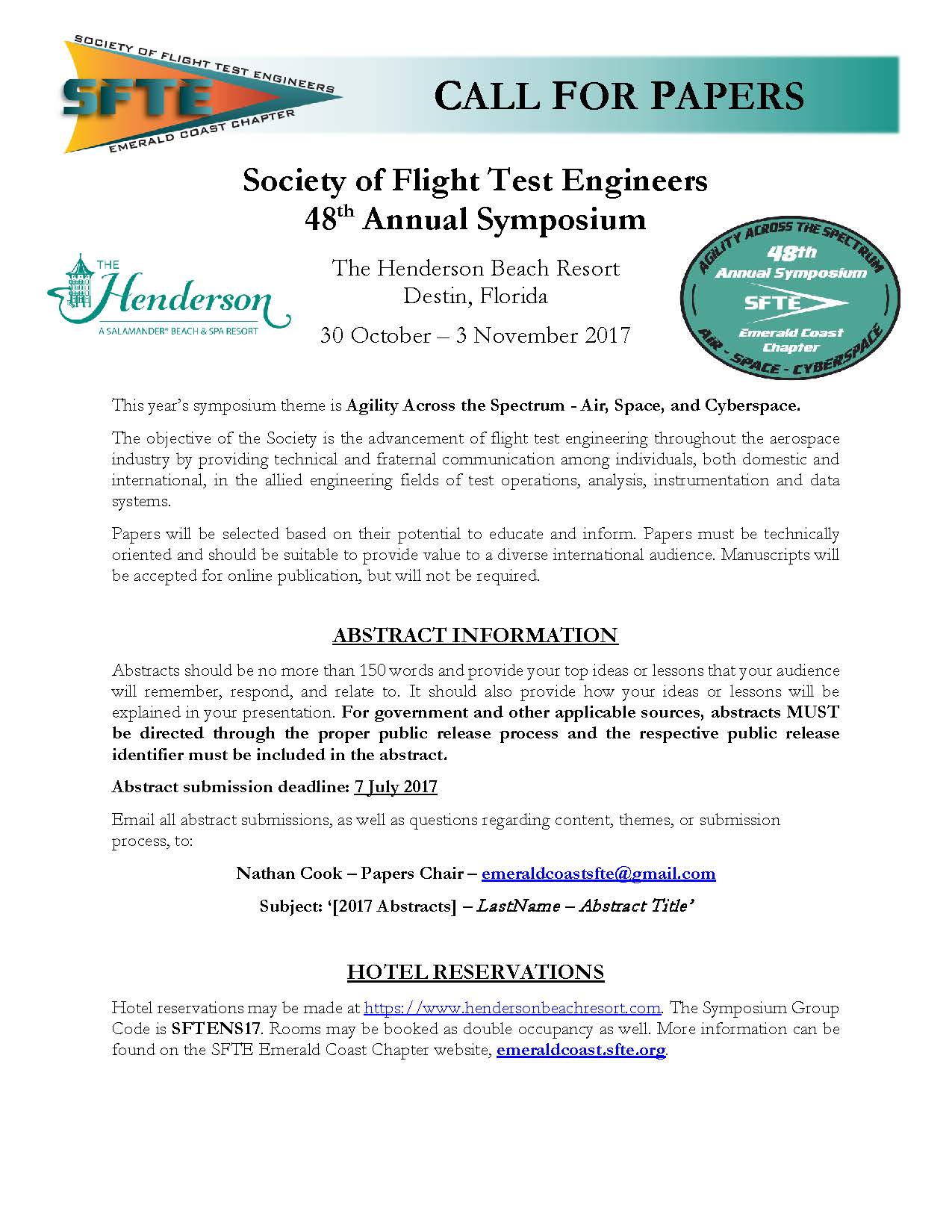 Four legends of air and space selected to serve as presenters at 2017 National Aviation Hall of Fame Ceremony
Rec

ord number of former enshrinees expected to return for the "Oscar Night of Aviation" at the Bell Helicopter Fort Worth Alliance Air Show this October
(DAYTON, OH – April 12, 2017) On Saturday, October 28, 2017, the National Aviation Hall of Fame (NAHF) will formally enshrine four more outstanding air and space pioneers as the Class of 2017, bringing number of individuals to 237 so honored, to date. Over a dozen former enshrinees are expected to attend the ceremony, including four who have been selected to each serve in the time-honored role of "Presenter" of an inductee.

The 55th Annual NAHF Enshrinement & Ceremony will take place at the Bell Helicopter Fort Worth Alliance Air Show near Fort Worth, Texas. The Inductees in the NAHF Class of 2017 are; Major General Charles F. Bolden, Jr., USMC (Ret), four-time Shuttle astronaut and former NASA Administrator; the late Captain Scott Carpenter, USN, one of the original 'Mercury 7' astronauts and the second American to orbit the Earth; Robert J. Gilliland, pioneering super-sonic SR-71 program test pilot; and the late Sir Frank Whittle, the inventor of the revolutionary turbojet engine.

Presenting General Bolden will be 2013 Enshrinee, Capt. Robert L. "Hoot" Gibson, USN (Ret). Capt. Gibson is a Navy fighter pilot, "Top Gun" instructor and test pilot, champion air racer, and a five-time Shuttle mission astronaut, including STS-61C on which he and Bolden served together in 1986.

Presenting the late Capt. Carpenter will be 2016 Enshrinee, Capt. Robert Crippen, USN (Ret). Capt. Crippen is a Navy fighter and test pilot, and, as astronaut, piloted STS-1, the first orbital space flight of the Shuttle, the first of his four missions to space.

Presenting Mr. Gilliland will be 1997 Enshrinee, Col. Joe Kittinger, Jr., USAF (Ret). Col. Kittinger is a fighter and test pilot, long-time record holder for the longest freefall parachute jump (102,800 feet), Vietnam POW, record-setting trans-Atlantic balloonist, and barnstormer.

Presenting Sir Frank Whittle will be 2011 Enshrinee, Dr. S. Harry Robertson. Dr. Robertson is a former Air Force pilot and engineer renowned for pioneering innovations in aviation safety and crashworthy fuel systems, and serving aerospace education institutions such as Embry-Riddle Aeronautical University.

During the black-tie formal enshrinement dinner and ceremony, each presenter will be introduced by emcee David Hartman, former host of ABC-TV's "Good Morning America," before making the presentation of their inductee.

The 55th Annual NAHF Enshrinement Dinner & Ceremony is open to the public and reservations will be available by advance purchase from the NAHF. Nearly 1,000 people are expected to attend, including many leaders of aerospace industry and over a dozen former NAHF enshrinees, such as astronauts Buzz Aldrin and Joe Engle, designers and test pilots Dick and Burt Rutan, general aviation titans Russ Meyer and Dale Klapmeier, and WWII triple-ace Bud Anderson and Tuskegee Airman Charles McGee, among others.

This annual NAHF celebration is widely acclaimed as the "Oscar Night of Aviation," and the many sponsors committed thus far include GE Aviation, Rolls-Royce North America, Scotts Miracle-Gro, PerformAir International, United, Southwest Airlines and Cirrus Aircraft. Sponsorships include premium seating among other benefits and currently remain available through the NAHF.

The NAHF is a 501(c)(3) non-profit organization founded in Dayton, Ohio in 1962 and chartered by the U.S. Congress in 1964. Its mission is to honor America's aerospace legends to inspire future leaders, which it does through a 17,000 square-foot public Learning Center featuring interactive exhibits, a youth education and other outreach programs, its annual enshrinement ceremony, and collaboration with like-minded organizations.

For more information visit www.nationalaviation.org or call (937) 256-0944 ext. 16.
Gulfstream G600 Takes Flight Ahead of Schedule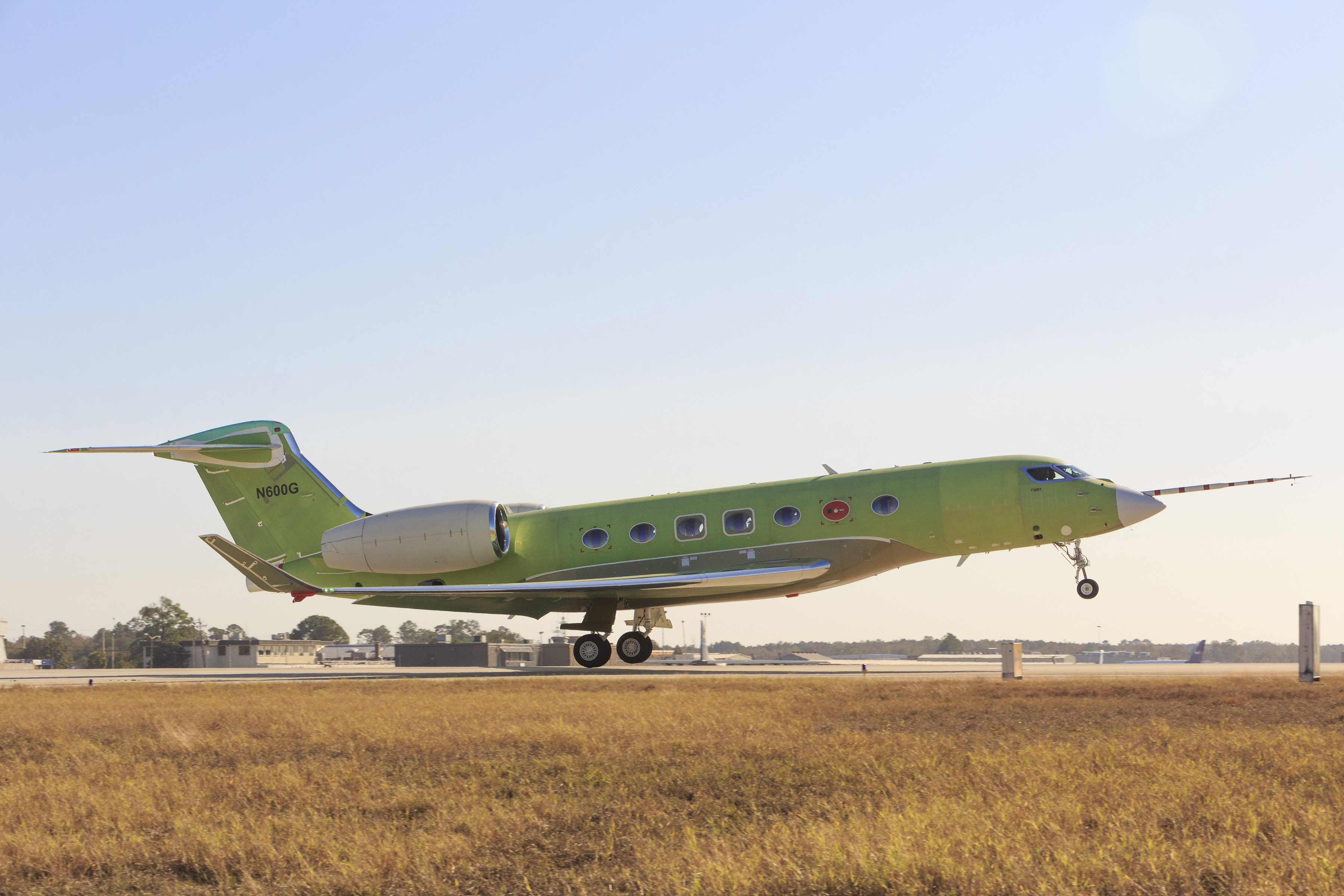 Second And Third G600 Aircraft Delivered To Flight Test
SAVANNAH, Georgia, December 17, 2016 — Gulfstream Aerospace Corp. today announced the Gulfstream G600 has completed its first flight, officially kicking off the aircraft's flight-test program. Two additional G600 test aircraft have been inducted into the flight-test center in anticipation of their flights early next year.
"Launching the G600's flight-test program is a milestone for us and our customers, who have guided the vision for this aircraft from the beginning," said Mark Burns, president, Gulfstream. "We look forward to delivering this aircraft to them in 2018. Today's flight, which went flawlessly, represents a significant step forward in the journey to certification and delivery."
The G600 departed Savannah-Hilton Head International Airport at 1:50 p.m. Dec. 17 and spent 2 hours and 53 minutes in the air. The aircraft was piloted by Gulfstream experimental test pilots Scott Martin (AF) and Todd Abler (M), with Flight Test engineer Nathaniel Rutland providing on-board support.
"This flight went exactly as anticipated, thanks in large part to the investments we have made in our ground-based laboratories," Burns said. "This flight is the perfect way to wrap up 2016 and set the tone for a successful 2017."
The G600 has been designed with input from customers to ensure an unparalleled passenger experience. It has the longest cabin in its class, satellite communications and high-speed internet and can accommodate up to four living areas to create distinct yet flexible spaces for work, entertainment, dining and rest. Fourteen panoramic windows ̶ the largest in the industry ̶ a low cabin altitude and 100 percent fresh air contribute to the superior cabin environment, helping passengers feel refreshed and rested upon arrival.
The G600 can travel 6,200 nautical miles/11,482 kilometers at Mach 0.85 and 4,800 nm/8,890 km at Mach 0.90, and its maximum operating speed is Mach 0.925, the same maximum speed as the flagship Gulfstream G650ER.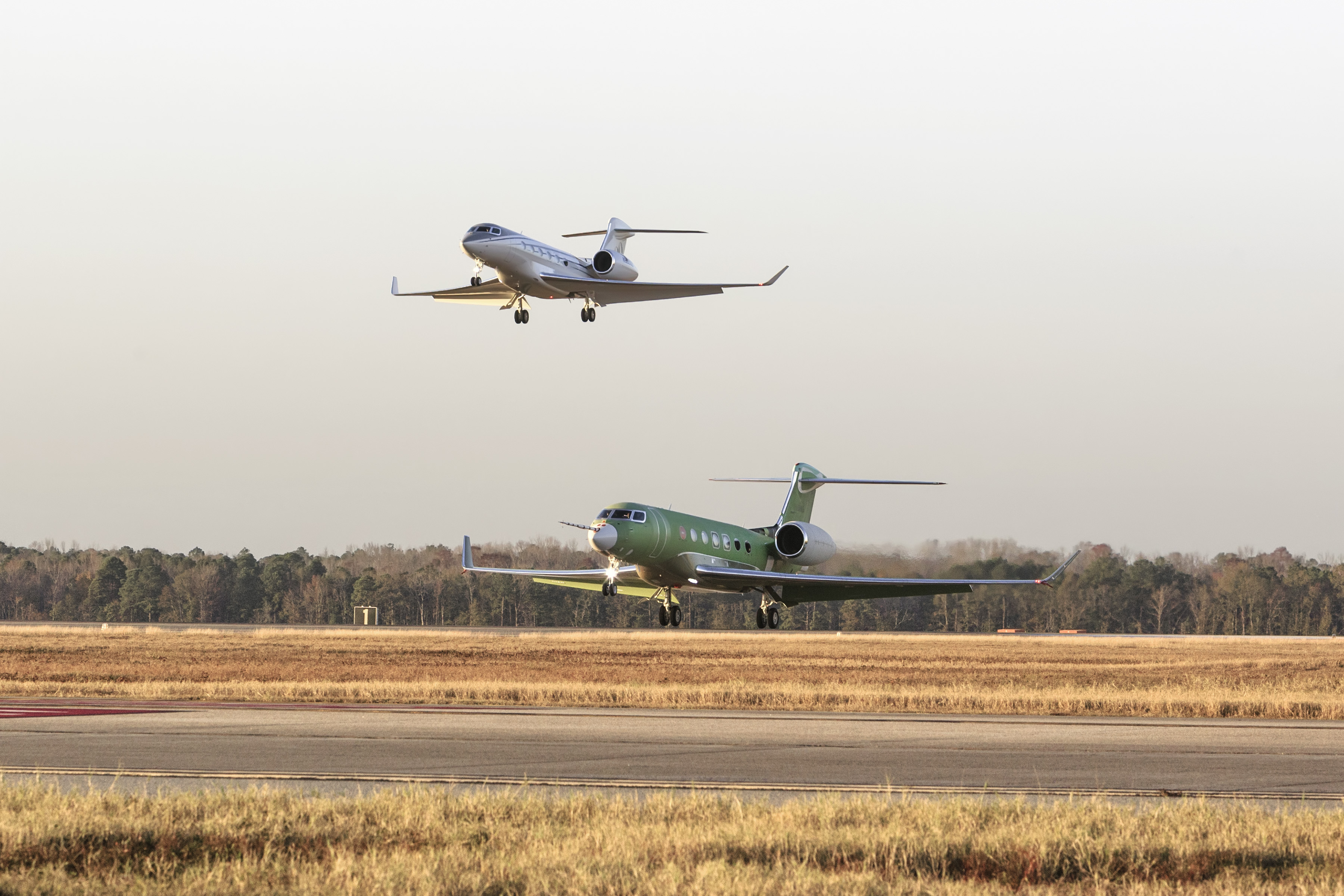 Bombardier Global 7000 Aircraft Successfully Completes First Flight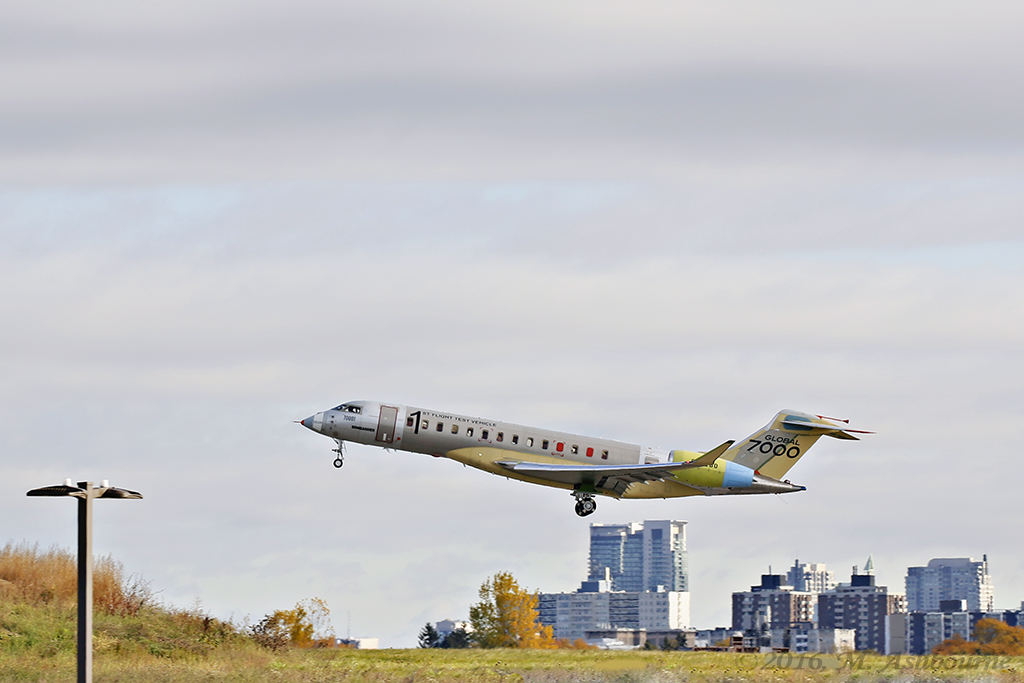 Bombardier announced that its segment-defining Global 7000 aircraft program completed the successful maiden flight of its first flight test vehicle (FTV1). This first flight marks the start of a flight test program for the newest member of Bombardier's flagship Global aircraft family, which is scheduled to enter into service in the second half of 2018.
The Global 7000 flight test vehicle took off from Bombardier's facility in Toronto under the command of Captain Ed Grabman (AF), assisted by his co-pilot, Jeff Karnes (AF) and Flight Test Engineer Jason Nickel under clear conditions.
Dedicated to testing basic system functionality and assessing the handling and flying qualities of the aircraft, the flight lasted approximately 2 hours and 27 minutes, during which all flight controls were exercised, and the systems and aircraft performed as expected. The flight crew conducted a gradual climb to 20,000 feet (6,096 m) and the aircraft reached a planned test speed of 240 knots.
Intro to SETP Screening of Flying The Feathered Edge: The Bob Hoover Project
The Society was honored to host a screening of the film Flying the Feathered Edge: The Bob Hoover Project at the 59th Annual Symposium & Banquet in 2015. Two time SETP President, Bob Hoover (F) and Director, Kim Furst opened the event with a short discussion on how the film came to be, along with words of wisdom from Bob himself. You may view the intro discussion in the video below.
Please visit http://www.thebobhooverproject.com/ to purchase the film and learn more about Bob and his illustrious career.
Longitude First Flight
Cessna Aircraft Company, a subsidiary of Textron Aviation Inc., conducted the successful first flight of its Citation Longitude super-midsize jet on October 8th, 2016. The Longitude took off from the company's east campus Beech Field Airport, crewed by experimental test pilots Stuart Rogerson (AF) and Ed Wenninger. The two hour and two minute flight was supported by Scott Foster (AM) and Dustin Smisor in chase and Charlie Volk (AF) in the Telemetry Room. The flight accomplished everything they wanted to do during this maiden flight, setting the pace for the flight test program. The prototype aircraft will continue to expand the envelope, focusing on testing stability and control and performance, while the first production model, set to fly in the coming weeks, will be primarily used for systems testing.
With seating for up to 12 passengers, the Longitude features a stand-up, flat-floor cabin with a standard double-club configuration and a walk-in baggage compartment fully accessible in flight. The Longitude includes the next evolution of the Garmin G5000 flight deck and is powered by FADEC-equipped Honeywell HTF7700L turbofan engines with fully integrated autothrottles. The aircraft offers a full fuel payload of 1,500 pounds, a maximum cruise speed of 476 knots and a high-speed range of 3,400 nautical miles.